15 of the Best Food Festivals to Visit in 2021
Please note: the dates are subject to change due to Covid-19. The safety of our campers remains our highest priority. If you're looking to get away, we have a range of campsites open this summer.
Sample mouth-watering food, sip locally-brewed beer and dance to live music. With so many events taking place across the UK, find the best one for you with our guide to the best food festivals of 2021.
Pub in the Park, Nationwide
When: Various dates from June - September 2021
Nearest Campsite: Various Club Sites

Set in some of the most tranquil parks in England, Pub in the Park was launched by revered celebrity chef, Tom Kerridge. Touring parks across the country throughout the summer, these food festivals are set near a number of our Club Sites.
Hosting its first event in 2017, these food festivals have become some of the culinary events of the summer. With mouth-watering food, huge live music acts and masterclasses from Michelin-starred chefs, Pub in the Park has all the ingredients for a fantastic weekend.
The Great British Food Festival, Nationwide
When: Various dates from May – September 2021
Nearest Campsite: Various Club Sites

Making its way round the country, The Great British Food Festival is a fantastic family-friendly day-out. From May until September, the festival stops at 10 stately homes across England, Scotland and Wales, near a wide number of our Club Sites.
Sample food from street food vendors, take some tips from the chef demos and watch some of the stars from The Great British Bake Off at the interactive Bake Stage. Watch in awe at the Men vs Food participants and explore the sprawling grounds of these lavish homes.
Clitheroe Food Festival, Lancashire
When: TBC
Nearest Campsite: Clitheroe Club Site

Set in the charming Lancashire town of Clitheroe, this food festival celebrates the county's food and drink heritage. Hosted in the town centre, the annual festival is within walking distance of our Clitheroe Club Site.
Eat some of the best food that Lancashire has to offer, drink some locally-brewed beer and listen to some foot-tapping, local music acts. Open for one day only, the Clitheroe Food Festival is a free, family and dog-friendly event.
The Big Feastival, Cotswolds
When: 27th – 29th August 2021
Nearest Campsite: Chipping Norton Club Site

Situated in the typically picturesque Cotswold village of Kingham, The Big Feastival held its first event in 2012, backed by television chef Jamie Oliver. Hosted on a farm owned by Blur bassist Alex James, The Big Feastival has gone on to become one of the UK's most anticipated foodie events of the summer.
The festival boasts a diverse line-up of live music, cooking demonstrations and countless food stalls.
River Cottage Festival, Devon
When: TBC
Nearest Campsite: Charmouth Club Site

Celebrating its 22st year in 2021, the River Cottage Festival is an excellent family-friendly weekend. Best known as the location for the popular Channel 4 television series, the festival is set at the iconic River Cottage HQ.
Famously, the HQ is located in a quaint cottage in the rural Devon market town of Axminster. The River Cottage Festival boasts a line-up of food, drink, live music, talks, masterclasses and children's activities.
Meatopia London
When: 3rd - 5th September 2021
Nearest Campsite: Theobalds Park Club Site

Originally starting in New York City, Meatopia was brought to East London's Tobacco Dock in 2013. This festival is all about high quality, ethically sourced meat, cooked over ethically sourced wood and charcoal by some of the world's top chefs.
Each day, 25 chefs cook a unique dish that can be purchased with 'MeatBucks'. Combining barbecued meat, cool drinks and live music, Meatopia is one of London's biggest food events of the summer.
Taste of Kent Festival
When: TBC
Nearest Campsite: Oldbury Hill Club Site

Set in a Grade I listed Tudor house, the Taste of Kent Food Festival celebrates Kent's very best food and drink.
Set over one weekend, the Taste of Kent Food Festival boasts live entertainment, food talks, chef demonstrations, hands-on masterclasses, live local music, an artisan food market and a street food court.
Food Rocks, Dorset
When: TBC
Nearest Campsite: Charmouth Club Site

Located on the western edge of Dorset's Jurassic Coast, Food Rocks started as the vision of celebrated chef and restauranteur, Mark Hix. Hosted on the Marine Parade in Lyme Regis, Hix launched Food Rocks to promote the produce of the area where he grew up.
Featuring interactive cookery demonstrations and live music, this family-friendly festival donates all money raised to the RNLI and the Fisherman's Mission.
Hastings Seafood and Wine Festival, East Sussex
When: TBC
Nearest Campsite: Normans Bay Club Site

Situated on the Sussex coast, in Hastings' cobbled Old Town, this seafood and wine festival draws visitors from across the South-East. Enjoy food caught just off the shores of Hastings, paired with a diverse selection of wine from local vineyards and retailers.
Set over a weekend in September, the Hastings Seafood and Wine Festival features interactive cooking demonstrations, local live music and lively street entertainment.
Abergavenny Food Festival, Wales
When: 18th – 19th September 2021
Nearest Campsite: Hereford Club Site

Located in a pretty Welsh market town, back-dropped by the rolling hills of the Brecon Beacons National Park, the Abergavenny Food Festival is known as the "Cannes of Food Festivals". Entering its 22nd consecutive year, this festival celebrates the best food and drink that Wales has to offer.
Running in September, the festival attracts more than 30,000 visitors and generates an estimated £4 million for the local economy each year. Watch cooking demonstrations, sample local food and roll your sleeves up and get stuck in at the cookery school.
Aldeburgh Food and Drink Festival, Suffolk
When: 25th – 26th September 2021
Nearest Campsite: Kessingland Club Site

Starting in 2006, the Aldeburgh Food and Drink Festival is a celebration of Suffolk's food and drink scene. Set in the stunning scenery of Snape Maltings, close to the East Anglian coastline, this festival is a great day out for the whole family.
Sample food and drink from over 100 local producers, watch a mesmeric cooking demonstration or book a masterclass with one of the talented chefs.
Falmouth Oyster Festival, Cornwall
When: 7th – 10th October 2021
Nearest Campsite: Veryan Club Site

Hosting its first event back in 1997, the Falmouth Oyster Festival is one of Cornwall's most popular food events. Set beside Falmouth Harbour, the Oyster Festival boasts cookery demonstrations, live music and local food stalls.
Running in mid-October, the festival also hosts a boat race, oyster parade and an oyster shucking competition.
Dartmouth Food Festival, Devon
When: 22nd – 24th October 2021
Nearest Campsite: Dartmouth Club Site

Set in the pretty Devon port-town of Dartmouth, this food festival has grown in stature, scale and popularity since its humble beginnings in 2002.
Celebrating the famous food and drink culture of the South West, Dartmouth Food Festival boasts workshops, seminars, tastings, competitions, demonstrations and over 120 hand-picked exhibitors. Today, this festival is one of the landmark events on the culinary calendar and blends revered celebrity chefs, locally-sourced food and immersive interactive demonstrations.

Vegfest London UK
When: TBC
Nearest Campsites: Walton on Thames and Chertsey Club Site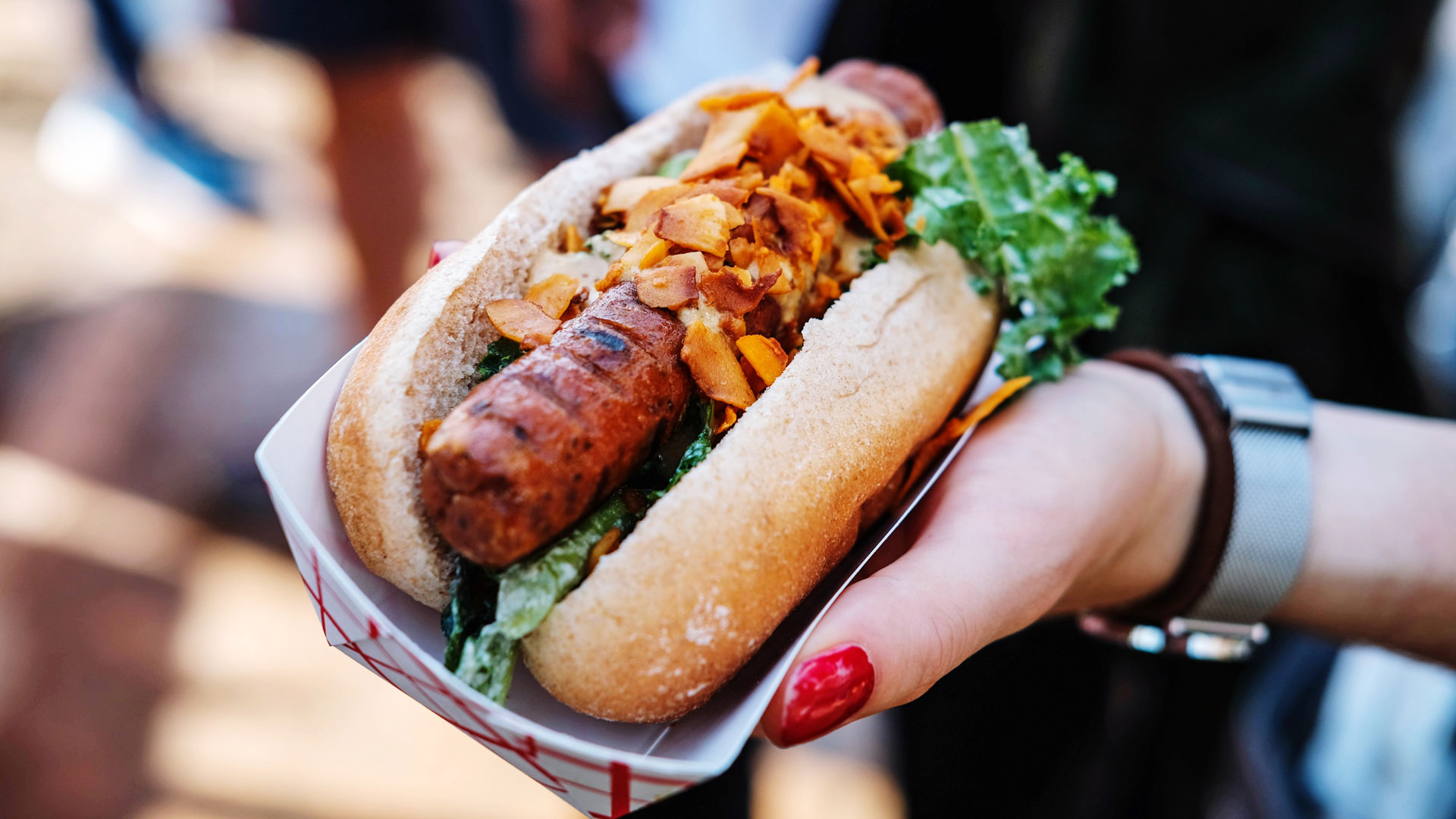 The country's flagship vegan festival, last year's Vegfest UK attracted around 14,000 attendees to see their 280 exhibitors and 150 speakers. Hosted at Olympia in Kensington, in the heart of London, the Vegfest is just a short train journey from two of our club sites.
Opening its doors in October, Vegfest UK celebrates all things vegan. Take a wander through the Vegan Food Village, watch cookery demos and try your hand at meditation in the yoga zone.
Padstow Christmas Festival, Cornwall
When: 2nd – 5th December 2021
Nearest Campsite: Tregurrian Club Site

Hosted annually since 2008, the Padstow Christmas Festival is perhaps Cornwall's most popular festive event – and with good reason! Attracting over 40,000 visitors each year, the festival brings together top chefs and local food producers, creating a unique Christmas atmosphere.
Set in the idyllic Cornish village of Padstow, the festival boasts locally-made festive treats and cooking demonstrations from celebrity chefs such as Rick Stein, Paul Ainsworth and Nathan Outlaw.
Has this guide left you feeling hungry for more? If so, take a lot at some of our camping food and cooking ideas. You can also find more inspiration for your next camping trip in our camping tips and advice section.