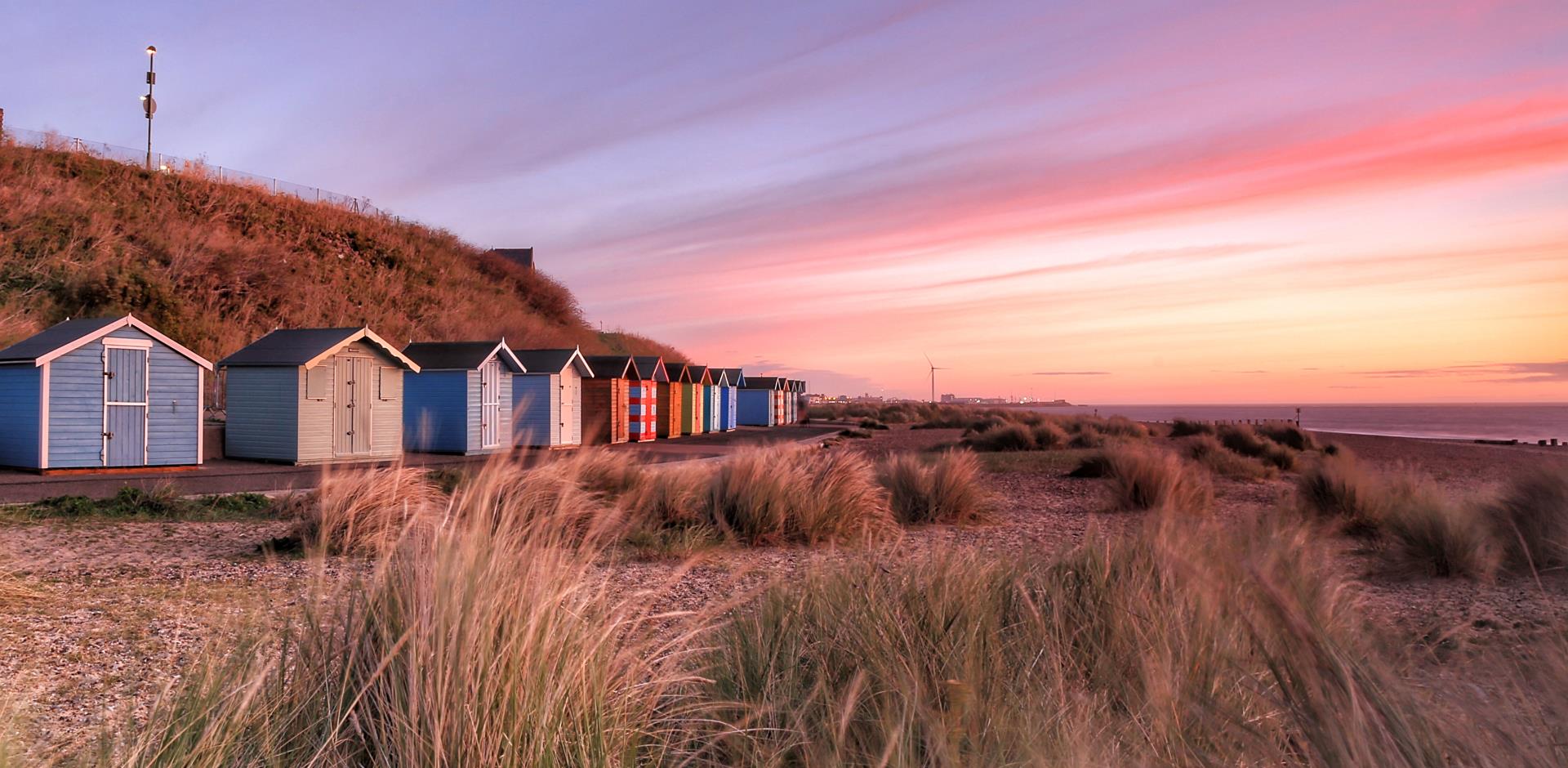 25+ of the Best Campsites in Suffolk
Camping in Suffolk
Unspoilt coastline, wetland Broads and lush green countryside are all yours to enjoy when camping in Suffolk. Rarely busy, Suffolk is an excellent location for a peaceful holiday, with plenty to see and do at your own pace.
Things to see and do while camping in Suffolk
No camping trip is complete without taking a moment to appreciate the stunning outdoors and spectacular wildlife. No matter what the weather, Suffolk has so much to offer for every explorer. Here are some Suffolk favourites.
RSPB Minsmere
Discover some of the UK's rarest wildlife at RSPB Minsmere. The reserve has a wide range of habitats, including heathland, reedbeds and lowland heath, all home to various animals.
Otters, water voles and silver-studded butterflies are just a few to look out for. If you're a bird lover, keep your eyes peeled for bearded tits, marsh harriers and nightjars. Best of all, this nature reserve is just 30 minutes away from our Kessingland Club Site, making it a fab family-friendly day out for campers.
Suffolk Coast
Suffolk's coast stretches for 50 miles, with towns, villages, and beautiful blue flag beaches dotted all around.
Aldeburgh, one of Suffolk's most popular coastal towns, is the ideal location for fish and chips on the beach or exploring the town and shops. Dunwich Heath, an AONB, is ideal for a day away from the campsite. Anyone searching for peace and tranquillity will enjoy the beautiful walking trails and diverse wildlife.
Suffolk Broads, reservoirs and lakes
Suffolk is a boaters paradise. With five major rivers, the Suffolk Broads and lakes scattered around, you can take your boat, kayak, canoe or paddleboard into the water and enjoy the phenomenal views Suffolk has to offer and its beautiful wildlife.
If you're new to watersports, there are many excursions which you can book where guides will help you navigate the waters and show you how to use your boat. If you're packing light for your camping trip in Suffolk, there are plenty of places where you can hire out equipment for the day and enjoy the waters.
Thetford Forest and the Brecks
From scaling the treetops at Go Ape to enjoying a picnic amongst red deer, Thetford Forest and the Brecks has so much to discover.
Walkers will thoroughly enjoy the many trails and pathways that twist and bend through the forest. If you're up for a challenge, Angles Way is one of the longest way-marked walks through the forest, stretching for 77 miles! Cyclists won't miss out, as plenty of cycling routes and mountain biking opportunities exist.
For campers who enjoy wildlife watching, keep your eyes peeled for rare species like the stone curlew and the silver-studded blue butterfly. The forest is also great for horse riding as it has many open trails and designated walkways.
Thetford Forest and the Brecks carries a lot of history dating back to the Roman times. Visit attractions such as Thetford Priory, the Ancient House Museum, Oxburgh Hall and the Ickworth House or take a stroll through the Grimes Graves. This is a unique archaeological site with Neolithic flint mines where visitors can explore ancient mining techniques used over 4,000 years ago.
Havergate Island Nature Reserve
Havergate Island is the only island in Suffolk County. To get to the island, you must book a guided boat tour organised by the RSPB, which departs from Orford Quay. This guided boat tour is organised to protect the natural habitats of many creatures living on the island. When visiting, keep an eye out for various birds, including wading birds, wildfowl, redshanks, dunlins, oystercatchers, and different types of ducks. You may even come across seals and rabbits.
Abbey Gardens
The Abbey Gardens in the heart of Bury St Edmunds is the perfect place for visitors to relax and enjoy nature. The award-winning 14-acre garden includes stunning floral displays, a sensory garden, a rose garden, and a water garden with a cascading fountain. You'll also find the ruins of the medieval abbey, including the famous Abbey Gate, in the gardens.
Discover Suffolk's heritage
Suffolk has a diverse history rich in archaeology, with castles, ancient sites and churches to visit.
Sutton Hoo
One of the UK's greatest archaeological sites, Sutton Hoo, reveals the story of the Anglo Saxons that settled down to live their lives in ancient Suffolk. Visit the royal burial ground where two burial mounds remain, the Great Ship Burial and Horseman's Mound, and see the many artefacts that have been excavated from the area.
Framlingham Castle
Visit Framlingham Castle, where Mary Tudor was proclaimed Queen of England. Walk the castle walls, explore the only remaining building, the workhouse and make use of the café, with its Tudor inspired dishes.
Gainsborough House
The birthplace of Tomas Gainsborough, Gainsborough House is now a museum and gallery which is open to the public. View the exhibitions, get involved in the regular events and learn about the life and works of Gainsborough in the well thought out exhibition.
Dunwich Museum
Discover the story of how a medieval port disappeared at the Dunwich Museum. Originally a Roman fort, Dunwich was transformed over the centuries, with many churches, hospitals and more buildings built to accommodate the growing population. Learn about Dunwich at the museum and walk the trail to see the Lost City for yourself. Best of all, Dunwich is only a 23-minute drive from our Kessingland Club Site.
Kentwell Hall
A great family-friendly day out is Kentwell Hall. You can walk through the stunning gardens and grounds, explore the lived-in family home with its Tudor architecture and learn about the building's history over the past 1,000 years.
Fun days out in Suffolk for all the family
If you're camping in Suffolk with your family, there are many family-friendly things to do all around the county. Here are some popular attractions.
Africa Alive Zoological Reserve
Enjoy a walking safari at Africa Alive Zoological Reserve. The conservation zoo sits right on the doorstep of our Kessingland Club Site, and it's a great place to connect with nature. There's a huge mix of animals, including lions, cheetahs, zebras and giraffes. You'll easily spend a full day exploring the park and making use of the facilities.
Oasis Camel Park
Oasis Camel Park is home to not only a host of friendly camels, but you'll also be able to get up close to donkeys, meerkats, pigs, rabbits and more. The park is around a 30-minute journey by car from Kessingland Club Site and makes for a great family fun day out.
Colchester Zoo
Release your wild side at Colchester Zoo. Sun bears, aardvarks, Komodo dragons, elephants and wallabies are just a few of the species to call Colchester Zoo home. As well as looking at and learning about the fascinating animals, the zoo has play areas, interactive exhibits and plenty of areas to get a bite to eat.
Adnams Brewery
One for the adults, Adnams Brewery in Southwold offers brewery and distillery tours which would make a great activity for those partial to a tipple. You'll get a 1.5-hour tour followed by a tasting. Adnams is just a 20-minute drive from our Kessingland Club Site.
Norfolk and Suffolk Aviation Museum
The Norfolk and Suffolk Aviation Museum is a collection of aviation vehicles, memorabilia and vehicles from past eras. Most of the aircraft are outdoors and there are wonderful indoor collections and exhibitions showcasing the history of aviation. This is a 30-minute drive away from our Kessingland Club Site.
More camping inspiration
From £48
Join the Club
Whether you choose to holiday with a caravan, tent, motorhome, campervan or any touring unit, we offer the best range of pitches and facilities. We even have glamping and holidays overseas. Join The Camping and Caravanning Club to benefit from over 120 years' expertise and discounts carefully tailored to our members.
Save

30% off Club Sites and other discounts including retailers, days out and events and many more…

Explore

Access to an exclusive network of over 1,200 member-only small sites across the UK

Exclusive

Don't miss out on your favourite locations - book up to a year in advance with priority booking for members

Support

Friendly UK Service Centre, free technical advice, insurance products tailored for members