Dog friendly camping
Want to bring your dog camping? We have 1000's of campsites where you can do just that for no extra fee. With so many dog friendly campsites for you to choose from we've highlighted some of our favourites as well as tips and tricks below.
Dog friendly camping FAQs
What are some of the most popular destinations in the UK for dog friendly camping?
Last Modified: 28 Apr 2023
Where can I find the best dog friendly campsites near me?
If you've got a specific destination in mind, you can search nearby campsites using our Siteseeker tool. Here you can also filter by facility and site type to tailor your search.
Last Modified: 28 Apr 2023
Are there any dog friendly campsites near the beach?
Last Modified: 28 Apr 2023
Which dog friendly campsites have electric hook up?
All of our Club Sites have electric hook ups and to view which of our member exclusive sites do, you can check on their individual campsite pages.
Last Modified: 28 Apr 2023
Which dog friendly campsites are open all year round?
Last Modified: 28 Apr 2023
What rules are there regarding dogs on your campsites?
Please refer to our
Club Site Policies
to read all of our rules regarding pets. Member exclusive campsites may have different policies in place so it's always worth checking with campsite owners prior to booking.
Last Modified: 28 Apr 2023
Advice for camping with your dog
There's nothing more stimulating for your dog than taking them somewhere new where they can sniff, explore, and make friends on their holiday. We've listed advice and recommendations of places to visit and things to do while camping with your dog below.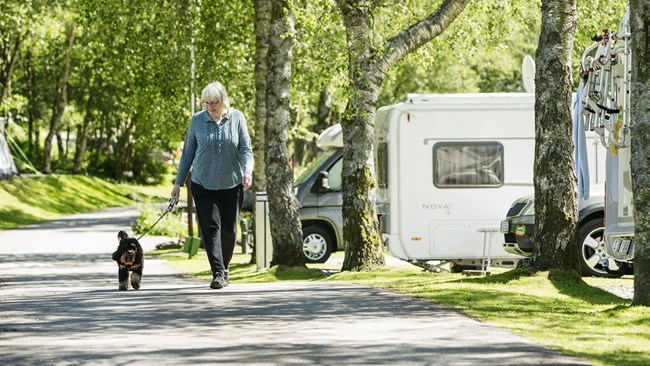 Checklist for camping with your dog
View our dog camping checklist, which includes everything you'll need to think about and pack when you're taking your four-legged friends on holiday with you.
Dog friendly attractions
Across the UK, there are plenty of places that allow you to visit with your dog. View our list of dog friendly attractions, including places like the Battle of Hastings Grounds, railways, castles and much more.
Dog friendly pubs
Our recommendations of dog friendly pubs across the UK are perfect for resting your bones while you enjoy a drink or meal.
Explore picture-perfect views
Areas of Natural Beauty (AONB) are found across the UK and are brilliant places to explore with your dog.
Island hop with your pooch
With over 6,000 isles off the UK coastline, don't limit yourself to the mainland. View the best UK islands and nearby campsites to explore.
Make the most of the UK's green spaces
There are endless parks, gardens and other green spaces to explore with your dog in tow. Many English Heritage Sites allow dogs too; just check individual places prior to visiting.
Popular dog friendly camping locations