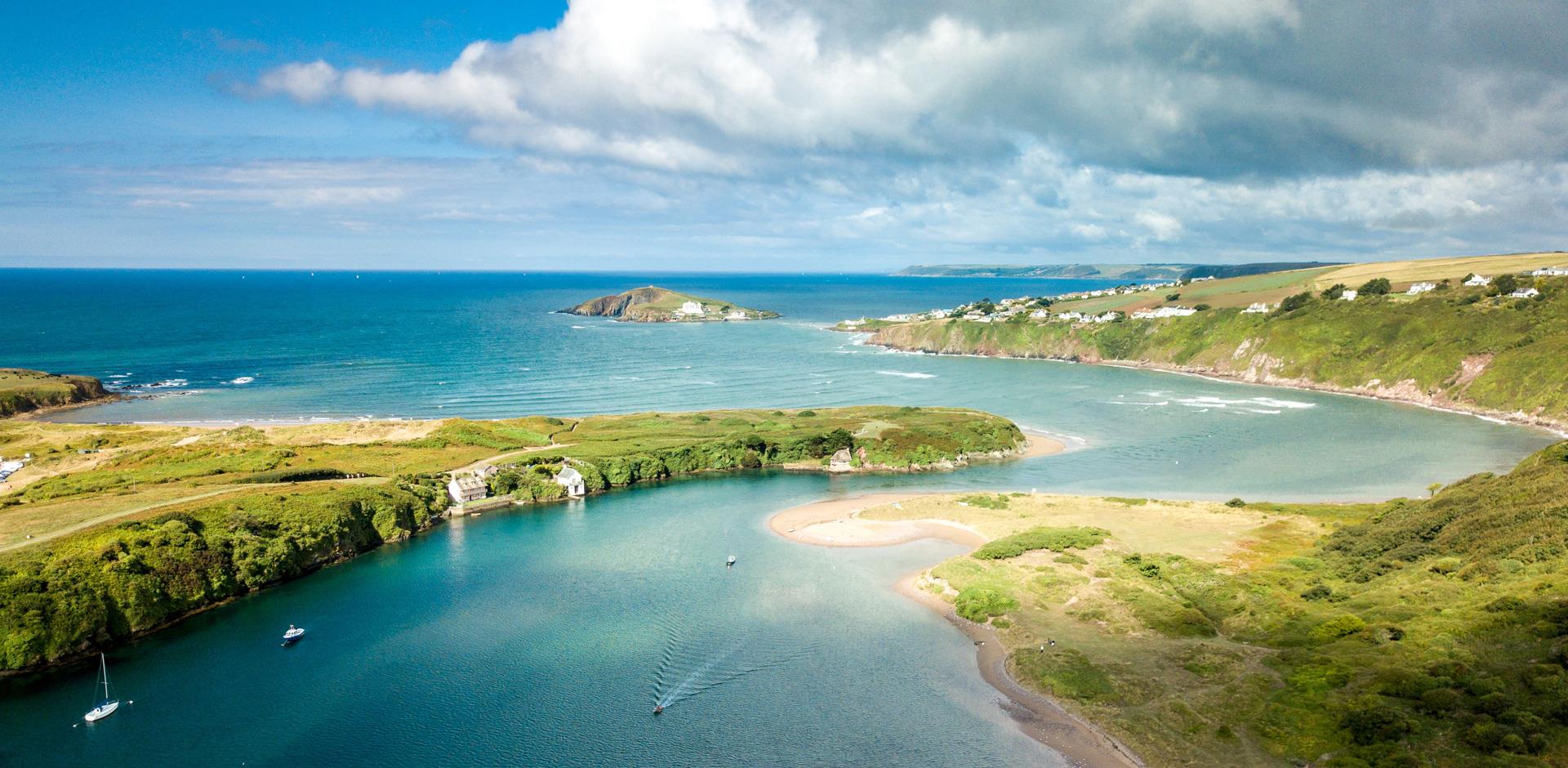 Unforgettable campsites in Devon
Camping in Devon offers over 2,500 square miles of unspoilt coastline, rugged moorland, and abundant wildlife. Whether you're looking for a relaxing break or something more active, Devon's diversity offers something for every type of camper.
What are the best campsites in Devon?
Devon is one of the most popular holiday destinations in the UK, especially in the summer months. With both Club Sites and member exclusive campsites available,
joining the Club
gives you the best variety of campsites in Devon to choose from.
Last Modified: 28 Apr 2023
What are the top destinations in Devon?
Whether you choose to go camping in the north or south of Devon, there are plenty of campsites in the most popular locations. Dartmouth, Lynton, Kingsbridge, and Tavistock are popular locations to explore.
Last Modified: 28 Apr 2023
Which Devon campsites are near the beach?
With the coast being one of Devon's finest attractions, you'll find that most campsites offer direct access to the beach or are within a short drive. View our top
beach campsites
.
Last Modified: 28 Apr 2023
What are the best family friendly campsites in Devon?
Our campsites have their facilities listed to make finding a site suitable for you and your family quick and simple. Look out for facility icons such as play area, parent and baby room and washing machines. View our
best family campsites
.
Last Modified: 28 Apr 2023
Are there any adult only campsites in Devon?
Most of our campsites in Devon are family friendly however, a selection of our member exclusive sites are
adult only
. View our
quieter campsites
which are ideal for a camping holiday inside of school term time.
Last Modified: 28 Apr 2023
Which campsites in Devon are dog friendly?
Most of our campsites in Devon allow dogs and have facilities to cater to your four-legged friend. Look out for dog friendly facility icons on campsites, such as whether there's a designated dog walk or doggy shower. View a list of our top
dog friendly campsites
.
Last Modified: 28 Apr 2023
Which campsites in Devon are open all year round?
View a list of our campsites which remain
open all year
, including those in Devon.
Last Modified: 28 Apr 2023
Things to do and see while camping in Devon
Home to some of the country's best beaches, delicious cream teas and sweet scrumpy cider, Devon is a popular destination for campers. Explore charming villages, seaside resorts and sprawling national parks in this stunning area of the South West.


Explore national parks
Despite both having craggy moorland, meandering rivers and idyllic villages, Devon is home to two very different national parks – Dartmoor and Exmoor.

Officially designated national park status in 1954, the Exmoor National Park covers over 267 square miles of rocky moorland, luscious woodland, slanted valleys and dramatic coastal cliffs. Strap on your walking boots and follow the pathway of the South West Coastal Path, stopping to gape at the natural wonder that is the Valley of the Rocks. Opened in 1890, the Lynton and Lynmouth funicular Cliff Railway is the steepest water powered railway in the world and offers breath-taking views of the Devonshire coastline.

Teeming with wild woodland, winding rivers, overgrown moorland and idyllic hamlets, the Dartmoor National Park is a diverse landscape in the heart of Devon. Explore over 1000 years of religious history at Buckfast Abbey, part of an active Benedictine monastery in the riverside village of Buckfast. Pack a lunch and spend a day at Dartmoor's family-owned zoological park, home to a wide array of animals including lions, tigers, zebras and snakes.

Devon offers an extensive network of public footpaths and bridleways through farmland and woodland. If you're looking to marry your camping trip with a long-distance ramble, follow the entirety of the Two Moors Way. The pathway stretches over 100 miles, from Ivybridge on the southern boundary of Dartmoor, to Lynmouth on the north coast of Exmoor.


Devonshire coastline
Bordered by Dorset and Cornwall to the east and west, Devon has two varied, spectacular stretches of shoreline – north and south. Boasting vast national parks and distinct heritage beaches, Devon's coastline rivals any other in the UK.

Whether you're seeking an adventure-filled trip or a relaxing getaway, Devon's north coast is an ideal location for your next camping trip.

The South West Coastal Path begins at the charming Edwardian seaside resort of Minehead, and traces around the tip of the Hartland Heritage Coast and down into Cornwall. Take the kids to the Milky Way Adventure Park, home to heart-pumping rollercoasters, mini golf, archery and a brand new gravity rider.

Covering over 337 square kilometres of untamed coastline, fascinating history and family resorts, South Devon was officially labelled an Area of Outstanding Beauty in 1960.

Explore the beloved holiday home of revered author Agatha Christie, Greenway House, set in a stunning setting on the banks of the River Dart. Wander across the shore at low tide, or ride a sea tractor at high tide, out to Burgh Island. A tidal island just off the coast at Bigbury-on-Sea, Burgh Island is famed as the backdrop for Christie's iconic mystery novel, And Then There Were None.


Top things to do in Devon
With a diverse array of activities available ranging from golf, horse riding, cycling and fishing, Devon is a fantastic place for the outdoor enthusiast. For those in search of rest and relaxation, Devon also has plenty to offer. Here are five things to do on your next camping trip in Devon:
1. Valley of the Rocks

Running parallel to the west coast of Lynton, the Valley of the Rocks is arguably Devon's most dramatic natural attraction and an essential visit when staying at our Lynton Club Site. Noted for its herd of playful goats, fascinating geology and unparalleled views, these coastal cliffs are among the highest in Britain.

2. South Devon Railway

Meandering through the unspoilt Devonshire countryside, the South Devon Railway is a multi-award winning steam railway and is a unique way of exploring this stunning area of the South West. Climb aboard an original steam-powered train and follow the former railway, built in 1872, through the sloping valley of the River Dart between Totnes and Buckfastleigh. The South Devon Railway is around 10 miles from our California Cross Club Site.

3. Dartmouth Castle

For over 600 years, the imposing fortress of Dartmouth Castle has guarded the charming port-town of Dartmouth and the nearby entrance to the Dart Estuary. Climb to the top of the battlement for panoramic views of the bustling town below. The castle was involved in the Civil War and continued in service right up until the Second World War. Dartmouth Castle is within walking distance of our Dartmouth Club Site.

4. Royal Albert Memorial Museum

Situated in the Roman cathedral city of Exeter, the Royal Albert Memorial Museum is a fascinating day out for the whole family. Founded in 1868 and housed in a Gothic Revival building, the museum is home to significant collections in diverse areas such as zoology, anthropology, fine art, archaeology and geology.

5. Exmoor Zoo

Home to the only pair of black leopards on exhibit in the UK, Exmoor Zoo is a conversation centre near the village of Bratton Fleming on the outskirts of the Exmoor National Park. Opening its doors in 1993, today you can come face to face with friendly creatures such as cheetahs, monkeys, wallabies and snakes.
More popular camping destinations
From £48
Join the Club
Whether you choose to holiday with a caravan, tent, motorhome, campervan or any touring unit, we offer the best range of pitches and facilities. We even have glamping and holidays overseas. Join The Camping and Caravanning Club to benefit from over 120 years' expertise and discounts carefully tailored to our members.
Save

30% off Club Sites and other discounts including retailers, days out and events and many more…

Explore

Access to an exclusive network of over 1,200 member-only small sites across the UK

Exclusive

Don't miss out on your favourite locations - book up to a year in advance with priority booking for members

Support

Friendly UK Service Centre, free technical advice, insurance products tailored for members