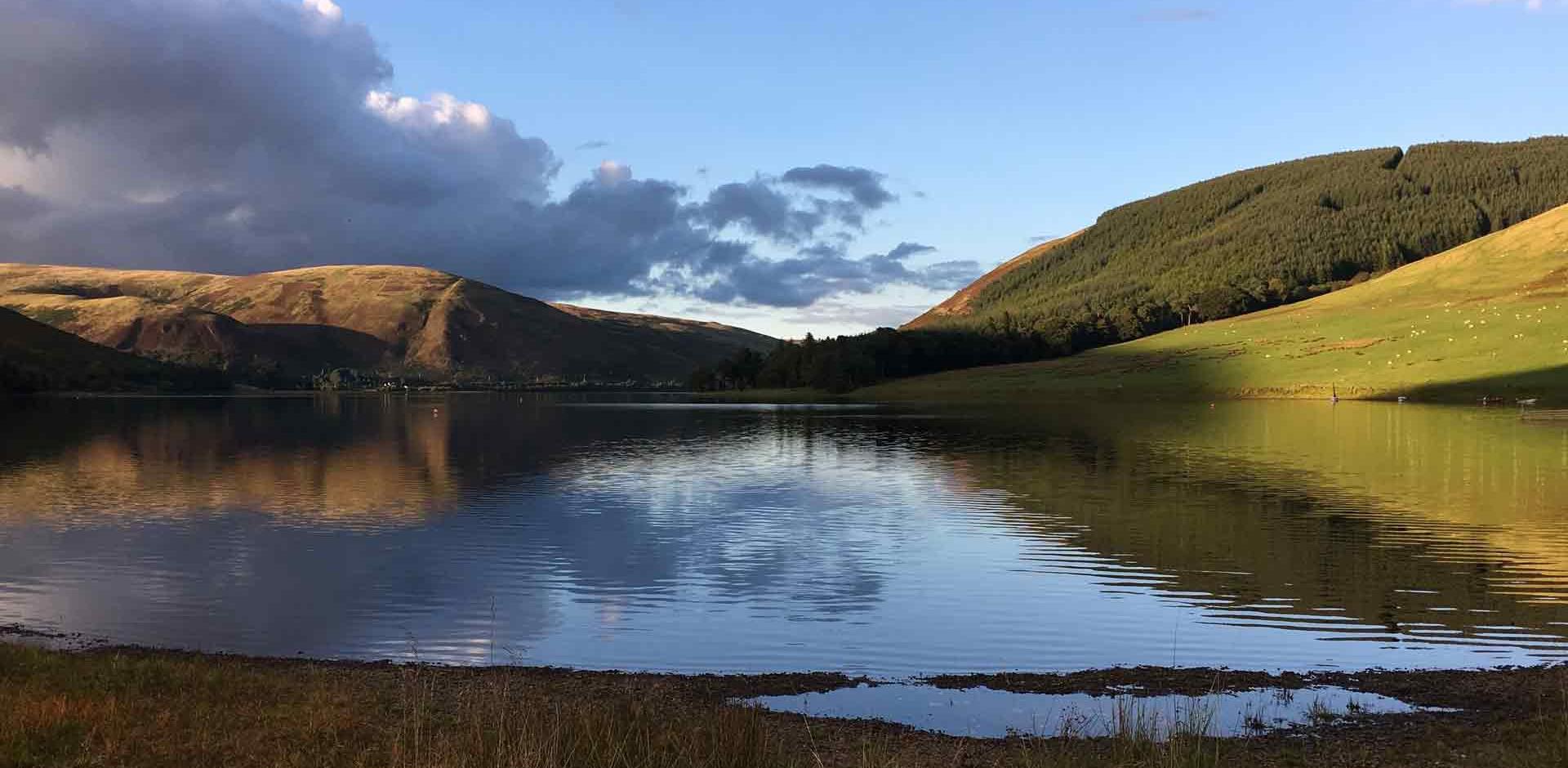 Captivating camping in Scotland
Discover Scotland's past, explore the legend of the Loch Ness Monster or enjoy popular Glasgow and Edinburgh on an unforgettable camping holiday. Wherever you choose to go camping in Scotland, you'll find spectacular scenery, outdoor pursuits, and attractions to keep you entertained. There really is something for everyone in Scotland, from the magical Fairy Pools on the Isle of Skye to member exclusive caravan parks and everything in between.
Things to do and see while camping in Scotland

Explore Scotland's cities
Edinburgh is the country's capital and second largest city (Glasgow being the largest) and was the hub of the Scottish Enlightenment in the 18th century, which transformed Scotland into one of the commercial, intellectual, and industrial powerhouses in Europe. Today there's plenty to do in and around Edinburgh.
Climb to the top of the extinct volcano, Arthur's Seat which perches above the city and is visible from most places. It's a relatively easy hike for most and gives you a good view of the city and surrounding area.
Edinburgh Castle is one of the most iconic tourist attractions in Scotland and sits on top of the city's other extinct volcano. Look out for the regular events and re-enactments for a taste of what life was like at the castle.
Edinburgh Zoo makes for a great family day out and is home to the only giant pandas in the UK!
Take a tour of the city to get your bearings. Walking and bus tours are available year-round and are a great way to get to know the city.
Glasgow sits in Scotland's Lowlands and is the third most populated city in the UK. There's plenty to do in the city, with options for family days out as well as great eateries for couples camping in Scotland.
Head to the awe- inspiring Glasgow Cathedral for a delightful example of Scottish gothic architecture.
Glasgow Science Centre is great for the whole family, offering education on all things space, the human body, quantum physics and more.
On the quieter side, The Kelvingrove Art Gallery and Museum has one of the best collections of art in Europe.
Delve into Scottish history
Scotland boasts many castles in various states. Some of the best to visit include Edinburgh Castle, Balmoral Castle and Stirling Castle.
One of the most historical buildings in Scotland, Scone Palace is well worth a visit for its exhibitions, events and outdoor activities. Learn all about the castle, the crowing place of Robert the Bruce and Macbeth and explore the grounds which span 100 acres.
Skara Brae is a Neotholic settlement in the Orkney Isles. Travel to the site by ferry and discover what life was like over 5,000 years ago. Being the best-preserved group of prehistoric houses in Western Europe, a walk around the village is eye opening for all ages.
One of the most scenic rail journeys in the world is on the West Highland Railway Line. Travel along the Glenfinnan Viaduct which was used in the filming of the Harry Potter films, go past Loch Awe to Oban or journey the wilderness of Fort William.
Scotland also has plenty of museums to keep all ages entertained. Some of our top recommendations include:
The National Museum of Scotland in Edinburgh.
The National Museum of Flight in North Berwick.
National War Museum which is located inside Edinburgh Castle.
The Verdant Works in Dundee.
Inveraray Jail.
Enjoy a Taste of Scotland
It's believed whisky making began in Scotland and today there are over 120 distilleries', many of which you can visit. Cardhu in Speyside was founded in 1811 and offers a range of guided tours. You'll get an insight into the brewing process as well as a taste of the final result. The Glenlivet, Glenmorangie and Dalwhinnie are others worth visiting. Wherever you camp in Scotland, you'll find a nearby distillery to discover. View our top ten distillery tours in the UK.
Scotland's national dish is haggis which was traditionally served as the star of a Burns Supper. Onions, oatmeal, various meats and spices are combined to make the delicious dish. Served with tatties and neeps (potatoes and turnips), you'll find the dish to try in eateries throughout Scotland.
Shortbread, Cranachan and Scottish tablet are among the traditional sweet treats to try throughout your stay.
National Parks
With two national parks and a huge variety of landscapes to explore, Scotland will never leave you looking far for outdoor adventures.
The Cairngorms National Park is home to a spectacular mountain range, offering plenty of activities for all ages and abilities. There are hundreds of trails and paths for walking and cycling with routes available at the visitor centres throughout the park. There are eight castles, 12 golf courses, nine nature reserves and a bridge based bungee jump to fill your days. The Cairngorms are also renowned for being great for UK snowsports and watersports.
Camping within the Loch Lomond and Trossachs National Park give you access to outdoor activities galore. The park has a number of hillwalking opportunities including Gouk Hill which provides views over Loch Lomond, Callander Crags with the nearby Bracklinn Falls and Strone Hill, offering views over the Firth of Clyde and the sea lochs. There are plenty of cycling and walking trails varying in difficulty with some suitable for the whole family. With its varying landscapes of sea lochs, mountains and rocky coastline the park boasts a range of rich habitats for local wildlife. Read deer, red squirrel, black grouse and birds of prey can all be seen.
Other Scottish Attractions
Here are a few of the best places to visit and things to do when staying on a campsite in Scotland.
Scotland has almost 800 islands to explore. The Isle of Skye is the largest island in the Inner Hebrides with picture perfect fishing villages, history to discover and plenty of attractions for all ages. You can enjoy a camping holiday on the Isle of Skye on our Skye campsite.
Loch Ness is not only the home of the mythical Loch Ness Monster; it's also surrounded by scenery and history. The ruins of Urquart Castle can be found on the hillside above the water, arrive by boat or view from a distance on a Loch Ness Cruise. Our Loch Ness Shores campsite offers direct access to the water.
The Riverside Museum in Glasgow is free to enter and has exhibits on vintage cars, ships, trams and much more. Just outside of the museum on the river you can board the S. S. Glenlee which is a real favourite with kids.
The Royal Botanic Garden Edinburgh offers a huge 72 acres of land to explore and views of Edinburgh's fantastic skyline with no entry cost. Enjoy the world-famous Rock Garden and a wide range of different fauna and flora.
With animals from every corner of the globe, great facilities and activities to keep kids entertained, Edinburgh Zoo makes a great day out. The UK's only giant pandas are housed at the zoo which is part of RZSS, one of Scotland's conservation charities.
More popular camping destinations