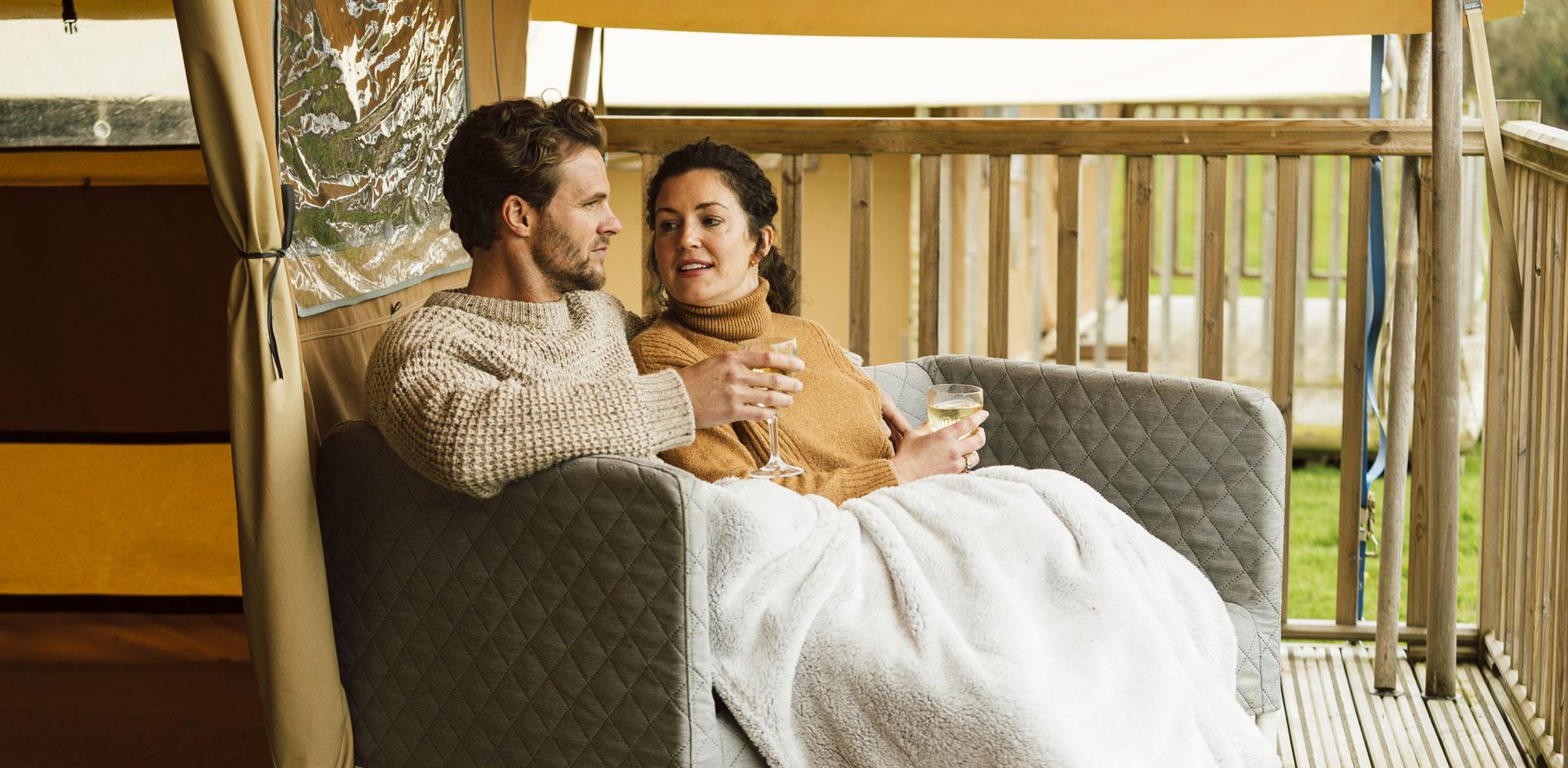 Glamping Holidays in the UK
Explore luxury camping with our unique glamping accommodation
Glamping is a complete outdoors experience where we provide accommodation, so you don't have to. Immerse yourself in the great outdoors without compromising on comfort. Arrive on one of our glamping sites in the UK, settle in and get straight out exploring. With a variety of glamping accommodation available, including cozy cabins, stylish pods, and spacious safari tents, you can select the perfect abode for your unforgettable glamping adventure. Unwind, settle in, and get ready to embark on an extraordinary journey of exploration and relaxation. Your idyllic glamping holiday begins here.
What is glamping?
Glamping is also known as 'glamorous camping,'. Think of glamping as camping with a dash of added luxury. At our glamping sites, we redefine the traditional camping experience by seamlessly blending the enchantment of spending a night under the stars with the convenience of modern comforts. Say goodbye to the tedious task of setting up your tent and securing stakes into the ground with our diverse range of glamping options.
Last Modified: 14 Jun 2023
Why should you try glamping?
Are you new to camping and want to give it a go before buying a unit of your own? Just looking for one easy weekend away from a busy lifestyle? Glamping offers an easy way to camp in the great outdoors but with a little extra style and comfort.
You can leave the tent, caravan or motorhome behind.
You'll be cosy inside no matter what the weathers doing outside.
You can get out exploring the local area straight after arriving at the campsite.
Spend quality time with friends and family.
It's a great way to explore the UK, with coastal, rural and city locations across the country.
Although switching off technology and reconnecting with nature is fantastic for your mental health, we know that's not always possible which is why the majority of our campsites offer WiFi, usually at no extra charge.
As a member of The Camping and Caravanning Club, you're entitled to an extra 15% discount on your Ready Camp booking.
Last Modified: 12 Jun 2023
Can I bring my dog to your glamping sites?
We do offer dog friendly glamping at a few of our sites:
Last Modified: 12 Jun 2023
Can you go glamping in the winter?
Yes! Many of our cabins, pods and safari tents are open all year round. There's nothing like being out in the cold, exploring your surroundings and walking back into a cosy haven. With heaters, plenty of blankets and well-insulated accommodation, there's no reason why glamping needs to end once the summer months are over. Discover which of our sites are
open all year
.
Last Modified: 12 Jun 2023
Is there Wi-Fi available at your glamping sites?
Yes! Most of our Club Sites have Wi-Fi so you can stay connected while your away. While Wi-Fi is free and available across multiple Club Sites, your experience of the speed and strength may differ due to our rural locations and your neighbouring campers. You can check whether your chosen glamping site has Wi-Fi under the facility information on the page prior to booking.
Last Modified: 13 Jun 2023
What will I need to take when I go glamping?
Our glamping accommodation options list what you get included when you stay. Our Ready Camp page has a helpful FAQ on what you'll need to take with you which is worth checking when you pack for your trip with us.
View our glamping checklist for the ultimate guide on what to pack.
Last Modified: 08 Sep 2023
Need more information on UK glamping?
Discover our different types of glamping accommodation:
Ready Camp – Safari tents on Club Sites, perfect for an easy glamping holiday with the whole family
Camping pods – Insulated wooden pods on our Club Sites
Lodges – Luxury lodges sleeping up to 4 people
Last Modified: 13 Jun 2023
Are there any special offers available?
As a member of the Club you'll benefit from a 20% discount on all Ready Camp bookings. Members also benefit from all our other perks, including exclusive discounts from a range of retailers and attraction providers, plus other fun ways to stay with the Club.
Last Modified: 13 Jun 2023
Types of glamping accommodation
More about glamping with the Club
Who we are
While we call ourselves "the Club", everyone can stay on our Club Sites, whether you're a member or not. Our membership offering allows you to save on UK holidays (including glamping accommodation!) and make use of exclusive retail and attraction discounts. Everything we do, we do with the aim of making your holidays as enjoyable, memorable and affordable as possible.
Why you can trust the Club for your glamping holiday
As the world's oldest and largest Club for all forms of camping, we know a thing or two about the great outdoors. Glamping with us allows you to enjoy a break with all the best bits of the outdoors but with minimal effort required. Think comfortable, easy camping with a few little luxuries added on.
Who our glamping holidays are aimed at
Everyone! Our accommodation is suitable for most people but contact us if you do have any questions. Some of our Ready Camp tents have ramps for access but can be a little tight to manoeuvrer.
Our glamping accommodation has location in mind
We've placed our accommodation on campsites in great locations for the whole family. No matter where you stay with us, you'll find plenty to do and explore at your own pace. And if you need inspiration? Our advice hub is jam-packed with things to do, places to explore and top tips.
FAQs on campsites with play areas
Popular glamping locations
These are some of our most popular glamping locations in the UK.