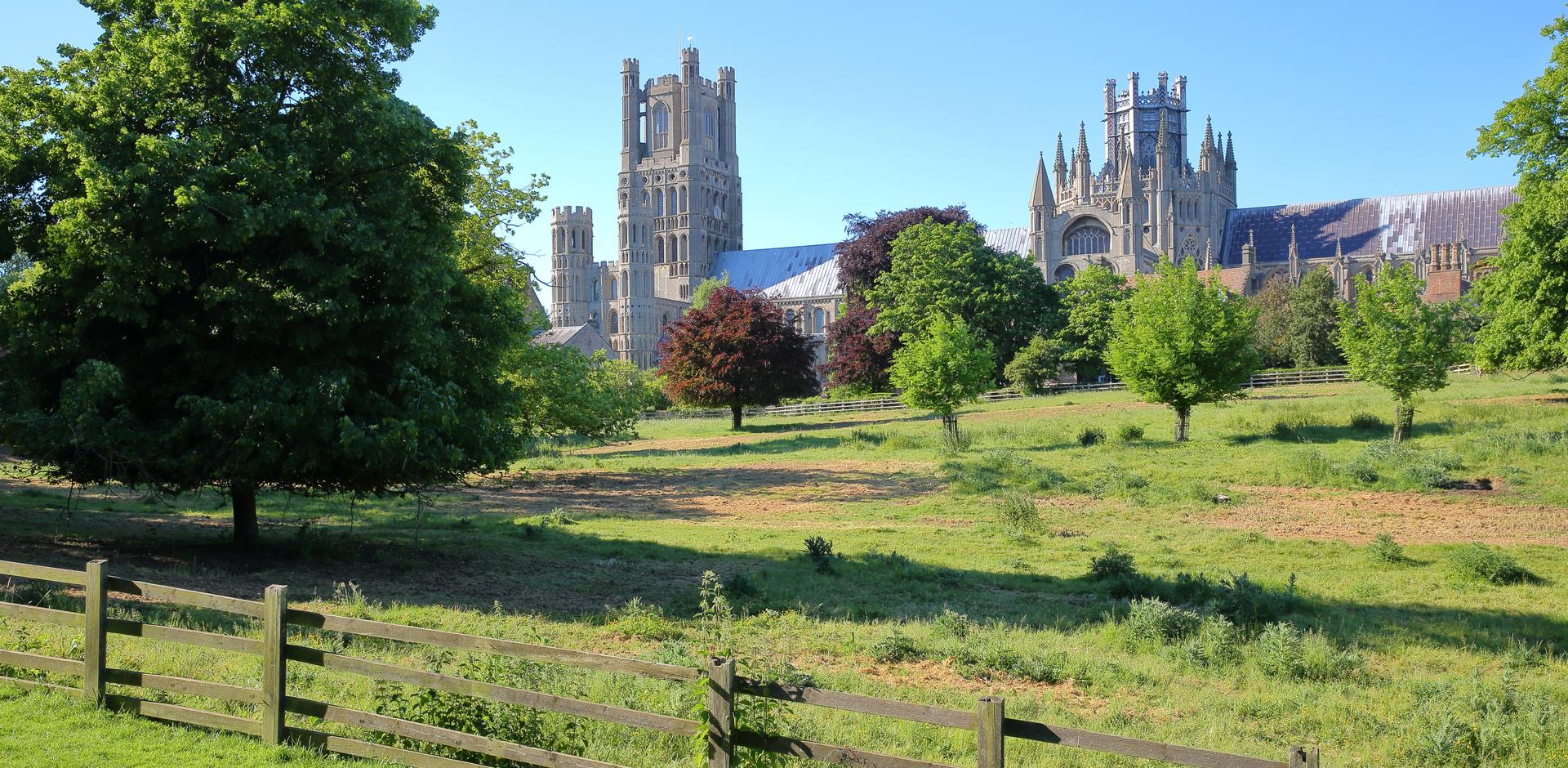 Camping in Cambridgeshire
Campsites in Cambridgeshire
Camping in Cambridgeshire offers a mix of vibrant cities, rolling countryside and quaint villages. Landlocked in the East of England, Cambridgeshire borders seven different counties and is home to a diverse array of attractions that make it truly unique.
More about camping in Cambridgeshire
World-famous university

Cambridge, the county town of Cambridgeshire, is home to one of the oldest, most prestigious universities in the world. Sprawled across the cobbled streets of this historic city, the University of Cambridge draws tourists from around the world to visit this centre of education.

Wander around the university colleges, each with their own identity and each one more impressive than the last. Learn about famous alumni, see where Steven Hawking lived and sit beneath the apple tree where Isaac Newton discovered the law of gravitation. Each college is unique and has its own history and traditions; however King's College and Trinity College are most popular with tourists due to their elegant architecture and pristine gardens.

The university boasts nine museums and galleries, including the Fitzwilliam Museum, which is home to an incredible collection of artwork, sculptures and antiquities. Spend an afternoon walking around one of the world's best galleries, taking time to marvel at paintings by iconic artists such as Van Gogh, Monet, Cezanne and Picasso.

If you want to explore the city from an alternative perspective, hop on a boat and take a punting tour around the city. Passing under historic bridges and past riverside colleges, the River Cam offers a unique way to explore Cambridge and its university campus.



Cambridgeshire countryside

Head to the south of the county and you'll find the flat and fertile Fens and the city for which Cambridgeshire is probably best known - Cambridge. But, there's plenty more to enjoy in this county, venture a little further afield you'll uncover the true beauty of what this wonderful county has to offer.

Situated in 2,400 acres of charming countryside, Grafham Water Park is England's third largest reservoir and a fantastic day-out for the whole family. In 1986, the reservoir was designated as a Site of Special Scientific Interest. Hire a canoe or kayak and take it out on the water, or hop on a bike and cycle around the 10-mile cycle track that traces the reservoir.

The lack of hills makes this excellent cycling country. Follow the tow path from Cambridge all the way to Ely or walk part of the Ouse Valley Way - a 150 mile stretch of riverside pathway that straddles three counties on its way to the sea at Kings Lynn.

Cambridgeshire is also blessed with one of Europe's most important wetlands, Wicken Fen, which supports more than 8,000 species. Explore its nature trails on foot or bike, spy the abundant wildlife from one of the many hides or hop on a boat and cruise the Fens' many waterways.

Uncover fascinating local history at the lavish country estate of Wimpole Hall, nestled in the heart of rural Cambridgeshire. Boasting unique Georgian architecture and colourful parterre gardens, Wimpole Estate is one of the most impressive stately mansions in the UK. In 1976, Elsie Bambridge, daughter of adored author Rudyard Kipling, bequeathed the estate to the National Trust, opening the hall to visitors.



Top things to do in Cambridgeshire

With two outstanding campsites in Cambridgeshire and so much to see and do, we're sure your first visit won't be your last. Here are our top five things to do in Cambridgeshire on your next camping trip:

1. Ely Cathedral

Towering above the bustling city below, Ely Cathedral and its iconic 14th century octagonal tower dates back to 1083 and receives around 250,000 visitors each year. Spend an afternoon wandering around the elegant chapel, sprawling parkland and one the largest collections of medieval monastery buildings still in use.

2. Imperial War Museum Duxford

Located in close proximity to our pretty, tree-lined Cambridge Club Site, the Imperial War Museum Duxford is a historic airfield and museum of significant aviation history. Explore the same hangars as those who served at RAF Duxford and discover the history of classic World War aircrafts such as the Spitfire, Lancaster and Tiger Moth.

3. Cambridge University Botanic Garden

Covering over 16 hectares, Cambridge University Botanic Garden is home to a diverse collection of over 8,000 plant species hailing from all over the world to facilitate teaching and research. The garden was opened in 1831 by Professor John Stevens Henslow, the mentor of Charles Darwin. Wander through the gardens and uncover the important research that is carried out here.

4. Anglesey Abbey

Constructed around 1120, Anglesey Abbey was originally an Augustinian Priory before it was disbanded in 1535 as part of the dissolution of the monasteries. In 1600, the priory was converted into a country house and renamed Anglesey Abbey. Today, you can explore the pristine gardens and discover why the abbey is famous for its coprolite fossils.

5. Hamerton Zoo Park

Opened in 1990, Hamerton Zoo Park is set in over 15 acres of parkland and is home to a range of exotic animals. Situated close to our St Neots Club Site, in the charming village of Hamerton, this zoo is a fantastic day-out for the whole family. Explore the grounds and keep an eye out for small and big cats, reptiles and primates.

More popular camping destinations