Traditional British Food and Drink
Jam-packed with home-grown produce and goods, it's time for foodie fanatics across Great Britain to join together and celebrate the best of British food and drink.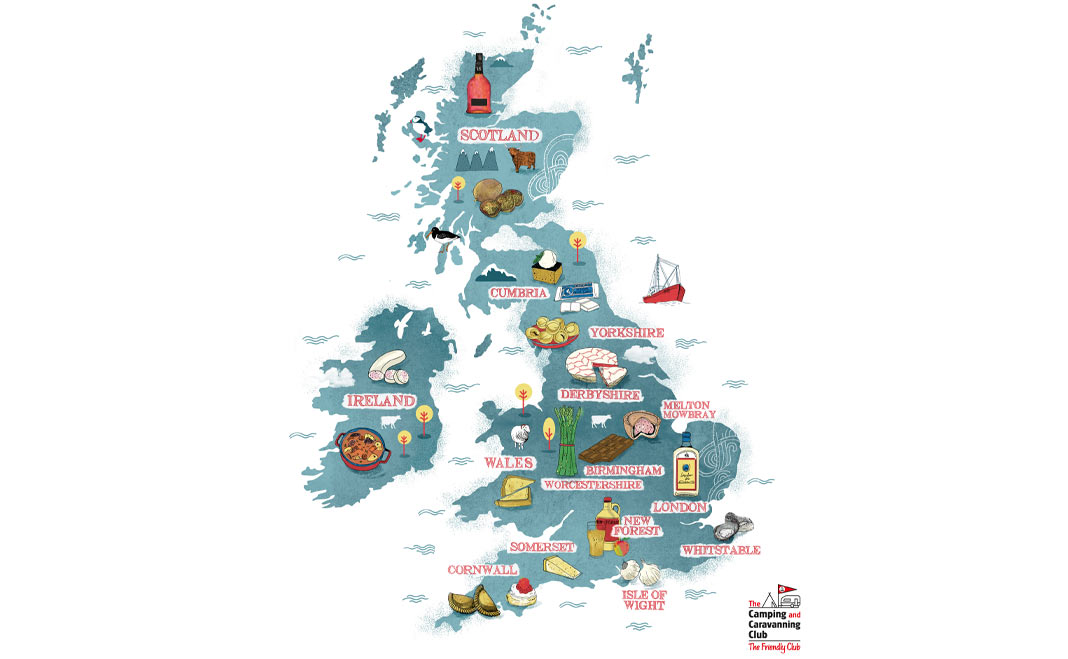 Popular UK foods
1. The Garlic Farm, Isle of Wight

You can find everything from garlic flavoured beer to chutney and pesto at The Garlic Farm in Newchurch. Just a 10-minute drive from our Adgestone Club Site, the shop and restaurant are open seven days a week.
2. Cromer Crab, Norfolk
Cromer Crab is famed for being the best in the UK thanks to the pure, nutrient-rich water along the Norfolk coast. Cromer beach is just 10 minutes away from our West Runton Club Site, visit The Crab Pot Café or The Jetty Café for great fresh crab sandwiches.
Popular Foods South West
3. Cheddar Gorge Cheese, Somerset

For cheese lovers, a visit to Somerset isn't complete without sampling some of the regions finest. From our Cheddar Mendip Heights Club Site it's about a 10-minute drive to The Cheddar Gorge Cheese Company, the only cheddar producer left in the village. The working dairy and shop give you the chance to look at the production process and to purchase award-winning cheeses.
Cornwall

4. Clotted Cream
Created as a by-product of dairy farmer's reducing waste from their milk, this is a thick and indulgent cream. Clotted cream is often enjoyed with a scone and either jam or treacle as an accompaniment. Remember that in Cornwall, its jam or treacle first but, in Devon, its cream.
5. Cornish Pasty
Traditionally filled with a mixture of beef, potato, swede and onion these golden shortcrust shells are regarded as the national dish of Cornwall. Nowadays there are endless filling variations available, be sure to take a Cornish pasty pit stop on your travels.
6. Tregothnan Estate, Cornwall's Tea Plantation
The tea gardens at Tregothnan were established in 1999 and in 2005 the estate contributed to the first sale of truly "English Tea" in the UK. Many varieties of Tregothnan tea are available to buy online including Manuka, Red Berry and English Breakfast Tea.
Popular Foods South East
London

7. London Dry Gin
Gin held a significant place in London's history books with The Gin Craze in the 18th century. Today, the popularity lives on, with many distillers and gin lounges going strong in London. London Dry Gin is enjoyed globally, flavoured using only natural plant materials.
8. Chelsea Buns
According to the history books, 50,000 people queued up to buy one of these buns on the day they went on sale by the Old Chelsea Bun House in the 18th Century. Cinnamon, currants, lemon peel, brown sugar and butter are combined with enriched-egg dough to form a gloriously sticky baked treat. Visit Borough Market to pick up a freshly baked bun.
9. Eton Mess, Berkshire
Strawberries, broken meringue and whipped double cream are combined to form the traditional English dessert, thought to originate from Eton College.
10. Oysters, Whitstable

Whitstable is famed for its shellfish; specifically, it's oysters. Harvested for centuries, you'll struggle to find a fresher oyster than those available in the medium-sized seaside town on the north Kent coast. It's around a 20-minute drive to Whitstable from our Canterbury Club Site.
Popular Foods South
11. Cider, New Forest

Apple orchards were established in England by the Romans and cultivated ever since. In the New Forest, cider making was a way of life for the New Forest Commoners, and the tradition has carried on through the ages. Today there are several popular breweries to visit around the New Forest including Ringwood Brewery where you can take a tour and visit the shop. It's less than a 15-minute drive to Ringwood Brewery from our Verwood Club Site.
Popular Foods East Midlands
Derbyshire

12. Bakewell Tart
Those visiting Bakewell should head to The Old Original Bakewell Pudding Shop to purchase the popular treat. On offer, you'll find Bakewell pudding, made with puff pastry as well as the traditional Bakewell tart. The shop is just under 15 minutes away from our Bakewell Club Site by car.
13. Buxton beers
There are thousands of beer breweries across the UK. One of these is Buxton beers, situated in a historic Old Court House dating back to the mid-1800s in the centre of Buxton. The Tap House serves food as well as an extensive list of beers from around the world.
14. British honey
Littleover Apiaries in Derbyshire is just one of the UK's leading honey suppliers. We recommend checking whether there's a local beekeeper near you or your campsite.
15. Pork Pie, Melton Mowbray
A pork pie shop so popular it has its own signpost, Ye Old Pork Pie Shoppe has been up and running since 1851. Hot water crust pastry is hand raised to create the famous pie which is filled with pork and jelly before being cooked without a mould, resulting in its distinctive shape.
Popular Foods West Midlands
Birmingham

16. Cadbury Chocolate
Around a 20 minute drive away from our Clent Hills Club Site, you can learn all about the history of Cadburys and sample a few sweet treats along the way. Milk Chocolate, Milk Tray and Bourneville Chocolate (named after the location of the factory), are just a few treats invented at the factory in Birmingham.
17. Balti Triangle
Birmingham is the original home of the Balti. A Balti is a curry, cooked with the meat off the bone and a variety of spices. Shabab, Al Frash and Adil's are all within the triangle and come highly recommended.
18. Asparagus, Worcestershire
Evesham, in Worcestershire, is home to the annual British Asparagus Festival. The festival spans two months and features charity asparagus auctions, family fun runs, asparagus tours and much more.
Popular Foods North
Yorkshire

19. Wensleydale Cheese
If you're camping in Yorkshire a visit to Wensleydale Creamery (the only place to produce true Wensleydale cheese) is a must. View cheese making demonstrations, visit the child-friendly museum and browse the gift shop where you can choose from over 20 varieties of handcrafted cheese.
20. Yorkshire Pudding
Originally called "dripping pudding", these savoury boats of baked batter are the perfect accompaniment to a Sunday roast. In Yorkshire, you'll often find pub menus include a giant Yorkshire pudding filled with sausages, mash, peas and lashings of onion gravy.
21. Crofts Chocolate
Visit Crofts Chocolate in Scarborough to buy a treat from the family run business. Choose from gifts, infused shards and an endless variety of truffles and chocolates. A great place to visit if you're camping on our Scarborough Club Site.
22. Provender Soup
Founded in 2004 by Belinda Williams with the help of her husband Terry, Provender Soup creates imaginative twists on classic flavours. Look out for them on a supermarket shelf near you.
23. Chips and gravy
Yorkshire puddings aren't the only food enjoyed with gravy throughout the north. Chip shops in the north offer gravy as a popular sauce. Don't knock it till you try it.
Popular Foods North West
Cumbria

24. Kendal Mint Cake
Discovered after a batch of glacier mint sweets went wrong, Kendal Mint Cake is popular amongst walkers and climbers. The energy boosting snack is still produced and sold today, providing a sweet treat on long walks from your campsite.
25. Cumberland Sausage
Traditionally up to 21 inches in length, a Cumberland sausage is made with pork, a variety of seasonings and herbs. Made with chopped, not minced pork, Cumberland sausage has a chunky texture.
26. Sticky Toffee Pudding
The home of sticky toffee pudding, Cartmel Village Shop is around 25 minutes away from our Windermere Club Site. Still handmade, no matter the demand, you won't find a better sticky toffee pudding anywhere else.
27. Lancashire Hotpot
Topped with sliced potatoes, this is a deliciously warming, traditional slow-cooked stew. Traditionally a hotpot is made with lamb or mutton, but there are many regional variations.
Popular Foods Scotland

28. Haggis
Traditionally served with vegetables, tatties and neeps (mashed turnips) the crumbly sausage like meat mix is an integral part of any Burns Night supper. Haggis is made of oatmeal, suet and seasoned sheep offal. Not for the faint of heart but well worth a try for an authentic flavour of Scotland.
29. Cranachan
Seasonal berries, oats, whisky and crowdie (a type of cream cheese, sometimes substituted with double cream) make up this delightful Scottish dessert. There are variations and debate over which ingredients make a true Cranachan, but any combination of the above sounds good to us.
30. Whisky
Whisky is Scotland's national drink. Taxes were imposed on Whisky 1644, and by 1780 there were only around eight legal distilleries. Today there are just over 100 distilleries in Scotland producing their variations of Scotch Whisky. There are three types of whisky to look out for:
Malt whisky: made using malted barley, water and yeast which is distilled and then matured in whisky barrels for a minimum of 3 years.
Grain whisky: mixes malted and unmalted barley with cereals. That mixture is combined with water and yeast, and the resulting mixture distilled.
Blended whisky is a mixture of the two. The Famous Grouse, Bells and Johnnie Walker are all examples of blended whiskys.
Popular Foods Wales

31. Welshcakes
Made from flour, sugar, milk and butter, Welshcakes can be best described as a mix between a scone and a biscuit. Currants, nutmeg and cinnamon, are popular variations. Welshcakes are cooked on a griddle, not baked and eaten cold, usually on their own.
32. Welsh Rarebit
For this Welsh classic, cheese sauce is poured over slices of toasted bread. Mustard, Worcestershire sauce and paprika are often added to the mix for added flavour. A delicious variation on the usual cheese on toast.
Popular Foods Ireland

33. Irish Stew
A variety of stewed vegetables and meat, native to Ireland, this warming stew is great after a day of exploring the Emerald Isle. Potatoes, carrots, onions and lamb are common ingredients. Some may even include mutton.
34. White pudding
Also known as oatmeal pudding, this favourite is similar to black pudding but doesn't use blood as an ingredient. Usually, suet is combined with oatmeal, breadcrumbs and pork in a sausage casing. Just like with black pudding, white pudding can either be cooked whole or sliced and grilled.
35. Soda Bread
Historically soda bread was the product of a bare cupboard, but the same simple recipe is as popular today as it was hundreds of years ago. Flour, baking soda, soured milk and salt are combined and baked in a variety of shapes.
36. Guinness
Guinness is probably one of the most well-known products from Ireland; Arthur Guinness started brewing Ales at the St James's Gate Brewery in Dublin in 1759. Today you can go and stand in front of that brewery and take a tour in the factory next door, giving you the opportunity to try Guinness within a few metres of where it's been brewed.
There are endless eateries and shops you can visit to sample the items listed above. With over 100 Club Sites to choose from you'll never be short of new places to eat and explore. Did you know that if you join the Club you can benefit from up to 30% off Club Site fees whilst exploring the UK?
Note: Travel times may vary depending on mode of transport and traffic conditions.