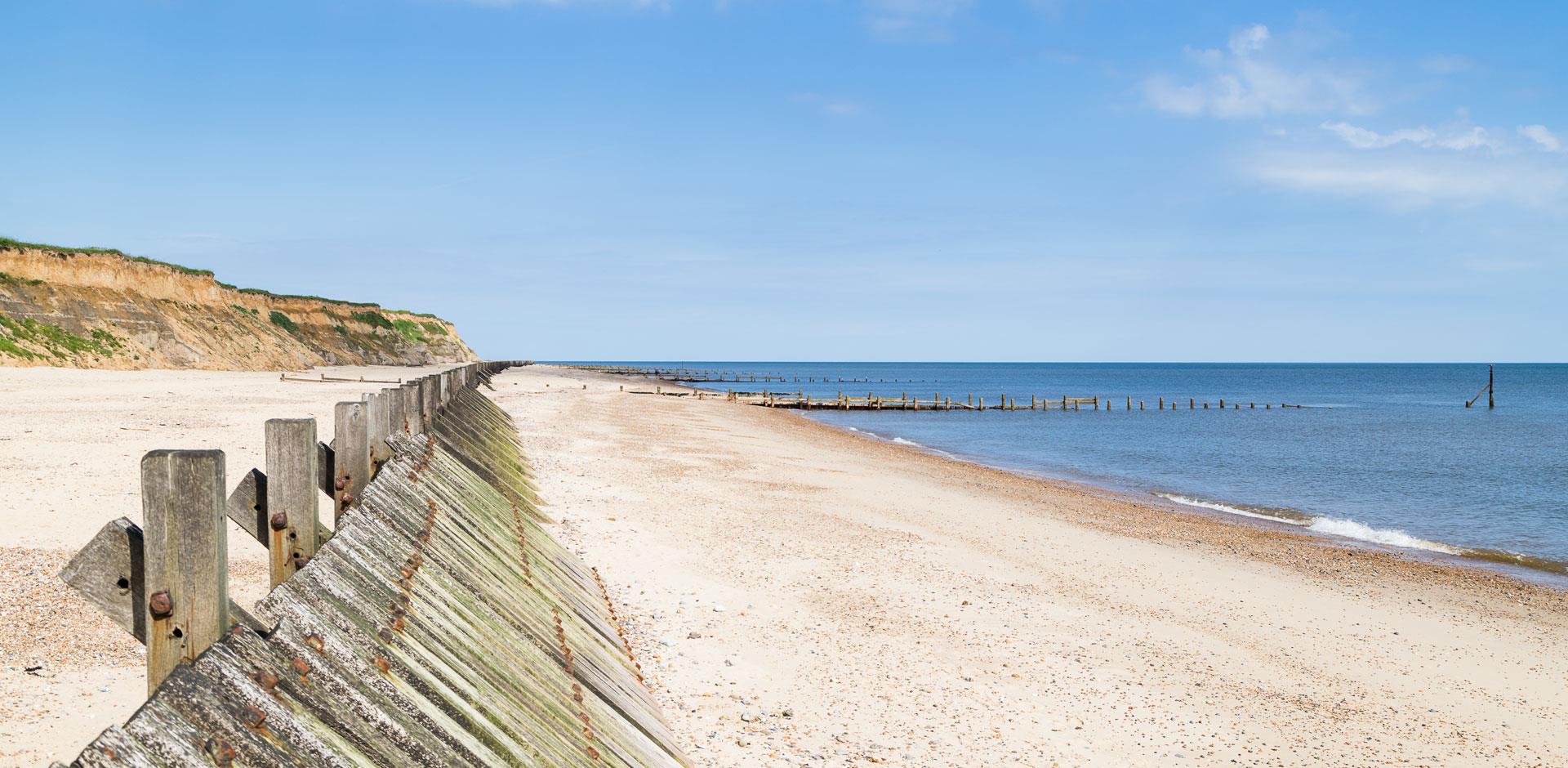 Campsites in Norfolk near the beach
Beach campsites on the Norfolk coast
Natural beauty epitomises Norfolk's shores and coastal campsites. Home to British seaside favourites Cromer and Great Yarmouth, it's the perfect place for nostalgics who take pleasure in the glory of the UK's stunning coastline.
Best beaches in Norfolk
Some of the most popular beaches in Norfolk include Cromer, Great Yarmouth, Caister-on-Sea, Hunstanton Beach and Sheringham Beach.
The Norfolk coastline is coveted by beachgoers and it's not difficult to see why. With golden sands galore, lined with colourful beach huts, framed by a backdrop of classic seaside town architecture, the county's shores are an archetypal British coastal getaway destination. Our Norfolk campsites near beach locations are perfectly positioned, giving you a prime place from which to experience the best of Britain's eastside shores.
Two of the UK's most well-known and much-loved seaside resorts, Hunstanton and King's Lynn, are a 20-minute drive away from our Sandringham Club Site. Boasting beaches that dreams are made of, Hunstanton and King's Lynn are unmissable. They are two of the best strips of coastline that Norfolk has to offer.
Facing west into The Wash, Heacham Sands at King's Lynn – also known as 'Stubborn Sands' – is a stunning stretch of beach that disappears into the distance, it's incredibly long. It's the scene of spectacular sunsets, making it the perfect place to take a twilight stroll and see out the day as the sun sinks behind the sea on the horizon.
Head north from Heacham and you will hit the seaside town of Hunstanton, where the beach is flawlessly framed by incredible red and white striped cliffs. There's no shortage of seaside entertainment either, with delightful donkey rides and a Sea Life Centre to explore.
Sheringham Beach sits on the fringe of our West Runton Club Site. A blend of rocky terrain, pockets of sand and shingle, this stretch of shoreline is just a seven minute drive from basecamp, it's the closest you can get to camping Norfolk beach style.
Less than ten minutes away from our West Runton Club Site, by car, is the charming seaside town of Cromer, which sits atop a cliff. A vintage resort made famous by the Victorians, the skyline is dominated by Cromer church, which has the tallest tower in Norfolk. The beach is a quintessential British classic, with a strip of generous sand sprinkled with shingle that sits beneath a spread of low cliffs.
Beach camping advice and inspiration