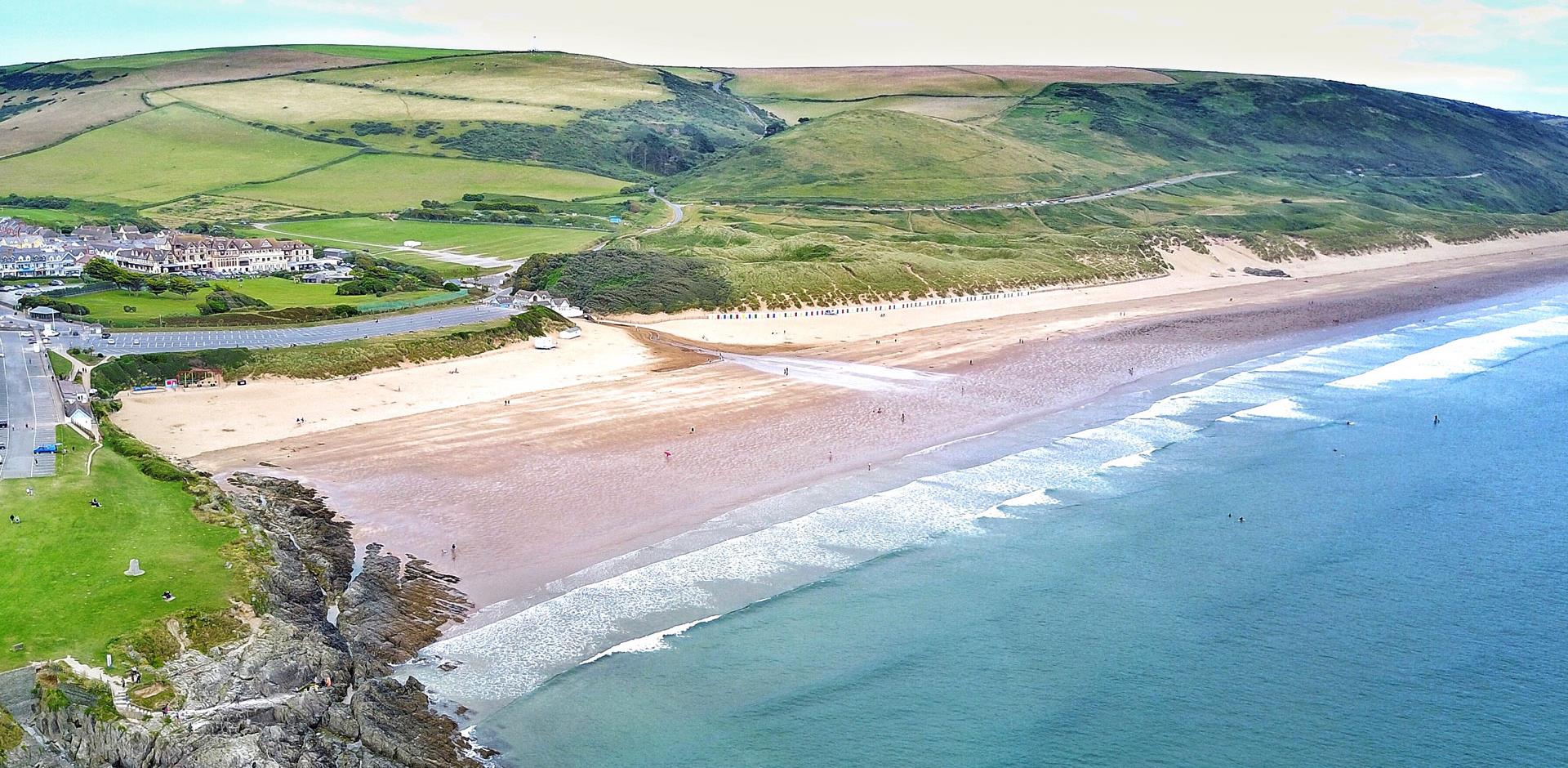 Wonderful Woolacombe campsites
Woolacombe is a beautiful seaside resort situated on the coast of North Devon. With glorious golden beaches, a colourful array of quirky coastal shops and a selection of gorgeous pubs and restaurants, Woolacombe is the perfect destination for a UK holiday. Book a campsite near Woolacombe today.
Things to do and see while camping in Woolacombe
Beautiful beaches
Whether you're a seasoned surfer looking for a jam-packed weekend full of adventure or after a peaceful getaway soaking in the rays while relaxing at the beach, Woolacombe is the ideal location for you. Woolacombe offers an array of delightful beaches to choose from, where there is something for everyone.
Woolacombe Beach - Widely regarded as one of the best in the UK, Woolacombe Beach is a 3-mile stretch of glorious golden sand overlooking stunning views of the Bristol Channel and Lundy Island. This award-winning beach is particularly popular amongst surfers. If you fancy trying your hand at surfing, there are several local surf schools catered for first-time surfers at Woolacombe beach, including Woolacombe Surf Centre and Hunter Surf School.
Barricane Beach – Just 400 metres north of Woolacombe Beach, Barricane Beach is a slip of sand nestled between the rocks. Also known as "Shell Beach", it boasts glistening blue rock pools waiting to be explored. Spend a day identifying different gullies and stones, then enjoy a delicious Sri Lankan Curry served at Barricane Beach Café between 5 pm to 7 pm.
Combesgate Beach – Combesgate Beach is a smaller sister beach situated 600 metres north of Woolacombe Beach. It is a great destination for families with young children, with a wide stretch of sand to build sandcastles and rockpools to explore.
Grunta Beach – Grunta Beach is a beautiful small cove a stone's throw away from Woolacombe. In the summer, spend the day avoiding the crowds and enjoying the views at Grunta Beach. Important to note: Grunta Beach is a steep descent and only accessible at low tide.
Family days out
Woolacombe is a popular destination amongst families, with plenty of exciting days out and attractions to visit nearby.
Woolacombe Village is a lively place with a family friendly atmosphere. Woolacombe is home to plenty of restaurants and pubs, some of which serve delicious seafood freshly sourced from local waters. There is a collection of coastal shops to browse and small supermarkets.
Experience an unforgettable day out at Borough Farm, which hosts Sheepdog and Falconry Shows and Shepherding Walks. They serve teas, coffee and cold drinks at each show.
Discover more about Woolacombe and Morthoe's heritage at the Mortehoe Museum. Morthoe is a pretty village that overlooks Woolacombe on the one side and Lundy Island on the other. Learn about the local village history and adventure-filled stories of shipwrecks. You can even take a Tractor and Trailer Safari to experience all the beautiful landscape and wildlife Mortoe has to offer.
Enjoy a wholesome day with the family at Bicclescombe Park. Stroll around the park and take in the stunning scenery with trees and duck ponds. Sit down for a pit stop at the quaint Bicclescombe Mill tearoom, which offers a mouth-watering menu of classic cream teas to chocolate lover's tea. The park and tearoom are both dog-friendly.
Head for an action-packed day at Keypitts Off-Road Adventures. The activity centre has plenty of outside activities to experience, including Quad Biking, Axe Throwing and a Mini Land Rover experience.
Woolacombe trails
There are several trails in and around Woolacombe which showcase the beautiful sights of Devon. These include:
Morte's Point and Bull Point Walk – This is a great walk that showcases Devon's impressive scenery of outstanding cliffs, dramatic coastline and golden sandy bays. You will also encounter the Bull Point Lighthouse on this walk.
Kinnever Valley to Bennett's Mouth – This is a walk with beautiful scenery that leads you to an enchanting little cove by the sea.
Baggy Point Circular Walk – This is a circular walk with bewitching costal and farmland views. It takes you along both sides of Baggy Point then over the top of the headland.