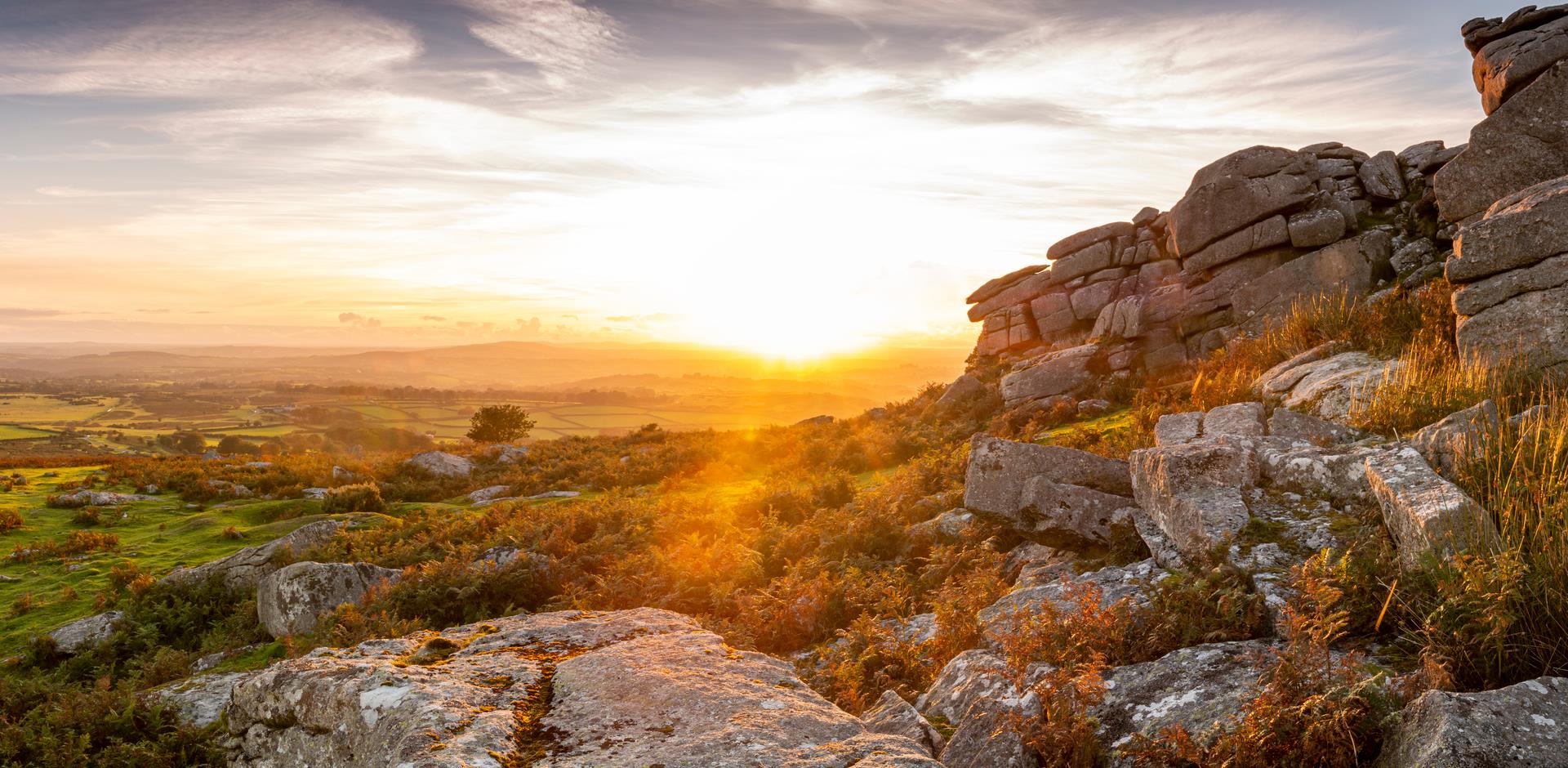 Delightful Campsites near Dartmoor National Park
With fast flowing rivers, deep valleys and heather covered moorlands forming a picturesque landscape, campers in Dartmoor National Park won't ever be lost for things to do. Discover our campsites in Dartmoor here.

What are the best campsites on Dartmoor?
We have a number of campsites situated a short drive away from Dartmoor National Park. Take in the glorious views of Dartmoor from our lovely Tavistock Club Site, which lies on the central western boundary of the park.
Last Modified: 28 Apr 2023
How many wild Dartmoor ponies are there?
There are an estimated 1500 ponies freely roaming Dartmoor National Park. These ponies are all different types of breeds, including Dartmoor ponies and Shetlands. While the ponies have the freedom to wander freely round Dartmoor National Park, they all belong to owners. Remember to not approach them too closely as while the ponies have the freedom to wander freely round Dartmoor National Park most of them have not been handled.
Last Modified: 28 Apr 2023
Is it legal to wild camp on Dartmoor?
Last Modified: 28 Apr 2023
Which Dartmoor campsites are adult-only?
If you're looking for an adult-only campsite, check out our selection of member-exclusive, certificated sites for adults
here
.
Last Modified: 28 Apr 2023
Which Dartmoor campsites are open all year round?
Our Tavistock Club Site near Dartmoor is open all year round. Check out all our campsites open all year round here.
Last Modified: 28 Apr 2023
Explore Dartmoor National Park
From breath-taking views to historical marvels, top family attractions to picturesque villages, Dartmoor offers something for everyone to enjoy.
Outdoor Activities
The great moorlands of Dartmoor National Park gain plenty of UK visitors every year and you certainly won't be short of things to do in the great outdoors.
The parks eight reservoirs are great for fishing and canoeing. Those camping on Dartmoor will find plenty of ways to make use of the 35,000 hectares of land which have both foot and horse-riding access. For active campers, the Two Moors way connects both Dartmoor and Exmoor, so there is plenty of space to walk, run and cycle on your holiday.
Nearby to our Tavistock Club Site, Burrator Resevoir has a circular cycling/walking track that follows the lanes around the water and is suitable for families. Keen fishers can find brown and rainbow trout in the Burrator reservoir (permits from the garage in Yelverton).
Cycle or walk the Granite Way, a spectacular 11-mile track from Lydford to Okehampton, which offers fantastic views of Dartmoor and the beautiful countryside.
Arguably the most famous walk on Dartmoor is the Teign Gorge classic circuit. Starting at Castle Drogo, this walk follows Hunters Path situated above the River Teign, which allows you to drink in the idyllic views Dartmoor has to offer.
Embark on the Lydford Gorge Waterfall Trail and marvel at the 28.2m spectacular Whitelady Waterfall.
For all the equestrian lovers, horse-riding is available from the award-winning Cholwell Riding Stables at Mary Tavy near Tavistock.
Historical Attractions
Dive into the parks rich history by bringing Bronze Age Dartmoor to life at the National Park Visitor Centre, Princetown, east of Tavistock Club Site. Displays and exhibitions here give a wonderful insight into the history, culture and wildlife of the area. Princetown also offers excellent access to the north and south moors for hill walkers. Further east is Hay Tor (the most popular Tor on Dartmoor) and the Granite Tramway.
Head southeast from Tavistock Club Site for Sheepstor, the beautiful village where Stephen Spielberg's Warhorse was filmed.
North of Tavistock campsite, the town of Lydford boasts a medieval castle with a fascinating history to explore.
Home to a community of Benedictine monks, Buckfast Abbey is a serene and beautiful attraction open to visitors, hidden in a valley on the edge of Dartmoor.
Visit the last castle to be built in England, Castle Drogo, situated high above the Teign Gorge. Find out why and how this castle has the beauty of an ancient building but was built only 100 years ago.
Family attractions
Dartmoor offers a range of exciting activities for the all the family to enjoy.
Nestled in the eastern foothills of Dartmoor at Woodhill Farm, Dartmoor Miniature Pony Centre is a family attraction perfect for all animal lovers, young and old. You can spend a whole day learning about ponies, petting and grooming them, and you can even go for a pony ride (at an additional cost).
Enjoy a day at Buckfast Butterflies and Dartmoor Otter Sanctuary, a family attraction located on the edge of Dartmoor. Get up and close and personal with the animals native to this part of the world, including some of the world's most beautiful butterflies.
Head for a day of fun at the award-winning tourist attraction, Pennywell Farm. Spend the day getting hands-on with the animals in a fun range of unique activities, including pig racing, deer feeding and ferret racing.
Join in the traditions at Dartmoor by Letterboxing. Letterboxing originated on Dartmoor in the 1800's, when James Perrott built a small cairn at Cranmere Pool, where he placed a glass jar inside for future visitors venturing to this spot could leave their own visiting cards. Passers-by on the moor began following suit, leaving a letter inside a box along the trail, to eventually be collected by the next person who discovered the site, who would then go onto post them. Letterboxing is the perfect activity to introduce children and young people to orienteering combined with treasure hunting.
More popular camping destinations