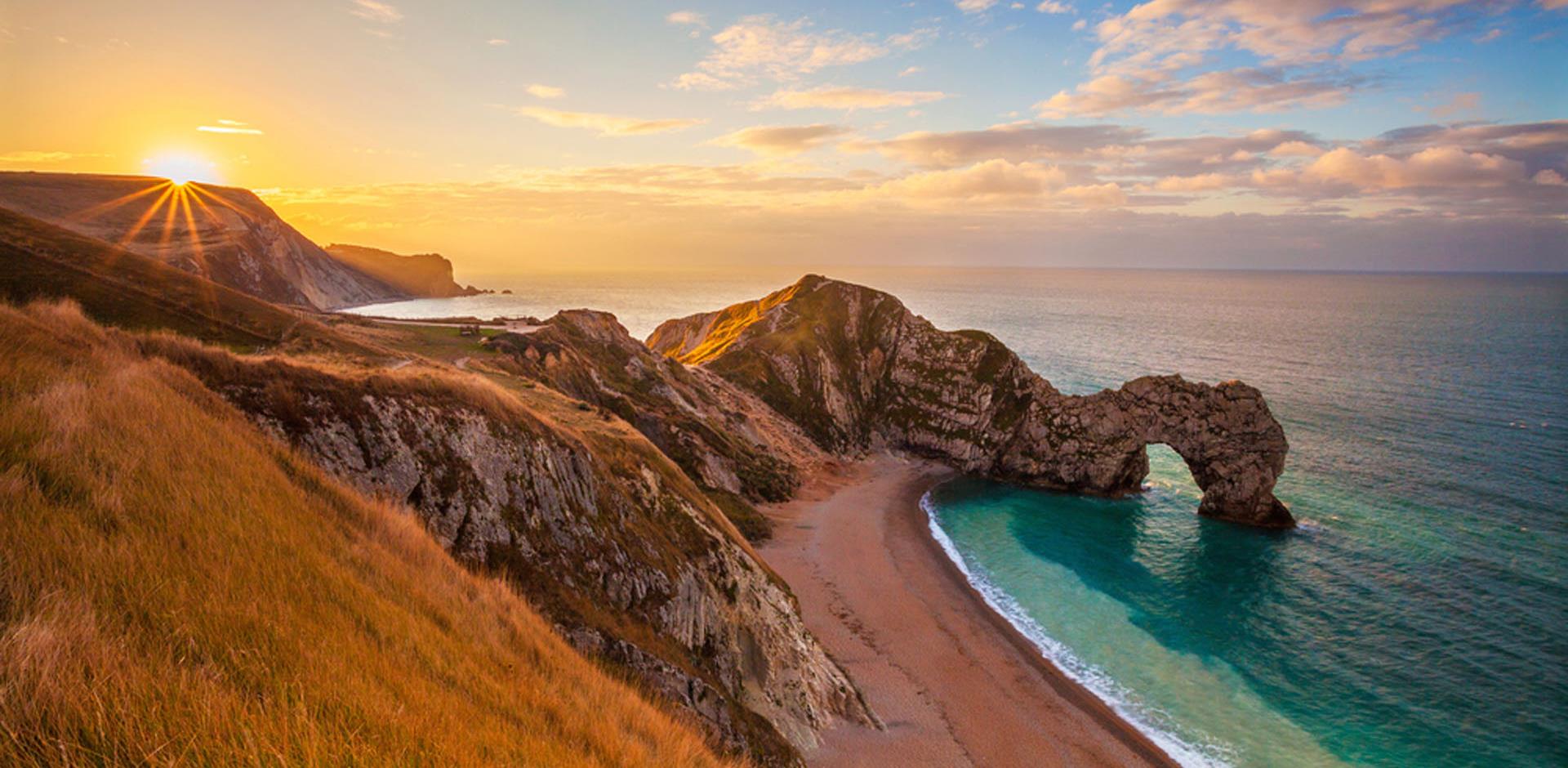 Delightful camping in Dorset
Home to the popular destinations of Weymouth and Bournemouth, alongside the attractions of Corfe Castle, Monkey World and The Tank Museum, you'll never be short of things to do when camping in Dorset. The Jurassic Coast, picture perfect scenery and endless family attractions make Dorset a great location for a camping holiday.
Which Dorset campsites are near the beach?
Lots of our campsites in Dorset are within easy reach of beautiful beaches. View all our
coastal campsites
.
Last Modified: 28 Apr 2023
What are Dorset's most popular locations for a camping holiday?
Being one of the most popular locations for a UK camping break, Dorset has many great destinations to choose from. Lyme Regis, Bournemouth, Charmouth and Mudeford are some of the most popular.
Last Modified: 28 Apr 2023
Which campsites in Dorset are dog-friendly?
Most of our campsites allow dogs and have facilities to cater to your four-legged friend. Look out for dog friendly facility icons on campsites, such as whether there's a designated dog walk or doggy shower. View a list of our top
dog-friendly campsites
.
Last Modified: 28 Apr 2023
Are there any adult-only campsites in Dorset?
Most of our campsites are family-friendly however, a selection of our member exclusive sites are
adult-only
.
Last Modified: 28 Apr 2023
Can you camp along the Jurassic Coast?
The Dorset and East Devon Coast World Heritage Site, better known as the Jurassic Coast, is one of the most popular camping destinations in the UK. View all coastal campsites in Devon and Dorset
here
.
Last Modified: 28 Apr 2023
Can you wild camp in Dorset?
The rules on wild camping in the UK are complex; please read our guide to
wild camping
.
Last Modified: 28 Apr 2023
Things to see and do while camping in Dorset
Camping on the Jurassic Coast

Dorset is famous for its dramatic Jurassic Coast featuring natural landmarks including Lulworth Cove, Chesil Beach and Durdle Door. This part of Dorset is a magnificent stretch of 200 million-year-old shoreline that has been designated a Natural World Heritage Site by UNESCO due to its outstanding geological make-up.
You can camp on the Jurassic Coast, staying on some of the most popular campsites in the UK, giving you easy access to great attractions and popular things to do.


A selection of spectacular beaches
Wherever you decide to camp in Dorset, you won't be far from brilliantly beautiful beaches and their attractions. Some of the most popular include:
Top family attractions in Dorset
There are an endless number of attractions in Dorset so here are ten of our favourite recommendations:
1. The Dinasour Museum
Bring the fossils from your beach hunts to life at the Dinasour Museum. Here you can see dinosaur skeletons and fossils as well as life-size reconstructions. You'll be surprised at the size of a T-Rex! This is a great option for exploring the outdoors, indoors on rainy days.
2. Monkey World
Home to over 250 rescued and endangered primates, there is enough here to occupy a full day for all ages. Chimpanzees, orangutans, gibbons and many more species call Monkey World home. Attend keeper talks, visit all the animals, monkey around in the play area and visit the café before having a browse of the gift shop. There is enough here to occupy a full day for all ages.
3. Farmer Palmer's Farm Park
A great day out for the whole family, here you can get hands-on with some of the farms' residents by bottle feeding baby goats and handling the guinea pigs. There is so much to do at the farm including jumping on board the bumpy tractor ride, heading out on a deer safari and navigating the summer maze.
4. The Lyme Regis Marine Aquarium
Discover the marine life of the Jurassic Coast at the hands on aquarium. Get hands-on with some of the fish and sea creatures including starfish, lobsters, crabs and grey mullet.
5. Kingston Maurward Animal Park and Gardens
Working with the Rare Breeds Survival Trust, all efforts here are put into conservation. Spend a full-filled day feeding the alpacas, goats, rabbits and many more. There are over 35 acres of formal gardens to explore, you can book a garden tour or explore on your own.
6. Sandworld Sculpture Park
Head to Weymouth to see the life-sized works of art created from sand and water and try your hand at creating your own sculpture.
7. Dorset Falconry Park
Home to over 100 birds including owls, hawks and falcons, this is a great spot to see a falconry display.
8. The Tank Museum in Bovington
Showcasing armoured warfare from World War One to the present day, here you can see vehicles up close including the first-ever tank or take a ride on an M548 tracked vehicle. The restaurant, café and picnic areas give you space to sit down and refuel while the play area is great for little ones needing to burn off excess energy.
9. Lulworth Castle & Park
Enjoy Woodland walks, a children's play area and plenty of space to explore. Dogs on leads are welcome which means the whole family can go along for a picnic and a lovely stroll. Check out The Castle Tearoom for delicious homemade cakes and cream teas, they also sell small souvenirs.
10. The Cerne Giant
Britain's largest chalk hill figure, at180ft tall, the giant can be seen really clearly from the Giant's View car park but you can also walk up to his feet for a closer look. The giant figure is thought to be around 400 years old and is well worth seeing just to marvel at the size.
Classically Dorset things to do
Here are a few more things to add to your list for a true taste and feel of Dorset:
Enjoy an ice cream at the beach, even on a windy day
Walk out on the Cobb at Lyme Regis
Rally the troops for a windy coastal walk
Visit Maiden Castle, the largest Iron Age hill fort in Europe for a history lesson
Keep an eye out for fossils at all times
More popular camping destinations
From £48
Join the Club
Whether you choose to holiday with a caravan, tent, motorhome, campervan or any touring unit, we offer the best range of pitches and facilities. We even have glamping and holidays overseas. Join The Camping and Caravanning Club to benefit from over 120 years' expertise and discounts carefully tailored to our members.
Save

30% off Club Sites and other discounts including retailers, days out and events and many more…

Explore

Access to an exclusive network of over 1,200 member-only small sites across the UK

Exclusive

Don't miss out on your favourite locations - book up to a year in advance with priority booking for members

Support

Friendly UK Service Centre, free technical advice, insurance products tailored for members