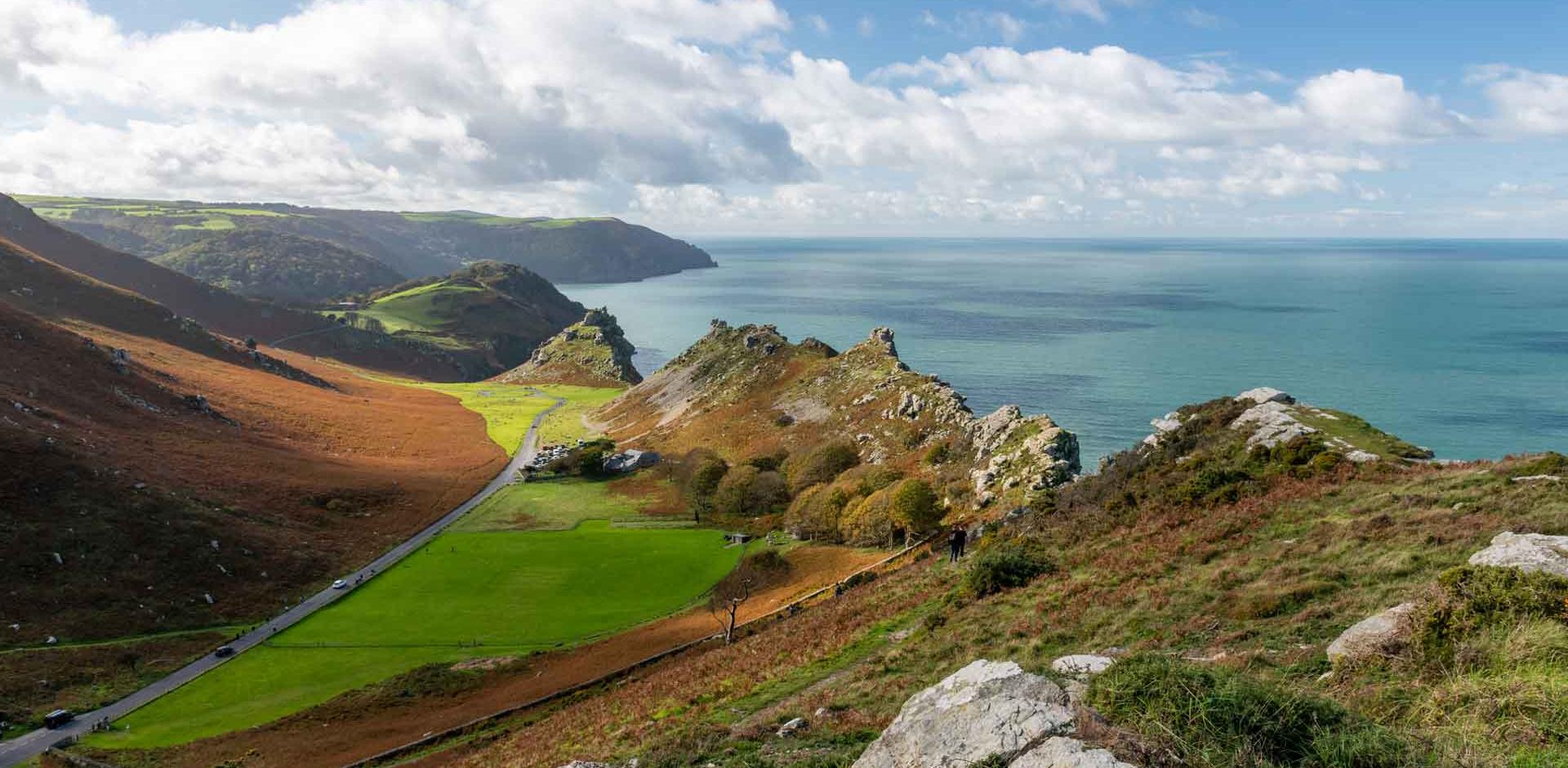 Enjoy camping in Exmoor
Great for families, walkers and star gazers, Exmoor covers 257 square miles of picturesque scenery and 34 miles of stunning coastline. Discover our Exmoor campsites here.
Exploring Exmoor National Park
Great for camping around Devon and Somerset, Exmoor National Park covers 267 square miles with plenty of waymarked paths. The emerald green meadows, wooded combes and crumbling cliffs are accompanied with some of the darkest skies in the country.

Soak in the magic of Exmoor by star gazing the beautiful skies at dusk.

The best spots for this include:
Holdstone Hill
County Gate
Webbers Post.
Try and spot some of the native woodlife that roma the fields of Exmoor, included:
Ancient herds of horned sheep
Exmoor ponies
Wild red deer
Elusive otters
The National Parks stretches over 34 miles of coastline, from Lynton and Lynmouth in the west, all the way to the family fun resort of Minehead in the east. For campers who enjoy a spot of walking, the area around our Lynton Club Site is a walker's paradise, with many walks to be enjoyed directly from the site listed below.
South West Coast Path - 630 miles long, this stands as the longest of England's National Trails.
Two Moors Way
Tarka Trail
Samaritans Way SW.
Things to do in Exmoor
Exmoor boasts five beautiful towns with plenty to do.
1. Ilfracombe
Ilfracombe is a beautiful seaside town resort with a small harbour surrounded by impressive cliffs. It is a perfect destination for those who appreciate Victorian architecture and history. If you're planning on spending the day in Ilfracombe, there is plenty of family and tourist attractions to enjoy.
Embark on a unique experience at Tunnels beaches. To get to your destination, follow the impressive hand-carved tunnels leading to the sheltered Tunnels beaches and a bespoke Victoria Tidal Pool.
Enjoy a day at Watermouth Family Theme Park & Castle, which offers a mix of children's activities and nostalgic fun!
Family run Combe Martin Wildlife and Dinosaur Park is a must visit when staying in Exmoor. Enjoy 28 acres of outstanding gardens, with a theme park train ride.
2. Lynton and Lymouth
Enchanting villages Lynton and Lymouth are situated in the middle of the Exmoor coastline. Soak in the beautiful scenery in and around these two villages, commonly referred to as "Little Switzerland."
Spend a day at Watermouth Family Theme Park & Castle, which offers a mix of children's activities and nostalgic fun!
Hop in your car and experience the famous '21-mile drive' – an outstanding figure of eight scenic tour of Lynton, Lynmouth, Lyn Valley and Heritage Coast, taking in winding lanes, clifftops and passing through beautiful little hamlets.
Glen Lyn Gorge, south of Lynton is worth a visit with its mix of waterfalls, pools and impressive waterpower exhibition.
Head east of Lynton Club campsite to Watersmeet, one of Britain's deepest river gorges, where the valleys of the East Lyn and Hoar Oak Water join. As well as 2,000 acres of woodland valley to explore, enjoy a cream tea at Watersmeet House. This former fishing lodge is now a National Trust shop, tearoom and information point.
The iconic Lynton and Barnstaple Railway is an exciting restoration project of the picturesque narrow gauge at Woody Bay Station where one mile of track has been re-instated.
3. Porlock
Porlock is a coastal village near our Minehead club site and is popular amongst tourists. Alongside appreciating the stunning views of Porlock, the village has plenty more to offer.
Take a gentle walk along the high ridge between Minehead and Porlock while admiring the glorious view from Selworthy Beacon, offering panoramic views across the Bristol Channel and North Exmoor.
Head on a fun family day-out at Burrowhayes Farm Riding Stables, located in the heart of Exmoor National Park, just a 15-minute drive from our Minehead Club Site.
Set off on a journey to Dunkery Beacon, a wonderful moorland at the summit of Dunkery Hill and the highest point in Exmoor and Somerset.
Learn all there is to know about owls at Exmoor Owl and Wildlife Sanctuary. Witness a flying display, the history of the farm and the rescue and rehab process for owls. There is also the option to reconnect with nature by horse-riding in the stunning fields of Exmoor.
4. Dunster Village
Dunster Village is a medieval market town on the north-eastern fringes Exmoor National Park, just a 13-minute drive from our Minehead club site. With enchanting castles and sandy beaches, Dunster Village is a must-visit.
Step back in time at Dunster Castle and Windmill. With 1,000 ears of history, the castle is brimming with fascinating stories to tell, stunning views and subtropical gardens. If you're feeling peckish head to the Watermill tearoom or tenant's hall pop-up café which offers hot and cold drinks, cakes, ice creams and light refreshments.
For those who have a love of fashion history, make sure to visit the Yarn Market Hall in Dunster. Here stands a 17th century market hall as a monument to Dunster's previously flourishing cloth trade.
Just a 15-minute drive from our Minehead Club Site and Dunstan village centre, Dunster Beach sits on the edge of beautiful Exmoor. It is a pebble beach with magnificent views along Blue Anchor Bay and out across the Bristol Channel. It is a popular destination amongst walkers, with 25 mile long West Somerset Coastal Path passing through the beach.
Meet with friends at the Dunster Butter Cross, a lump of medieval stone originally a meeting place for butter-sellers. Now people will come and see this ancient attraction and use it as a meeting point for friends and family.
5. Wiveliscombe
Wiveliscombe (on the eastern edge of Exmoor) is a small town situated in the rolling hills between the Brendon's and Taunton vale with plenty of charming rustic and unique shops to visit while there.
Visit Courthouse Interiors store, a quirky design shop brimming with authentic and inspirational designs. The shop is open from 10am – 4pm.
Spend hours browsing Yew Tree Antiques, a three-story antique warehouse full of beautiful Georgian, Victorian, Edwardian & French furniture, glass & China.
The beautiful range of Brendon Hills has plenty of walks on offer, including some stunning ones around the Bampton and Wiveliscombe area, south of the hills.
If you fancy a blissful, relaxed visit to an outdoor heated pool in the beautiful Somerset countryside, spend the day at Wivey Pool. Please note: Check if the pool is open before visiting, as it is closed over the winter period and reopens in spring.
More popular camping destinations