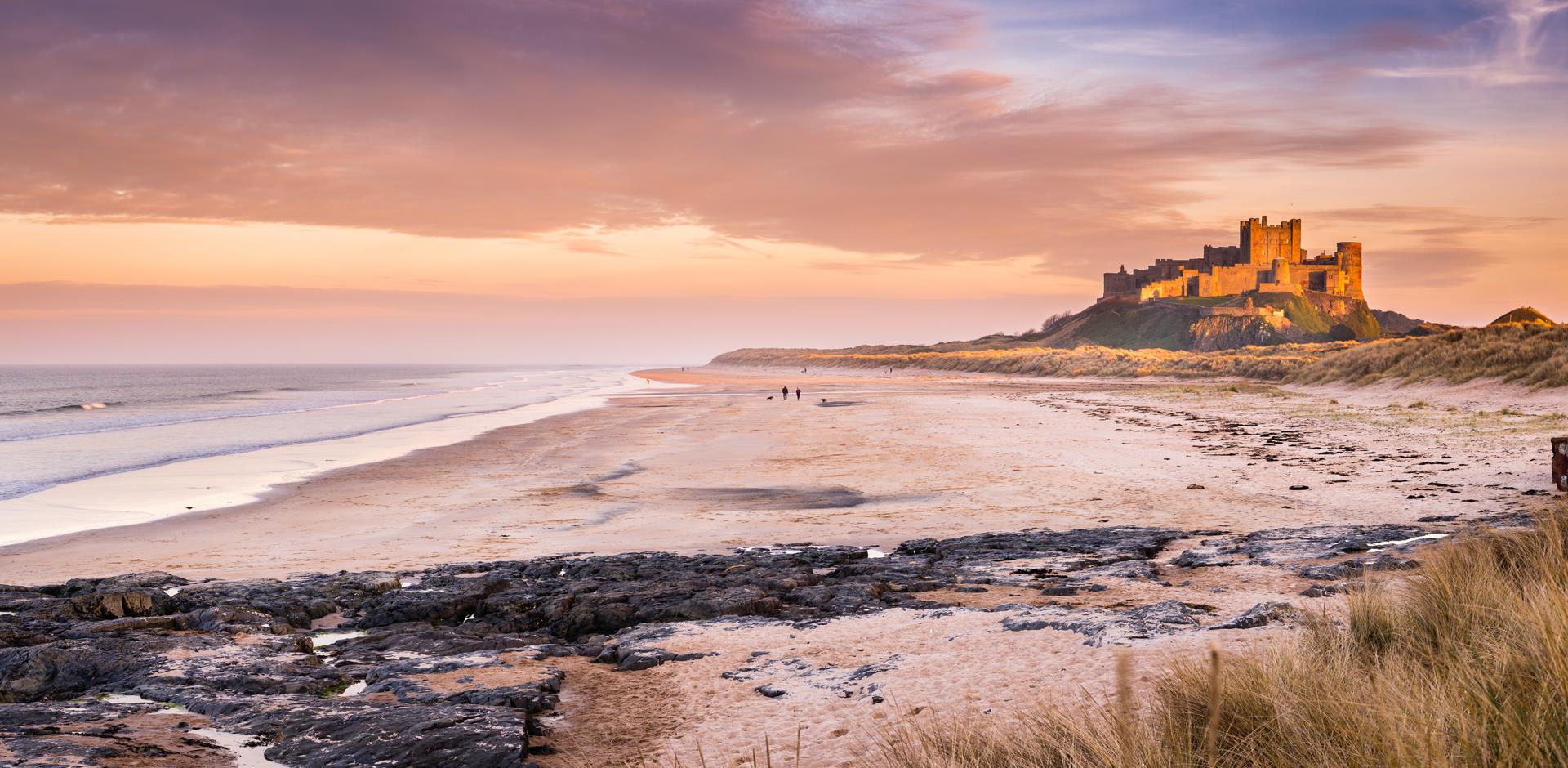 Campsites in Northumberland
Campsites in Northumberland for caravanning, motorhoming and everything in-between
Filled with ancient castles, golden sandy beaches and bustling towns and villages, Northumberland offers a varied camping break.
Northumberland camping FAQs
What are the best campsites in Northumberland?
Northumberland is one of the most popular places to camp in the UK. With a handful of Club Sites and plenty of member exclusive campsites,
joining the Club
gives you the best variety of locations to choose from.
Last Modified: 28 Apr 2023
Where are the most popular camping locations in Northumberland?
Seahouses, Alnwick, Beadnell Bay and Halwhistle are some of the most popular camping destinations in Northumberland.

Last Modified: 28 Apr 2023
Where are the best family friendly campsites in Northumberland?
Our campsites have their facilities listed to make finding a site suitable for you and your family quick and simple. Look out for facility icons such as play area, parent and baby room and washing machines.

Last Modified: 28 Apr 2023
Are there any dog friendly campsites in Northumberland?
Most of our campsites allow dogs and have facilities to cater to your four-legged friend. Look out for dog friendly facility icons on campsites, such as whether there's a designated dog walk or doggy shower. View a list of our top
dog friendly campsites
.
Last Modified: 28 Apr 2023
Are there any adult only campsites in Northumberland?
Yes, most of our campsites are family friendly however, a selection of our member exclusive sites are
adult only
.
Last Modified: 28 Apr 2023
Where can I wild camp in Northumberland?
Last Modified: 28 Apr 2023
Can you camp on Beadnell Bay Beach in Northumberland?
Our Beadnell Bay Club Site overlooks the beautiful Northumberland coastline and is just minutes from the sandy shores of Beadnell Bay.

Last Modified: 28 Apr 2023
Can you wild camp on Holy Island?
Lindisfarne, also called Holy Island, is a beautiful tidal island. Our Beadnell Bay Club Site is a great base for exploring all of the islands along the coast of Northumberland.

Last Modified: 28 Apr 2023
Things to do and see when camping in Northumberland
Northumberland is a great camping destination, whether you're looking for a family holiday, romantic weekend, activity break or fun days out. View our top recommended activities and attractions below.
Top historical attractions
Northumberland was once the scene of numerous battles between England and Scotland and boasts a colourful history. Indeed, the many castles, fortifications and ancient sites dotted around the county tell a wonderful story about England's ancient past. These attractions hold historic significance and are worth a visit:
Hadrian's Wall was built in AD122 and stretches for 73 miles across the country. The UNESCO World Heritage Site offers something for everyone, from stunning views of the Northumberland landscape to cycling routes to challenge the most experienced biker. The official Hadrian's Wall Path National Trail is an 84-mile route but you can walk any of the shorter circular walks, taking in the stunning views along the way.
Bamburgh Castle is one of many you'll be able to visit while camping in Northumberland. Learn about the myths and legends tied to the castle, the rich history surrounding its ownership and the defence mechanisms that have protected the castle since Roman times. There are plenty of paranormal stories connected to the castle for those who like to investigate the spooky side of old buildings.
Corbridge Roman Town was once a bustling settlement where Romans and civilians would trade. The Roman armour and artefacts discovered on the site can be viewed in the museum as part of the Corbridge Hoard. Look out for the Corbridge Lion who was originally used to decorate a mausoleum and then turned into a water feature in one of the settlement's largest homes.
Alnwick Castle, an official filming location of the Harry Potter series and Downton Abbey, makes a great family day out for anyone camping in Northumberland. The castle, although evolved throughout the centuries, has been a feature here since the Norman times. Explore the state rooms, marvel at the architecture and visit the museums before joining one of the broomstick training classes. The Courtyard Café, Stables Fryery and Armoury Takeaway offer a variety of foods and dining options.
Chillingham Castle, one of the most haunted in Britain is open to the public to see explore the 12th century building. The armoury, dungeon, great hall, library, chapel, torture chamber and more are all open to the public. Regular ghost tours are held in the castle.
Learn all about Northumberland's mining past at Woodhorn Museum. The former colliery offers hands on exhibits and a look at the old mine workings that survived bombings during the Second World War.
The ruined Prudhoe Castle has lots of stories to tell about its Norman past. Explore the grounds, keep and great hall or simply enjoy a picnic in the scenic surroundings.
Explore the Northumberland coast
In modern times, the county is much quieter; covering an area of just under 2000 square miles, with 100 miles of coastline designated an Area of Outstanding Natural Beauty. Today the coastal area is sparsely populated, with mile upon mile of clean and safe, award-winning golden beaches and quiet countryside. The Northumberland Coast is a designated Area of Outstanding Natural Beauty due to its outstanding landscapes. Some of the best beaches and coastal areas to visit:
Managed by the National Trust, the Farne Islands are a collection of rocky islands that are home to spectacular wildlife including puffins and seals. Board a boat from Seahouses to visit any of the three accessible islands. Look out for the rangers on the Island who can answer wildlife questions and point out any interesting finds.
Bamburgh Castle Beach is overlooked by the castle and offers pristine sand.
Seahouses Beach is a sandy expanse with excellent facilities for tourists.
Cresswell Beach is one of the best on the Northumberland coast with areas for rockpooling and plenty of sandy space to relax.
Other Northumberland attractions
Hauxley Wildlife Discovery Centre is an eco-friendly, volunteer led centre for bird and wildlife spotting. Enjoy nature trails, wildlife spotting from hides and great views in The Lookout Café.
Located in the Kielder Forest, the Kielder Observatory is open to the public with views of some of the darkest skies in Europe. With limited light pollution, the area is fantastic for stargazing, with or without any prior experience. Events are run throughout the year and are a great way to introduce kids to astronomy.
Chain Bridge Honey Farm in Berwick-upon-Tweed has a visitor centre, full of information about bees as well as an observation hive so you can see the honey bees at work. Take a look in the beekeeper's Garden to see which plants are attracting the bees and ensure you stop off at the double decker bus café. This is a great learning experience for kids and you'll get the chance to purchase some of the delicious honey.
The National Trust owned Cragside House is a Victorian estate with gardens and woodland to explore. Enjoy Victorian home baking, walks in the woodland retreat and the collection of objects in the house.
More popular camping destinations
From £48
Join the Club
Whether you choose to holiday with a caravan, tent, motorhome, campervan or any touring unit, we offer the best range of pitches and facilities. We even have glamping and holidays overseas. Join The Camping and Caravanning Club to benefit from over 120 years' expertise and discounts carefully tailored to our members.
Save

30% off Club Sites and other discounts including retailers, days out and events and many more…

Explore

Access to an exclusive network of over 1,200 member-only small sites across the UK

Exclusive

Don't miss out on your favourite locations - book up to a year in advance with priority booking for members

Support

Friendly UK Service Centre, free technical advice, insurance products tailored for members