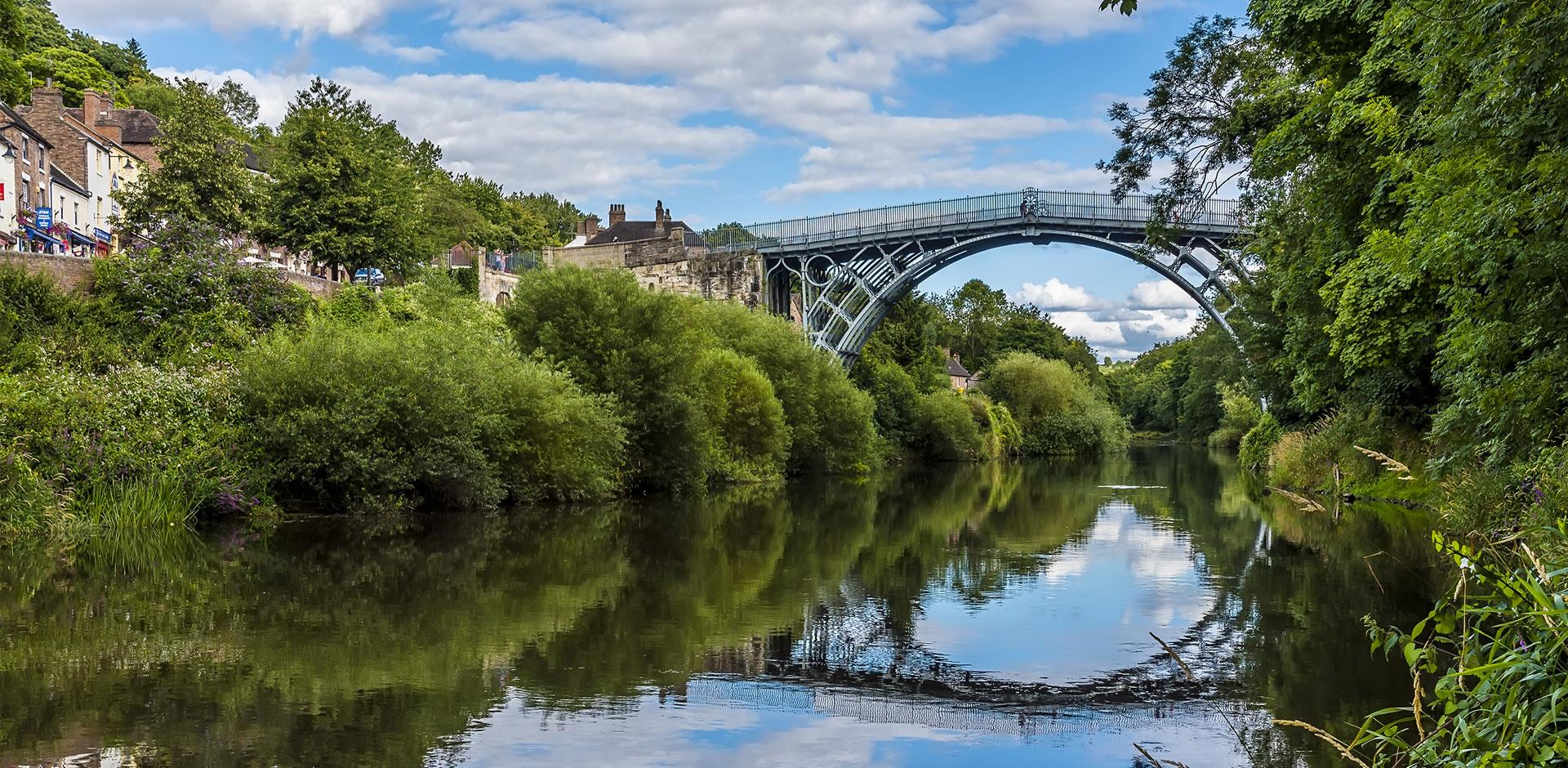 Campsites in Shropshire
Tucked away on the English and Welsh border, Shropshire offers plenty of fascinating history, hilly walks and attractions for the whole family. Known as one of England's 'quiet' counties, even the Romans escaped to Shropshire for much-needed rest and relaxation!
More about camping in Shropshire
There is plenty to see and do while camping in Shropshire with almost 100 places to visit, including historic houses, castles, beautiful gardens, museums and family attractions.
Explore Shropshire's historical past
• One of Shropshire's most picturesque market towns, Ludlow boasts a lively market, food fairs, speciality food shops and a plethora of restaurants and pubs. One of the highlights of visiting Ludlow is the ruinous Ludlow Castle, one of the first stone castles to be built in England. Ludlow Castle is one of the finest medieval ruins in England and well worth a visit by anyone camping in Shropshire. Ludlow is just under an hour away by car from Ebury Hill Club Site.
• Wroxeter Roman City is around a 12-minute drive from our Ebury Hill campsite. Wroxeter was once the fourth largest city in Roman Britain so there is plenty to see and explore. Take the audio tour to discover the ruins of the bathhouse, market hall, basilica and more. The museum is full of artefacts and information to help you bring the city to life. Parking, picnic areas a shop and toilets are all available for you to make use of.
• The Ironbridge Gorge Museums give an insight into what life was like in the area during the industrial revolution. Museums include Blists Hill Victorian Town, Jackfield Tile Museum, Coalport China Museum, Coalbrookdale Museum of Iron and more. There are 10 museums and attractions in total to visit with something to interest everyone in the family. Blists Hill Victorian Town is a recreated town with demonstrations, buildings to visit and plenty to learn. Take a horse and cart ride around the town, dress up in traditional Victorian costume and treat yourself to a bag of sweets from the 19th century selection.
• Hawkestone Park is set around a range of dramatic natural sandstone hills which were developed in the 19th century to include bridges, caves and towers. Today the Grade I listed landscape has been restored and is open to visitors. Walk around the follies to discover many buildings and ruins, telling a tale of times past. Some of the things you'll see include the White Tower, a shelter for winter walkers, the Menagerie, which once housed exotic birds and monkeys and the 150 step Monument which allows for views of up to 13 counties on a clear day. The full walking route can take around 3 hours but there are plenty of different routes, including a short 1-hour stretch. The den building area, archery and Hawk Walks with the Shropshire Falconry centre are a few of the great activities on offer for the whole family. Remember to keep an eye out for wildlife during your walk around the Follies as there are a several bird species, reptiles and mammals such as foxes, rabbits and squirrels inhabiting the area.
• Wenlock Priory, managed by English Heritage, is around a 30-minute drive away from Ebury Hill Club Site. The tranquil ruins of this Anglo-Saxon Monastery offer plenty to see and do. See elaborate stone carvings in the Norman chapter house, enjoy a walk around the topiary-filled garden and visit the heritage-inspired shop.
Family adventures in Shropshire
• Hoo Farm Animal Kingdom is just a 22-minute drive from Ebury Hill, making it an ideal day away from the campsite for young families. Visit Wallaby Woods, Lemur Forest and the Rivers, Rainforests and Deserts enclosures to meet animals from all over the world. From big cats to tiny possums, Hoo Farm is home to a wide variety of animals you may not have seen before. There's also a jam-packed feeding schedule so you can see the animals during feeding time. An indoor and outdoor play area, picnic areas, snack shop and gift shop, are great for breaking up a day of visiting the animals.
• Those camping in Shropshire between April – September can visit Telford Steam Railway for a trip on a steam locomotive. Experience the sights and smells of an operational steam railway during your visit to the Railway House. The model railway in the Railway House was started in 1976 and has been lovingly updated ever since. This makes for a great day out for the whole family, especially railway enthusiasts. The Railway House and Furnace Tearooms are just over a 20-minute drive away from Ebury Hill Club Site, ideal if you have little ones in the car.
• RAF Museum Cosford is around a 30-minute drive for those camping at Ebury Hill Club Site. The museum boasts free entry and a large array of aircraft on display. Visit the National Cold War Exhibition to learn all about the Space Race and Cuban Missile Crisis. You'll find engines and missiles in Hangar 1 and be able to get hands-on with the interactive exhibits throughout the museum. With ample parking, great accessibility and facilities, this makes a great day out for all.
More attractions in Shropshire
• A visit to Shropshire isn't complete without exploring the Shropshire Hills. Indeed the hills of South Shropshire, including the Long Mynd, Stretton Hills, Wenlock Edge, Clee Hills and the Wrekin have been designated an Area of Outstanding Natural Beauty.
• See half-timbered Tudor houses on a shopping trip to medieval Shrewsbury. You'll find all of the usual high-street shops, pubs and cafes. This is a great way to spend a rainy day exploring.
• Ludlow Farmshop is a great place to stock up on local produce and see the range of items that Shropshire and its surrounding areas produce. Ludlow Kitchen Café uses fresh bread, artisan chees, handmade butter and ice cream from local producers.
More popular camping destinations
From £45
Join the Club
Whether you choose to holiday with a caravan, tent, motorhome, campervan or any touring unit, we offer the best range of pitches and facilities. We even have glamping and holidays overseas. Join The Camping and Caravanning Club to benefit from over 100 years' expertise and discounts carefully tailored to our members.
Save

30% off Club Sites and other discounts including retailers, days out and events and many more…

Explore

Access to an exclusive network of over 1,300 member-only small sites across the UK

Exclusive

Don't miss out on your favourite locations - book up to a year in advance with priority booking for members

Support

Friendly UK Service Centre, free technical advice, insurance products tailored for members