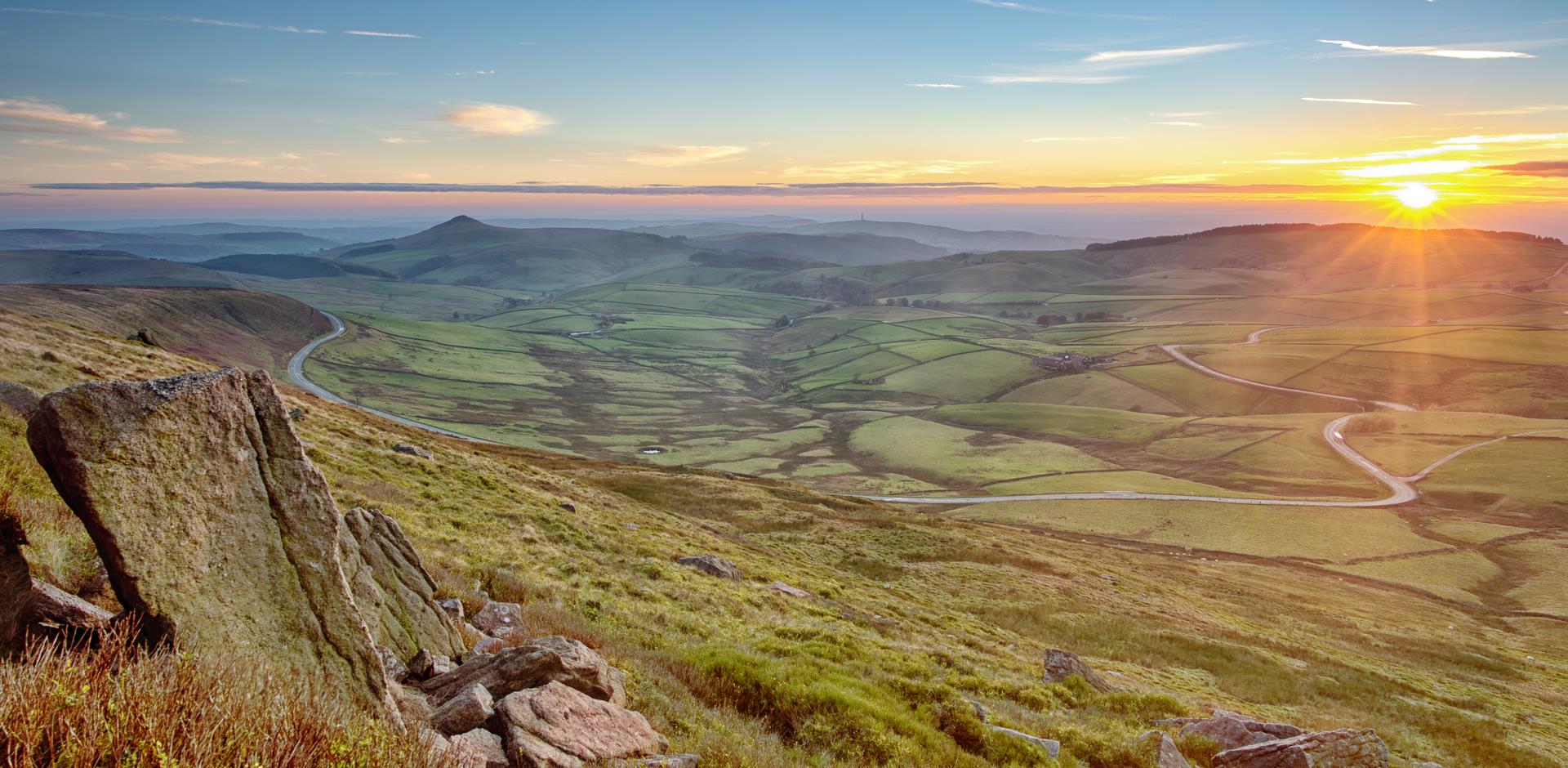 Campsites in Cheshire
Camping in Cheshire offers something for every type of camper. Whether you're looking for something activity-packed, a relaxed getaway or the buzz of a metropolitan city, Cheshire is the perfect place to pitch your tent.
More about camping in Cheshire
Cheshire countryside


Boasting a richly diverse rural landscape, the Cheshire countryside is the perfect location to uncover fascinating history, explore sprawling woodland and get away from the hectic rush of everyday life.

It's in this country idyll you'll find Delamere Forest – a wooded oasis brimming with wildlife – and the perfect place to let off steam. The forest is crisscrossed with cycle paths and tracks, also popular with walkers. Campers won't have to venture too far to access the forest as our Delamere Forest Club Site is right on the doorstep.

There are plenty more walking and cycling opportunities in Cheshire. Take your pick from the Gritstone Trail, the North Cheshire Way, the Bollin Valley Way and the Middlewood Way. The Gritstone Trail stretches from Disley Station to Mow Cop and follows the most westerly hills of the Peak District National Park.

Go camping in Cheshire and you'll discover a host of things to do. You can scan the stars with the gigantic Lovell telescope at Jodrell Bank, explore the canals at the National Waterways Museum at Ellesmere Port, or take a trip down memory lane at the Crewe Heritage Centre.

Spend the day exploring a historical estate with over 50 acres of landscaped gardens and 1000 acres of deer parkland at Tatton Park. Bequeathed to the National Trust in 1958 after nearly 400 years of housing the Egerton family, Tatton Park's opulent decoration exhibits a unique insight into grandeur lifestyles over the past few centuries.


Roman city


Nestled in the heart of Cheshire, Chester is a cobbled Roman city with an array of attractions to keep visitors entertained. An ancient but beautiful town, ringed by a sandstone wall dating back to the Roman times, Chester has it all – historic buildings, a cathedral, zoo, museums and the Rows – the eye-catching, albeit unusual two-level shopping streets.

Originally built in the Romanesque or Norman architectural style, Chester Cathedral was founded as Benedictine Abbey in 1092. Take an award winning tour through 900 years of history, concluding with breath-taking views of Chester.

Just across the city sits the Chester Roman Amphitheatre. Once Britain's largest Roman Amphitheatre, this site was used for entertainment and military training. Wander around the amphitheatre and soak in centuries of fascinating Roman history.

On the city's outskirts lies Chester Zoo, named best zoo in the UK and third best in the world in 2017. Featuring over 11,000 animals and 400 different species, Chester Zoo is a fantastic day-out for the whole family.

Spend an afternoon at England's oldest racecourse, Chester Racecourse, or Roodee as it is colloquially known. Horseracing at Chester dates back to the sixteenth century and is thought to be the smallest racecourse in England at just 1 mile and 1 furlong long.


Top things to do in Cheshire


Choose to camp at our incredible campsite in Cheshire and you won't be short of things to see and do. Here are our top 5 things to do in Cheshire on your next camping trip:

1. Delamere Forest

Our Delamere Forest Club Site is surrounded by over 950 hectares of towering trees and busy wildlife. Located in West Cheshire, Delamare Forest offers outdoor lovers boundless walking and cycling opportunities on its sprawling network of winding paths and trails direct from the campsite.

2. Quarry Bank

Situated in the Styal Country Park in rural Cheshire, Quarry Bank is a significant industrial heritage site, home to a complete industrial community. Experience the contrast in lives between owner and worker, who lived and worked here side by side. Take a tour through the cotton mill and uncover the historical impact of the industrial revolution.

3. Jodrell Bank Discovery Centre

Explore the various wonders of the universe and the workings of the giant Lovell Telescope at the Jodrell Bank Discovery Centre. Located in the charming hamlet of Lower Withington, the observatory hosts a variety of radio telescopes which have played a critical role in the research of meteors, quasars, pulsars, masers and gravitational lasers.

4. Gulliver's World Theme Park

With attractions designed for children aged between 2 and 13, Gulliver's World Theme Park is an ideal day out for families with younger children. Opened in Warrington in 1989, the theme park consists of themed areas such as Lilliput Land, Gully Town and Safari Kingdom, and also has a Splash Zone and Blast Arena.

5. Beeston Castle

Dating back over 4,000 years with a 40-acre woodland park, Beeston Castle is one of the most dramatically sited medieval castles in England. Climb to the top of the rocky crag and gaze at the spectacular views from the Pennies to the Welsh mountains.
More popular camping destinations
From £45
Join the Club
Whether you choose to holiday with a caravan, tent, motorhome, campervan or any touring unit, we offer the best range of pitches and facilities. We even have glamping and holidays overseas. Join The Camping and Caravanning Club to benefit from over 100 years' expertise and discounts carefully tailored to our members.
Save

30% off Club Sites and other discounts including retailers, days out and events and many more…

Explore

Access to an exclusive network of over 1,300 member-only small sites across the UK

Exclusive

Don't miss out on your favourite locations - book up to a year in advance with priority booking for members

Support

Friendly UK Service Centre, free technical advice, insurance products tailored for members