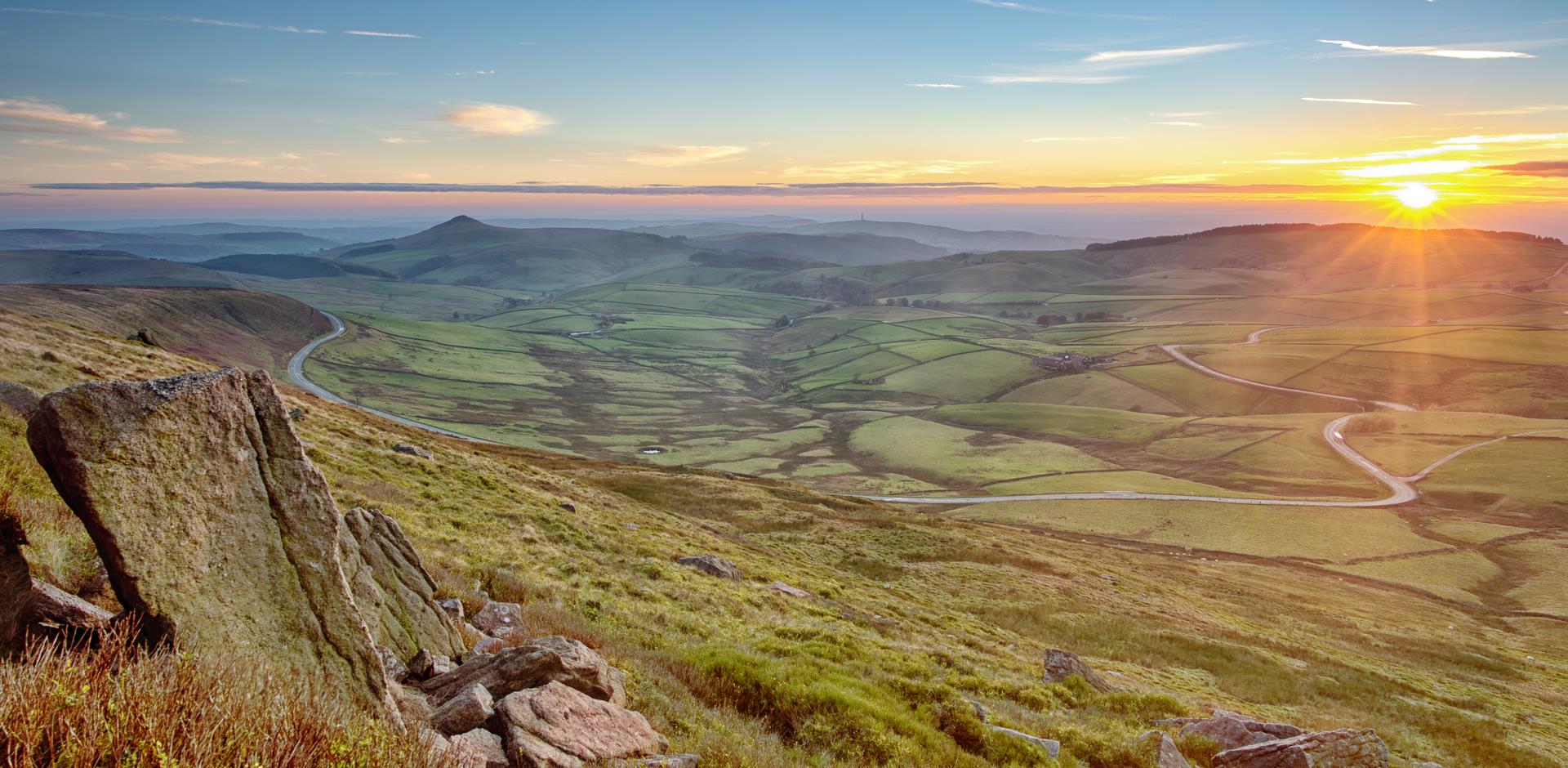 15+ Campsites in Cheshire
Camping in Cheshire
Whether you're looking for a relaxing getaway or an activity-packed adventure, camping in Cheshire offers something for everyone. Check out our variety of campsites in Cheshire and book your perfect stay.
More about camping in Cheshire
Explore the great Cheshire outdoors
Boasting a richly diverse rural landscape, the Cheshire countryside is the perfect location to uncover fascinating history, explore sprawling woodland and get away from the hectic rush of everyday life.
It's here where you'll find Delamere Forest – a wooded oasis brimming with wildlife – and the perfect place to let off steam. The forest is crisscrossed with cycle paths and tracks, and it's popular with walkers. Campers won't have to venture too far to access the forest as our Delamere Forest Club Site is right on its doorstep.
That's not all. To the east of Cheshire, you'll find that the county has its own little piece of the Peak District. Cheshire's Peak District is flooded with beautiful landscapes and breathtaking scenery. It's perfect for those who enjoy hiking, capturing views and spotting stunning wildlife.
In Cheshire's Peak District, you'll also find seven National Trust properties which you can explore, including Tatton Park and Arley Hall. If you love to see colourful flowers and sublime gardens, you can also visit Gawsworth Hall, Capesthorne Hall, Quarry Bank and Rode Hall & Gardens.
It's not just the grounds that are unmissable, for those fascinated by our solar system, you can make a visit to Jodrell Bank and marvel at the enormous Lovell Telescope.
If it's walking and cycling trails you're after, Cheshire has many. A popular route is the Gritstone Trail, which stretches from Disley Station to Mow Cop and follows the most westerly hills of the Peak District National Park. You can also explore the North Cheshire Way, the Bollin Valley Way and the Middlewood Way.
Discover the Roman city of Chester
Nestled in the heart of Cheshire, Chester is a cobbled Roman city with an array of attractions to keep visitors entertained. An ancient but beautiful town, ringed by the Chester City Walls dating back to Roman times, Chester has it all – historic buildings, a cathedral, an iconic zoo, museums and the Rows – the eye-catching, albeit unusual two-level shopping streets.
Originally built in the Romanesque or Norman architectural style, Chester Cathedral was founded as Benedictine Abbey in 1092. Take an award-winning tour through 900 years of history, concluding with breathtaking views of Chester.
Just across the city sits the Chester Roman Amphitheatre. Once Britain's largest Roman Amphitheatre, this site was used for entertainment and military training. Wander around the amphitheatre and soak in centuries of fascinating Roman history.
On the city's outskirts lies Chester Zoo, named the best zoo in the UK and third best in the world in 2017. Featuring over 20,000 animals and 400 different species, Chester Zoo is a fantastic day-out for the whole family.
You can also plan a visit to England's oldest racecourse, Chester Racecourse, or Roodee as it is colloquially known. Horseracing at Chester dates back to the sixteenth century, and visitors can attend a race day, cheer from the stands or dine at one of the many hospitality rooms.
Family friendly activities in Cheshire
Gulliver's World Theme Park

With attractions designed for children aged between 2 and 13, Gulliver's World Theme Park is an ideal day out for families with younger children. Opened in Warrington in 1989, the theme park consists of themed areas such as Lilliput Land, Gully Town and Safari Kingdom, and also has a Splash Zone and Blast Arena.

Beeston Castle

Dating back over 4,000 years with a 40-acre woodland park, Beeston Castle is one of the most dramatically sited medieval castles in England. Climb to the top of the rocky crag and gaze at the spectacular views from the Pennies to the Welsh mountains.

Gauntlet Birds of Prey

Gauntlet Birds of Prey Park is home to 180 birds from 50 different species making it the largest collection in the North West of England. You'll come face to face with eagles, hawks, falcons, vultures, kites, owls and more.

Cheshire Alpacas

Visit the Cheshire Alpacas for your chance to walk, feed and play with the cutest alpacas. You can also take part in a pilates class with alpacas or learn all about their fleece, the 'field to fashion' process, and get the chance to try the spinning wheel.

Blue Planet Aquarium

Explore tons of underwater creatures at the Blue Planet Aquarium. Not only can you spot sea creatures such as sharks, stingrays, octopus, clownfish, lionfish and more, but you can also visit one of the many exhibits open throughout the year, including:
Northern Streams: Here you can see common carp, rudd, and other fish living in their habitat.
Flooded Forest: Discover the rivers of the Amazon rainforest and learn what creatures live underwater.
Lake Malawi: You'll find a number of cichlid species living in the largest freshwater lake in the world.
Frog Zone: You'll spot a wide variety of amphibians from around the world - count how many different types and colours you see.
Caiman Crocodiles: Come face to face with some snappy crocks at this exhibit.
Coral Cave: Marvel at the colourful fish at Coral Cave. Living here are over 50 species of tropical fish, including pufferfish.
Rock Pools: Explore rockpools and see which animals hide under rocks at this exhibit. You'll be able to spot mullet, dogfish, seabass and rays.
Ocean Exhibit: A showstopper for sure is the Ocean Exhibit. This is a 4 million litre tropical display of colourful fish, including huge sharks. You can get up and close to them through the underwater tunnel and perhaps join in a show at the Aquatheatre.
Venom: This exhibit will allow you to see some of the deadliest underwater sea creatures.
The Ice Cream Farm
A great family fun day out is to the
Ice Cream Farm
. There's so much to do, from adventure golf to car racing, an indoor play area, a trampoline park and, of course, eating tasty ice cream. You can enjoy over 50 flavours of ice cream at the world's largest ice cream parlour!
So, which one of these fun activities are you excited to try? Book a campsite in Cheshire today to have an exciting camping holiday fit for everyone.
More popular camping destinations
From £48
Join the Club
Whether you choose to holiday with a caravan, tent, motorhome, campervan or any touring unit, we offer the best range of pitches and facilities. We even have glamping and holidays overseas. Join The Camping and Caravanning Club to benefit from over 120 years' expertise and discounts carefully tailored to our members.
Save

30% off Club Sites and other discounts including retailers, days out and events and many more…

Explore

Access to an exclusive network of over 1,200 member-only small sites across the UK

Exclusive

Don't miss out on your favourite locations - book up to a year in advance with priority booking for members

Support

Friendly UK Service Centre, free technical advice, insurance products tailored for members