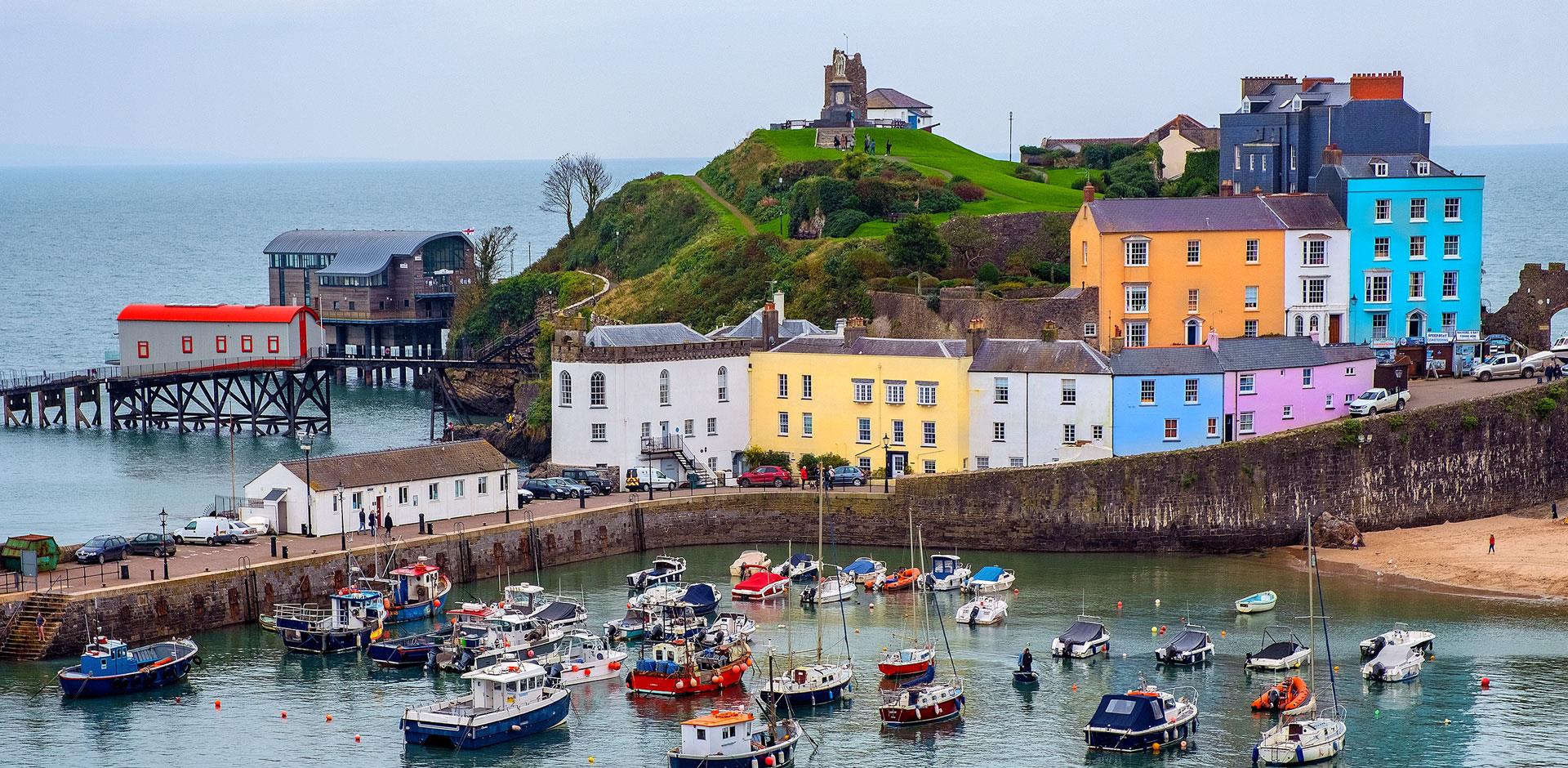 Best Tenby campsites
Tenby is a popular harbour town situated in Pembrokeshire, Wales. With delightful views and beautiful beaches, Tenby offers plenty of exciting things to do and see and is an ideal camping destination. Book a stay at one of our lovely campsites based in or near Tenby.
What are the best Tenby campsites?
If you're looking for a campsite with stunning sea views, magnificent sunsets and brilliant walks from your pitch, our St David's campsite based in Pembrokeshire could be for you. We also have a selection of member only campsites situated close to Tenby.
Last Modified: 28 Apr 2023
Are there glamping sites in Tenby?
Unfortunately, we don't have glamping sites in Tenby. Head to the
glamping section
of our website to see which glamping sites we have to offer and plan your next getaway.
Last Modified: 28 Apr 2023
Can you camp on the beach in Tenby?
We have several campsites near the Tenby North Beach. Take in the stunning sea views from our St David's Club Site in Pembrokeshire. We also have several
member-exclusive campsites
a short drive away from Tenby North Beach.
Last Modified: 28 Apr 2023
Which campsites in Tenby are dog friendly?
Our St David's campsite is dog friendly, so make sure to bring your four-legged canine along with you.
Last Modified: 28 Apr 2023
Which campsites near Tenby have electric hook-ups?
Our St David's campsite offers both grass and hardstanding pitches with electric hook-up. We also have several member only campsites with electric hook-ups available.
Last Modified: 28 Apr 2023
Things to do and see while camping in Tenby
Whether you fancy a peaceful trip or an action-packed getaway with the family, Tenby has plenty to offer. Spend the day exploring beaches, museums and small islands linked to or just of the coast of Tenby.
Beautiful beaches
Aside from the harbour, Tenby is home to three separate beaches with glorious views. Located between the picturesque Tenby Harbour and the North Cliffs, Tenby North Beach is perhaps the most popular of three. Take a stroll along the long stretch of golden sand, swim in the crystal blue water and take in the breath-taking coastal views. This beach isn't hard to spot due to the spectacular Goscar Rock, which protrudes impressively from the sand.
If you're looking for some adventure, head to Tenby South Beach, popular for leisure activities. Make the most of the sea and try out windsurfing, angling, and canoeing. When the beach is at a low tide, there is plenty of room for other activities for the whole family, including ball games and sandcastle building. This beach is also a favourite for all dog-owners as it is dog-friendly all year round, unlike the other Tenby beaches. You can also take in the fantastic views looking out onto the islands of Caldey and St Margaret's.
Tenby Castle Beach is a charming and quaint sandy beach located on the south side of the cobblestoned town between East Cliff and Castle Hill. Prone to disappearing altogether at high tide, at low tide, this beach is known for its calm waters and nearby cafes and restaurants.
Incredible islands

Just off the coast of Tenby is Caldey Island, home to a small village of Cistercian Monks who farm the tiny island. Having been inhabited since inhabited since the Stone Age, Caldey Island has a rich and intriguing history that dates back over 1500 years. The island is open to day visitors at certain times of the year and is a 20-minute boat trip away from Tenby. You can only access the island by boat and can buy tickets at the Caldey Island stand, based at the top of the harbour. Host to sandy beaches, stunning views and pleasant picnic spots, you're guaranteed to have a fabulous day out.
Just off the western tip of Caldey Island sits St Margaret's Island. This island is inhabited by fascinating colonies of birds, including guillemots, razorbills and three types of gulls: great black-backed gulls, lesser black-backed gulls and herring gulls. As a result, the island is an important nature reserve. You can take a guided boat tour around both Caldey and St Margaret's Island.
Historic marvels
People settled in Tenby as early as the 9th century, it was then conquered by the Normans, as a result the beautiful town holds a rich history stretching over hundreds of years. Visit Tenby Museum and Art Gallery, the oldest independent museum in Wales, and learn about the fascinating history of the town. The museum is home to two art galleries, one a permanent collection and the other a location for changing exhibitions. The museum is built on a medieval domestic building, which is thought to be the remains of Tenby Castle's Hall.
Perched at the top of Castle Hill, a small tower of Tenby Castle proudly stands, surrounded completely by the sea. While there is much not left of the once grand castle, the old town walls contain narrow streets, which is what adds to Tenby's charm.
Step into the past by visiting Tudor Merchant's House, preserved by the National Trust. Originally built in the 1500's, the house shows what life in Tudor Tenby was really like. With painted cloths on the walls, this house tells the story of living in the medieval era.
Family attractions
Step back in time for the day at The Dinosaur Park, where T-Rexs and Velociraptors are waiting to meet you. There is plenty to do and see at the park, including a Dinosaur Trail, racing hurricane and skiddy cars, an indoor playground and so much more.
Spend the day at Wales only walking safari, Manor House Wildlife Park. Get up close and personal with Wallabies, Lemurs and giant Flemish rabbits! Follow the trail around The Valley of Apes and The African Village for a unique walking safari experience. With a café and indoor play area, this is the ideal family day out!
Visit award-winning family attraction Heatherton World of Activities near Tenby. You will be spoilt for choice endless exciting things to do, including crazy adventure golf, bumper boats, go-karts, giant jumping pillows, paintballing, escape rooms and more.
More popular camping destinations