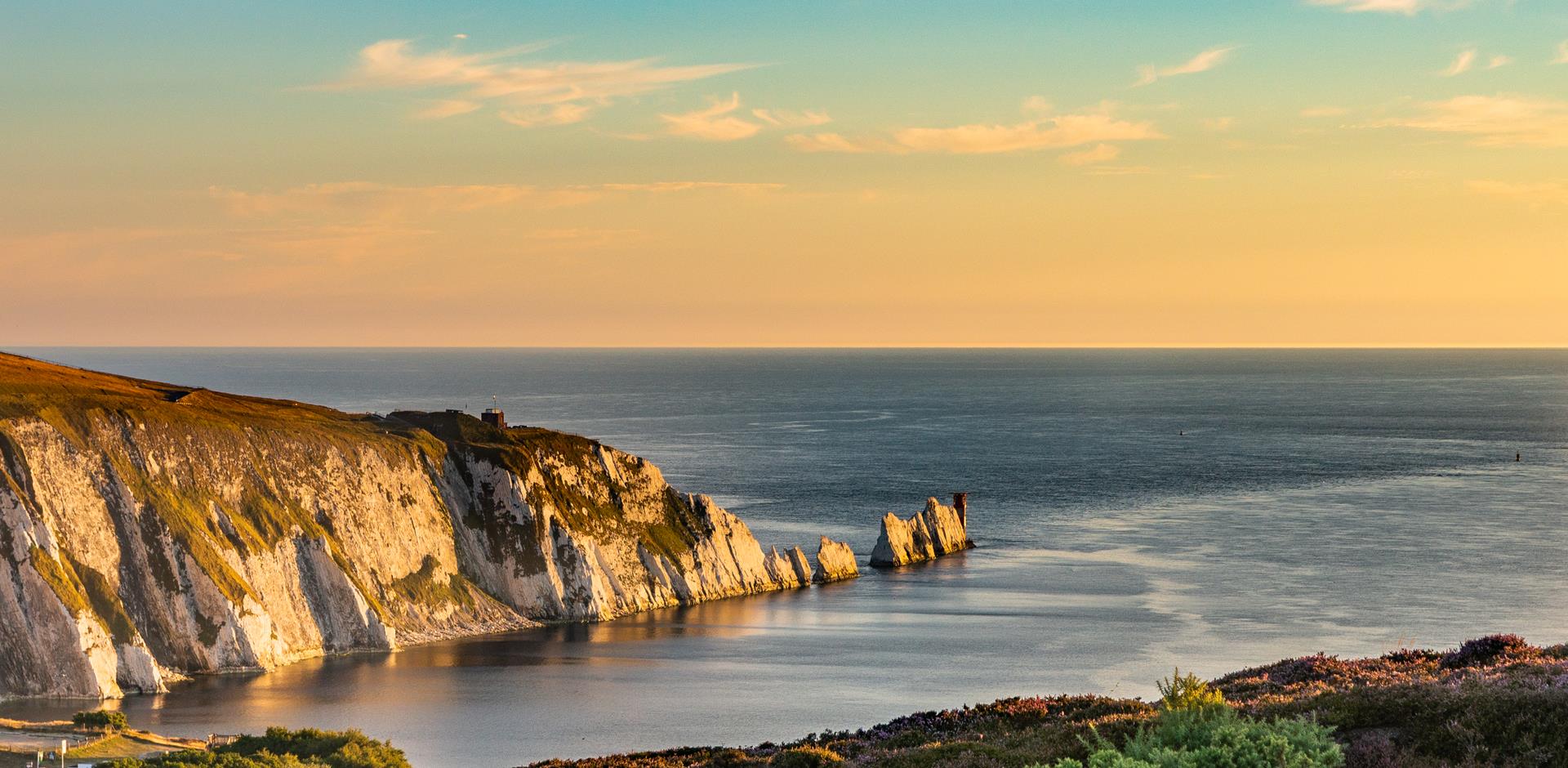 Campsites on the Isle of Wight
Campsites on the Isle of Wight
Charming towns, stunning views and sandy beaches make camping on the Isle of Wight a must. The Botanical Gardens, Needles and Owl and Monkey Haven are just a few of the things to do once you've pitched up on your Isle of Wight campsite. View our Isle of Wight campsites below.
Isle of Wight Camping FAQs
What are the best camping destinations on the Isle of Wight?
We have a selection of campsites on the Isle of Wight. One of our most popular campsites is Adgestone, which you find in a quiet countryside setting close to the popular Sandown resort.
Last Modified: 28 Apr 2023
Does the Isle of Wight have adult-only campsites?
Last Modified: 28 Apr 2023
Do any campsites on the Isle of Wight have swimming pools?
Yes. Our Adgestone Club Site has a swimming pool (which is open and heated from the Spring Bank holiday until the first week in September).
Last Modified: 28 Apr 2023
What do I need to know about the Portsmouth Clean Air Zone?
Find all you need to know about the Portsmouth Clean Air Zone. If you have a vehicle over 3500kg then an alternative route via Lymington may be preferable.
Last Modified: 28 Sep 2022
Is wild camping legal in the Isle of Wight?
The rules on wild camping are complex; please read our guide to
wild camping
to find out more.
Last Modified: 28 Apr 2023
Things to do and see while visiting the Isle of Wight
5 Top Sightseeing and Coastal Delights
With clean air, stunning views and charming little towns full of shops and eateries to explore, camping in the Isle of Wight is the perfect holiday choice whatever your age! Listed are 5 of our favourite sightseeing destinations to visit.
1. The Isle of Wight Coastal Path
The Isle of Wight Coastal Path is split into six sections, with each part offering you something unique. To download the appropriate route for your journey, click here.
2. Shanklin Beach
One of the islands popular stretches of sand is Shanklin beach which is around a 10-minute drive from Adgestone Club Site. The traditional English seafront promenade accompanying the beach offers all of the usual attractions to fill a fun family day out at the seaside. Spend time with kids in the large amusement arcade or try your hand at crazy golf, alternatively spend some time milling around the cafés and souvenir shops. The beach itself is sandy and safe, with clear waters and protection from winds.
3. Brading Roman Villa
Overlooking Sandown Bay, Brading Roman Villa is one of the best preserved Roman sites in the UK. Visit the museum and visitor centre to see expertly maintained mosaic floors and over 100,000 artefacts from the site. Easy access, free parking, a café and a souvenir shop make for an easy trip from the campsite.
4. Sandown Beach
Sandown Beach offers miles of golden sand, ideal for a traditional bucket and spade day. The pier offers plenty of amusements and places to grab a bite to eat.
5. St Catherine's Lighthouse Visitor Centre
Take a 40-minute tour of St Catherine's Lighthouse which was the site of a light to warm ships of the coast since 1323. You'll be able to see wonderful views of the Channel and learn about the history of the lighthouse on your tour.
6 Isle of Wight Family attractions
The Isle of Wight has an endless number of places to explore and entertain you and the kids, many of which are open all year round!
1. The Needles
One of the most famous natural attractions, the Needles makes a great day out for the whole family. Ride the chairlift to the top of the Alum Bay cliffs for spectacular views of the beach below and the famous Needles Rocks. A visit to the Alum Bay Glass Shop, the Isle of Wight Sweet Manufactory and the Sand Shop are great ways to fill a day away from the campsite. Boat trips are available for those wanting to get a closer look at the Needle Rocks and lighthouse. Choose from a leisurely 20-minute pleasure boat or a 15-minute quick trip
2. Monkey Haven
Monkey Haven is a primate rescue centre, just over 20-minutes away from Adgestone Club Site by car. As well as gibbons, marmosets and capuchins, the centre is also home to owls, kookaburras, reptiles and more.
3. Isle of Wight Donkey Sanctuary
The Donkey Sanctuary is around a 15-minute drive from Adgestone Club Site. Meet friendly donkeys, learn about the centre and enjoy the café and gift shop.
4. Amazon World Zoo Park
In Sandown, the Amazon World Zoo Park is home to a wide range of rare and exotic animals. Ocelot, meerkats, tapirs and sloths are just a few of the mammals you'll meet. Turtles, crocodiles, tarantulas and chameleons are also housed at the zoo.
5. The Dinosaur Isle Museum
The Dinosaur Isle Museum in Sandown showcases over 1,000 fossils, life-sized models and animatronic dinosaurs. All of the exhibits are indoors, which makes it a great option on a rainy day. The family-friendly centre is right next to the beach, and there's a café next door.
6. Isle of Wight Zoo
Meet all kinds of animals at the Isle of Wight Zoo, from tiny bees to magnificent tigers. Visit the small mammal zoo to meet meerkats, wallabies, racoons and hedgehogs. Bigger animals like tigers, lions and primates are also on display. The zoo offers good facilities and a café to refuel throughout the day.
7. Ventnor Botanic Gardens
Ventnor Botanic Gardens are around a 20-minute drive away from Adgestone. There are plenty of trails, specially designed with children in mind. The Lizard Safari, Dinosaur Plant Trail and Champion Tree Trail are just a few of the options.
4 Historical days out on the Isle of Wight
For those who love history or geography, the Isle of Wight is a goldmine. Rich in historical and archaeological sites, we've cherry-picked four of the best attractions to visit.
1. Carisbrooke Caste
Just over 20-minutes away from Adgestone campsite is Carisbrooke Castle with lovely Edwardian gardens, a museum full of history and even friendly donkeys. Walk the Norman keep and walls, learn about the castles royal history and see the 16th-century guardhouse and chapel which was built in 1904. Donkeys were used to get water from the wells at the castle, and today you can see them at work. The period gardens are worth exploring.
2. Osbourne House
The holiday home of Queen Victoria and Prince Albert, Osbourne House is a reflection of their style and taste. Walk around the state and family rooms with their original furnishings; view the gardens and their stunning views before stopping off at the café or Terrace Restaurant and Orangery.
3. The Shipwreck Centre
The Shipwreck Centre in Arreton is around a 15-minute drive from our Adgestone Club Site. Showcasing shipwreck finds from around the local coast, early diving equipment, navigational instruments and much more. The Shipwreck Centre is a great day out for anyone interested in maritime past and the history of diving.
4. Lilliput Antique Doll and Toy Museum
Lilliput Antique Doll and Toy Museum have an extensive collection of antique dolls and toys. German dolls, teddy bears, model trains, dolls houses and puzzles are all part of the collection. If you're interested in antiques, this is a great idea for a rainy day.
More popular camping destinations
From £48
Join the Club
Whether you choose to holiday with a caravan, tent, motorhome, campervan or any touring unit, we offer the best range of pitches and facilities. We even have glamping and holidays overseas. Join The Camping and Caravanning Club to benefit from over 120 years' expertise and discounts carefully tailored to our members.
Save

30% off Club Sites and other discounts including retailers, days out and events and many more…

Explore

Access to an exclusive network of over 1,200 member-only small sites across the UK

Exclusive

Don't miss out on your favourite locations - book up to a year in advance with priority booking for members

Support

Friendly UK Service Centre, free technical advice, insurance products tailored for members