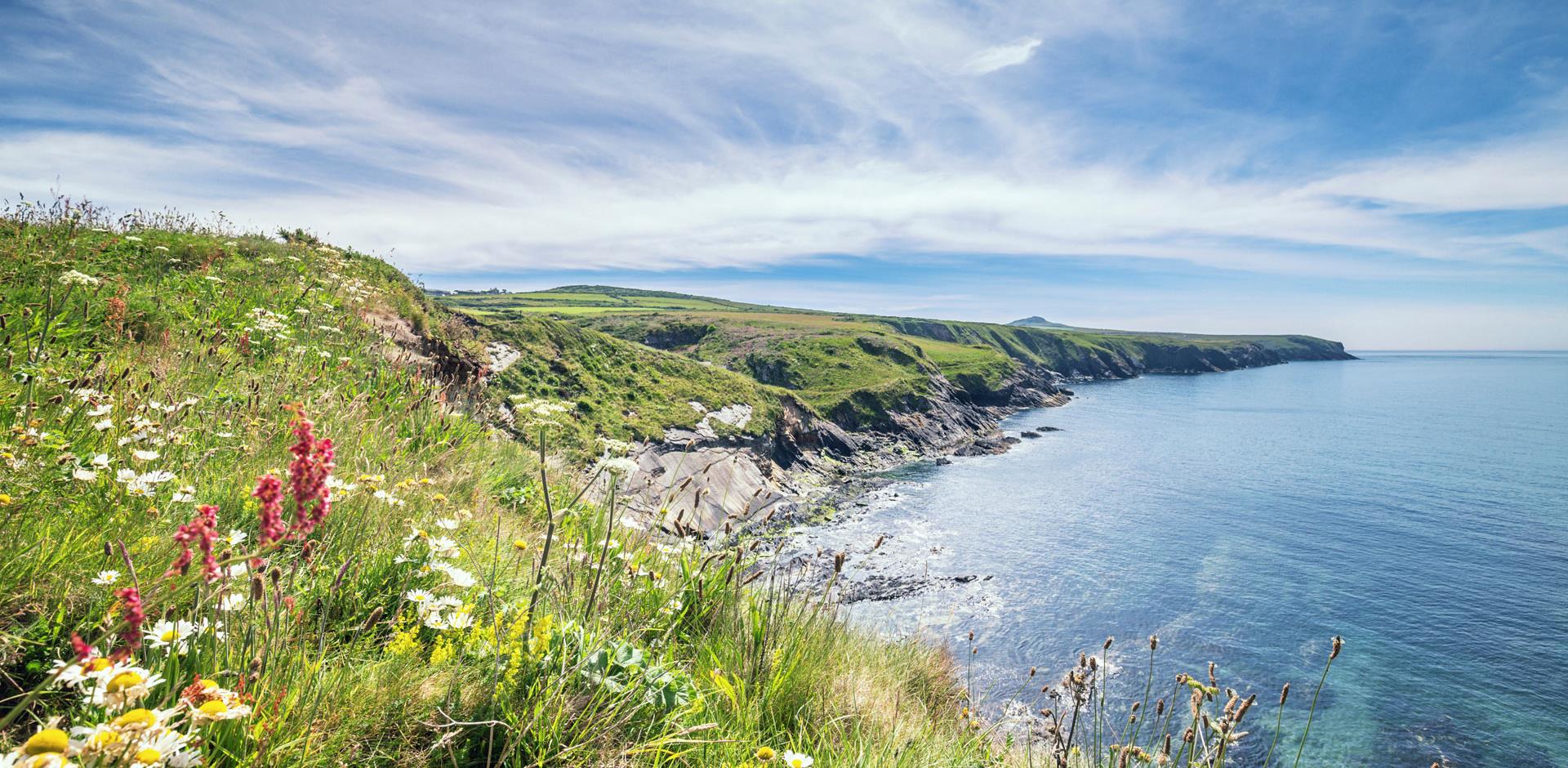 Best beach campsites in Wales
Experience the magic of camping in Wales by the sea, where amazing memories are made. Boasting boundless beaches, a captivating coastline, vitalizing valleys, wooded wonderlands and colossal craggy mountains, come and enjoy beach camping, Wales style.
Best beaches in Wales
Some of the most popular beaches in Wales include Cwmtydu Beach, New Quay Harbour Beach, Llangrannog Beach, Whitesands Beach and Black Rock Sands.
Cwmtydu Beach
Blessed with stunning scenery, Cwmtydu Beach can be found three miles from our Cardigan Bay Club Site. A charming cove cut deep into a lush green valley, the shingle beach features a winding estuary that stretches down to the shore. Owned by the National Trust, the coastline sees regular visits from grey seals.
Traeth y Dolau Beach
Characterised by a wide bay, shallow waters and smooth sands, it's the perfect place for paddling, while the miniature mountain of rocks is great for a spot of foraging and exploring.
New Quay Harbour Beach
Nestled neatly between two piers at New Quay, Harbour Beach is by far the most popular at the height of summer. This pretty patch of sand and shingle spreads across a small bay that's characterised by a shoreline scene featuring an abundance of boats.
With New Quay town centre tucked neatly in the background, the beach is easily accessible. While gazing out to sea, you might catch a glimpse of dolphins, porpoise and grey seals, which follow the fishing boats as they come to moor in the bay.
Llangrannog Beach
An 18-minute drive from our Cardigan Bay Club Site is the lovely Llangrannog Beach, a sensational stretch of sand that connects with the charismatic Cilborth Beach. Backed by rolling hills that slope down to the bay, experience the vibrant colours of the valley as you descend steep lanes to access this awesome beach.
Cilborth Beach
At low tide, Cilborth Beach can be reached from Llangranog Beach. This secluded, sandy cove is a hidden gem, backed by sloping, rocky hills. Perfect for wading in the water or enjoying a picnic, this tranquil little treasure oozes charm.
Abereiddy Bay (Blue Lagoon)
A 5-minute drive away from our St David's Club Site is the astounding Abereiddy Bay, which is characterised by extraordinary slate-grey sands and a pint-sized harbour north of the beach. It's the slate sand that gives the water a brilliant deep blue colour in the Blue Lagoon; the name given to the nearby harbour.
It's a cracking spot for coasteering, where you can get the adrenalin pumping as you traverse rock faces, enjoy scrambling, have a go at cliff jumping and attempt extreme swimming. Tuition and guided excursions are widely available if you want to exercise your sense of adventure.
Traeth Llyn Beach
For a ravishingly remote seaside experience, the tranquil Traeth Llyn Beach is the place to be. Tucked between Porthgain and Abereiddy, this enticing patch of paradise is hidden away by colossal cliffs and is only accessible by a steep flight of stairs that descend to the bay. It's the perfect spot for seaside seclusion.
Whitesands Beach
A 14-minute drive from our St David's Club Site is the whimsical Whitesands Beach. Its quirkiness is characterised by a beautiful ribbon of fine pale sand that stretches towards the remote rocky cape of St David's Head. The soft sands are a family favourite, while the water is popular among surfers and swimmers.
Criccieth Beach
This crescent shaped stretch of sand and shingle sits below the imposing ruins of a 13th Century castle. Backed by a pleasant promenade, the beach slopes towards the sea and is a great spot for families in which to enjoy wading in the water, while admiring the castle ruins that dominate the Criccieth skyline.
Marine Beach (West Beach)
On the west side of the castle ruins, the marvellous Marine Beach is a delightful sandy terrain scattered with pebbles. A popular bathing area, it offers pleasant views out across the bay and an abundance of activities including kayaking, sailing, fishing and rock pooling.
Black Rock Sands (Morfa Bychan Beach)
Accessible from Marine Beach at low tide, Black Rock Sands stretches from Ynys Cyngar along Tremadog Bay. Featuring a seemingly endless terrain of wide, gorgeous golden sands that are surrounded by huge rocks and colossal cliffs, the beach is backed by dramatic dunes just waiting to be explored.
Beach camping advice and inspiration