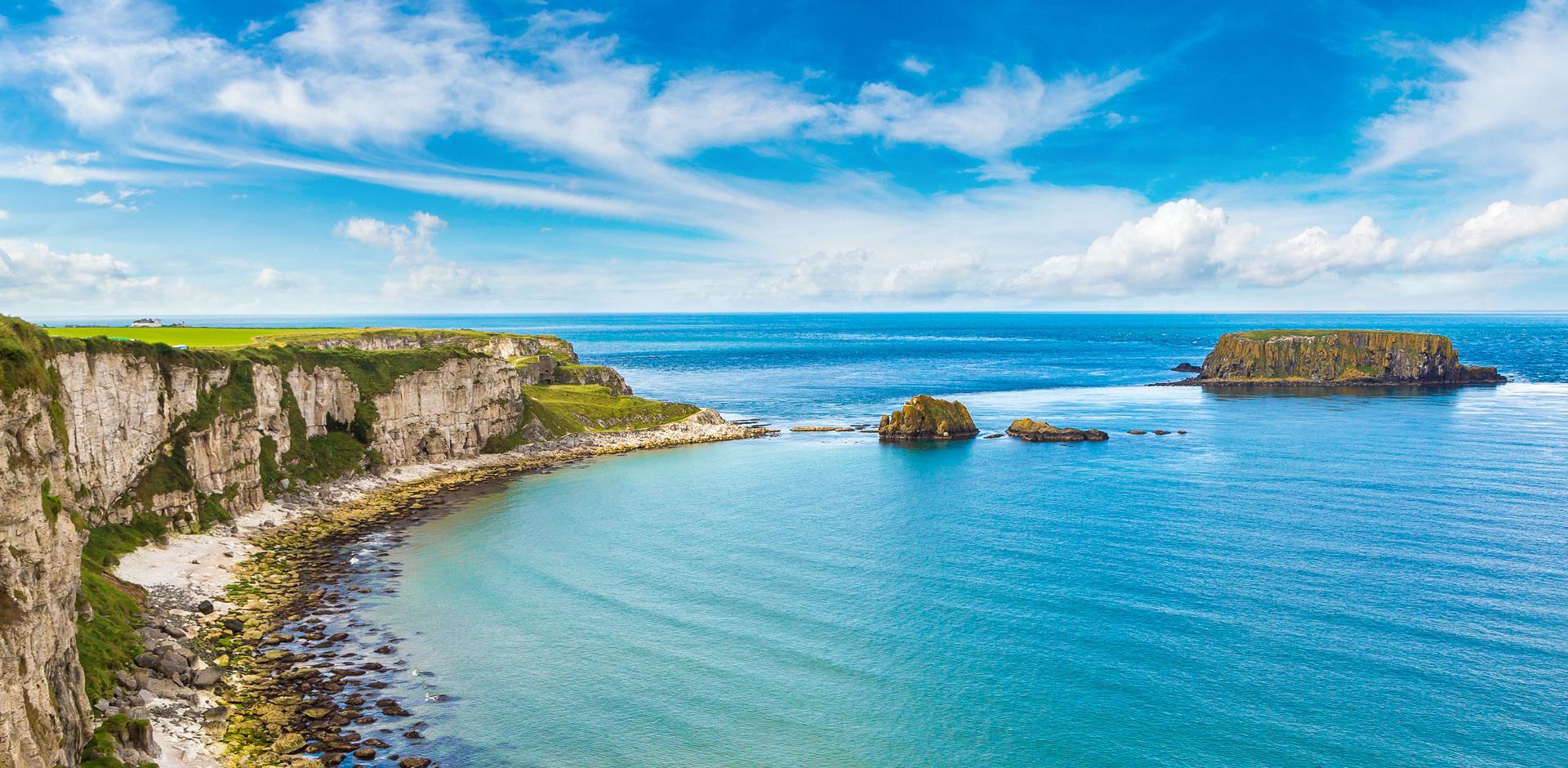 Camping on Northern Ireland's coast
Campsites near the beach in Northern Ireland
Characterised by craggy peninsulas, sparkling loughs and stunning beaches, Northern Ireland is an astounding setting in which to enjoy a coastal camping holiday. Come and experience a captivating adventure and bask in the beauty that is the Northern Irish coastline.
Northern Ireland beach campsites FAQs
What are the best beach campsites in Northern Ireland?
Last Modified: 22 Sep 2023
Which campsites near the beach in Northern Ireland are dog-friendly?
All of our Club Sites are dog friendly, if you're looking to camp on the Northern Irish coast with your four-legged pal, you can do so at no extra cost. Some of our sites have extra facilities such as dog walks or dedicated areas for walks to make your dogs stay with us run even smoother, so make sure you check what's available at your chosen site before you book.
Last Modified: 22 Sep 2023
Are you allowed to camp on the beach in Northern Ireland?
Similar to England, Scotland and Wales the rules for wild camping are complex, please read our
guide to wild camping
for more information on camping on the beach in Northern Ireland.
Last Modified: 22 Sep 2023
What are some tips for camping by the coast in the UK?
Last Modified: 22 Sep 2023
Best beaches in Northern Ireland
Some of the most popular beaches in Northern Ireland include Tyrella Beach, Strangford Lough, Crawfordburn Beach and Helen's Bay.
Tyrelle Beach, Clough
The tremendous Tyrella Beach is just a 22-minute drive from our Delamont Club Site. Its wide, flat sandy beach, which stretches for 2km, is a stunning sight to behold. Backed by dramatic dunes and set in a conservation area, the beach expands far into the distance and provides an outstanding view of the majestic Mourne Mountains on the horizon. A popular jaunt for locals and visitors alike, the sparkling sea waters attract water sports enthusiasts from far and wide, while the beach is a favourite among families and groups for enjoying picnics and play in a picturesque setting.
Strangford Lough, County Down
On the doorstep of our Delamont Country Park Club Site is the striking Strangford Lough. It's the largest sea lake in the British Isles and staying with us puts you just a few minutes' walk away from the water's edge. A designated Marine Nature Reserve and named as an Area of Outstanding Natural Beauty, gazing out across the spectacular Strangford Lough is truly something special. With a heap of activities to enjoy, there's plenty that will appeal to your sense of adventure. How about having a crack at canoeing? Fun for all the family, glide through the crisp, calm waves of the lough and catch an up-close glimpse of the seals, birds and porpoises that populate these waters as you revel in a relaxing paddle.
Along the shores of the Strangford Lough, experience the 1.5 mile Nugent's Wood walk, which takes you through mixed woodland terrain to reveal a variety of wildflowers and stunning wildlife. Connect with nature for an hour as you meander through this wooded wonderland. You can bring four-legged friends along for the adventure too.
For a change of pace, and scenery, a series of unique little towns and villages surround the lough. Steeped in history, discover the narrow streets and quirky features of these peaceful pockets of civilization. The town of Comber comes highly recommended. Birthplace of Thomas Andrews, builder of the Titanic, the town has an illustrious past becoming an industrial centre, home to plenty of mills in the 1700s.
The village of Strangford sits at the foot of an imposing castle, which overlooks a pleasant harbour. Stunning architecture and colourful cottages surround the bay that sits at the mouth of the lough. Packed with places of interest, Strangford Lough is an exquisite extravaganza of sights, sounds and unforgettable scenery that will set off all your senses and paints a true picture of Northern Ireland's heritage. From Strangford village you can hop aboard a ferry to the other side of the lough, where you will arrive at Portaferry. Featuring a small marina and an aquarium, the town of Portaferry sits at the southern end of the Ards Peninsula, where there are coastal walks aplenty.
Ballintoy Harbour, Ballintoy Village
Spend a day in Ballintoy, a charming dockland town in County Antrim with a harbour that allows you to enjoy the incredible views overlooking the Northern Coast. To access the habour follow the steep and narrow road down Knockshaugey Hill. On your way you will pass the Carrick-A-Rede, a rope bridge connecting the mainland to the island of Carrickarede. The bridge is a tourist attraction known for its rich history and picturesque views of Antrim Coast. The harbour is part of the Ballintoy to Bushmills trail, which takes you on gorgeous beaches and across cliff top paths that follow the iconic Causeway Coast Way.

Fans of the hit TV series Game of Thrones will recognise Ballintoy Harbour as Lordsport, one of the Iron Islands and the main port of Pyke.
Crawfordsburn Beach & Helen's Bay, Bangor
Under a 45-minute drive from Delamont Country Park is the stunning Crawfordsburn Country Park, which is home to two sandy beaches at Helen's Bay. If you follow the scenic coastal walk at the country park you will head west and pass both beautiful beaches, the old fort and end up at Sea Park. Crawfordsburn Beach is a sandy beach home to dazzling rock pools and is a perfect spot for swimming.
Benone Strand (Beach), Limavady
Boasting 7 miles of golden sands and no rocks or seaweed, Benone Beach is one of Northern Ireland's finest treasures. Not only offering picture perfect views of Binevenagh mountain and Donegal, this beach has an array of seaside activities to partake in, such as watersports, fishing and idyllic picnic spots.
More on coastal camping inspiration
Beach camping advice and inspiration