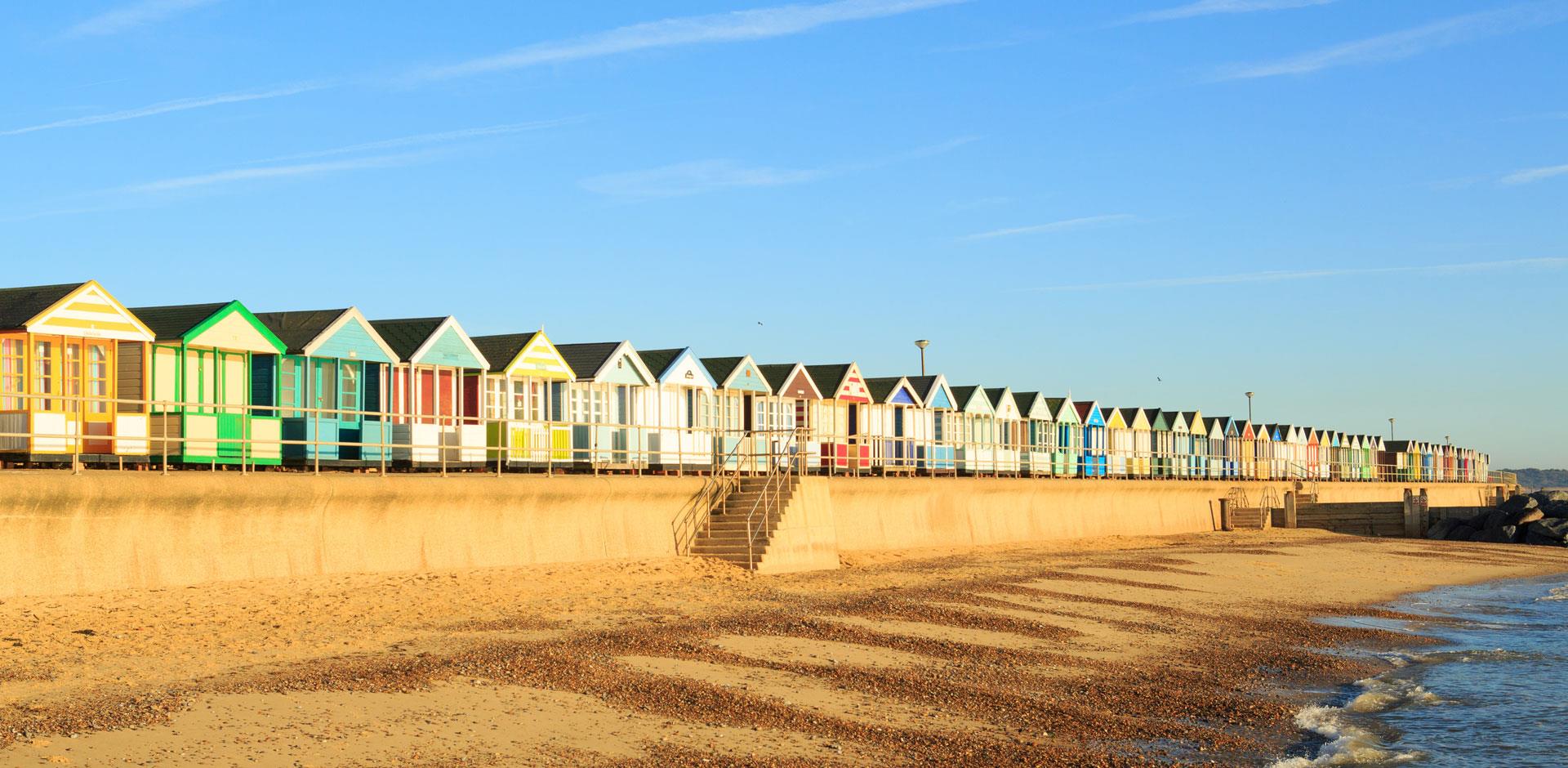 Campsites on Suffolk's Coast
Beach campsites on Suffolk's coast
There's nothing like the serenity of our Suffolk coastal campsites for the ultimate seaside holiday experience. The sunrise coast is a bounty of beautiful beaches brought to life by extraordinary scenery and the sound of the sea.
Suffolk beach campsite FAQs
Best beaches in Suffolk
Some of the most popular beaches in Suffolk include Claremont Pier South Beach, Claremont Pier North Beach, Gunton Denes and Aldeburgh.
1. Claremont Pier South Beach, Lowestoft
A 10-minute drive away from our Kessingland Club Site, there's a brilliant blend of Blue Flag sands, separated by Claremont Pier, with the north and south sides each showcasing different features. The south side is adored by families, providing a fun day out for all ages. There's an abundance of activities to enjoy, including swimming, surfing, scuba diving, water skiing, fishing, snorkelling and much more. There's an events area at the Royal Green adjacent to the promenade. Boasting excellent water quality and spectacular scenery, the beach comes recommended by the Marine Conservation Society having undergone a major makeover in recent years, increasing its attractiveness and appeal. Easily accessible via public transport, the south side beach has become incredibly popular among tourists from far and wide.
2. Claremont Pier North Beach, Lowestoft
Equally as stunning as the beach south of Claremont Pier, the North Beach is characterised by a spectacular stretch of fine sand and flint, surrounded by charming holiday chalets. A favourite among locals and visitors alike, the beach is a popular jaunt for swimming, fishing, surfing, scuba diving, and snorkelling enthusiasts.
Much quieter than the south side stretch, the northern section of the beach is ideal for a more laidback experience of Suffolk's shoreline. Meanwhile, Claremont Pier – built in 1902 - has a host of attractions at its shore end, including a nightclub, amusement arcade and a number of children's rides.
3. Gunton Denes, Lowestoft
Head further afield from the Kessingland Club Site and you will reach the amazing Southwold coastline. Gunton Denes is a leisurely sand and shingle beach backed by a display of dunes. It's sandwiched between the town of Southwold and the mouth of the river Blyth, which creates a glorious backdrop for the beach.
This dog-friendly stretch of coastline is a warren of coastal walks, with some tremendous trails that will take you on a tour in and around Southwold. The beach is an ideal spot for surfing too, and the perfect place for capturing a glimpse of the local wildlife from among the delightful dunes.
Nearby is Lowestoft Harbour, a bustling port that serves busy sea routes between the UK, Europe, Scandinavia, and the Baltic States, while the Royal Naval Patrol Service Museum sits directly behind the beach as a reminder of Lowestoft's rich marine heritage.
4. Aldeburgh Beach
Take a trip to Aldeburgh shingle beach, a popular beach amongst birdwatchers and joggers, that hosts gorgeous views. There are a number of amenities at the beach, including a beach cafe, nearby parking and public toilets.
Aldeburgh itself is a charming seaside town, loved by locals and tourists alike with a delightful collection of independent shops, bars and restaurants to visit.
People from far and wide come to Aldeburgh Festival, a 24-day celebration of music and the arts hosted annually.
Things to do and see by the Suffolk coast
A Suffolk coast campsite holiday will set your spirit soaring as you marvel at remarkable sunrises in Lowestoft - Britain's most easterly town – before experiencing a taste of the traditional with a delicious supper of fish and chips on Southwold Pier. This classic seaside county is awesomely uplifting, a firm family-favourite yesterday, today, and always.

With epic family entertainment to enjoy, including all the thrills of seaside amusement arcades, there's no shortage of fun to be had on and around Suffolk's standout beaches. Your dog can enjoy the delights of The Denes and you can follow Felixstowe's numerous walking and cycling trails to satisfy your sense of adventure.

Head to our Kessingland Club Site for a joyous Suffolk coast campsite experience that's not only close to the county's most outrageously awesome beaches, it is right next to the Africa Alive Wildlife Park, which brings the Serengeti to Suffolk. Home to buffalos, chimpanzees, lions, rhinos, zebras and more, this is an amazing, must-see attraction.

Ness Point in Lowestoft is worthy of a visit too. As the most eastern part of Britain, the sunrises in this part of the world are mesmerising. While you're stood at the tip of the UK's eastside, be sure to glance up at 'Gulliver.' It's the country's tallest wind turbine, standing a staggering 126 metres tall, towering over Ness Point and viewable from Claremont Pier South Beach.
More on coastal camping inspiration
Beach camping advice and inspiration