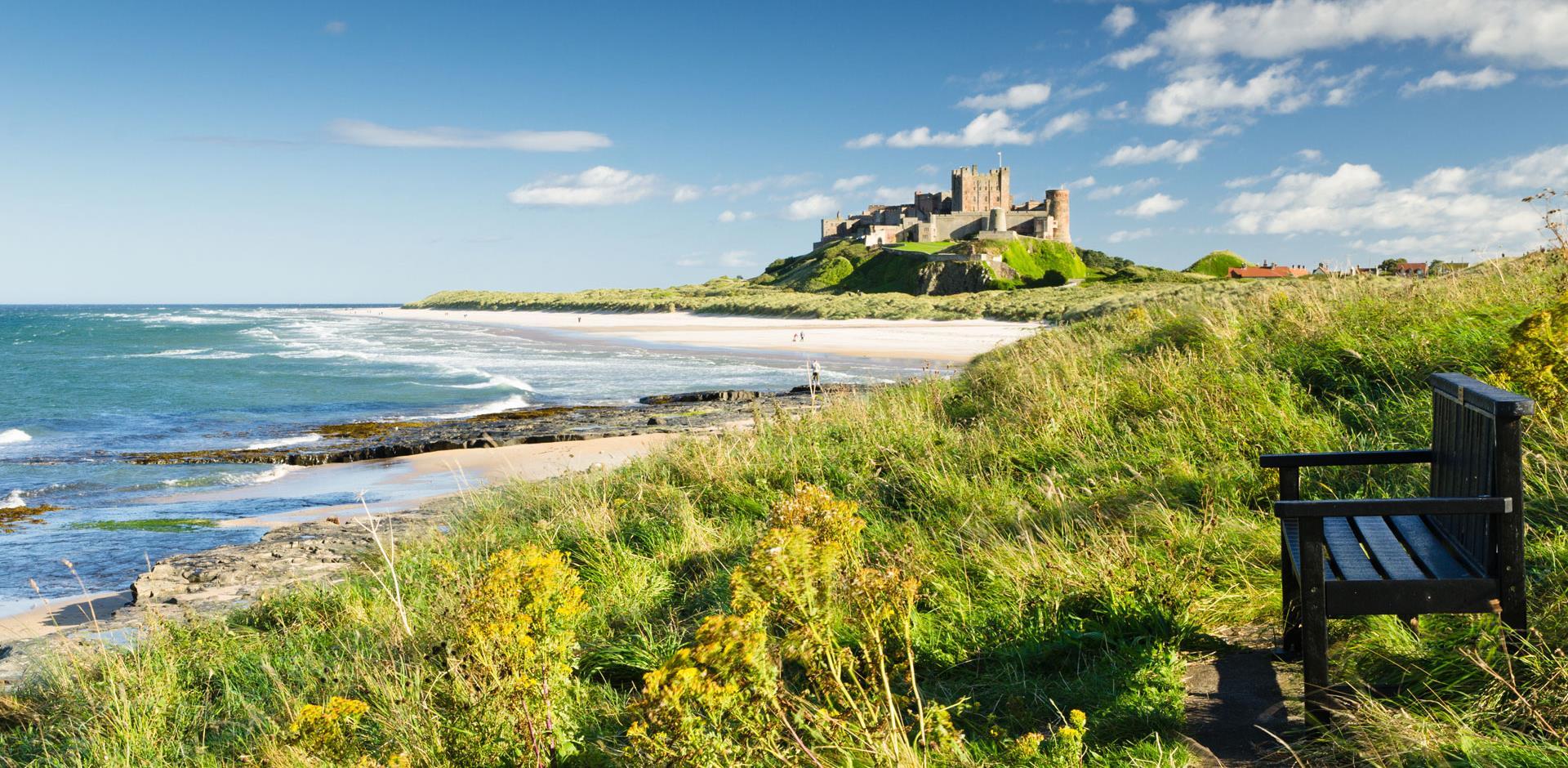 Campsites on Northumberland's coast
Northumberland campsites near the beach
Nestled in the far northeast corner of England and nobly overlooking the North Sea, Northumberland is a national treasure. With beaches in abundance, Northumberland boasts more than 30 miles of gorgeous golden sands dotted with glorious campsites.
Northumberland beach campsites FAQs
What are the best beach campsites in Northumberland?
Last Modified: 28 Apr 2023
Can you wild camp in Northumberland?
The rules for wild camping are complex, read
our guide
to learn more.
Last Modified: 28 Apr 2023
Can you camp on Beadnell Bay Beach in Northumberland?
Our Beadnell Bay Club Site overlooks the beautiful Northumberland coastline and is just minutes from the sandy shores of Beadnell Bay.

Last Modified: 28 Apr 2023
Best beaches in Northumberland
Some of the most popular beaches in Northumberland include Beadnell Bay Beach, Seahouses North Beach, Bamburgh Beach and Craster Beach.
1. Beadnell Bay Beach
The beautiful Beadnell Bay Beach is just a stone's throw away from our Club Site of the same name. This bustling stretch of golden sand is distinctly shaped like a horseshoe and is a hub of activity, where you can enjoy windsurfing, water skiing, canoeing and sailing from its shores. You can even explore the depths of the sea by going wreck diving.
Famed as part of Northumberland's Heritage Coastline, Beadnell Bay Beach is often frequented by families. Its blend of huge sweeping sands sheltered by dunes and clear protected waters make this stretch of shoreline the perfect setting in which to enjoy seaside strolls and sunbathing. Beadnell is home to a tiny harbour that's worth exploring, too.
Nearest campsite: Beadnell Bay Club Site
2. Bamburgh Beach
.A few miles north of Seahouses village is the breath-taking Bamburgh Beach. This incredible stretch of golden sand is overlooked by the majestic Bamburgh Castle, which dominates the skyline. Backed by dramatic sand dunes, gaze out to sea and experience spectacular views towards the Farne Islands. Tour Bamburgh Castle to unearth the myths and legends of this former fortress. Shrouded in mystery, the castle is a Grade I listed building, which has stood atop a natural throne of volcanic dolerite on Northumbria's coastline for 1,400 years, and is now one of the largest inhabited castles in the country.
Nearest campsite: Beadnell Bay Club Site
3. North Sunderland Harbour
The village of Seahouses overlooks the charming North Sunderland Harbour (previously known as Seahouses Harbour) where you can saunter and experience the hustle and bustle of this historical fishing village. With an 'Aladdin's Cave' of cafes and shops, the village is the perfect place to enjoy a pit stop. From the harbour, you can hop aboard one of the regular boat trips bound for the Farne Islands. Along the way, enjoy one of the UK's best wildlife experiences as you encounter more than 150,000 seabirds that flock towards the harbour during breeding season and Britain's largest grey seal colony.
Nearest campsite: Beadnell Bay Club Site
4. Craster Beach
Six miles separate our Beadnell Bay and Dunstan Hill Club Site's, with the best of Northumberland's beaches sandwiched in between. The beaches at Beadnell Bay, Seahouses and Bamburgh Castle are all within a 20-25 minute drive of the Dunstan Hill Club Site, while Craster Beach is close by, too.
Set against the backdrop of the spectacular ruins of Dunstanburgh Castle, Craster Beach is a rock haven that's great for dogs. The beach provides hours of adventure for all the family, including four-legged friends, who can explore every 'nook and cranny.'
There's a six mile walk to enjoy from Craster to Low Newton, which was previously named one of the top 10 UK walks by the National Trust. Along the way, there are plenty of sand dunes to explore, while the coastal views are a sight to behold.
Nearest campsite: Beadnell Bay Club Site
5. Alnmouth Beach
Perched at the mouth of the River Aln and meeting the North Sea is Alnmouth Beach. With golden sand and stunning views, this beach is popular amongst families and a perfect location for building sandcastles or paddling in the sea. Alnmouth village is well-known for its row of pastel painted fishermen's cottages. Learn more about Alnmouth's local history by visiting The Ferryman's Hut Museum which uses pictures and trinkets to tell the story of boating life in Alnmouth and the Ferryman.
Nearest campsite: Dunstan Hill Club Site
More on coastal camping inspiration
Beach camping advice and inspiration