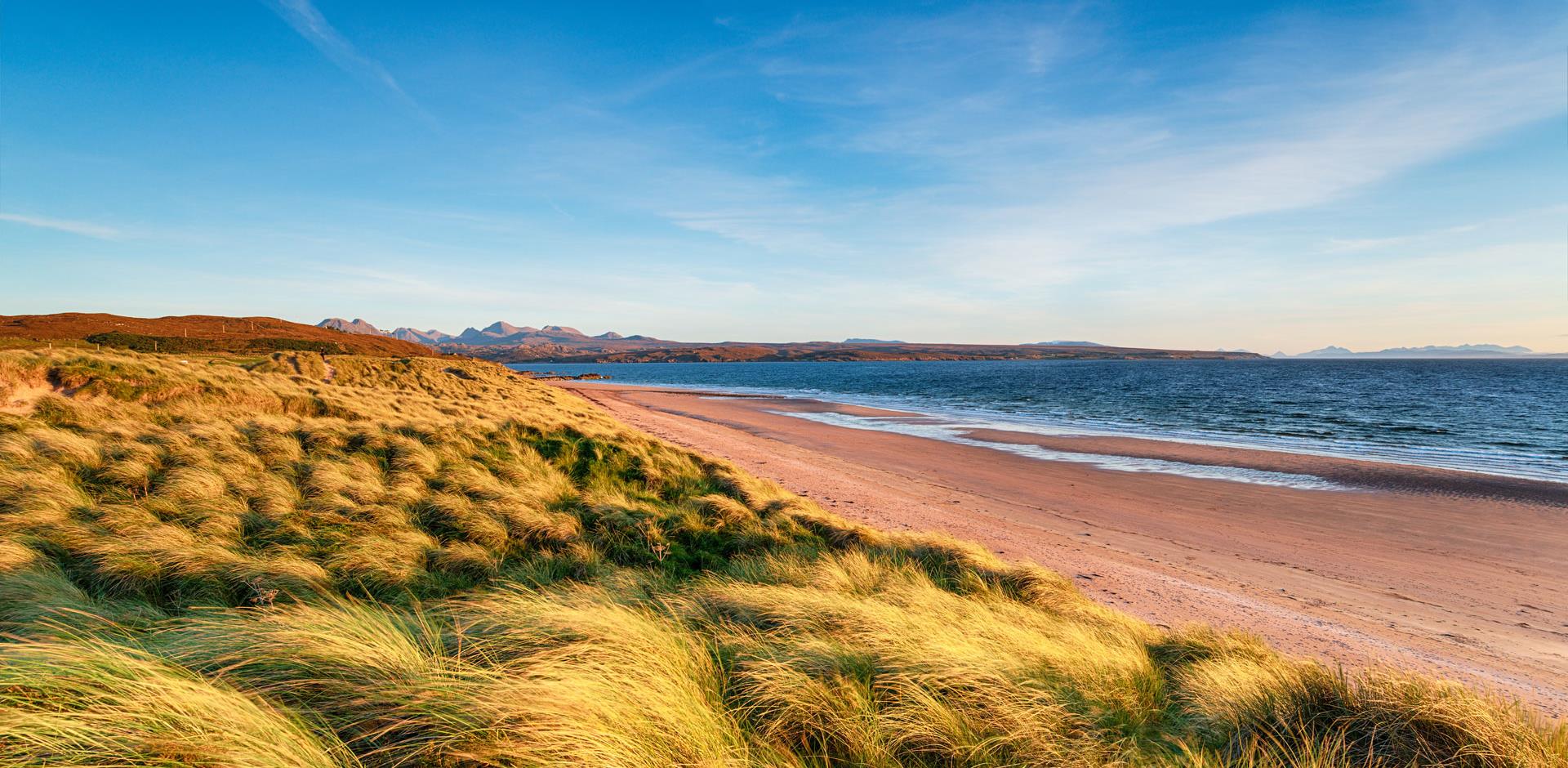 Campsites Near the Beach in Scotland
Best beach campsites in Scotland
Scottish coastal campsites will set your senses surging. Boasting scenery that will leave you enchanted, there is an enormous 8,200 miles of Scottish coastline to discover. From the sunshine coast in East Lothian to the glorious Highlands, these are the most popular beach campsites in Scotland.
Scottish beach camping FAQs
Which campsites on Scotland's coast are the most popular?
Last Modified: 28 Apr 2023
Can you wild camp on Scottish beaches?
Last Modified: 28 Apr 2023
What are the most popular Scottish beaches?
Some of the most popular beaches in Scotland include Rosemarkie Beach, Fortrose Beach, Cromarty Beach, Dunbar East – Belhaven Bay, Culzean Beach and Nairn Central.
Last Modified: 28 Apr 2023
Which campsites on the Scottish coast allow dogs?
Most of our campsites welcome dogs and you can view facility details dedicated to your four-legged friends on our campsite pages. Just check the Scottish beaches you're visiting during your stay with us allow dogs.
Last Modified: 28 Apr 2023
Which campsites on the Scottish coast are adult only?
Most of our sites along Scotland's coast are family friendly however we do have a selection of member exclusive adult only campsites.
Last Modified: 28 Apr 2023
Which campsites near Scotland's beaches have electric hook up?
All of our Club Sites have a variety of pitches, including those with electric. You can view all pitch types on each campsites page.
Last Modified: 28 Apr 2023
All you need to know about coastal camping in Scotland
There's something ever so magical about Scotland, especially the varying coastline. Look forward to gloriously sandy beaches, heather-covered cliff tops and spectacular views of the choppy Scottish waters.
Explore the best beaches in Scotland

Rosemarkie is home to one of the best beaches on the Moray Firth coastline. Long stretches of sand can be reached in just a few minutes on foot from our Rosemarkie Club Site. At the southern end of the beach, you'll find the amazing Chanonry Point Lighthouse, which is the perfect place to admire local wildlife and look out for the dolphins and seals that play in the bay.
Whitesands Bay, with its arching sandy beach and geology trail, is less than half a mile from our Dunbar Club Site in East Lothian. Gently sloping waters make the beach a popular spot for swimming.
Culzean Beach is a mile from our Culzean Castle Club Site. Set in a spectacular country park, the stunning scenery will leave you standing in awe. The secluded and serene beach sits beneath an amazing castle, which perches atop steep craggy cliffs and is surrounded by wondrous lush green woodland. Culzean Beach is a blend of fine mixed sand and rocks, with the beautiful Culzean Country Park providing a sensational backdrop, stretching for miles in the distance. It's an enchanting estate boasting a resoundingly rugged coastline. At the southern tip of the park, discover the majestic Maidens Beach.
Nairn Beach, near our Nairn Club Site is backed by low sand dunes and a pretty promenade. Nairn has been a popular place for sun, sea and sand seekers since Victorian times. Nairn East stretches for just over a mile, reaching the RSPB reserve at Culbin. With unforgettable views of the Moray Firth, gazing out to the Black Isles, Nairn has an uplifting aura.
Firemore at Poolewe is within a 15-minute drive to our Inver Inverewe Gardens Club Site, the most northerly of our caravan sites in Scotland with sea views. Experience the wildest, most glorious coastal secrets Scotland has to offer here.
Calgary Bay on the Isle of Mull offers wonderful views across to the isles of Tiree and Coll. Discover the best islands across the UK, including those in Scotland.
Family-friendly coastal attractions in Scotland
The coastal towns and villages along Scotland's coast all offer great outdoor adventures and attractions for the whole family. Whether you're looking for an action-packed family break or a quiet trip away for two, Scotland has it all. If the beach is set to be the focus of your holiday, check out our things to do at the beach for inspiration. To give you an idea of the best coastal attractions Scotland has to offer, we've listed some of our top picks below.
1. Dunure Castle, Ayrshire
The haunting ruins of Dunure Castle overlook the harbour and were once fit for royalty (Mary Queen of Scots stayed here). Today the striking ruins can be recognised from the television show Outlander and are worth a visit if you're staying on our Culzean Castle Club Site.
2. Scottish Seabird Centre, North Berwick
Visit the Scottish Seabird Centre, near our Dunbar Club Site, to learn all about the birds that reside along the coast. View live interactive cameras, soak up the sea views and do a spot of birdwatching during your visit.
3. Inverewe Garden and Estate, Poolewe
This attraction, which our Inverewe Gardens Club Site is named after, is a brilliant way to appreciate the coastal views of Loch Ewe.
4. Chanonry Point Lighthouse, Fortrose
The coastal views and wildlife spotting are the main reasons for visiting Chanonry Point Lighthouse. Look out for seals, dolphins and even pilot whales near our Nairn Club Site.
5. Isle of Skye
Just one of the Scottish islands but one of the largest, Skye, is easily reached from Mallaig. Our Skye Club Site can be found in Portree and is a brilliant base for exploring the magical island.
6. Dunstaffnage Castle, Argyll
Overlooking the glistening Ardmucknish Bay, Dunstaffnage Castle is a partially ruined building within reach of our Oban Club Site.
More on coastal camping inspiration
Beach camping advice and inspiration