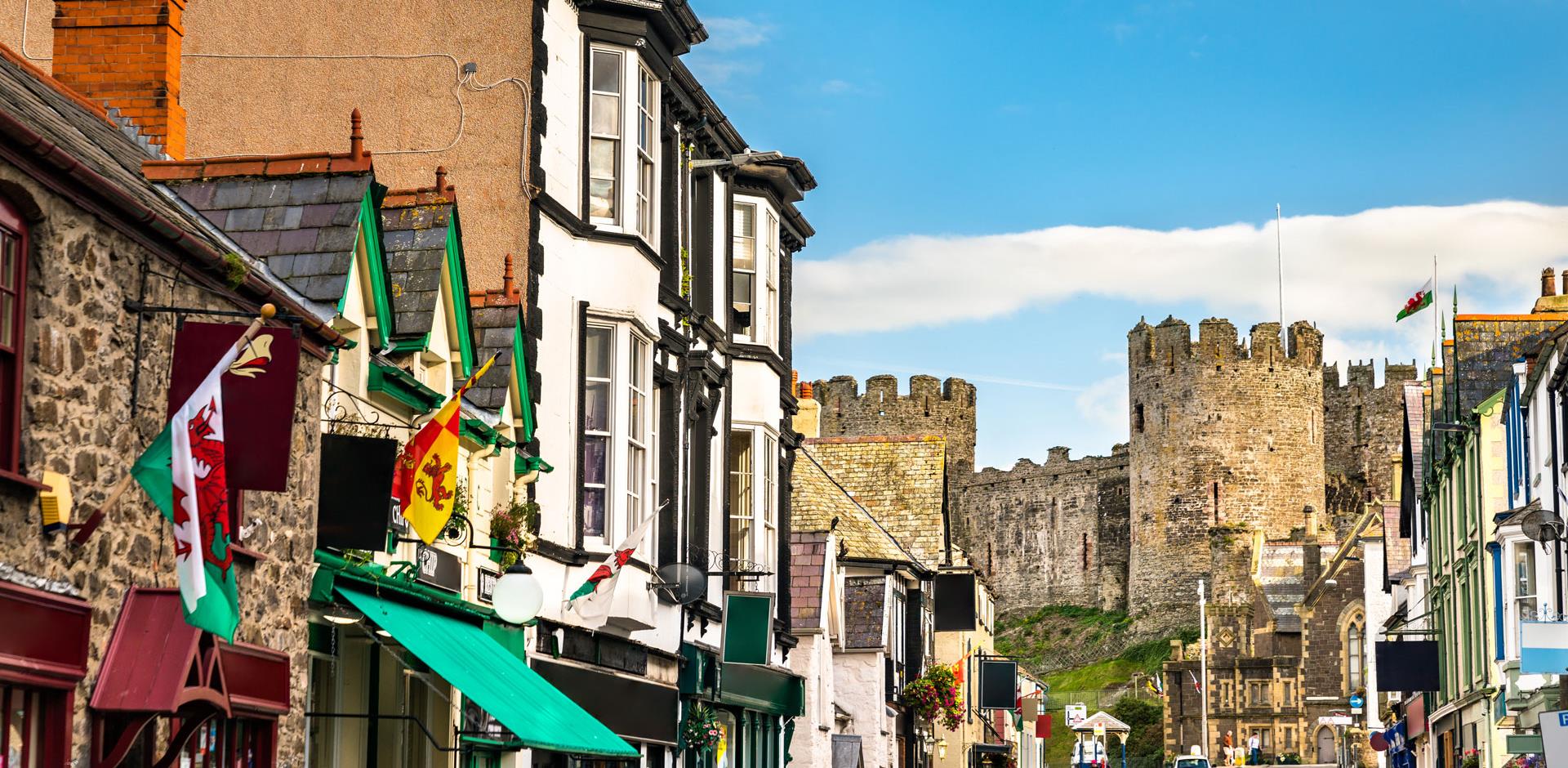 Captivating Conwy campsites
Conwy is a charming market town and the centre of Conwy County Borough in North Wales. The borough is home to some of the finest scenery in North Wales, including the rural Welsh countryside, magnificent mountains and glorious beaches. Book a stay at one of our incredible campsites near Conwy below.
Things to do and see while camping in Conwy
1. Conwy Castle
Step back in time by exploring the abundant history of Conwy Castle. The famous fortress was built in the 13th century for King Edward the 1st and remains one of the most magnificent castles in Europe. Climb the spiral staircases and take in the enchanting views of the distant Snowdonia National Park, making for a magical day out.
2. Tree Top Adventure
Spend the day at Tree Top adventure, a unique high ropes outdoor activities centre in Snowdonia, just a 38-minute drive from our Bala Club Site. Channel your inner Tarzan using high ropes to climb tree-to-tree crossings, bridges and amazing zip wires and enjoy a perfect fun-filled activity day. If you plan on visiting Tree Top Adventure with children, make sure your little adventurers are over 1m tall!
3. Welsh Mountain Zoo
Ever wanted to meet snow leopards and red pandas? Then enjoy an exciting day out at the Welsh Mountain Zoo, only half a mile away from Colwyn Bay. Here you will find several fascinating animals, including sumatran tigers, royal pythons, american alligators, amazonian parrots and much more. You can even opt for a more immersive experience and become a zookeeper for the day!
4. Conwy Town
Conwy town is a picture-perfect town well-loved for its authentic aesthetic, made up of medieval architecture and unforgettable panoramic views. Enjoy a sit-down meal at a pub, a lick of Welsh ice-cream, a delightful gift shop, some world-class fish and chips or set sail on a boat trip from Conwy Quay Marina.
5. Gorge walking
Hosted by North Wales Active, Gorge Walking is one of the most popular activities in Conwy. Gorge walking is a broader term for a few different and very exciting activities involving scrambling, climbing, rock hopping and splashing in the water. The gorge is situated at the beautiful Conwy Valley, around an hour's drive from Bala Club Site
6. Conwy Mountain walks
Embark on a circular walk up the beautiful Conwy Mountain and be rewarded with incredible views of Snowdonia. The walk takes around 2-3 hours, and you can enjoy refreshments afterwards in Conwy town.
7. Llandudno Pier
Llandudno is a popular seaside town in the Conwy County Borough and Wales largest resort. It is home to the impressive Llandudno Pier, the 5th largest pier in the UK. The pier is well-known for its authentic look, being a mix of Victorian and Edwardian elegance. Alongside the pier, Llandudno arcade is open all year round and has plenty of arcade penny classics or more modern games.
8. Conwy beaches
Conwy County has a collection of delightful beaches to explore.
North Shore Beach is Llandudno's main beach and made up of sand, shingle and rock. You can enjoy an hours walk from start to finish across this beach and take in the gorgeous views.
West Shore Beach is a quieter beach in Llandudno, perfect for a peaceful beach trip spent strolling the shore or sunbathing.
Enjoy a stroll across the glorious Conwy Morfa Beach. With golden sand and crystal blue skies, this beach is perfect for relaxing, building sandcastles, dipping your toes in the sea and enjoying the stunning views.
Angel Bay is a truly beautiful nature reserve and offers you the unique experience of potentially seeing sea lions swimming in the sea or perched on the small patch of rocky land.
9. The Smallest House in Great Britain
Thousands of people every year travel to visit the iconic and quirky 'Smallest House in Great Britain', sat proudly at the end of a terrace of houses on Conwy's quayside.
10. Bodnant Garden
Bodnant Garden is one of the most beautiful botanical gardens in the UK. Browse the glorious gardens, appreciate the lush meadows and enjoy a spot of shopping at the garden centre. The Pavilion and Magnolia tea-rooms are also very popular, offering freshly baked treats and hot drinks. With 80-acres of land to explore and dogs welcome, this is a perfect day out for everyone to enjoy.
More popular camping destinations