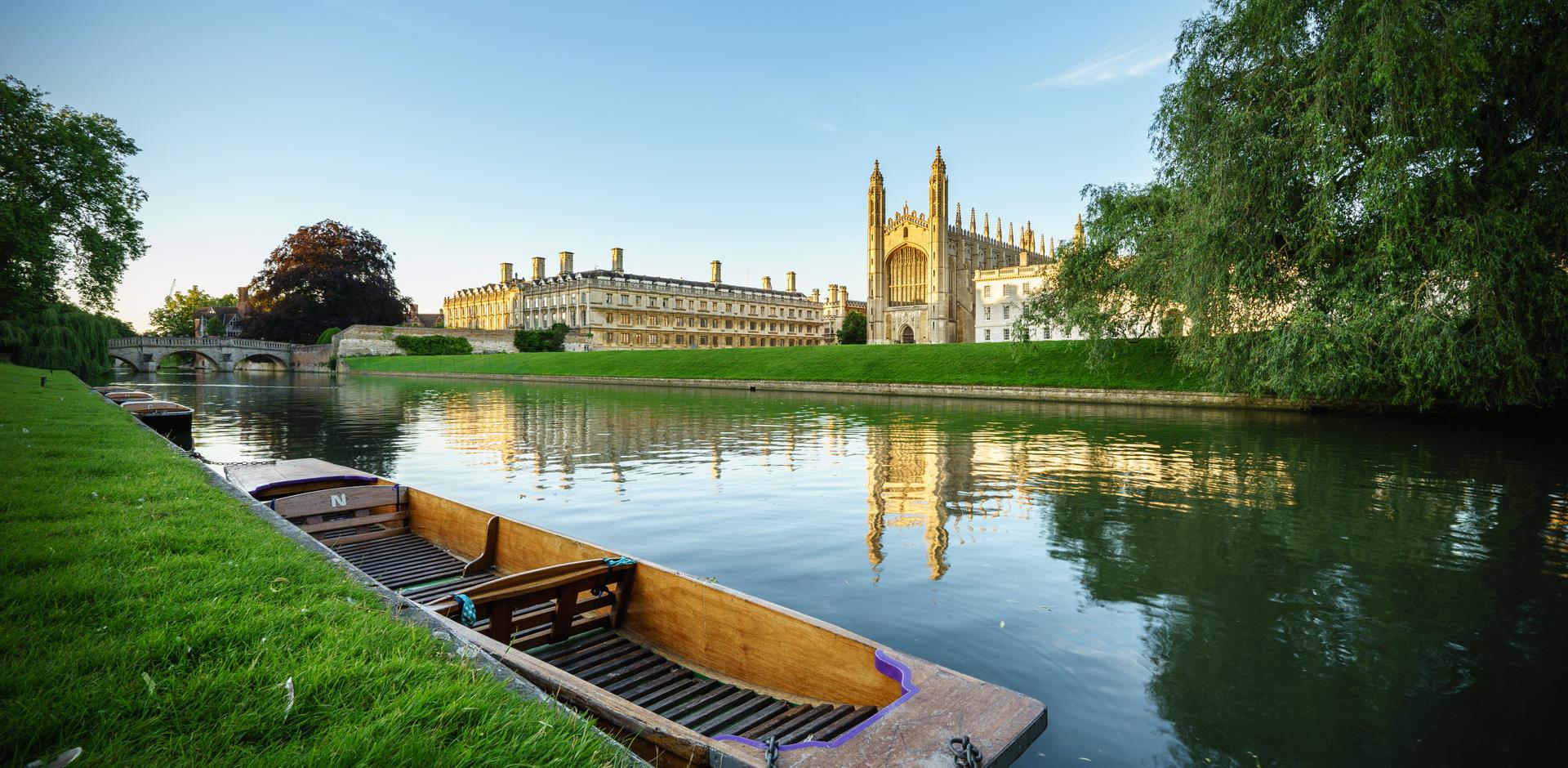 Charming Cambridge campsites
Home to one of the most prestigious universities in the world, the city of Cambridge is renowned for its captivating architecture, rich history and vibrant food scene. Balancing the hustle and bustle of city life is the surrounding countryside, full of rolling hills, charming towns and the River Cam, which flows through the city centre to the outer, more tranquil areas of Cambridge. You'll find popular campsites in Cambridge below, as well a list of things to do and see while visiting.
Things to do and see while camping in Cambridge
Exploring Cambridge's history and culture
University of Cambridge
Cambridge is known across the globe for being home to the very prestigious University of Cambridge. Continuously ranking as one of top universities in the world, it's no surprise that tourists from all over come to visit the city where it all began and the distinguished university itself.
Open to the public all year round, visitors can take a stroll round the individual colleges, each of which are uniquely designed and all have fascinating background stories. The most popular colleges amongst visitors are King's College and Trinity College.
Browse the grounds where plenty of notable alumni have once walked as a student: scientists such as Sir Isaac Newton, Charles Darwin and Stephen Hawking, actors such as Sir Ian McKellen and Emma Thompson and national treasure David Attenborough.
Cambridge university is home to a collection of museums and chapels, including Fitzwilliam Museum and King's College Chapel.
Fitzwilliam Museum
Fitzwilliam Museum is the University of Cambridge's principal museum and has a variety of awe-inspiring art, masterpiece paintings and historical artefacts from around the world. Peruse paintings by famous artists including Titan, Monet, Rembrandt and Canaletto. Observe intriguing artefacts from the 20th century, the middle ages or the ancient world. Learn about iconic figures in history and people's perception of them at the time through art, including Alexander the Great, Mary Tudor and Thomas Hardy.
Alongside its extensive collection of art and antiquities, plenty of tourists visit Fitzwilliam Museum for its engaging and diverse exhibitions.
Enjoy a pit-stop at the Courtyard Kitchen, a modern eatery serving visitors lunch, all-day drinks, cakes and pastries. There is also a gift shop you can visit selling a wide range of merchandise inspired by Fitzwilliam collections.
Anglesey Abbey
Anglesey Abbey is a picturesque Jacobean style house renowned for its beautiful gardens and unique collection of artistic masterpieces, furniture and antiques.
Explore the gorgeous gardens, an eighteenth century watermill, a second-hand bookshop and wander around the house itself. Grab a bite to eat at Redwood Restaurant, which serves hot and cold drinks, light meals, cakes and snacks.
Great St Mary's, the University Church
Climb the 123 steps of the University Church tower and enjoy a 360 degree panoramic view of Cambridge. Peer through the look-out holes and take in the stunning views overlooking the city, with each side of the tower showcasing a completely separate but equally impressive pocket of Cambridge.
The shop and tower is open Monday - Saturday between 10am - 5.30pm and on Sunday with opening hours depending on service times, please check beforehand.
Imperial War Museum Duxford
Get up close to gigantic aircraft at the Imperial War Museum Duxford, a historic airfield and museum of aviation history. Learn the story of brave soldiers who fought from World War 1 to 1969 and watch spitfires take to the airfield where they first ever flew.
A great day out for the whole family, the Imperial War Museum Duxford is around a 12 minute drive from Cambridge Club Site.
The Haunted Bookshop
Tucked away in a quiet alley on St Edward's passage is a quirky little bookshop known for having its very own ghost. Founded in 1978, The Haunted Bookshop houses a vast collection of books in all different literary genres.
Other attractions
River Cam
The River Cam is a picturesque river flowing through the heart of Cambridge. In the warmer months the River Cam is often used for punting, where you can either try self-punting or hire a professional punter to guide you along the river. Punting is a great way to sit back and relax as you take in the natural beauty of Cambridge. Other recreational uses of the River Cam include pleasure boating and canoeing.

Aside from the University, Cambridge is well-known for rowing. The River Cam is pivotal to this, with there being 35 rowing clubs in Cambridge alone that often practice on the river.

Along the River Cam there are a number of pubs and restaurants to enjoy a refreshing drink and sit down meal.
Cambridge University Botanic Garden
Part of the university, the Cambridge University Botanic Garden is home to over 8,000 plant species making it the largest university owned botanical garden in the world! A centre of research and horticultural expertise, spend the day discovering more about some of the world's most weird and wonderful plants.

Walking round a huge botanical garden can be thirsty work, take a break at the Garden Café which is open all year round and even has a gorgeous terrace you can enjoy a beverage on. There is also the Garden Shop which sells a range of cards, quirky gifts, plants and more.
Hamerton Zoo Park
Hamerton Zoo Park is an animal park set over 25 acres of stunning countryside. The zoo is home to an array of incredible animals, including tigers, wombats, bears and lemurs.

The zoo is open all year round with the exception of Christmas day and Boxing day and tickets can be bought online.
The hottest food spots
Jack's Gelato
If you're in Cambridge on a sunny day you'll want to try out Jack's Gelato, the most popular ice-cream shop in the city. Selling both ice-cream and gelatos, you'll be spoilt for choice with the range of flavours you can pick from.
Fitzbillie's Cafe and Tearooms
Visit the iconic Fitzbillie's Café and Tearooms in Cambridge and be sure to try out the legendary Fitzbillie's Chelsea bun, made from a sweet bun dough and rolled around in a delicious mixture of currants, brown sugar and spices.
More popular camping destinations