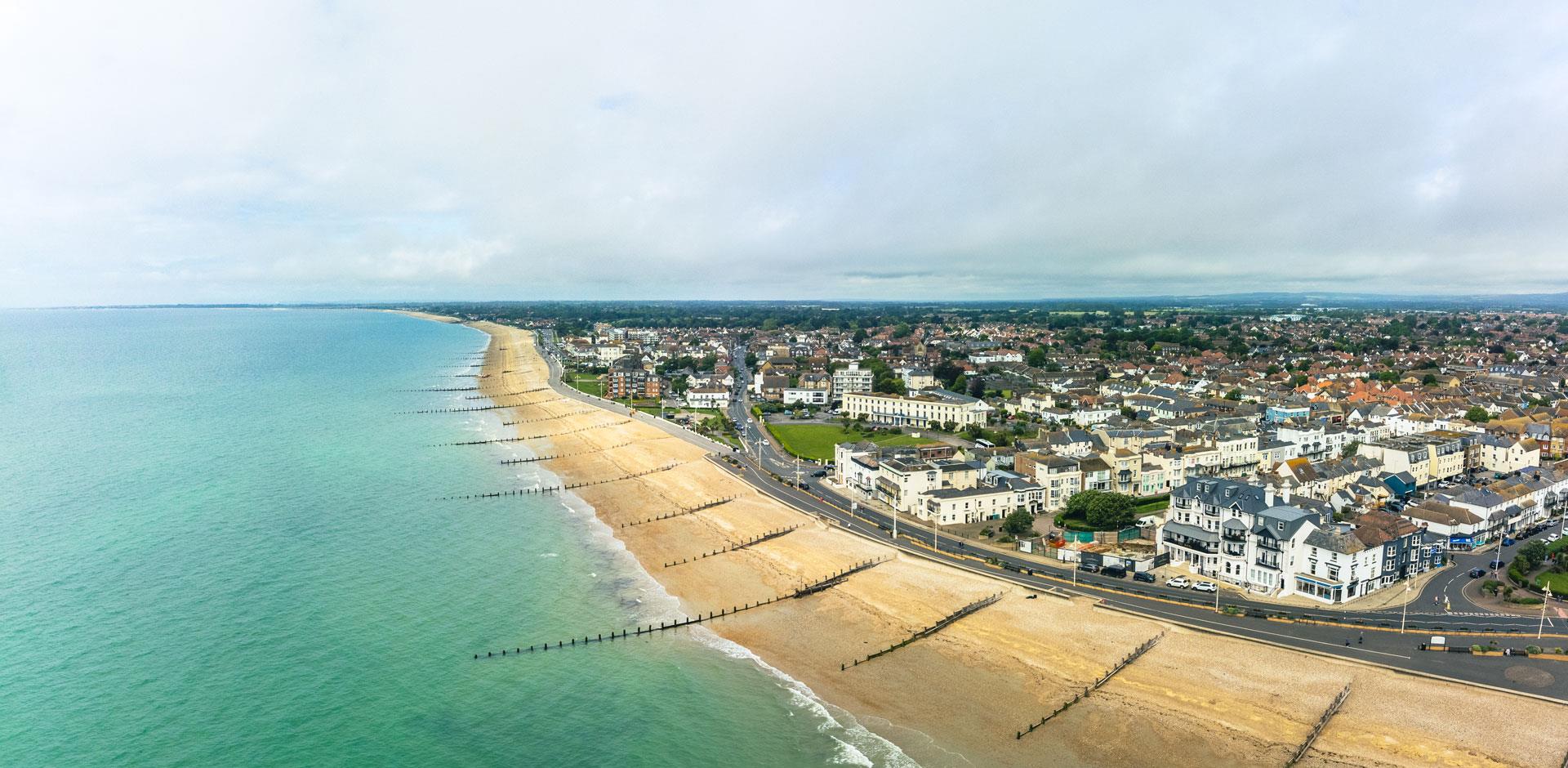 Campsites on the Sussex Coast
Beach campsites on the Sussex coast
The sensational Sussex coastline is home to some of Britain's most beloved beaches. From the blockbuster sands of Bognor Regis and Eastbourne to the serene shoreline stretches of Middleton and South Lancing, we invite you to enjoy an exciting coastal camping experience on the extreme edge of England's south east.
Best beaches in Sussex
Some of the most popular beaches in Sussex include Bognor Regis, Eastbourne, Normans Bay Beach, Pevensey Bay Beach, Hastings Beach and Birling Gap Beach.
Immerse yourself in the incredible surroundings and scenery of the Sussex coast, basking in the unbelievable beauty of show stopping sunsets and brilliant blue skies at the height of summer. Saunter along sumptuous sands barefoot as the sea ripples over your feet or take time to soak up the sun, build sandcastles and play beach games.
Normans Bay Beach
Our Normans Bay Club Site puts you smack bang on the seafront! Step out of your unit or tent every morning to the incredible sight of Normans Bay Beach. Boasting a blend of sand and shingle, it's a quaint and quiet beach that stretches for miles along the coast and is within easy reach of popular seaside hotspots.
Bexhill Beach
A short walk from Normans Bay is the blissful, Bexhill Beach. This family-friendly stretch of coastline spreads wide and has a scattering of sand and shingle.
At low tide a vast expanse of hard sand is revealed in all its glory, which is perfect for playing an abundance of beach games. There's an array of water activities to enjoy too, including kayaking, sailing and swimming. Backed by a pretty promenade and bold beach huts, Bexhill has bags of British seaside charm.
Cooden Beach
Two miles away from our Normans Bay Club Site, this gently sloping shingle showpiece is a paradise of pebbles that are perfect for skimming across the open sea. It's an attractive beach that's popular among walkers, windsurfers and kite flying enthusiasts alike.
With dogs allowed all year round, Cooden Beach is a fun-filled adventure 'playground' for all the family, where you can enjoy the freedom to explore and absorb awesome scenery. It's easily accessible too, with a train station that's practically on the beach.
Pevensey Bay Beach
The old fishing village of Pevensey, founded in 1600, boasts a superb shingle beach that's steeped in history. You can explore a number of Martello towers that line the beach, which were built during the Napoleonic war.
Meanwhile, activities such as fishing, kayaking, sailing and windsurfing give you plenty to do to enjoy a full day's experience at this beautiful beach. There's also a local nature reserve nearby that's worth visiting, where you can admire some of the wildlife.
Eastbourne Western Parade
A firm favourite for locals and visitors alike, the Eastbourne Western Parade boasts a mix of sand and shingle terrain, which is admired by many. As soon as you set foot on this beach you will be blown away by glorious views that will leave you gasping in awe.
Walkers and swimmers alike appreciate the beauty of this beach, which is characterised by sparkling clean waters and wonderful walks. Explore the best of the Sussex coastline as you embark on an epic trek along the Beachy Head South Downs trail. See the English Channel open up before your eyes as your gaze meets the horizon, it's a breathtaking experience.
Eastbourne
This world-famous beach is a big hit. A hugely popular seaside destination, Eastbourne is the epitome of British beach holidays. Packed with activities galore, the shoreline has a pier, bandstand, promenade and gorgeous gardens.
The beach has an abundance of rock pools, while nearby Beachy Head's claim to fame is that it has the highest chalk sea cliffs in the country, not to mention a unique looking lighthouse and spectacular views.
Hastings Beach
Home to a heavenly beach with a sand and shingle terrain, which backs onto the historic town itself, Hastings is a bustling seaside resort. A host of stunning features characterise this beach, including a Victorian Pier and a two-tiered promenade, overlooked by imposing craggy cliffs.
Birling Gap Beach
A little further afield from our Normans Bay Club Site, Birling Gap Beach is a blend of fine sand and shingle that sits at the foot of the Seven Sisters chalk cliffs, providing the shoreline with a stunning backdrop. Step out beneath bright blue skies, explore the cracking coastal landscape and enjoy mesmerising sea views.
There's lots to do here, with walks aplenty and an abundance of rock pools to explore. It's a fantastic place for fossil hunting too, and if you stick around until sunset you will witness the Seven Sisters cliffs aglow. Watch as the sun's rays strike the peaks, showing off an amazing display of colour.
St Leonards Beach
St Leonards Beach is a sweeping shingle beach backed by a spacious promenade. A vast array of rock pools emerge at low tide ready for exploring, while the beach boardwalk is the perfect spot from which to gaze out to sea.
Hayling Island, West Hayling
Merging with two other beaches on the island, West Hayling is scattered with pebbles and stretches for miles. Exceptional views await you and on a clear day you can catch a glimpse of the Isle of Wight and the 20-mile long Solent Strait.
Hayling Island, West Beachlands
The most popular stretch of shoreline on Hayling Island, West Beachlands boasts stunning golden sands and is a popular attraction for families. At just a 20 minute drive from our Chichester Club Site, you won't have to suffer too many "are we there yets?"!
Windsurfers, swimmers and body boarders frequent the area at the height of summer, while horse riders have been known to take their steeds for a gallop along the sand flats. It's a great place to enjoy a summer evening walk to experience sensational sunsets along the Solent Strait.
Hayling Island, West of Eastoke
This unspoilt utopia is incredibly popular with visitors. A steep, shingle beach backed by a promenade that stretches the length of the seafront, it's a great spot for fishing during the spring and autumn months. West of Eastoke is the perfect beach for swimming, sailing, windsurfing and water skiing too – especially in the summer.
With spectacular sea views, enjoy a leisurely stroll along the shoreline or head for the Hayling Billy Coast Path to explore even more of the island's coastline.
Beach camping advice and inspiration