Choosing a Caravan
Finding the right caravan for you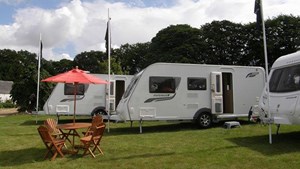 So you've made the first decision – to buy a caravan – but where do you go from here? The choice is bewilderingly. Prices vary from £500 to £50,000 and you could base your decision on anything, from the colour of the furnishing to the country of manufacture. Where should you start? And will you get a better 'van if you pay more?
This guide offers a few pointers by helping you ask the right questions and consider your requirements before making an investment.
Your towing vehicle
Realistically, unless you want to upgrade your car, your choice of caravan will be limited by the towing capacity of your current vehicle. As a rule of thumb, find the car's kerbweight from the handbook, divide by 100 and multiply by 85. This '85 per cent recommendation' will give you a reasonable maximum weight of caravan you can tow comfortably, and is particularly aimed at those new to towing. You'll also need to check your car's Towing Limit (again, see the handbook) and stay within it. Club members can use our Towing Match Service to check the suitability of the car and caravan combination.
You'll also need to check the limits of your driving licence before you take to the road with a caravan or other trailer in tow.
Is bigger always better?
A caravan towed by a car can be up to 7m long (not including the drawbar) and 2.55m wide in the UK, but a large caravan can seem daunting when you first start towing. Apart from taking up more space on the road, it will be more affected by buffeting from side winds or passing lorries, especially on faster roads. You may want to start with a smaller caravan and upgrade as you gain confidence.
Smaller caravans have other advantages too. They can be cheaper on ferries and easier to manoeuvre on narrow roads. If you really need more space, consider an awning – a tent-like structure that fits on the side of the caravan.
You will find more floor space in a 4m-long caravan with a full awning than a 7m van without. The combination could work out cheaper, easier to tow and may use less fuel to reach your destination. The awning is also a good space to put wet clothes and boots when the weather's inclement.
When you're not on holiday
It's likely you will need to store your caravan for more of the year than then time it's on a pitch, so where will you keep it when you're not travelling? There are 'vans that can fit in a standard garage, known as folding caravans or pop-tops. These also have a lower profile on the road, making them more stable and fuel-efficient to tow. There are also folding campers.
Modern folding campers can have similar facilities to caravans, including washrooms and kitchens. They often give large living space with convenient fixed beds, but as they have textile sides and roof are less well suited to winter camping without sensible preparation. You can find out more about them in our guide on choosing a trailer tent or folding camper.
If you choose a standard caravan you'll need to decide whether it's possible to keep it at home or if you'll need to pay for storage elsewhere.
Is it approved?
As the retailer, the dealer is responsible to ensure that every touring caravan sold is safe and fit for purpose. Every new caravan sold in Europe now has to be type approved, this was introduced for caravans in 2014 for new models, this sets strict weight, dimension and safety regulation requirements on the manufacturer, however this is still only focused on the road going element. The National Caravan Council (NCC) approval scheme brings in the habitation areas and carries out checks against British and European standards, Health & Safety Executive, Gas Safe, Fire Inspectorate etc.) and its own codes of practice to ensure they are safe for the end user. Most caravans sold in the UK will carry a NCC Approved badge.
Finding the right caravan
One of the best places to start looking for a caravan is using the assets the Club provides to its members. This may be the Club magazine every month or the test archive page. Another great tool is the Towing Match Service where you can compare a selection of caravans to your tow car and filter the results by layout (>2017), make, year and number of berths using the MOMS tool (Multi Outfit Matching Service) within the Towsafe website.
The Club also produces its Owner Satisfaction Survey results every year using your feedback, typical questions are related to customer service by dealer and manufacturer, design, ease of use, types of faults, repairs and quality.
Other sources of useful information are maker and dealer websites, the caravan specialist press and specialist websites such as Caravanfinder.
A word of caution, there are a number of bogus websites around that offers caravans and motorhomes at bargain prices, they normal insist you pay upfront. We are aware of people being duped by these scammers and losing their money. Do basic checks and visit the dealer before parting with any money, and if it seems too good to be true, it probably is.
Hiring a caravan
It is possible to hire a caravan before investing in your own. Look in one of the caravan magazines at the newsagent or online – but be aware this is not a cheap option and you'll still need an appropriate towcar and the correct driving licence.
How many people will sleep inside?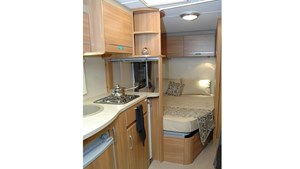 The size and weight of a 'van is no indication of the number of people who can sleep inside. Many couples choose to travel in a luxurious two-berth with a kitchen and washroom to rival those at home.
Some grandparents consider buying a caravan with four berths or more, anticipating holidays with the grandchildren. However, it is worth thinking about a two-berth 'van with an awning or pup tent (a small separate unit to pitch next to the caravan) for family holidays. This will give you more room to prepare food for everyone and is likely to be more comfortable when you travel alone.
As well as the number of sleepers, look at the size of the beds. Some double beds can be as narrow as 1.2m (4ft) and are often too short for those over 1.8m (6ft) tall.
Many current caravan models have fixed beds, which cannot be converted to seats during the day. This means you don't need to convert seating to beds at night and they will have a proper mattress. On the other hand they take up a lot of space for daytime living. If you decide on a fixed-bed unit with a double bed, check both occupants can get out comfortably without waking the other and make sure any cut off corners won't make the bed too narrow for comfort.
Occasionally you may find beds designated as 'for children'. This may not relate to their strength, it may be because the nearest fire exit may be too small for an adult to escape in an emergency.
When you've decided on a caravan, it's worth testing the beds for comfort and ease of making up. Cushions shaped for daytime sitting can be a nuisance when re-arranging for the night if, for example, you need to move the knee rolls from the centre to the edge of the bed to avoid lumps in the middle. The quality of the cushions can make or break a good night's sleep. A simple solution maybe the addition of a bed topper to improve comfort.
If you are travelling with children, consider a double-dinette caravan where two seating areas convert into beds. This gives the youngsters somewhere separate to play or use their electronic gadgets. A layout with a central kitchen, which is good for stability on the road, gives younger members of the family some space of their own and avoids the need for them to walk past the chef in the kitchen too often.
Don't forget
A caravan is a road-going vehicle so it must be in a roadworthy condition every time you take it out and must not be overloaded.
A caravan should be serviced every year. If it is not looked after properly the running gear, gas systems and electrics may start to deteriorate. See our page on servicing.
An annual service is usually a condition of the warranty on new caravans.
Check the service window in the handbook to ensure you maintain your warranty, its normally a condition of the warranty to have an approved service either from your supplying dealer or AWS member.
Further information about keeping your caravan in good condition.
Security and insurance
Adding a towbar to a car is classed as a modification that must be declared to the car's insurance provider. If you use The Camping and Caravanning Club's Club Care insurance provider you will automatically be covered, but other companies might not cover towing at all or may make an additional charge. Your car's insurance will then cover any third party damage while you are towing, but you will probably want separate caravan insurance to cover the caravan itself against damage, fire and theft.
The terms and conditions of your policy is likely to require you to fit security devices and impose minimum security requirements.
Keeping clean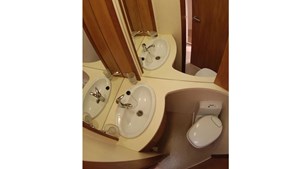 A large end-washroom may look lovely in the showroom, but if you only use sites with good facilities, you may prefer to use the caravan space for something else. On the other hand, there are many lovely campsites with basic facilities. If you are likely to enjoy the 'away from it all' nature of a five-van Certificated Site or the companionship of rallies or meets (often listed with an 'own san ess' or 'own sanitation essential' restriction) you may want a good shower room. Don't forget, you will need to transport any water you use to and from your caravan.
A couple of other things to consider: Can everyone (especially children) get to the toilet in the night without waking everyone else? Or on a more fundamental level, is there room to use the toilet and shower? Some washrooms are simply too small for some campers.
UK or European specification considerations
The camping habits on mainland Europe are more suited towards using the fully equipped on-site facilities. Many UK-sourced caravans are fully fitted in comparison and can easily operate away from such facilities.
UK specification NCC approved caravans from Europe are likely to be fitted out similar to other UK based manufactures. Some continental caravans will not carry this approval, this isn't necessarily a problem but you will need to make your own checks on the design and build quality of the caravan and be sure it conforms to UK regulation's. As with any vehicle you take onto the UK roads you will be personally responsible for it being roadworthy.
Most continental caravans have their doors on the 'wrong' side, which can make a difference when pitching, other differences could include:
Not likely to have a grill and some don't have an oven
Not having a fully equipped washroom
Normally need mains electricity to function so not suited for camping without hook-up, may not have a battery or charger, just a transformer for 12v systems
Generally lighter giving you more payload capacity.
Caravan manufactures
Please note this is not an exhaustive list, and inclusion on these pages does not constitute endorsement by The Camping and Caravanning Club.
Eating in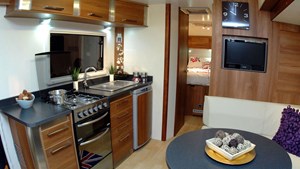 Many new caravans include a substantial cooker with a large oven alongside a microwave oven. This all adds to the weight of the unit and may be unnecessary if you expect to eat out regularly or are used to tent camping with just a couple of gas burners. If you plan to pay for a pitch with an electric hook-up, a microwave is perfect for supermarket ready-meals.
If, however, you intend to cook in your caravan regularly, look to see if there's enough working surface to prepare and serve your food. In older caravans it's also worth checking to see whether a work area folds out to block your escape route in an emergency.
A few extras
Caravan carpets may look good in the showroom, but will they do so after a weekend on a muddy site or an afternoon on the beach? Removable carpets may be the best of both worlds or you could be paying for a carpet to keep in the loft.
Check the storage in the caravan. Will the cupboards be sufficient and will they stay closed on the road?
Where to buy a caravan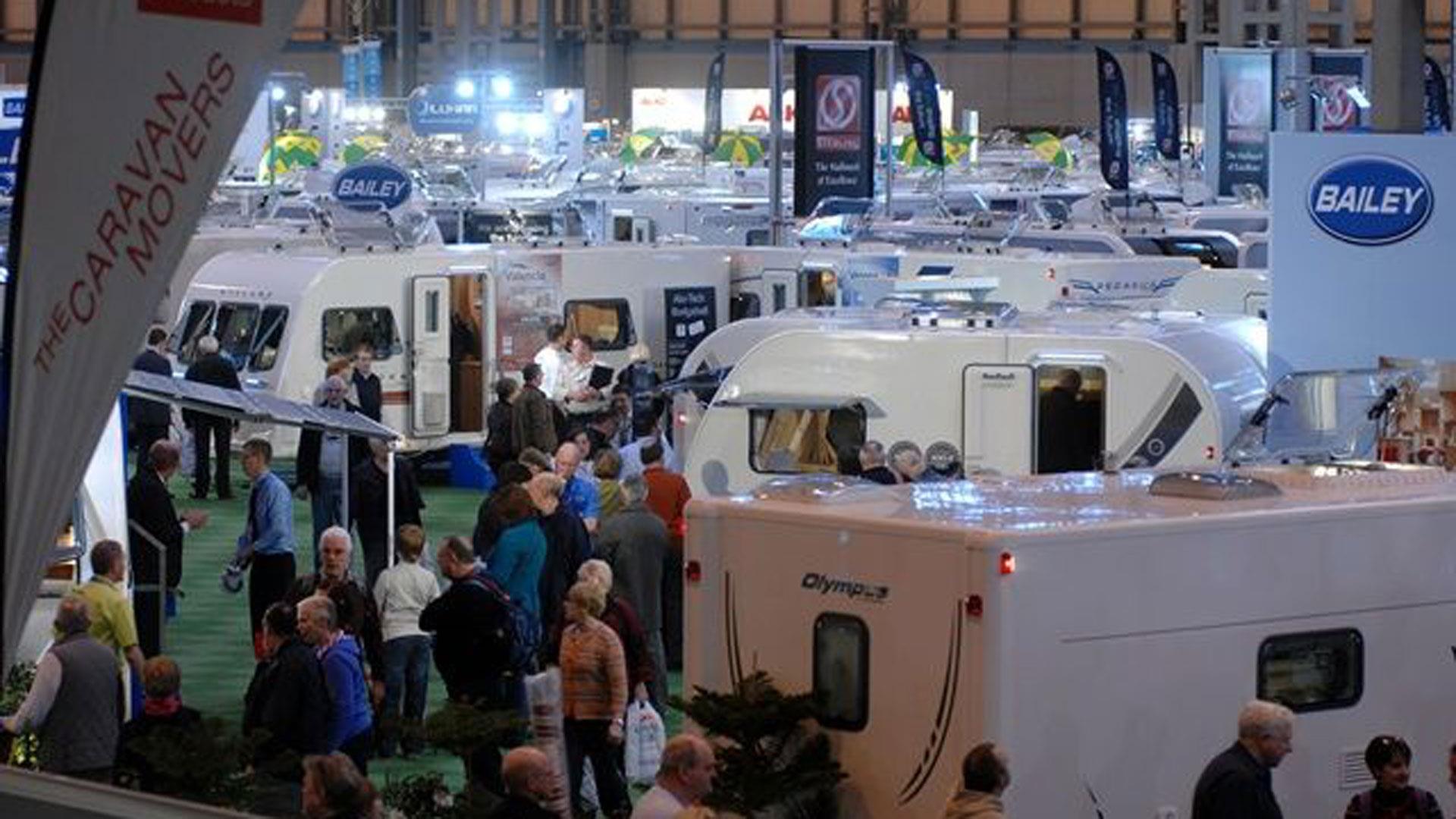 The easiest way to buy a caravan is to go to a reputable, local dealer. A good dealership is likely to have a well-stocked accessory shop, servicing facilities and a selection of new and used tourers on display. Any caravan you buy should be given a maintenance check and full service, including a damp check.
A dealer's used caravan prices may be higher than if you buy privately from an advert in a local newspaper, caravan magazine or online, but you should get a warranty and extra legal safeguards. There are also occasional, dedicated caravan auctions, which you can track down on the internet.
The best way to see a wide selection of new caravans is to attend a show. The biggest are at EventCity in Manchester in January, Glasgow's Scottish Exhibition and Conference Centre in early February and the National Exhibition Centre in Birmingham in February and October.
Caravan manufactures sell a significant proportion of their caravans at these shows and you can often negotiate a good deal. The stands are generally staffed by salespeople from dealerships across the country. You'll need to collect your caravan from the dealer who sells it, so find out where it is based before you sign on the dotted line.
If the dealership is a long way from home, check whether you can use a local dealer if you need to have the caravan fixed under warranty or for servicing. Sometimes you may be required to take the 'van back to its original dealer for its annual service to comply with the warranty conditions. This can be both time consuming and costly in fuel.
Used caravans
Caravanning really took off in the 1960s, so there are many pre-owned caravans around.
Used caravans can cost as little as £500, but most dealers will only supply more expensive models.
Caravans built before 1990 tended to be simpler and lighter. You are less likely to find hot water, an oven or mains electricity connections.
If a 20- or 30-year-old caravan has been cared for and regularly serviced, it should still be perfectly usable today.
If possible, take someone who knows what they are looking for when you go to buy.
Used caravans may be sold complete with an awning and other useful accessories, but important things such as a handbook or equipment manuals may have got lost.
Additional information
You may find the following useful as they relate directly to caravanning:
Learning to tow
Towing a caravan can become second nature quite quickly. A good dealer will let you try towing before you commit yourself.
However, to increase your confidence, you can attend a course to guide you through loading, hitching, towing and manoeuvring safely.
The Camping and Caravanning Club runs Manoeuvring Courses at different venues throughout the year.
Add in the extras
There is an enormous variety of accessories you can buy for your new caravan. Some things are essential, such as fresh and waste water containers, and a number plate for the rear of the caravan to match your car and extension mirrors, which are a legal requirement for the majority of car and caravan combinations. You will probably also want a 12V leisure battery, bedding (duvets or sleeping bags), a spare set of cutlery, crockery, kettle and at least one security device.
It is also wise to travel with a basic toolkit, a spare wheel and jack for the caravan.
Many caravanner's like to use a stabiliser as an aid to safe towing and most caravans have mechanical or electronic stabilisers fitted from the factory these days. If yours doesn't, you can fit between your towbar and the caravan. More detail on stabilisers.
Preparing your car
To tow your caravan you will need a towbar and the relevant electrics fitted to your car. On cars sold since September 1998, a towbar will need to be Type Approved, to EC Directive EC/94/20.
It is important to choose a qualified fitter, especially on newer vehicles with complex lighting circuits and stability systems, which may need to be reprogrammed to recognise a trailer. The National Trailer and Towing Association (ntta.co.uk) oversees an accreditation scheme for towbar fitters – look for the Quality Secured Accredited (QSA) Towbar Centre logo. See also offers from Witter Towbars within the Towing Match Service tool - Towsafe.
And finally…
Choosing a caravan can be exciting and a little daunting, especially if you are parting with a lot of money. But you don't need to get it exactly right first time. Enjoy your unit for a while and remember, there is a strong market for used units, so you can always sell up later and start again.
Tech team contact
If you're a member of the Club, you can contact our tech team to discuss your needs.