Caravan Owner Satisfaction Awards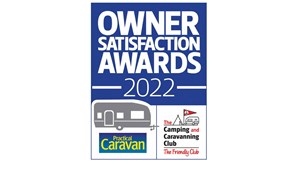 Welcome to the Caravan Owner Satisfaction Awards 2022. We're here to reveal the most satisfying new and pre-owned caravans to buy and own as rated by their owners. Plus, we'll also help you choose where to buy them from by naming Britain's best dealers, again according to owners themselves.
Following the disruption caused by the Covid-19 pandemic we chose not to run these awards in 2021 and kept our survey open for a second camping season. One of the benefits of running this year's survey over two seasons is that we have a bumper crop of responses. For 2022, these awards are based on the collected wisdom of 3449 owners, up from 2848 last year. With a bigger sample size, we believe our Owner Satisfaction Awards are more robust than ever.
If you're among the thousands of Camping and Caravanning Club members and Practical Caravan readers who completed the survey, then thank you. With so many questions covering every aspect of buying and owning a caravan, you know just how thorough the survey is. Multiply those answers by almost 3500 and you have a very detailed picture of the UK caravan market.
As ever, our results are divided into new and pre-owned caravans. Not all brands perform equally well in both halves of the survey. To reward those that do, we're including an overall award for the caravan maker with the highest scores across both new and pre-owned tourers.
We also rate dealers as well as caravan manufacturers. A truly satisfying ownership experience relies on a great product backed by superb sales and aftercare, so the best caravan dealerships also deserve to be recognised.
Standards among the top performers are high, and we don't want the industry's top performers to rest on their laurels. So we've increased the minimum score for a Gold Award from 80% to 85%. The benchmark for a coveted Silver Award remains 70%.
We set minimum sample sizes to make sure the results are truly representative, but we don't want caravan makers and dealers who just miss the cut to be ignored. So, any brand with strong enough results for a Gold or Silver Award but only a handful of respondents is 'mentioned in dispatches'. You may notice there are fewer companies in this category this year. That's because we've introduced a minimum sample size for this category as well as for the main results.
Background
The Caravan Owner Satisfaction Survey was launched in 2012, and over the years many thousands of caravan owners have reported in depth on their experiences of buying, owning and using their outfit.
The purchase of a caravan usually represents a significant investment, and buyers are right to expect a well-built product that has been properly checked by the dealership prior to collection. And it is entirely reasonable to expect good after-sales care from a dealer as part of the bargain.
What makes this survey stand out is that it is interested in both new and pre-owned caravans (we use the description "pre-owned" as "second-hand" implies there has been only one owner from new, and this may not be so in many cases).
The results are essential reading for anyone considering buying a caravan, new or used, whether from a dealer or private sale. The information and league tables of the best performing brands and dealers will be made available to all. It also provides valuable data for caravan manufacturers to make use of when planning and improving their own products.
Although the majority of respondents appear to be satisfied with their caravans, this is no justification for manufacturers or dealers to become complacent. We believe in telling it like it is, however uncomfortable that may be for the industry. In doing so, we hope to improve the whole caravan ownership experience: the aim of the survey is to help caravanners buy better.
League tables: New caravans
It's a repeat of 2020's win for Adria in the New Caravans category. There's no more satisfying caravan to own according to our survey respondents. This year's score of 89.5% beats 2020's 88.1%.
Adria doesn't have things all its own way, though. Last year's runner-up, and 2019's winner, Coachman, keeps the Slovenian brand honest. It scores 87.9%. That improves on its score of 84.3% from 2020, and means the gap between first and second place has narrowed.
With the new, tougher requirement for a Gold Award, only Adria and Coachman reach the standard this year. The supporting cast of Silver Award winners is led by Swift with 82.8%, just edging out arch rivals Bailey on 81.8%. The Erwin Hymer Group UK (made up of Elddis, Compass, Xplore and Buccaneer) has a 79.7% satisfaction rating.
That gives six award winners, exactly the same number as in 2020. However, the scores for most manufacturers are higher than last time around, suggesting a gentle uplift in standards. Some manufacturers also score highly but fail to meet the minimum standard.
A number of those with a small sample size are the well-respected Continental brands. Some persistently score highly every year but struggle to reach enough responses for inclusion in the main survey. It's a sign of how home-grown caravans dominate sales in the UK market rather than weakness from the best European caravan makers.

2020 Update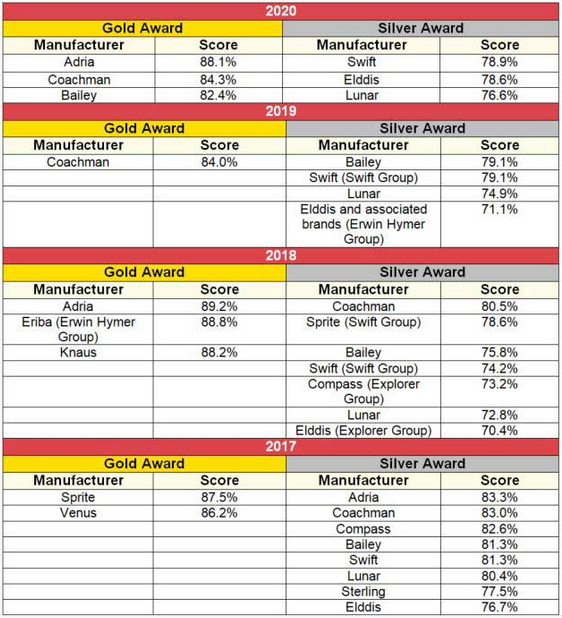 Champagne corks are popping at Adria HQ, winners of this year's 'New Caravans' category. The score of 88.1% is exceptionally high, and leaves clear daylight between Adria and last year's winners, Coachman.
There's no reason for Coachman to be too disappointed, though. The brand's score of 84.3% in 2020 is actually a slight improvement on last year's, and leaves Coachman as the best placed domestic caravan maker once again.
Third spot goes to Bailey, with a deserved Gold Medal and a score of 82.4%. As with Coachman, Bailey's score in 2020 is better than in 2019.
The podium finishers all earn Gold Awards, with the best of the rest taking Silvers. The Swift Group takes fourth spot, narrowly missing out on a Gold with a commendable score of 78.9%. The Elddis Group is just behind with 78.6%, closely followed by Lunar with 76.6%.
On the face of it Adria seems to have come from nowhere to take the top spot, but in fact Adria has been scoring consistently well over many years. However, in our previous survey there were not enough Adria-owning respondents to include the brand in the main results.
In 2020, that applies to Eriba, Hobby, Hymer, Knaus and many others. With a bigger sample of opinions to draw upon, these caravan makers could have been challenging for top honours. As it is, they still earn a 'mention in dispatches' for meeting either the Gold or Silver Award score, but with too few survey responses to be statistically robust.
Some 91.2% of the new caravans featured in the survey are made right here in good old Blighty, compared with 94.5% last year.
League tables: New caravan dealers
The best caravan manufacturer is only as good as its dealer network. Owners rarely have direct contact with the company that built their caravan, but they may spend hours with the dealer who sells it to them. From the first enquiry, through doing the deal, to the handover and any servicing or warranty work, the best dealers take care of their customers every step of the way.
If anything, choosing the right dealer is even more important than picking the right brand of caravan. Our survey results show that most owners are content with their choice of caravan. There's a much wider range of scores for dealers. Some have extremely happy customers; others disappoint as often as they please.
You're unlikely to be frowning if you buy from Salop Leisure in Shrewsbury, leaping up to first from eighth place in 2020. A 91% satisfaction rating easily achieves the Gold Award standard and leaves clear daylight between Salop and the best of the rest.
That honour goes to Ropers Leisure in Catterick. A score of 87.5% earns a Gold Award, and a step up from third position in 2020.
This year's third spot goes to Lady Bailey Caravans in Dorset with a Gold Award-winning score of 87.3%.
The next best dealers are only just behind. Last year's winner, Winchester Caravans, may have dropped down the table but still picks up a Gold Award with a satisfaction rating of 87.2%.
This year's Silver Award winners are Broad Lane Leisure in the Midlands (81.1%), Newport Caravans (80.7%), Swindon Caravans (80.2%), Raymond James in Warwickshire (75.4%) and Chipping Sodbury Caravans (74.9%).
Nine dealers pick up an award this year, down from 12 in 2020. However, there are some strong scores from dealers narrowly missing the minimum sample size, so we wouldn't read too much into this decrease.

2020 Update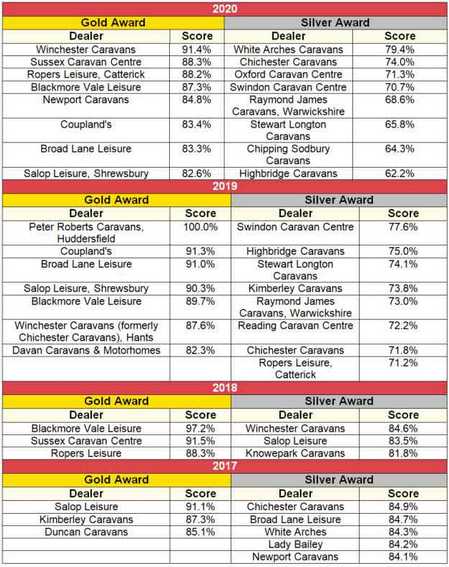 Let's turn our attention from the best caravan manufacturers to the cream of the dealer network. For the most satisfying ownership experience, the quality of the product has to be matched by the service from the supplying dealer.
Many new caravan dealers have reason to be pleased with their showing in this year's survey, but none more so than Winchester Caravans in Hampshire. The score of 91.4% smashes the requirement for a Gold Award, and leaves a comfortable margin to second place.
That position belongs to Sussex Caravan Centre, with a fine score of 88.3%. That edges Ropers Leisure of Catterick into third place by just 0.1%.
It's pleasing to report that there's real strength in depth this year. There are no fewer than eight Gold Awards, up from seven last year. Four dealerships take Silver Awards.
If you have a good memory, you may remember that Peter Roberts Caravans of Huddersfield was last year's winner. In the 2020 survey this dealership did not reach the minimal sample size, but those customers who did complete the questionnaire were very happy with the service they received.
League tables: Pre-owned caravan dealers
We're giving out fewer awards for pre-owned caravan dealers than new ones, but the best of them are achieving exceptional satisfaction ratings.
Peter Roberts in Huddersfield is top of the tree with a score of 96.9%, which makes back-to-back first places in 2020 and 2022. It's a close-run thing, though, with Blackmore Vale Leisure in Dorset just behind with a score of 96.7%.
Lady Bailey Caravans is third (91.6%) and has the distinction of being one of two dealers to reach the Gold Award standard as both a new and pre-owned dealer. The other is Salop Leisure, with a score of 90.8%.
Highbridge Caravans in Somerset also takes gold with an 85.2% satisfaction rating.
There are no Silver Award winners, but a number of other dealers score well but don't have enough survey responses to be included in the main results.

2020 Update.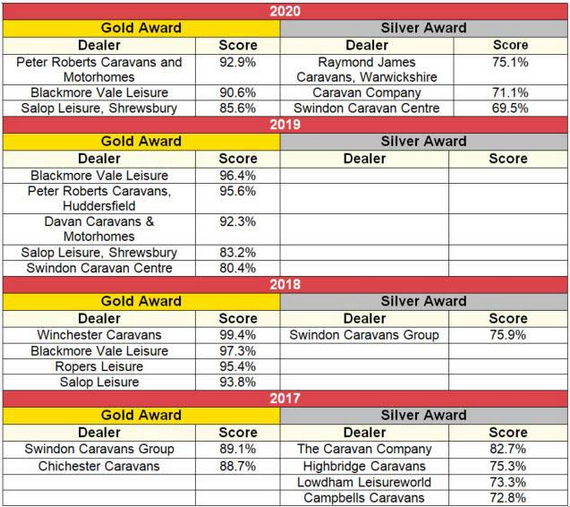 Fewer dealers achieved the minimum sample size to feature in the 'Pre-owned' category, but those that did have some contented customers. Of the seven with enough survey responses, all but two achieve a Gold or Silver Award.
Peter Roberts Caravans sits on top of the pile with an exceptional satisfaction rating of 92.9%. So 2019's success as a 'New' caravan dealer is backed up by a win in the 'Pre-owned' category in 2020.
Blackmore Vale Leisure in Dorset is another name that crops up year after year in this survey. This time around it takes second spot, scoring 90.6%. Third goes to Salop Leisure in Shrewsbury. Another regular front-runner in the dealer awards, in 2020 Salop Leisure scores 85.6%.
Raymond James Caravans in Warwickshire and The Caravan Company in Wellingborough both earn a coveted Silver Award..
League tables: Pre-owned caravans
Congratulations to Coachman, winner of the Pre-Owned caravans category once again. This year's 93% satisfaction rating easily clears the score needed for a Gold Award, improving on Coachman's 2020 score of 91.3%.
Second place goes to Swift with a 90.1%. That's a healthy improvement on 87.4% in 2020. Lunar takes the final podium spot with a score of 87.5%. Again, that's a healthy step up from 83.4% last time around.
Two more manufacturers do enough for Gold Awards. Bailey (86.9%) and the Erwin Hymer Group UK (85.3%) post impressive scores. In both cases, those numbers improve on 2020's satisfaction ratings.
There are no Silver Award winners this year, but that's largely due to the number of manufacturers hovering just below the required number of samples rather than a drop-off in standards.
If you are wondering where Adria has gone, 2020's second place finisher didn't meet the minimal sample size. However, it still scored highly with the low number of owners who completed the survey, so it's 'mentioned in dispatches'.

2020 Update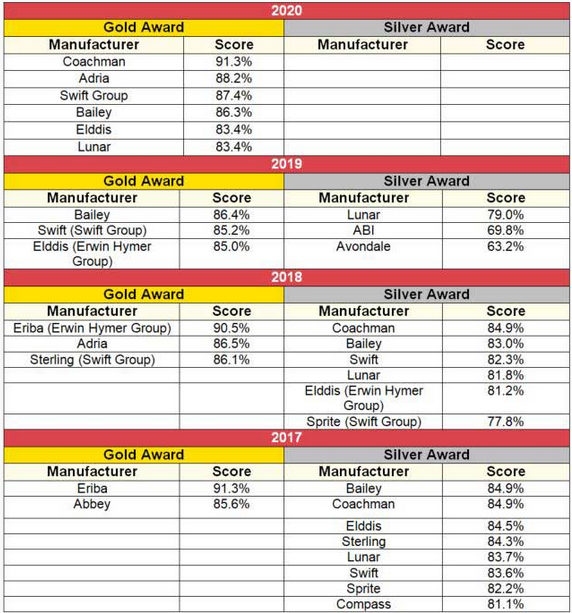 Coachman follows up its second-place finish among new caravan makers with top-spot in the 'Pre-owned Caravans' category.
Coachman turns the tables on Adria, with the Slovenian brand finishing in second.
Whichever way you look at it, a satisfaction rating of 91.3% is a huge achievement and Coachman has every reason to feel proud. It's just over 3% clear of Adria, so the result is quite emphatic.
Swift rounds out the podium. Like Coachman and Adria, it easily exceeds the standard required for a Gold Award with an excellent score of 87.4%.
Bailey isn't far behind, scoring 86.3%. Elddis and Lunar are tied on 83.4%, and so also achieve a Gold Award.
There are no Silver Award winners this year, a reflection on the strong showing of those makers achieving Gold but also on the number of smaller brands not meeting the minimum sample requirement.
On the evidence we have, several other companies are producing high-quality caravans that continue to satisfy second and third owners. Among those makers 'mentioned in dispatches', Eriba and Hymer score particularly highly, so although they don't appear in the main results we wouldn't be put off.
Best Caravan Manufacturer
This is perhaps the hardest prize to win. To be named the Best Caravan Manufacturer takes a consistently high performance across the new and pre-owned categories. That means several years of building well made, reliable, and satisfying caravans. What makes it even more difficult is that we set a higher minimum sample size for this award, to make sure the results are as rigorous as possible.
Coachman takes the top spot, with a superb rating of 89.6%. That easily exceeds the standard for a Gold Award. Second place for New Caravans and first place for Pre-owned caravans makes Coachman the brand to beat if you want a rewarding and reliable tourer of any age.
Swift takes second spot and a Gold Award, scoring 85.5%. That's one place higher than in 2020.
Dropping a couple of places from 2020, Bailey earns a Silver Award with 83.8%. The Erwin Hymer Group UK isn't far behind on 81.6%.
Other makes may score well across both categories, but don't have enough completed surveys to feature in the headline results.
2020 Update
So, that brings us on to arguably the biggest prize of all – Best Caravan Manufacturer 2020. This combines the survey results for new and pre-owned caravans to find an overall winner. To win this category requires caravans to please the original buyer, and continue to raise smiles year after year for subsequent owners.
What's more, an even higher sample size requirement than for other categories makes this award especially difficult to win. And the winner is... Coachman. Second spot in the 'New Caravans' class and first place in the 'Pre-owned' category made them one of the hot favourites for this award, and an overall satisfaction score of 86.3% is enough to seal the win. Bailey takes second spot with a score of 84%, with the Swift Group on the podium's third step, scoring 81.8%.
The survey in detail
So, those are our winners. What else does the survey tell us about caravanners and their buying habits as we look forward to 2022?
Well, most of our respondents bought a new caravan. That applies to 61% this year, a small drop from 62.3% in 2020. As simple maths will tell you, that means 39% bought a pre-owned tourer.
This continues a trend we've seen for several years, with a steady increase in the proportion of pre-owned tourers. Perhaps this suggests a careful attitude to big spending in such uncertain times.
That's not to say everyone is cutting back. The average price of a new tourer was £24,395, up from £23,113 in 2020. Some 12.7% of respondents spent £30,000 or more on their new caravan. Among pre-owned buyers, the average spend was £13,632, up from £11,911. That probably reflects how scarce stock levels have pushed up used prices. The £10,000-£19,999 price bracket accounted for 60.9% of pre-owned purchases.
There's lots of anecdotal evidence of new, younger buyers taking up caravanning. However, they don't seem to be filling out our survey, as the age profile continues to be mature. This year, the average age of new caravan buyers is just a fraction under 62, whereas for used buyers it's just over 60. Those ages are actually up slightly on 2020.
Younger caravanners continue to be under-represented. Just 4.8% of new caravan buyers in our survey are under 45, near identical to 2020's percentage. Only 7.7% of pre-owned buyers fit in this age bracket, compared with 12% last year.
Unsurprisingly, those age stats translate into a high number of older couples with no children in their household. Some 84.6% of new survey respondents have no children in their household, and 80.4% of pre-owned caravan buyers. Both those figures are increases on 2020.
Motor movers continue to be popular with both new and pre-owned caravan owners. Some 89.1% of survey respondents with a new caravan owners have one, and 84.2% of pre-owned caravan owners. That's broadly in line with previous years.
2020 Update
Those are this year's winners. Let's now look behind the outstanding performers, and see what the fine detail of the survey can tell us.
More of you completed the survey this year. Some 2848 complete questionnaires were received, a 14.7% increase on 2019.
As in previous years, most of those respondents bought their caravan from new. Some 62.3% bought new, 37.7% bought pre-owned. Last year those percentages were 67.8% and 32.2%, whereas in 2018 the split was 75.1% and 25.9%. So there's been a definite trend over the past couple of years, with an increasing number of survey respondents opting for a pre-owned caravan rather than a new one. Perhaps this reflects the consistently low levels of consumer confidence over the past two or three years, and a careful attitude to big purchases.
Owners of new and pre-owned caravans alike are a mature bunch. New caravan buyers have an average age of 61.4 years, whereas as pre-owned caravan buyers are, on average, 58.
The younger generation continues to be under-represented. Caravanners aged 44 or younger made up just 5% if new caravan respondents (down from 6% last year) and 12% of pre-owned respondents (down from 17%).
Reflecting the age profile of the caravanners who completed the survey, most are either empty-nesters or don't have kids. Some 81% of new caravan owners don't tour with children, although that drops to 69% for owners of used caravans.
In terms of budget, the most popular price band for new caravan buyers is £20,000-£24,999, just as it was last year. The average spend is £23,113.
Pre-owned caravan buyers mostly spend between £10,000 and £14,999. The average purchase price is £11,911.
Motor movers continue to be a very popular accessory. Nine out of 10 new caravan owners have a mover fitted, and eight out of 10 used caravan owners.
The most reliable caravans
There's more to being a satisfying caravan to own than reliability, but a low number of faults goes a long way to making owning a tourer more enjoyable. Nobody wants their caravan in the workshop being repaired when it could be out on tour.
As we've found in previous years, buying a new caravan is not a guaranteed route to reliability. Some 16.4% of new caravan owners surveyed described their caravan's reliability as 'poor', compared with 4.5% of used caravan buyers.
We asked owners how many times they had returned to the dealer to have a fault fixed, outside of regular servicing. Among new owners, 7.6% had to go back five times or more. Just 1.1% of new buyers had this much trouble.
As in previous years, our findings strongly suggest that the first owner often has to snag a series of faults, leaving second and third owners to enjoy fewer problems once the original wrinkles have been ironed out. Some 60.4% of pre-owned caravan buyers have never taken their caravan back for anything other than routine servicing, compared with 34.3% of new caravan buyers.
The most common complaint for owners of new tourers is poor interior fit and finish. Some 41.4% of respondents listed this as a fault with their caravan, which is almost identical to the percentage in 2020. Either those who buy pre-owned have different expectations or any issues have been sorted by previous owners, as just 11.9% make the same complaint.
If there's one aspect of living with a pre-owned caravan that's more troublesome than the new equivalent, it's water ingress. Some 15% of pre-owned caravan owners list this as a fault, compared with 12.2% of new caravan owners. It's the most common bugbear among those with a pre-owned caravan.
2020 Update:
We've looked at which caravans and dealers are most satisfying. Which are the most reliable, and what are the most common faults?
Buy a new caravan, and the chances are you will need to have some problems attended to under warranty. One-in-three owners have had their caravan fixed between two and four times. A relatively small number of owners (6%) have had five repairs or more. Just under a third (32%) have never needed a warranty repair, while 28% of owners report just one instance of warranty work.
Problems with interior fit and finish occur most frequently. Some 41% of new caravan owners have experienced problems with the inside of the caravan.
As in previous years, pre-owned caravans have fewer faults than brand new ones. We suspect this is due to any niggles having been picked up by the original owner. Some 68% haven't required repairs, 22% have needed repairs once, 9% two to four times, and just 1% five times or more.
So which brands build the most reliable caravans? Among new caravans, it's no surprise that there's a close correlation between the most satisfying caravans to own and those which develop the fewest faults. Adria is our winning new caravan manufacturer, and 48.6% of owners say their caravan has not gone wrong at all. That's streets ahead of the UK-made competition. Among Bailey owners, 22.5% have enjoyed a fault-free caravan. For Coachman, that figure is 21%. Some 18.6% of Elddis owners report no problems, dropping to 16.9% for Swift and 16.3% for Lunar.
If you want a durable pre-owned van, Adria leads the way again. Just under two thirds of owners (65.6%) have no problems to report. Coachman can't match that standard, but with 45.9% of owners telling us their caravans are fault-free, Coachman is best of the rest. Most of the other big names are not far behind. Some 45.1% of Bailey owners have fault-free caravans, 43.8% of Swift owners, and 41.2% of Elddis owners. Then there's a gap back to Lunar, with 35.9%.
You'll notice that Adria aside, the Continental caravan makers are missing from the round-up of the most reliable new and pre-owned caravans. That's not because of any shortfall in reliability, but rather the size of the sample being too small. On the evidence we have the likes of Eriba are building reliable caravans, but we don't have a sufficiently robust sample size to include them.
And to summarise
We've seen some exceptionally strong performances from the best in the industry this year. Among manufacturers, the top performers have improved their scores both in the new and pre-owned categories.
Congratulations to Adria and Coachman on setting the standard for other caravan makers to aim for. Adria leads the way with new caravans, while Coachman is the most highly rated brand among pre-owned caravan buyers. Thanks to consistently glowing reviews across both categories, Coachman takes the overall prize as Best Caravan Manufacturer.
Britain's best caravan dealers reach a level of customer service to be proud of, with Salop Leisure leading the way for new caravans, and Peter Roberts in Huddersfield taking the top-spot for pre-owned tourers. There are many dealers rivalling these two for customer service, but it can't be denied that there's a wide variety of scores and some dealers have much work to do to get close to the best in the business.
Let's not end on a negative, though. Shop for the right caravan from one of the top dealers, and our survey shows you can look forward to years of enjoyable and reliable touring.
2020 Update:
Congratulations to Adria and Coachman on sharing the top honours in 2020. Adria builds the most satisfying new caravans, Coachman the most rewarding pre-owned tourers. With its consistent strength across both categories, Coachman is a deserving overall winner.
The best caravans rely on the best dealers to really complete the ownership experience. Congratulations to Winchester Caravans and Peter Roberts Caravans for rising above a very competitive field.