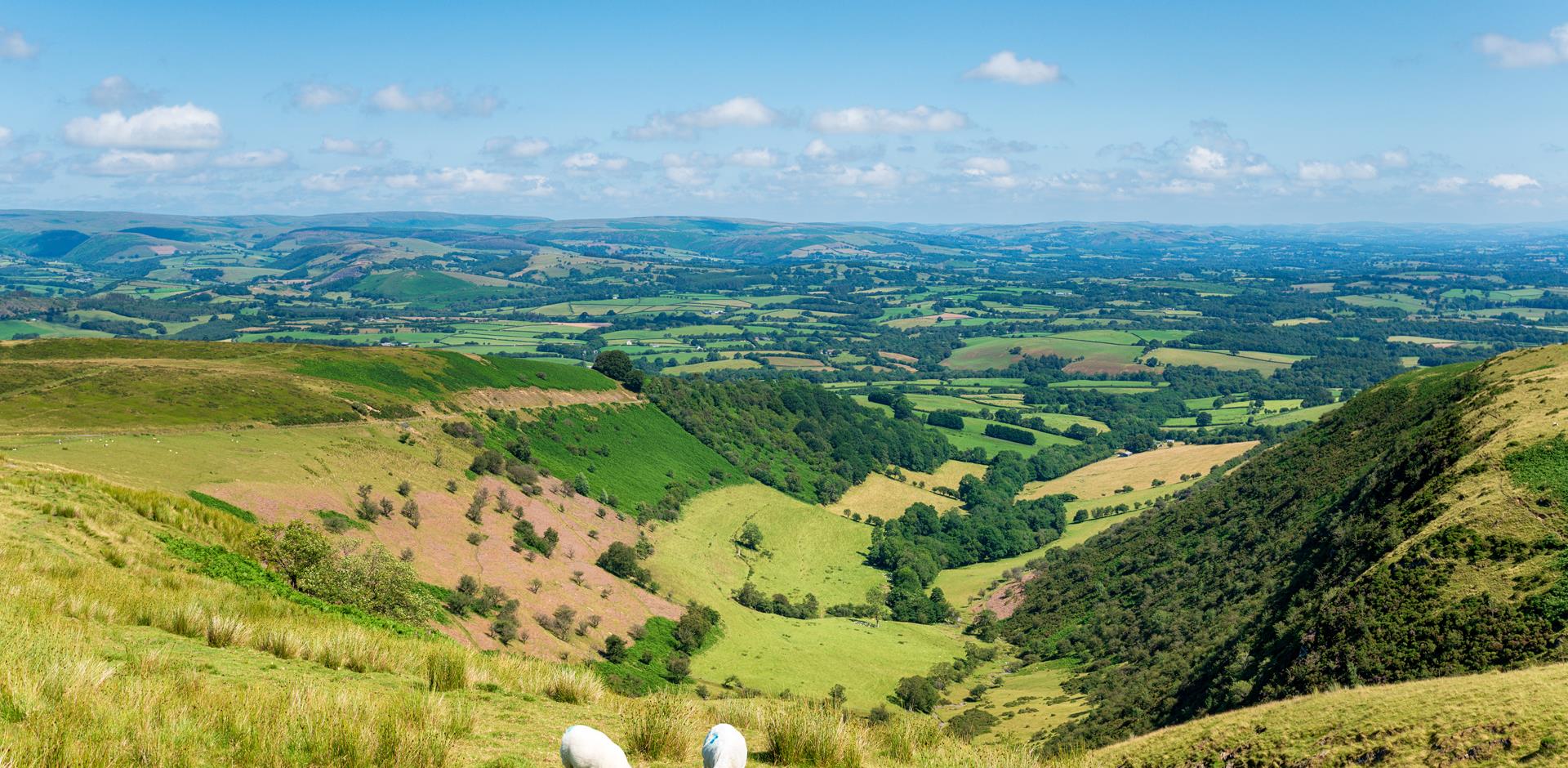 25 Campsites in Powys, Wales
Camping in Powys
When camping in mid-Wales, our Powys campsites make for the perfect base to start your adventures. From stunning castles and gardens to picturesque reservoirs and waterfalls, there's never a dull moment when you're exploring the Welsh county.
Things to do in Powys
Whether you enjoy peaceful walks with breathtaking views, adrenaline-filled activities or experiencing rich culture, Powys has it all. Here's a list of phenomenal things to do while camping in mid-Wales.
Powis Castle and Garden
No matter what time of year you choose to go camping in mid-Wales, there's always something to see in Powis Castle and Gardens. In the summer months, you can enjoy walking through the gardens, where you'll find rare plants and colourful flowers, and in the winter, you can wrap up warm and check out the garden's stunning Christmas lights display.
If you love a bit of history, you can also explore the Clive Museum, located inside the castle. This museum hosts the largest private collection of artefacts from India and East Asia, dating from the 1600s to 1830s.
Other stunning gardens and castle ruins in Powys include,
Elan Valley
You'll find many hidden gems when you're camping in mid-Wales, and the lovely Elan Valley is certainly one of them. With the most magical backdrops and compelling dams and reservoirs, it's a great place to walk, hike or cycle.
Elan Valley is dog-friendly and home to lots of wildlife. Best of all, our Wyeside Club Site is only 10 minutes away from the visitor centre.
Craig Goch Dam
Situated in the heart of Elan Valley and constructed in 1904 is Craig Goch Dam. The masonry dam is one of Wales' most photogenic landscapes.
Pistyll Rhaeadr
Pistyll Rhaeadr is one of Britain's tallest single-drop waterfalls, standing at 240ft high. Not only does it make for a picturesque background, but the surrounding areas are also great for all walkers.
If you're feeling peckish on your day out to the magnificent waterfall, Tan-y-Pistyll is a great little cafe to stop off in and enjoy a cuppa. In the summer months, you can enjoy sitting in the garden and taking in the view of the waterfall, and in winter, you can cosy up next to the log fire and drink a warm cup of hot chocolate.
Lake Vyrnwy
Lake Vyrnwy is a reservoir in Powys, Wales, that was built in the 1880s to supply fresh water to Liverpool.
While camping, you can take a trip to the reservoir and enjoy numerous activities, including,
Canoeing
Kayaking
Sailing
Windsurfing
Abseiling
Archery
Fishing
Birdwatching
Stargazing
Falconry Experience Wales
A wildlife experience like no other. If you're a fan of majestic birds, the collection of birds of prey at Falconry Experience Wales will blow you away. There are numerous packages to choose from, and each can be catered to you. So, if you fancy spending more time with your favourite birds, that's absolutely fine.
Brecon Beacons National Park
As one of three national parks in Wales, Brecon Beacons is a phenomenal park to visit on your camping trip. Whether you're a walker, cycler, into watersports or love a bit of horse riding and pony trekking, you can do it all at the national park.
To stay closer to the action, check out our Brecon Beacons campsites here.
Gilfach Wildlife Trust
Another great place to visit when camping in mid-Wales is Gilfach wildlife trust. Gilfach is home to over 50 breeding birds, six species of bat, and 413 species of lichen. It's a brilliant day out for the whole family and perfect for any bird watcher.
Water break-its-neck
Although unusually named, Water break-its-neck is a wonderful waterfall to visit for all. It's great for walkers of all abilities and cyclists.
Yamaha OffRoad Experience
If you're searching for some adrenaline-packed fun while camping in mid-Wales, the Yamaha Off Road Experience is your perfect chance to take part in motorsports. With over 300 acres of farmland followed by 10,000 acres of Hafren Forest and the Sweet Lamb motorsport complex, there is definitely room for everyone to enjoy the sport.
Whether you're a newbie to motorcycling or an expert looking for a challenge, there are so many courses to choose from and great 1-2-1 training sessions available.
Mid Wales OffRoad Adventure Experience
A brilliant family-friendly activity to do when camping in Powys is the Mid-Wales Off-road adventure experience.
The adventure experience includes,
Rally karting
Digger driving
Horse whispering
Driving a Landrover off-road
Paintballing
You can also bring your own rally kart and enjoy the off-road tracks available.
Mid Wales Arts Centre
To those who want to show off their creative side, the Mid Wales Arts Centre is the perfect place to get stuck into pottery workshops, sculpting classes, yoga classes and more. You can also view eye-catching works of art and book tickets to interactive and engaging exhibitions.
Kerry Vale Vineyard
Wind down with a glass or two of the finest wine at Kerry Vale Vineyard. Book one of their many tours that allows you to taste and understand the journey of the wine. You can also take part in a vineyard tour with cheese or have a stunning afternoon tea with a view. Whatever you choose to do, make sure you book in advance, as this popular destination is truly worth a visit.
Dovey Valley Shooting Ground
Test your aim and have a go at clay shooting. Dovey Valley Shooting Ground offers lessons for beginners and pro tips for those who want to brush up on their skills. So, whether you're a newbie or an expert, there's something for you to learn and challenges to overcome.
With so many activities available and fabulous attractions to visit, camping in the mid-Wales county, Powys, is the perfect holiday destination for your next trip.
More popular destinations