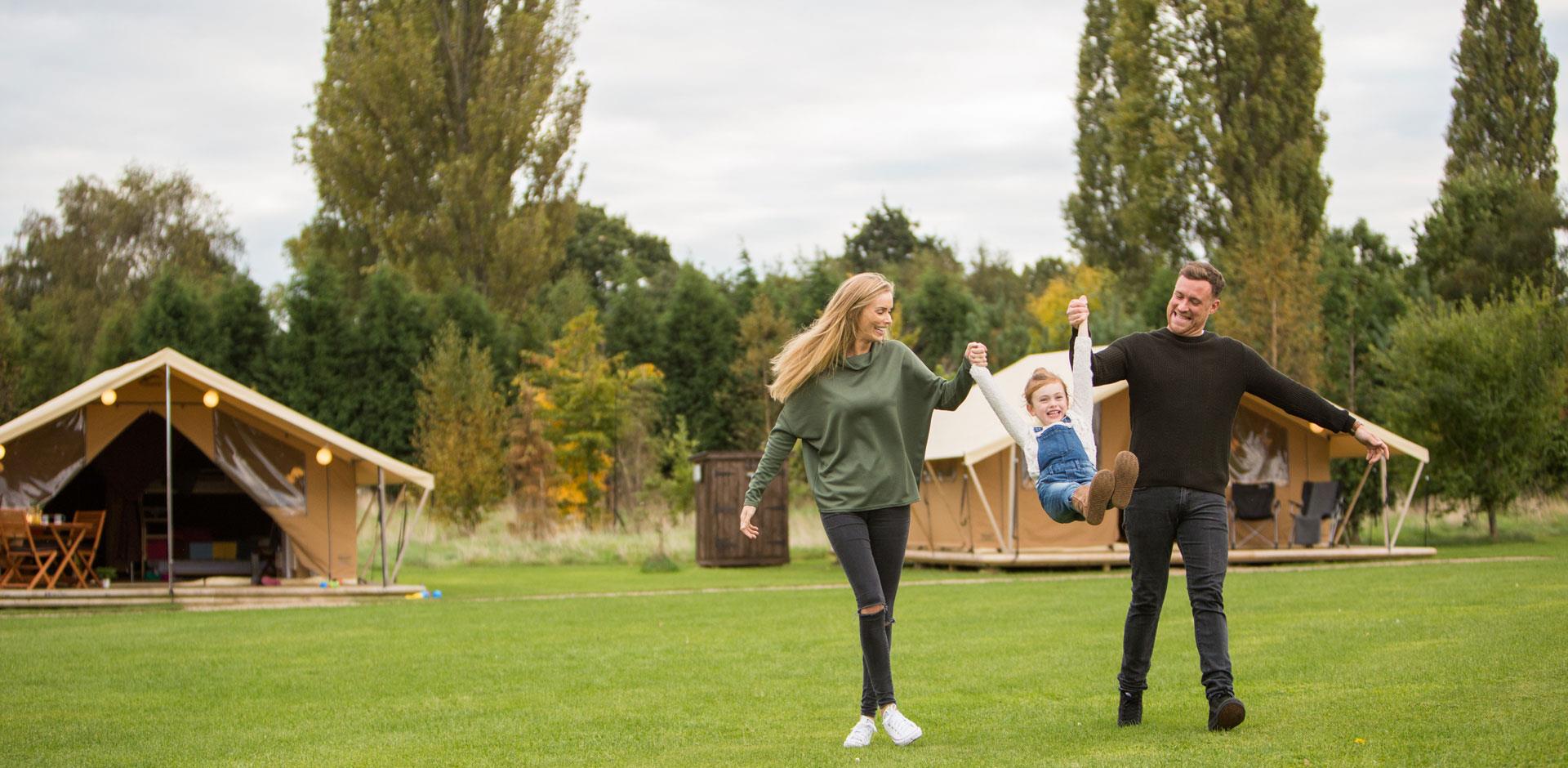 Campsites With Ready Camp Safari Tents
Adventure awaits, and everyone is welcome!
Join us for an unforgettable camping experience
Ready Camp is the perfect blend of comfort and adventure.
You keep all that's best about camping – the outdoor life, exploring new places, and sharing great times with family and friends – just add a few homely comforts that make life under canvas all the more convenient.
Our safari tents are designed to take the hassle out of your holiday, boasting cosy beds, an open plan living and dining area, a kitchen filled with all the essentials and your own private deck to relax on.
Memorable holidays for every kind of camper
Whether you're a returning Ready Camper, a member of the Club or discovering us for the first time, we welcome everyone with open arms. So pack your sense of adventure, grab your camera, and get ready for a memorable holiday in the incredible outdoors.
Psst! While non-members can stay in our Ready Camps, you'll get a 20% saving on your holiday if you join the Club.
Ready Camp FAQs
If you've got the questions, we've got the answers.
Ready Camp: What's included and what do I need to bring?
You will need to bring your own bedding (duvets/sleeping bags, pillows and sheets), towels and tea towels. If you find you get a bit chilly at night, bring extra blankets with you, for extra cosiness!
For toilets, showers and dishwashing, you can access the shared facilities on the campsite.
We've tried to think of everything else you will need to make your stay as comfortable as possible, see "What facilities are inside the tent" for a full list of what's inside.
Beds
Double bed
Triple bunk bed
Pull out bed
Furniture
Table
6 chairs
2-seater settee
Appliances
Fridge
2-ring hob
Microwave
Kettle & toaster
Small heater
Lighting
Lamp
Lounge light
Set of porch awning lights... and a torch
In the kitchen
6 dinner plates & 6 side plates
6 bowls
6 mugs
6 wine glasses & 6 tumblers
6 forks & 6 knives
6 tablespoons & 6 teaspoons
Sharp knives
Large knife
Chopping boards
Pair of scissors
Peeler, tin opener & corkscrew
Kitchen utensil set
Frying pan
Saucepan
Other bits & bobs
Dustpan and brush
Doormat
Water carrier
Bin
Washing bowl (to help take your washing up to the dishwashing facility block on site)
Last Modified: 13 Jan 2023
Ready Camp: What facilities are inside the tent?
Our Ready Camp tents comprise of two seperate bedrooms & an open plan living/dining area, it oozes with little bits of camping luxury including a double bed (yes a real bed with a real mattress!) triple bunk bed (double with a single on top) and a single stow away bed.
A kitchen area with a fridge, microwave and hob, along with basic cooking utensils, crockery and cutlery.
There are also lights, a comfy settee and a heater to keep you cosy.
Not forgetting to mention a dining table where you can wine and dine to your hearts content… feel free to bring your table onto your decking and enjoy your grub alfresco style.
And don't worry, although we don't have toilet, shower or dishwashing areas in the tent, you can find these facilities on the campsite.
We've even included a torch – for the midnight toilet trips, or just to make funny shadows on the tent!
Last Modified: 13 Jan 2023
Ready Camp: What facilities are on-site?
Our campsites all have a toilet and shower block and water points along with dishwashing areas as a minimum. Each site varies in terms of other on-site facilities, for more information have a nosey at the campsite page.
Last Modified: 13 Jan 2023
Ready Camp: What time can I arrive, and what time must I leave?
Check in times is 5pm, why not arrive early and get a feel for the local area? … You're Ready Camp will be ready and waiting for your arrival!
Check out is 10am… though we know you won't want to leave!
Last Modified: 13 Jan 2023
Ready Camp: Can I stay for just 1 or 2 nights?
Ready Camp tents are so cosy that we simply can't allow 1 or 2 night stays; please settle in and make yourself at home for a minimum of 3 nights. To make sure that everything is shipshape, we have set days for welcoming new guests so your stay will start on a Monday, Friday or Saturday. Here's a handy guide to when you can stay:
3 night stays commence on a Friday (Friday – Monday)
4 Night stays commence on a Monday (Monday – Friday)
7 night stays can start on a Monday, Friday or Saturday
10 night stays commence on a Friday
And last but not least; 14 night stays can start on a Monday, Friday or Saturday.
Last Modified: 13 Jan 2023
Ready Camp: Can I bring my pet(s)?
We are unable to accept pets in the Ready Camp tents with the exception of essential disability assistance dogs.
Please note - pets are not permitted to stay in pup tents or "in the car".
Last Modified: 23 Mar 2023
Ready Camp: Are the safari tents wheelchair accessible?
We have a number of tents with handy ramps that can be fitted to allow for wheelchair access including - Kelvedon Hatch, Scone, Slapton Sands, Kessingland, Cambridge, Hertford, Drayton Manor, Veryan, Sandringham and Sheriff Hutton.
Unfortunately, this is not possible at all locations. The best course of action is to give us a quick call on 024 7647 5426 before booking to confirm the accessibility of your preferred site.
Last Modified: 24 Jan 2023
Fancy a 20% saving on your Ready Camp holiday?
Join the Camping and Caravanning Club and receive a 20% discount on all Ready Camp bookings. Members also benefit from all our other perks, including exclusive discounts from a range of retailers and attraction providers, plus other fun ways to stay with the Club.
Join today