The Best Walking Boots of 2024 and a Guide to Getting a Perfect Fit
Whether you're looking for your first or fifth pair of walking boots, this guide is for you. Discover how to get the perfect fit and explore our expert recommendations below. You'll also find our pick of the best walking clothing here if you're looking to get fully kitted out.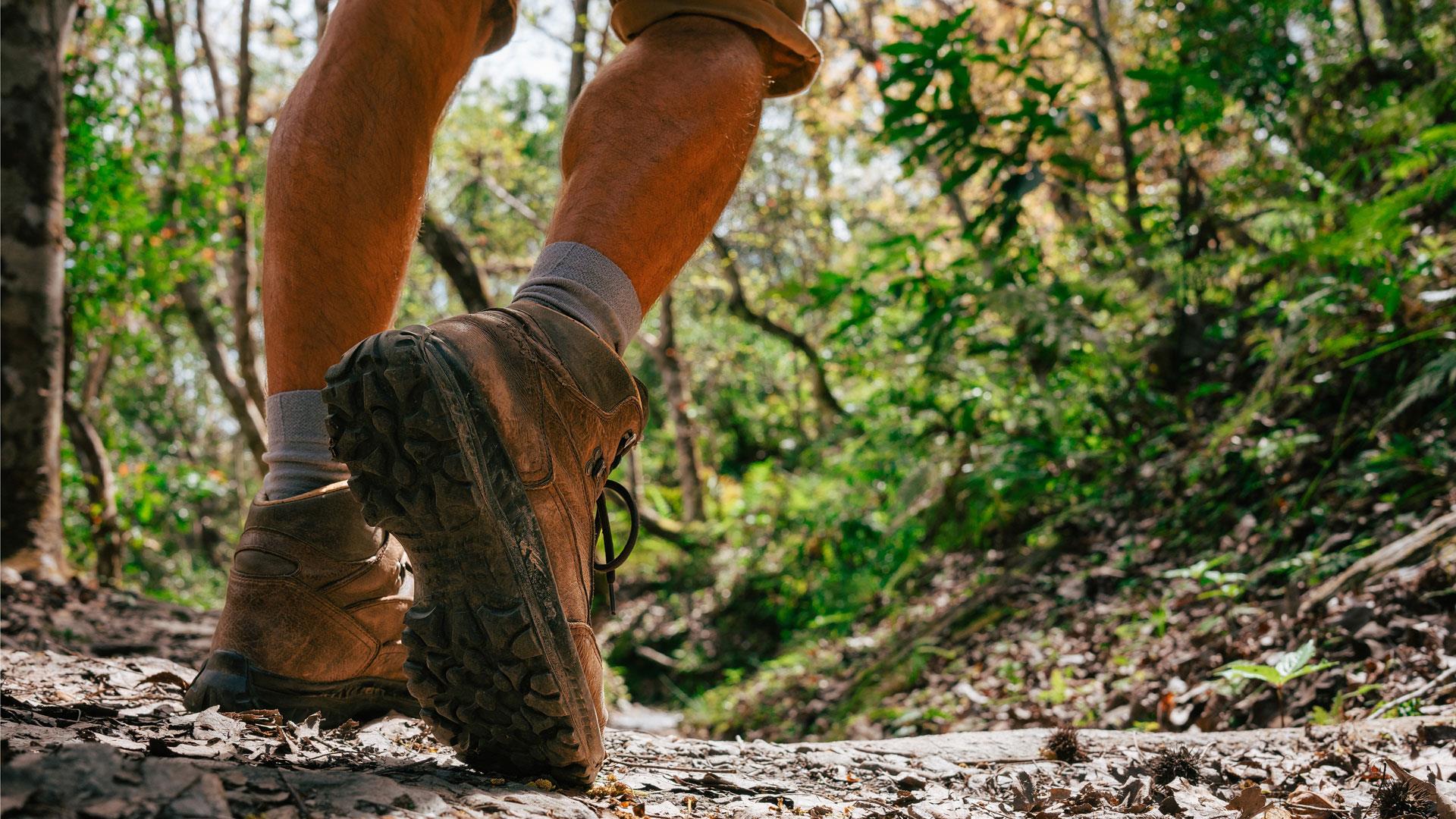 The best walking boots | Walking boot guide | Walking boot ratings
Psst! Get your exclusive discounts
As a member of the Club, you have access to exclusive discounts at some of the best outdoor retailers in the UK including:
• Go Outdoors
• Mountain Warehouse
• Hi-Tec
• Cotswold Outdoor
It's easy to join the Club if you haven't already.
The best walking boots to buy in 2024
You'll see 12 boots listed below which are all brilliant options for anyone exploring the UK on foot. Scroll further down to read our buying guide for useful advice and tips on when to look for while shopping.
• Best budget walking boot brand: Hi-Tec
• Best for wet weather: Scarpa Men's Terra II GTX® Walking Boots
• Best for longevity: Brasher Women's Country Walker Walking Boots
• Best for comfort: Berghaus Women's Explorer Trek GORE-TEX® Walking Boots

1. Scarpa Men's Terra II GTX® Walking Boots
Price: £139 | Weight: 1224g (per pair) | Best for: Comfortable wet weather hiking

This new iteration of the Terra GTX® Walking Boot has been given a makeover for optimal comfort and durability. The classic brown 2 – 3 season boot boasts complete waterproofing, making ideal for the unpredictability of the weather in the UK while not compromising on comfort.
Oiled, full-grain leather provides unbeatable durability, and the GORE-TEX® inner is breathable yet waterproof to keep your feet dry all day on the trails. The toe box on this model is slightly larger than the previous, giving a little more space around the toes while keeping your foot secure with a well-constructed upper.
Overall, these are positively reviewed, comfortable out of the box and should last you through years of hiking.
Find these at: www.gooutdoors.co.uk
2. Meindl Bhutan Lady MFS Walking Boot
Price: £235 | Best for: Mountain durability

Let's talk about comfort. The MFS memory foam system installed in these boots offers personalised comfort. In the ankle, collar and tongue, these boots will take on the shape of your foot and offer soft, continuous cushioning. The flexible, pressure-free fixing tat gives adjustable lacing, allowing you to maximise the support and fit.
The nubuck leather upper is GORE-TEX® lined, for durability and protection from the elements. Built to last, the protective rubber rand adds to the style and durability of the boots. This pair of boots are a great option for anything up to low-level mountain areas.
Find these at: www.gooutdoors.co.uk
3. Brasher Men's Country Walker Walking Boots
Price: £165 | Weight: 710g | Best for: Casual hiking

With a nod to the classic walking boot design of the past, these brown Brasher boots offer great performance and longevity. The leather upper may mean you'll need to break these boots in, but the comfortable PU footbed should cushion each step for extended comfort on long hikes. The leather uppers will keep any water out and allow for continuous airflow to prevent moisture build-up inside. Reliable Vibram® outsoles boast unrivalled traction and grip across a range of terrains, making these boots a great all-rounder.
These boots will serve you well on dog walks, longer hikes and extended walking trips. The suede outer cuff offers added style and durability, making these boots a great addition to your walking gear collection.
Find these at: www.brasher.co.uk
4. Berghaus Women's Explorer Trek GORE-TEX® Walking Boots
Price: £153 | Weight: 978g | Best for: Comfort

Every element of the Berghaus Women's Explorer Trek Walking Boots is there for comfort and durability.
Fully waterproof GORE-TEX® lines the lightweight suede and mesh upper of these boots, which offers flexible support and great breathability. The ergonomic midsole has good cushioning, and the lacing system is easy to adjust for a snug fit. Overall, these are a versatile pair of boots at a good price point. The fully black design is sleek and wearable.
Find these here: www.gooutdoors.co.uk
5. Hi-Tec Men's Eurotrek Lite Walking Boots
Price: £45 | Best for: Budgets

If you're after a budget walking boot, ideal for beginners or light usage, these are a great option. With leather uppers, you'll want to break these in to ensure comfort before a long walk. At such a low price point, these boots are great at keeping water out with a Dri-Tec membrane. The moulded EVA midsole and footbed offer comfort and support, and the rubber outsole provides enough grip for a moderate walk. These are a pair of boots to consider if you're looking for good performance at a low price point.
Find these at: www.gooutdoors.co.uk
6. Brasher Women's Country Walker Walking Boots
Price: £170 | Weight: 710g | Best for: Long-lasting construction

The light brown leather, classic design and sturdy construction of these boots are ideal for the regular walker, wanting to incorporate a little fashion into their walks. Great for casual walking and longer hikes, these boots from Brasher combine a sturdy, grippy outsole with a breathable but waterproof leather upper. Cushioning each step, the soft PU footbed should make for a comfortable walk while the EVA midsole will provide a good amount of support.
Find these here: www.blacks.co.uk
7. Meindl Bhutan MFS Men's Walking Boot
Price: £235 | Weight: 1812g (per pair) | Best for: Durability

These Meindi's will keep your feet dry, supported and comfortable on more difficult walks over rough terrain. With the leather upper, you may need to break these in, but once you do, you'll have a comfortable and sturdy pair of boots for your hikes and adventures. The memory foam in the tongue, ankle and collar adds to the luxurious comfort while the Vibram® outsole provides support and grip when you need it the most.
Find these at: www.gooutdoors.co.uk
8. Hi-Tec Women's Eurotrek Lite Walking Boots
Price: £45 | Best for: Budgets

With durable hardware, a stylish leather upper and a grippy MDT outsole, these boots are a good all-rounder. The EVA midsole and moulded footbed offer comfort and support, making them great for a long day of walking on a range of terrains.
Find these here: www.gooutdoors.co.uk
9. Mammut Men's Trovat Guide II High GTX® Hiking Boot
Price: £252 | Weight: 810g (per pair) | Best for: Mountain trails

Mammut is a popular brand for walking boots, and with good reason. The Trovat Guide II High GTX® Hiking Boot means serious protection for mountain trails.
The GORE-TEX® lined textile upper offers maximum comfort, keeping the boot flexible and your feet dry. Part of the reason these are so comfy is that your heels held in place and kept snug with a patented heel strap system. Memory foam, soft Nappa leather and a special Foot Mapping System are a few of the other added bonuses that make these easy to wear. To up the durability factor, there's a full rubber rand to protect from knocks and scrapes and a Vibram MT Traction II Sole to maximise grip on all surfaces.
Find these at: www.gooutdoors.co.uk
10. Lowa Women's Lady III GTX Boot
Price: £265 | Weight: 1390g (per pair) | Best for: Durability and comfort

If comfort and support are the most important features you look out for, the Lowa Womens Lady III GTX Boot is worth a try.
2.1mm nubuck leather makes up the strong upper of this boot in a classic one-piece construction technique. To protect from impact and to add durability the rubber rand runs all the way around the boot. The midsole is constructed specifically with women in mind and provides good stability. Partnered with the strong Vibram outsole, this is a pair of mountain worthy boots that won't let you down.
Find these here: www.cotswoldoutdoor.com
11. North Ridge Men's Traverse Mid WP Walking Boots
Price: £125 | Best for: Classic design and good performance

A classic style walking boot, the Traverse Mid WP by North Ridge offers good performance for trekking and hiking on various terrains.
This pair of high-performance boots are crafted from quality oiled leather in Italy. On the interior, the comfortable membrane keeps your feet dry with its waterproof and breathable qualities. For support, the midsole is shock-absorbing, and the Vibram ® outsole offers unrivalled grip.
Find these at: www.gooutdoors.co.uk
12. Makalu Extreme Men's Waterproof Leather Boots
Price: £179 | Best for: Winter walkers

Thermally lined leather boots, fit for keeping your feet warm through the harshest winter conditions.
Nubuck leather offers a durable upper, which has then been lined with an IsoDry membrane to keep moisture out. The midsole and outsole are both flexible and durable to keep you comfortable no matter what terrain your hiking in.
Winter hikers in the UK should find these plenty warm enough as they've been tested in temperatures down to -30.
Find these at: www.mountainwarehouse.com
A simple guide to walking boots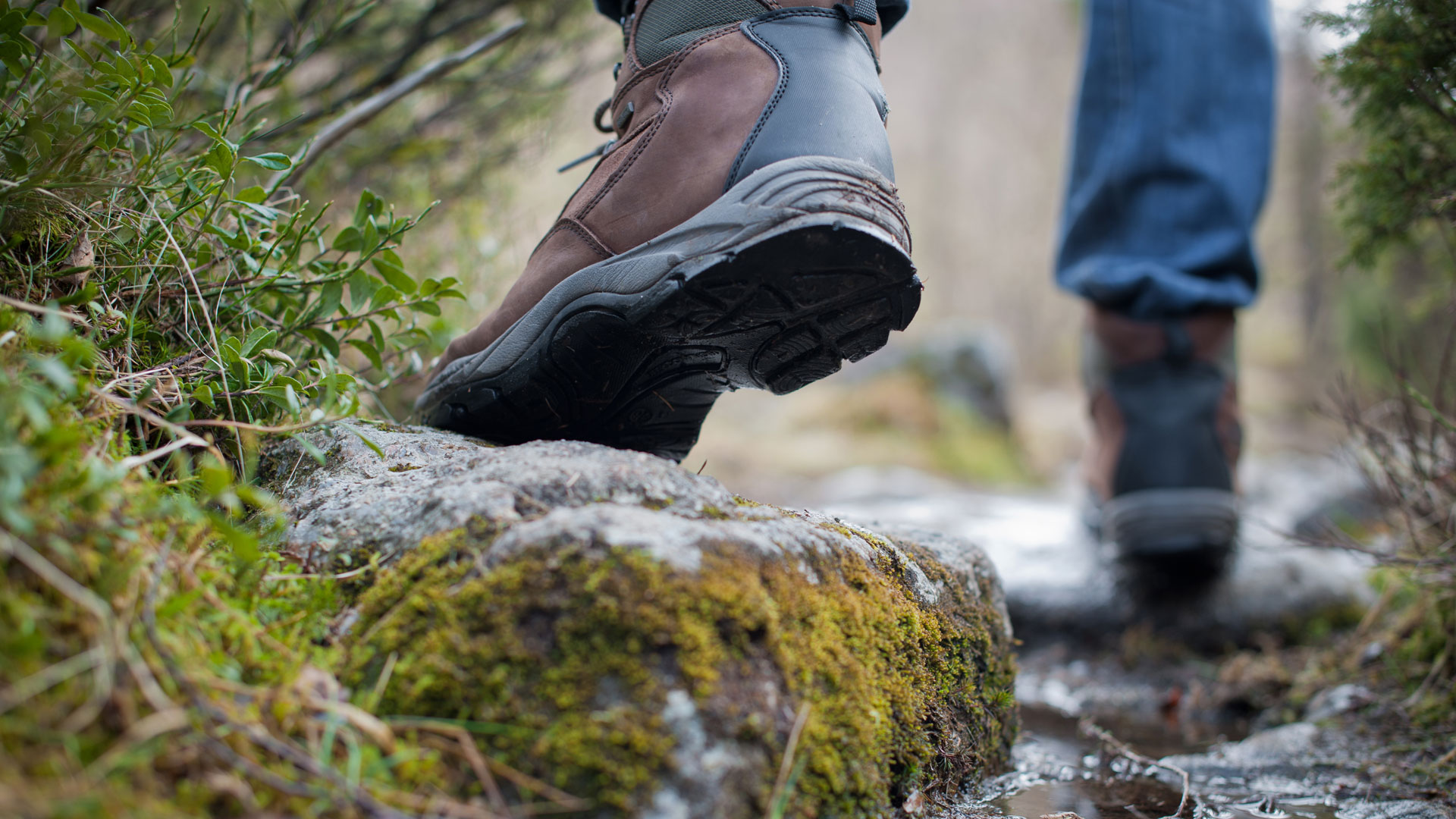 A good pair of walking boots will prevent injury, provide maximum comfort, and allow you to walk your favourite trails whenever you like. In comparison to a standard pair of trainers, walking boots provide:
Grip -The grip on a walking boot is far superior to the grip on a standard pair of trainers, allowing you to walk on wet trails and scale the most challenging terrains.
Waterproofing - All walkers know that wet feet are the worst. Walking with wet feet is the perfect recipe for blisters which can lead to a painful hike and even the end to your walking trip until your feet heal properly.
Support - On uneven terrain, your ankles will need the support of a proper walking boot.
Protection - A solid sole with good tread provides much-needed support and protection from walking on hard ground for extended periods.
Walking boot terms explained
Understanding the basic anatomy of a walking boot will give you the confidence to step into a shop and make buying your shoes a much quicker process.
Outsole: This is the bottom part of your walking boot with the tread pattern on. You'll see lots of innovative designs and materials being used, all with different benefits. In general, you'll want to look for plenty of traction and something that isn't too flexible.
Midsole: This is where the comfort factor comes in. Your midsole sits between the insole and outsole, providing cushion and support and is a huge factor in stability.
Insole: Sitting on top of your midsole, directly underneath your foot, your insole can provide comfort, warmth, and support. Many walkers will buy separate insoles to tailor the fit of their boots perfectly to their needs. Sales staff in outdoor shops can help you with finding the best insole for your needs.
Choosing the best hiking boots for you
The market is full of high tech walking and hiking boots. You'll find everything from the best all-rounder to insulated boots for the coldest of winters advertised. Before buying yourself a pair of walking boots, think about the considerations below.
Terrain - Are you walking on well-maintained trails, rugged country paths or summiting mountain peaks? If you're going to need crampons, you'll need a stiffer sole, but if you're a fair-weather walker, a more flexible shoe should be fine.
Weight - If you're a backpacker, the weight of your boots might be of high importance, in which case you'll want to read up on materials to ensure you get a pair of lightweight, high-performance boots.
Budget - How much are you willing to spend? This will give you a good indication of what you're looking for. We've listed below budget-friendly options as well as a few boots worth a splurge.
Hiking boot materials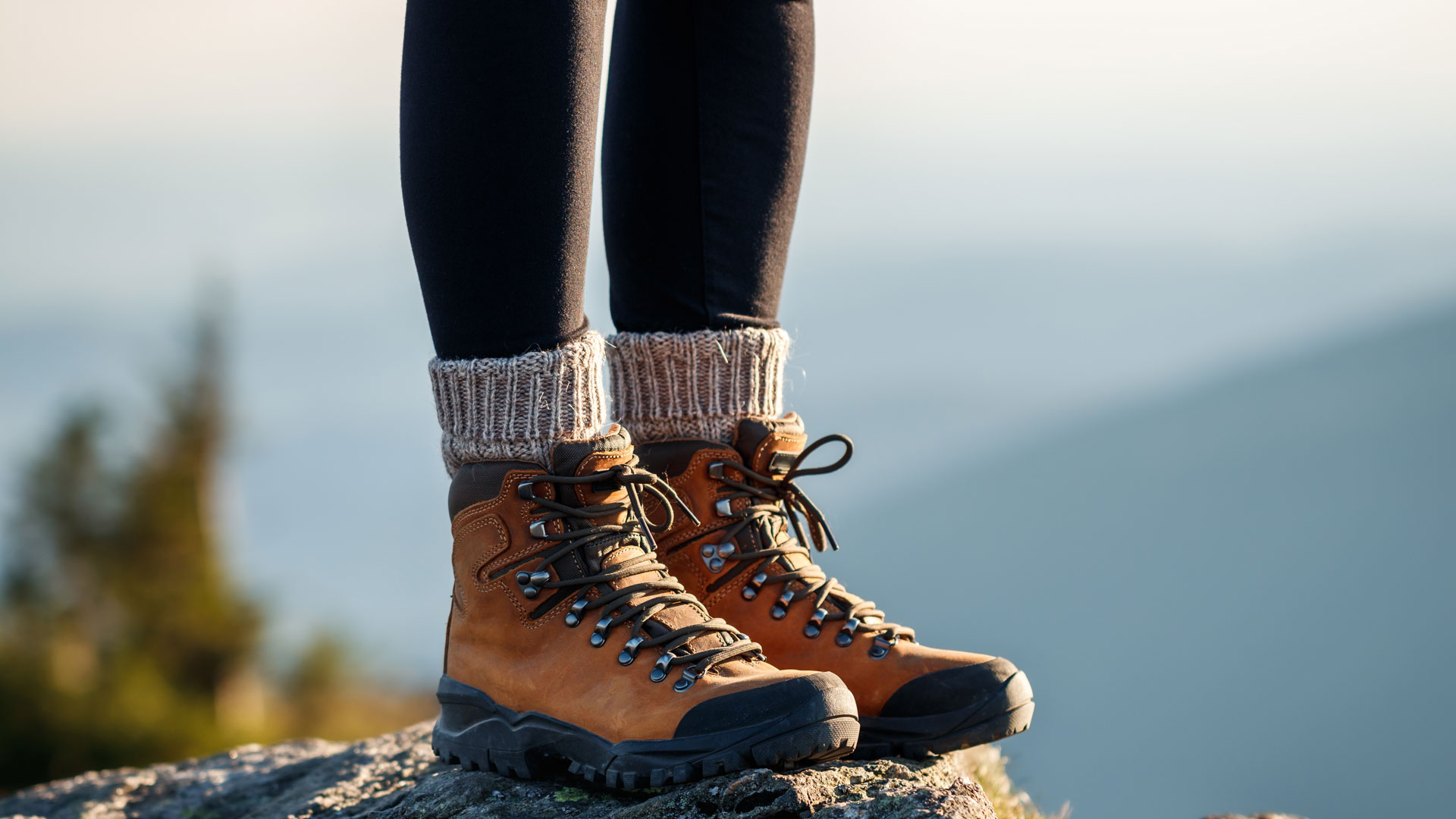 One of the most important considerations when choosing your walking boots is the material the boots are made of.
Leather used to be the standard walking boot material; however, the introduction of synthetic materials has led to a decline in popularity.
Pros: Leather is incredibly durable, water-resistant and comfortable once broken in.
Cons: Requires a breaking in period to ensure comfort while walking, is less breathable and can be heavier than synthetic options.
Synthetics such as polyester, nylon and synthetic leather are all common materials used for modern boot construction.
Pros: Synthetic boots are usually lightweight, quick-drying, affordable and require much less, if any, breaking in time compared to leather boots.
Cons: Probably won't last as long as a leather pair due to the amount of stitching required on the outside of the boot.
Gore-Tex ® is just one of a few materials often used to waterproof walking boots.
Pros: Dry feet are happy feet.
Cons: Reduced ventilation may be less suited to warm climates.
Rubber is used to make all walking boot soles. Some boots will incorporate other materials such as carbon or silicone, but all boots will have a rubber base.
Walking boot ratings
Walking boots fit into three categories, B1, B2 and B3 boots.
B1 – These are 4 season boots with a semi-stiffened sole and a supportive upper. Perfect for hillwalking.
B2 – With a less flexible sole than a B1, this is a more supportive boot and able to support crampons.
B3 – A solid mountain boot, fully ridged in construction. Not suited to everyday hill walking.
Walking boot fitting guide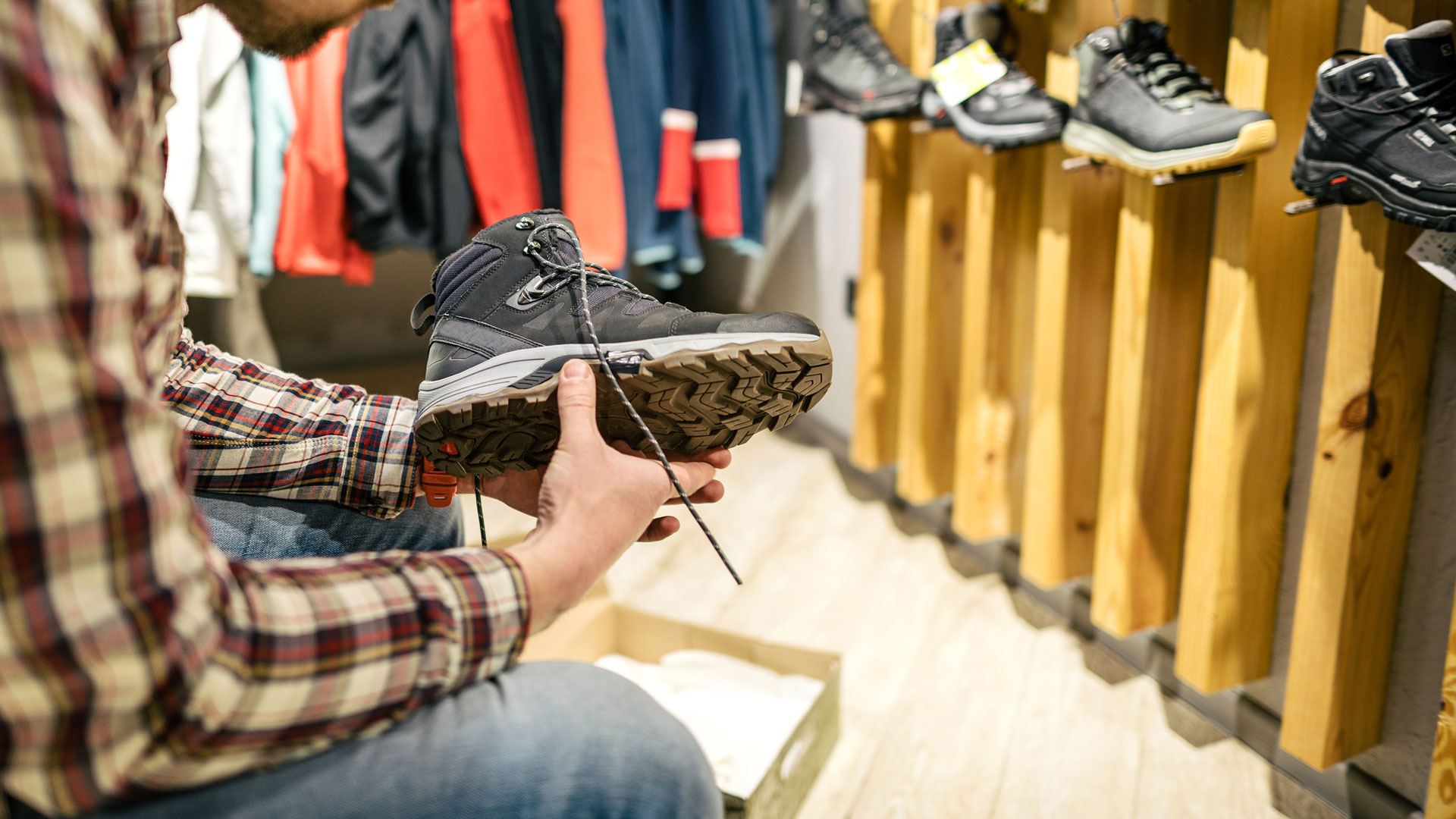 The most important factor when buying a pair of walking boots is to ensure a good fit. Your walking boots should be snug but not tight all over and should allow enough room for you to wriggle your toes. If a pair of boots feels uncomfortable at all when you're trying them on, they're not the pair for you.
Here are a few tips on finding the optimum walking boot fit.
Your feet swell throughout the day, just like they do when you're walking, so it's best to try boots on in the afternoon.
When trying on a new pair of boots, you should wear the socks you'll be wearing while walking in them.
Walking socks need replacing just like boots. If yours have lost their padding or are looking a little worn, treat yourself to a new pair to match your new boots.
Trim your toenails before trying on new boots.
Walking boots should feel snug all over your foot but not tight or restricting.
Make sure you have enough room to wiggle your toes.
Check that your toes don't touch the front or top of your boot while walking on a decline.
Ensure your heels don't lift. Movement in the back of your boot is a sign of a poor fit and can lead to friction blisters. Crouch down on your toes and bend forward to check whether your heels lift.
You're looking to lock your heel down into the back of your boot. Lacing your boots differently can transform the way they fit and feel. Experiment with different options until you find the best method.
Bear in mind that fit and comfort are the most important factors, not the colour or brand.
Insoles are removable, and you can change the insoles in your boot to suit the shape of your foot better if needed.
Speak to experts. Go to a reputable outdoors shop to try walking boots on. There you'll be able to ask experts for advice on fit and comfort.
Female and male boots do differ in shape. A man with a small, slender foot may fit into a woman's shoe better than the men's version, and similarly for women, a man's shoe with a wider toe box may be more suitable.
To summarise:
The most important factor in choosing a pair of walking boots is that they fit properly.
You get what you pay for, and longer-lasting boots do come in at a higher price point.
If you're in doubt about which boots to buy, speak to an expert in an outdoors shop.
For more walking advice and inspiration, check out the links below!