Choosing an awning
A new standard
The new standard carries the designation BS ENISO 8936 - Awnings for leisure accommodation vehicles. It is designed to be simpler than previous editions, combining test and product requirements into one document. The aim is to provide manufacturers and consumers with a single reference point for the safety and performance of awnings.
The standard has been based on international discussions in which the UK has taken an active part and is identical to the international version. It specifies requirements, test methods and material performance characteristics for vehicle awnings.
An awning is defined as a closable tent intended to be fixed to a stationary vehicle or to stand free of the vehicle.
Intended use
Before you can begin to choose an awning you need to decide how and when you will use it.
If touring will be the main use the awning needs to be easy to put up and take down, without being too heavy. However if you want to leave it up on a seasonal pitch, or perhaps use it in winter, then something more substantial would be better suited.
Bear in mind though that if you need to carry the awning inside the caravan, it will eat into your personal payload. One way around this could be to put it in the car or in a roof box on your tow car.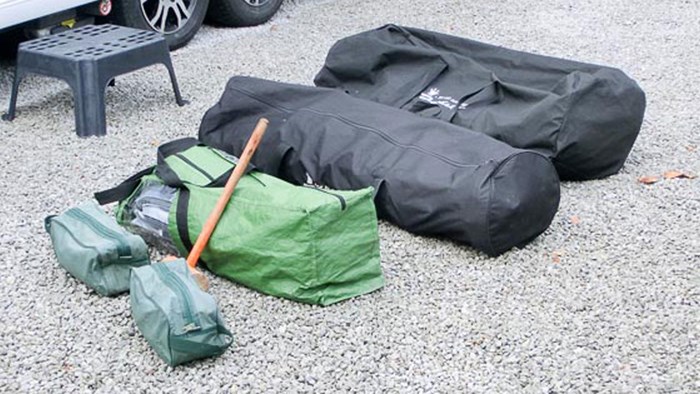 Splitting a large awning into several bags can make it much easier to handle and transport.
The next consideration is how much space you will need. If you're going to be dining in the awning you'll need room for the table and chairs. These can take up quite a lot of space, particularly if there are four or more people. Another point here is that high-backed chairs seem to need a lot of room.
A 3.0m deep awning leaves room to walk around dining chairs.
In these situations an extra wide awning can pay dividends. A typical depth for a full awning is 2.5m but choosing one with a depth of 3m makes it much easier to walk past seated people. Do bear in mind with a standard caravan this will likely require a larger pitch.
On the other hand, if you just want somewhere to keep your wet clothes and muddy boots, a small awning will suffice. It will also keep the weather away from your door and give you an extra degree of privacy when the door is open.
It's also worth considering how many people will be available to put up the awning. A large awning with poles really needs at least two people, particularly in windy conditions. An inflatable awning might be the solution here.
Types of awning
Full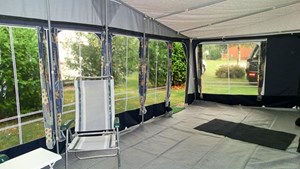 Full awnings are designed to attach to caravans using the full length of the awning rail. By doing so they can create a room that more than doubles the living space inside the caravan while at the same time keeping out the weather. Depths are generally in the range 2m to 3.5m.
The downside of a full awning is its size and weight, especially where there are steel poles. A full awning could weigh 50kg or more.
Porch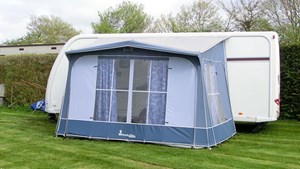 Porch awnings attach to the awning rail just at roof level. The end panels are held to the side of the vehicle by vertical poles and foam filled padding, they can be nearly the same width as a full awning down to around two metres wide. It can be fiddly to get a good seal with this arrangement but porch awnings are normally faster to put up and lighter to transport than full types. Of course you don't get the same amount of space but, if you're not taking the family with you, this may not be a problem.
The versatility of porch awnings is such that they are very popular and scores of different models are available. This is good because you don't really want a porch awning where one or both side poles cut across a window or a storage locker.
Porch awnings can be fitted to motorhomes provided the motorhome has a suitable rail (often known as a 'C' rail) to take the roof beading. Depths vary from about 1.8m to 2.5m.
Combi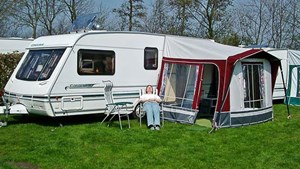 Combi awnings are a cross between a full awning and a porch and need the full awning rail that a caravan provides. The roof and one side (front or rear depending on the design) locate in the awning rail and the remaining side is held to the caravan with a pole and padding.
You get a better weather seal than with a porch awning but lose the versatility of moving the awning forwards or backwards to clear a window or locker. For this reason very few combi awnings are manufactured.
However, if the idea of a combi appeals to you, the answer may be to buy a full awning of a smaller size than your caravan, along with a combi conversion kit. You then carefully cut the beading at the end of the awning's roof section and hold the end panel in place with the pole and padding from the conversion kit. These are made by Isabella and other manufacturers.
Inflatable awnings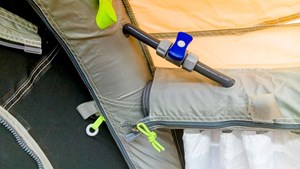 Pioneered in their most recent guise in 2011 by long standing Scottish tent manufacturer Vango, inflatable awnings are becoming increasing popular. With this type of awning conventional poles are dispensed with in favour of inflatable tubes. It's a technology commonly referred to as air tube or, in the case of Vango, AirBeam.
This technology has a number of potential advantages, the main one being fast to pitch and put-away times. Such awnings may also be lighter as a total system when compared to those with steel poles. That said inflatables are usually an all-in-one product so everything is moved together which can be more difficult to feed into the awning rail. They're less likely to damage your leisure vehicle in stormy conditions and children can help as there is no danger of a pole falling out.
Some air tube systems are fully interconnected allowing single point inflation but are bulkier in the bag. Others are separated making them slightly easier to handle and they may use additional bridging tubes or in some cases ridged poles to provide support.
The downside is that the awning may be sewn as a single piece construction for the majority of the fabric making it not as easy to handle as one with separate poles and zip out sides. However, if you're looking for a fast-build porch awning for short term use, air tube technology is hard to beat.
It's worth noting here that inflatable combi awnings often use poles to make the weather seal to the side of the vehicle.
A variation on the combi and inflatable types is the Badcot's Modul-Air awning system that allows sections to be removed for full flexibility while camping for different durations and needs.
Annexes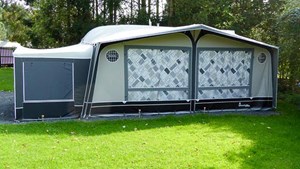 Awnings with zip out sides have the possibility of replacing a side with an annex providing more internal space. Annexes are perfect for use as extra bedrooms or even for storing bulky kit such as bicycles.
Before packing an annex its worth checking that your intended pitch will be large enough to accommodate the annex, particularly if you have a full awning. Remember to allow for guy ropes on some campsites
Roll out canopies and 'safari rooms'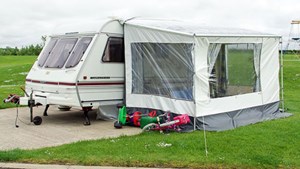 Roll out canopies have become extremely popular for their ease of use. When combined with optional front and side panels it's easy to create an enclosed space, sometimes known as a 'safari room'. Designs have improved significantly over recent years such that this type of awning now rivals conventional types.
The canopy storage housing may be rigid, like a long thin box, or in the form of a bag with access proved by a zip.
This latter type is suitable for attaching to awning rails but we would advise you to check with the vehicle manufacturer before leaving one in place for travelling. Longer versions may require two people to operate, particularly when rolling them back into the bag.
Rigid types are heavy and best suited to motorhomes although it may be possible to fit them to some caravans. They attach using screws, or alternatively brackets that have been bonded to the roof. The material travels in and out by means of a detachable winding handle. This makes operation by one person very easy although the overall weight of the canopy may be nearly twice that of a bag type.
With all roll out awnings care should be exercised during windy weather, the instructions will advise limits in these condition where the awning should be rolled away to prevent damage.
Drive away awnings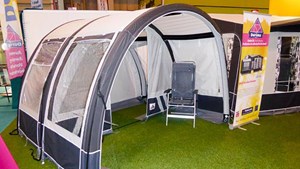 Produced for campervans and motorhomes, drive away awnings are designed to remain erected without any support from the vehicle. There are various methods of attachment to the vehicle, each designed to keep out the weather while providing an easy way of hooking up and disconnecting.
The simplest method uses straps that go over the roof of the vehicle and anchor to the ground on the other side. It's not the best way of keeping out the weather and the straps can get in the way if you need to open a cab door but again it can be used on vans where there are no roof bars or guttering.
Where a vehicle has roof bars the next method uses Velcro strips to attach the awning to them. It's simple and effective but not brilliant in keeping the weather out.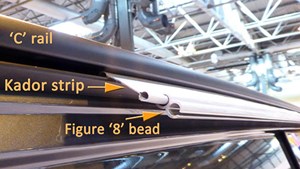 If you have an older van with rain gutters you can use the pole and clamp system. A pole threads through a sleeve on the awning and the ends of the pole are then clamped to the gutter. It's very quick and easy to do but probably works best with two people.
Where a motorhome or campervan has been fitted with a 'C' rail it possible to use a double edged beading tape. This channel cord and rail is commonly referred to as Keder, Kadar or Kador rail or strip. This has one edge that slides into the 'C' rail while the other edge connects to the awning via a 'figure of 8' rigid plastic strip. This accepts the beading on both the awning and Kador strip. When it's time to drive away you simply pull out the Kador strip.
Wind out canopies often have a 'C' rail built in for hanging a front panel so this may be used if there is no such rail on the vehicle itself. Outwell awnings offer the alternative of a magnetic strip that simply sticks to the roof of the vehicle.
Awning classifications
Awnings are classified according to their intended use. The British standard recognises the following types:
Winter awnings (Type W)
These are suitable for all year round use and are able to take a specified roof loading such as might be experienced with heavy snow.
Residential awnings (Type R)
Awnings suitable for continual use over extended periods and capable of handling a light snow load. These are suitable for seasonal pitching such as used by campsite staff.
Touring awning (Type T)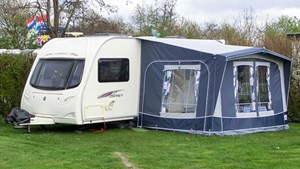 Touring awnings are suitable for repeated pitching at any time of the year, but not in winter snow.
Lightweight awning (Type L)
Awnings suitable for repeated pitching which are characterised by ease of use and lightness and with a total weight of less than 2.75 kg/m2 of the base area.
Note These last two categories cover the majority of awnings available in the UK.
Materials of construction
Generally speaking, the higher the quality of the awning, the heavier it is likely to be and the more space it will take up when packed for transport.
Fabrics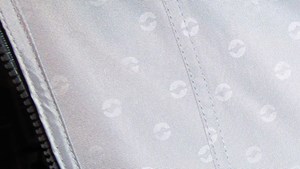 The fabrics used for today's awning are mainly derived from man-made products although canvas made from cotton or linen may still be found in older products, often blended with polyester for lightness and durability without compromising strength.
Polyester cloth is generally much lighter than acrylic and has a degree of breathability. However it is not so hardwearing so may be best for awnings that are used just occasionally.
Synthetic polyester is widely used because of its strength and water resistance. It can be woven as 100 percent fibre or blended with other products. The performance of any material very much depends on what treatment it has been given. For example polyester may be coated with vinyl laminate, PVC or acrylic. These increase its strength, durability and weather resistance.
Vinyl laminate coated polyester consists of two layers of PVC film with the polyester in the middle for reinforcement. It is sometimes used for awning roofs.
Alternatively the vinyl may be applied in liquid form with the help of special bonding agents. It contains additives that impart colour, water and mildew resistance. Flame retarding agents may also be added. The resulting material is more flexible than its vinyl laminated cousin.
Acrylic coated polyester has a thin coating of acrylic resin applied to each side. The coating provides UV, mildew and water resistance but allows a degree of breathability.
The other material commonly found in awnings is made from acrylic fibres. These can be spun and dyed like wool to give a product that is light and strong with good insulating properties. The acrylic can also be dyed, while still in solution, and before the yarn is created. The process is known as solution dyeing. It makes the fabric resistant to oils and chemicals including bleach and UV light.
To increase the range of material colours that can be produced it's common to blend solution dyed fibres of different colours together. You may just be able to see this if you look closely enough.
With so many materials on the market it can be difficult to know what may be best for your particular needs. It's also worth bearing in mind that the roof may be made from one material and the sides from another.
Lightweight polyester fabrics are often found in cheaper awnings. They are easy to handle and to dry but often lack durability. Such an awning may be ideal for occasional weekend use or possibly for the annual summer holiday.
For more frequent use it will pay to invest in something a little heavier. Acrylic coated polyester can be a good choice as it combines durability with some degree of breathability.
For ultimate performance you should consider solution dyed acrylic fabrics. They are soft, durable and breathable like canvas but are resistant to wrinkling, fading and mildew growth.
Awning fabrics comparison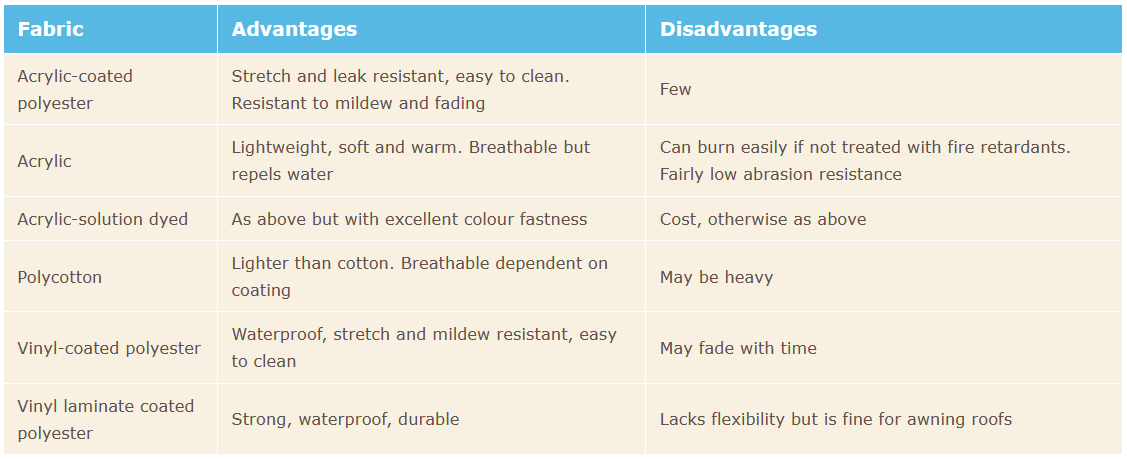 Additional points to consider
Polyester fabrics are inherently flame retardant.
Acrylic is harder wearing and slightly more fade resistant than polyester.
Polyester has some breathability but coatings may reduce this.
Fabrics claimed to be fire retardant have to meet certain minimum standards.
Ripstop fabrics
Ripstop fabrics are interwoven with thicker fibres in a crosshatch pattern with intervals typically in the range 5-8mm. This gives them a three dimensional structure with tear resistance, any damage being contained within a small area that can easily be repaired.
Material weights
Weight is often measured on the Denier scale. Basically the higher the number the greater the thickness of individual threads used to create the fabric. Fabrics with a high denier count tend to be thicker, sturdier and more durable than those with a lower Denier count.
A typical full size caravan awning may have a Denier rating of 300 (300D). On the other hand a small porch awning made from polyester may be as low as 75D whereas a heavy duty awning may be in the range 400-500D.
It is important to understand that the Denier number refers to the thickness of the thread and is not a reliable indicator of the strength of the fabric. This has much more to do with the fibre used and the way it is woven and coated.
Another number often quoted is the thread count. For example 190T indicates 190 threads per inch. It's not unusual to see the two numbers quoted together with the material type. An example could be 75D 190T polyester. This represents a lightweight fabric such as may be used in a porch awning or for a flysheet.
The weight of a fabric may also be quoted in grammes per square metre (g/m2). A typical good quality awning might weigh between 300 and 400 g/m2 for the walls and 400-500 g/m2 for the roof. Much will depend on the type of fabric - heavier is not necessarily better.
Water resistance
While the above units give a good idea of the weight of a fabric they give no indication of its water resistance. This is specified by referring to the pressure of height of a column of water the fabric can support without any leaking through.
The pressure is measured in units known as Pascals after the French mathematician Blaise Pascal. A column of water one metre high produces a pressure of one thousand Pascals, or 10kPa.
The British standard specifies that an awning suitable for repeated pitching and year round touring should have a water resistance of 40kPa (4.0 metres) and a lightweight awning 25kPa (2.5 metres). These figures drop to 30kPa and 20kPa for awnings with non-coated roofs. Sometimes water resistance is quoted in millimetres to make it easier to understand, this is usually known as Hydrostatic Head or HH. A value of 30kPa might therefore be quoted as 3000 mm.
Poles and other supports
Traditionally all poles were made from steel but their sheer weight has led to other materials appearing. In 1985 Isabella launched fibreglass awning poles under the brand name IXL. These have since been supplemented by their Carbon X poles, which use carbon fibres to strengthen the fibreglass.
Recent years have seen the introduction of thin flexible fibreglass poles with the ability to spring back to their original straight shape. This allows them to be used for curved applications where the spring in the pole keeps the material under tension.
Fibreglass poles are ideal for touring as they represent an excellent compromise between strength and weight. However, for seasonal pitches, steel is probably still the best choice where its strength and weight can help to combat the worst the weather has to offer.
Aluminium poles have also appeared and so have reports of them bending but, combined with a lightweight awning and benign weather, they can be a cost effective solution.
Flooring materials
Awnings are much nicer for the fitting of a good ground cover. Many awning manufacturers offer suitable materials with most being breathable to help protect any grass underneath.
Outdoor Revolution's Treadlite budget groundsheets are fully breathable, UV resistant and flame retardant. They come with built in eyelets for ground pegs.
Isabella's Bolon range has a good choice of woven vinyl fabrics in a variety of sizes and weights to suit most awnings. Special clips can be used in conjunction with ground pegs to keep the edges of carpet in place.
As an alternative to carpet you could consider interlocking floor tiles. Kampa's Easy Lock tiles come in packs of four, with a floor covering area of one square metre.
Ground pegs
Awnings derive much of their stability through being firmly pegged to the ground. Plastic pegs with a cross section similar to a plus sign (+) are very common and perform well in most ground conditions.
However for sandy soils a screw type peg offers better grip. These are put in and removed using an electric drill. Metal and plastic versions are available.
Both offer excellent grip in firm to soft ground. Look for ones with a variable height attachment that can be used when the peg cannot be fully driven into the ground.
Metal screw pegs can work quite well in stony ground but for really difficult conditions rock pegs are a better bet. These are driven in with a metal hammer. Those with a hint of screw thread offer better grip.
Sizing a full awning for a caravan
When choosing a full awning for a caravan its important to get the size right. This is determined when on the level by the distance measured from the ground at one end of the caravan, through the full awning rail, to the ground at the other end of the caravan.
Awning manufacturers hold large databases with this type of information and caravan manufactures normally publish nominal figures too. However, if you want to check it for yourself, it's something that's easy to do with a length of string and an assistant, or a ground peg, to hold the string at one end.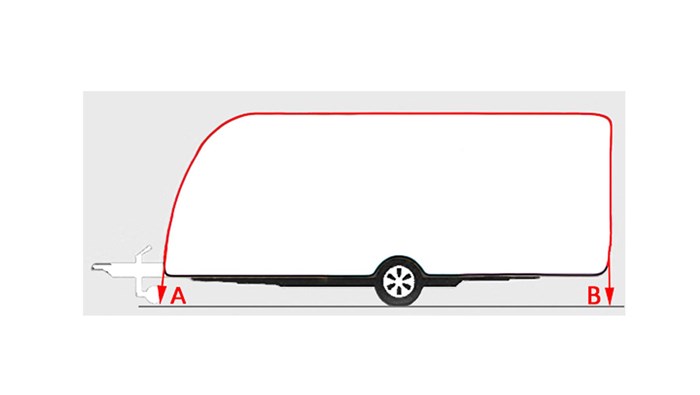 The size of awning required is the measurement around the awning rail from A to B
For porch awnings, simply measure the distance between two suitable gaps on the side of the caravan enclosing the entrance door but avoiding windows, fridge vents and external lockers. Try to get a minimum and maximum dimension so a range of sizes can be used for selecting a prospective awning without interfering with access and ventilation.
Measuring for a motorhome awning
You'll need to measure the length and height of your vehicle and take into account the position of any doors, windows, lockers and vents for gas appliances. You'll then have to determine how the awning will attach. This will depend on whether the motorhome is fitted with any form of rail to support it.
More information on Club website
Glossary
Air tube
A technology that uses inflatable tubes to replace conventional poles
Denier
Technically a unit of weight but it is more commonly used to denote the thickness of a thread. A single strand of silk is approximately one denier; 9000 metres of it weighs just one gram
Hydrostatic head
A figure, usually expressed in millimetres, that denotes the height of a column of water a given material will support without leaking. Commonly denoted as HH. See also Pascal below
IXL
A type of fibreglass pole produced by Isabella
Pascal
A unit of pressure used to indicate the water resistance of a fabric. The higher the number the greater the water resistance of the fabric. One thousand Pascals (1 kPA) is the pressure at the base of a column of water one metre high
Ripstop
The name given to woven fabrics containing reinforcement that makes them resistant to tearing and ripping. This is achieved using reinforcement threads that are interwoven at regular intervals in a crosshatch pattern
Flysheet
The outer tent fabric - exterior textile that provides shape and weather resistance
Personal payload
Difference between the Mass in Running Order (MiRO) and the Maximum Technically Permissible Laden Mass (MTPLM) or gross weight. Also known as user payload. See the matching car and caravan guide for more details
Tech team contact
If you're a member of the Club, you can contact our tech team to discuss your needs.