Travelling to Europe Post-Brexit: What to Prepare Before You Leave
The UK's departure from the European Union (EU) means our relationship has changed in many ways, with a variety of new rules and regulations now applying to how we live, work and trade together. There are significant implications for British citizens planning to travel to mainland Europe for tent, caravan and motorhome holidays, where our previous freedom of movement will no longer apply and passports, visas and additional documentation will be required. Changes to regulations regarding driving, food, health, pets and more will also need to be taken into consideration.
In this Data Sheet we look at all of the above, as well as reiterate some other key advice and pertinent information when travelling to Europe, much of which has not changed as a result of the UK leaving the EU.
Please note that the information contained here primarily applies to the key destination markets of France, Spain and Portugal, and is subject to change, so it's always worth doing your homework for specific countries and circumstances before you travel.
General travel information and documentation
Leaving the European Union means British citizens no longer enjoy free movement in Europe, although travellers from the UK can still visit for short trips without a visa (a visa-waiver programme is to be introduced by the EU in 2022). Longer trips of 90 days or more, such as winter sun rallies, will require visas.
• Passports and visas
Passports must be valid for at least 6 months from your first day of travel, and be less than 10 years old (even if they have 6 months or more until expiry). We strongly recommend you check gov.uk/check-a-passport-travel-europe.
The port of entry will put a stamp in your passport to confirm the date you arrive, and children will need their own passport.
British citizens will not need a visa for visits of 90 days or less within a 180-day period, but if you're planning to stay beyond 90 days you'll need to check each country's specific visa entry requirements. You can do this on the gov.uk/foreign-travel-advice pages.
• ETIAS visa waiver scheme
Although British citizens do not currently need a visa to visit Europe, you will need an ETIAS visa waiver from 2022.
This document is being introduced by the European Travel Information and Authorisation System to boost security across the EU, and will be available, for a fee, by filling out a form online.
A single ETIAS permit will be valid for travel in all 26 countries of the Schengen Area – the area of Europe where all passport and border controls have been abolished – so once you have crossed an external Schengen border you will be able to move around the borderless travel zone without facing further checkpoints.
An approved ETIAS authorisation will be valid for 3 years, or until the applicant's passport expires if sooner, so you won't need to apply each time you visit Europe. Once in Europe, UK passport holders can stay in the Schengen Area for up to 90 days in a 180-day period.
For more information visit etiasvisa.com/etias-form-application.
• Driving licence
You are permitted to drive in the EU if you have a photocard driving licence issued in the UK, but might need an International Driving Permit (IDP) to drive in some EU countries and Norway if you have an older-style paper driving licence or a licence issued in Gibraltar, Guernsey, Jersey or the Isle of Man.
We advise that you exchange any older-style licence for a photocard licence, which is readily recognised across Europe.
An IDP is obtainable from post offices – for details visit gov.uk/driving-abroad/international-driving-permit
• Insurance green card
A green card is proof that you have vehicle insurance when driving abroad, and is available from your insurer. From the 2 August 2021 UK residents will no longer need a green card for car or trailer when travelling to the following countries:
• the EU (including Ireland)
• Andorra
• Bosnia and Herzegovina
• Iceland
• Liechtenstein
• Norway
• Serbia
• Switzerland
A green card may be needed for other countries, see the govenment travel advice here for details.
If needed your insurance provider will either post it to you (allow up to 6 weeks for it to arrive) or let you download one to print yourself – which doesn't need to be on green paper.
• Travel and health insurance
If you have a European Health Insurance Card (EHIC), it will remain valid until its expiry date. Different rules apply for Switzerland, Norway, Iceland or Liechtenstein. For details visit gov.uk/guidance/uk-residents-visiting-the-eueea-and-switzerland-healthcare#visiting-norway-iceland-liechtenstein-and-switzerland
After this, you can apply for the new UK Global Health Insurance Card (GHIC), which like its predecessor will cover medical services relating to chronic or existing illnesses, maternity care and emergencies and will be valid in the EU. The GHIC is free and can be applied for here gov.uk/global-health-insurance-card.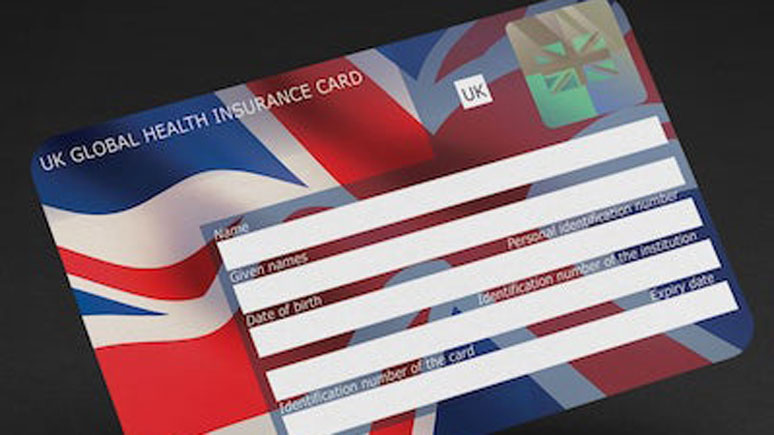 These health insurance cards do not replace good travel insurance. We recommend you take out adequate cover for your travel and health needs, including any pre-existing medical conditions your party may have or exclusions such as Covid-19 related issues.
Travel insurance is especially important because the reciprocal agreements of the EHIC and GHIC cards may not cover all potential expenses, which can range from ambulances or dental treatment to air ambulance fees or repatriation to the UK, in the event of illness or death.
It can also help with theft, cancellation and translation services and may protect you if your package holiday provider goes bust as long as the holiday was sold in the UK.
For more information visit gov.uk/guidance/foreign-travel-insurance
• Vehicle insurance
You will need a minimum of third-party insurance cover for the countries you visit, which will cover any damage you to do others. Contact your motor insurance provider before taking your vehicle abroad, to confirm what level of cover you will have and what documents you need. Also check your camping unit remains fully covered while abroad and if you leave it temporarily while it is on a pitch.
For more information on Club insurance, visit Club Care or contact them on 0800 124 4633.
• Camping Card International (CCI)
Issued by the FICC, the international umbrella organisation of major camping clubs throughout the world, the CCI (also known as Carnet) is a plastic identity card that confirms that the holder, as a Club member, is insured against third party claims arising from any accident at any campsite in the world, while engaged in the recognised activity of the Club. All members attending Club rallies abroad must have a CCI card. The cards cost £7.50 and can be obtained from the Club.
• General advice
Check that your vehicle and personal documentation is up-to-date before you travel, and ensure that all members of your party meet the border entry requirements for all countries on your itinerary. Always carry your driving licence, the original vehicle registration document (or Vehicle on Hire Certificate), certificate of insurance and your passport. Carrying photographic proof of identity at all times (your passport is best for this) is now compulsory in some countries as well as good practice.
• Pets
Pet passports are no longer valid for travel to the EU, so if you wish to take your pet you will need to get an Animal Health Certificate (AHC) from an official veterinarian. This document confirms that your pet is microchipped and vaccinated against rabies.
The AHC is valid for four months, for a single trip into the EU, onward travel within the EU and for entry back into Great Britain. Your pet will need a new AHC for each trip to an EU country or Northern Ireland.
*Please note that only certain approved routes are allowed for travel with pets so check with your travel operator. All rules also apply to guide dogs.
Extra tapeworm treatments are required for travel to Northern Ireland and the Republic of Ireland, Finland, Norway and Malta.
Check out gov.uk/taking-your-pet-abroad for more information and updates.
TOP TIP:
Take photocopies, photographs or scans of all your holiday documents, including passport, driving licence, EHIC, GHIC, CCI, insurance and vehicle paperwork, plus the generic names, or packaging, of any medicines you take. Keep all your documents safe – and keep the copies in a different place to the originals. It's a good idea to save photographs or scans of your documents in your phone, online in a cloud service or attached to an email.
At the port/border crossing
• Checklist
You will need to have all the following and may need to show some or all at border control:
Return or onward tickets
Proof of sufficient funds for your stay – such as a bank/credit card statement or cash (details of many EU countries requirements are available here from the European Commission)
Emission zone certificates, where required (see section on Low Emission Zones and Clean Air Zones below)
Display a country identifier sticker at the rear for all vehicles and trailers (See section vehicle cross border sticker below)
Proof of ownership documents
• Expect delays
Given that more paperwork will need to be checked than in the past, delays are likely. You are also likely to need to use separate lanes from EU, EEA and Swiss citizens when queueing. Take advice from your travel provider on how long you should allow for this.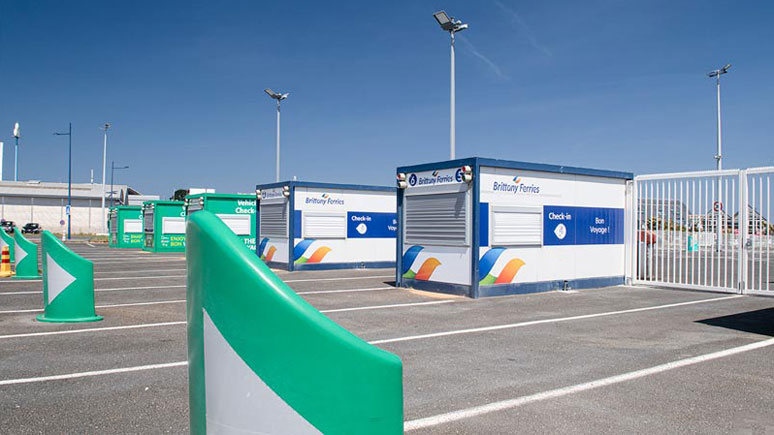 • Trailer Insurance
A UK car insurance policy will cover your trailer (third party only) alongside the towing vehicle. You must have informed your insurer of the towbar and display the same registration plate on your trailer as on the towing vehicle.
• Vehicle cross border sticker
The UK government has written to the United Nations (UN) to change the cross border vehicle identifier from GB to UK, this is set to take effect from 28 September 2021. From this date you will need to display a UK sticker and the GB sticker needs covering or removed.
In addition, a separate UK sticker must be displayed on the rear of your car and any towed trailers when travelling to Spain, Malta and Cyprus. This must be a white oval with a minimum size of 175mm x 115mm, black letters with a minimum height of 80mm and the font stroke must be at least 10mm.
If your number plate includes the UK identifier with the union flag you don't need a separate UK sticker unless its one of the in the countries listed above. For more details visit gov.uk/displaying-number-plates/flags-symbols-and-identifiers.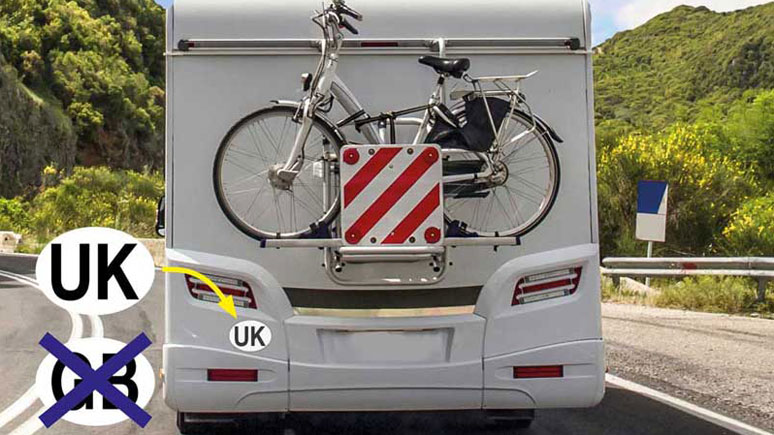 • Emission Zones
Most European countries have low emission zones. If you intend to pass through them you will need the correct label for your vehicle and abide by any local restrictions.
See section on Low Emissions Zone (LEZs) and Clean Air Zones (CAZs) below.
• Travel to the Republic of Ireland
There are certain exceptions to the above when travelling between the UK and Ireland. For example, you will not need a UK sticker and normal passport validity applies – make sure you check the requirements before travel.
• Taking food and drink to the EU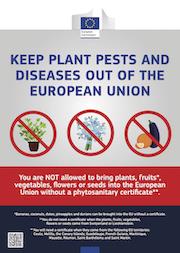 You are not allowed to take meat, milk, plant, fruit and vegetables or products containing them into EU countries. Certain fish products are allowed and so are bananas, coconuts, dates and pineapples. There are exceptions for certain amounts of powdered infant milk, infant food or pet food required for medical reasons. Check these rules on the European Commission website and here for plant and plant products.
• Carrying gas on Eurotunnel
Vehicles powered by LPG cannot use Eurotunnel, although those carrying standard portable LPG gas cylinders or having LPG tanks fitted for domestic use may do so, under certain conditions listed on their website.
For general information about the use of gas for camping check out our guide to gas here.
Travelling around Europe
• Compulsory equipment
Different countries have different rules about the equipment you must carry in your vehicle – as well as what's prohibited – so make sure to check in advance. If you are missing any piece of equipment required by law, you could be subject to an on-the-spot fine if stopped by the authorities. We therefore highly recommend that you carry the following items, whether compulsory or not:
Passport
Original vehicle registration document V5c or VE103b (for lease vehicle) or Vehicle on Hire Certificate
Driving licence and IDP
Vehicle insurance document and breakdown cover if applicable
A Green card may be needed for certain countries
Travel documents and EHIC, GHIC, AHC
Environmental badges (if needed)
Two warning triangles
UK sticker on vehicle and any trailer
First aid kit
Check vehicle handbook for advice on adjustment of headlights or need for headlamp beam deflectors
Reflective jacket or waistcoat for every occupant to EU standard EN471. These must be worn in Spain when exiting the car on public roads outside built-up areas.
Affix blind spot stickers for vehicles over 3500kg (see below)
• Blind spot stickers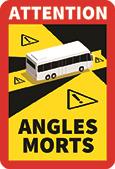 The French authorities have introduced a requirement to display new blind spot stickers known as Angles Morts from the start of 2021 for vehicles plated over 3500kg. This means a larger motorhome will need to display these stickers at defined positions as set out by the French authorities or face a 135 Euro fine. This law applies to residents, tourists and those passing through France.
It may also apply to larger fifth wheel units if the tow vehicle is over 3500kg.
More information can be found on the French Govenment website securite-routiere.gouv.fr/reglementation-liee-la-route/reglementation-de-la-visibilite
• Roadworthiness and road tax
Your road fund licence and MOT must always be up-to-date to legally drive abroad. The DVLA checks this every month, so if you do not renew within 30 days of its expiry, an automatic fine may apply. An MOT test due while you are away must be brought forward and carried out prior to departure from the UK. For further guidance and to check your road tax and MOT status, visit gov.uk/browse/driving/vehicle-tax-mot-insurance.
Caravans are not covered by MOT tests but you are still responsible for their roadworthiness, so the Club recommends they regularly serviced, and tyres replaced every five to seven years from the date of manufacture.
• Driving licences and car hire
As previously discussed, you are permitted to drive in the EU if you have a photocard driving licence issued in the UK, or an International Driving Permit (IDP).
If you are hiring a motorhome you should check what documentation you need to provide when collecting the vehicle.
You can request a unique code from gov.uk/view-driving-licence that allows you to share your driving licence details.
For more information, including what your licence entitles you to drive, check out our guide on driving licences.
• European Accident Statement (EAS)
Though not a legal requirement, this document is highly recommended, and can be obtained from your insurance company prior to taking your vehicle abroad. The document, which helps get an agreed statement of facts about an accident and can help with insurance claims, can also be downloaded from the website: http://cartraveldocs.com
• Low Emissions Zones (LEZs) and Clean Air Zones (CAZs)
Be aware that LEZs and CAZs are being introduced across Europe – mostly in large city centres, but also in places where pollution can build-up such as valleys. Depending on the zone type, you may have to pay a fee to drive, others may not permit polluting vehicles to be used.
You can check if your vehicle meets the UK requirements by entering its registration number on the government's official website, where you can also find more information including maps. Visit the govenment website and search for 'clean air zones'
For more information from the Club visit here.
• Towing cars behind motorhomes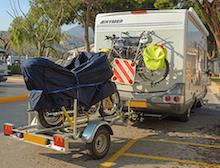 In the EU you are generally prohibited from towing a motor vehicle except in the case of a breakdown or an accident and if the distance to be travelled is short. The practice is banned on motorways, where you must seek the assistance of a recovery vehicle. However, it is legal to tow a car on a trailer where none of its wheels are on the road.
More information about using an A-frame to tow a car is available in our guide to towing with a motorhome as well as other towing information for motorhomes.
• Rear loads on vehicles or caravans
The basic rules that apply to carrying rear loads are:
Bicycles may be carried at the rear of a car, motorhome, camper van or caravan.
Loads should not protrude beyond the front of the vehicle or trail on the ground.
The carrying device and the load must not restrict the visibility of the lights, signals or number plate.
A reflective red and white striped hazard sign (typically 50cm x 50cm) should be attached to any cycles or other items carried at the rear of your vehicle or outfit.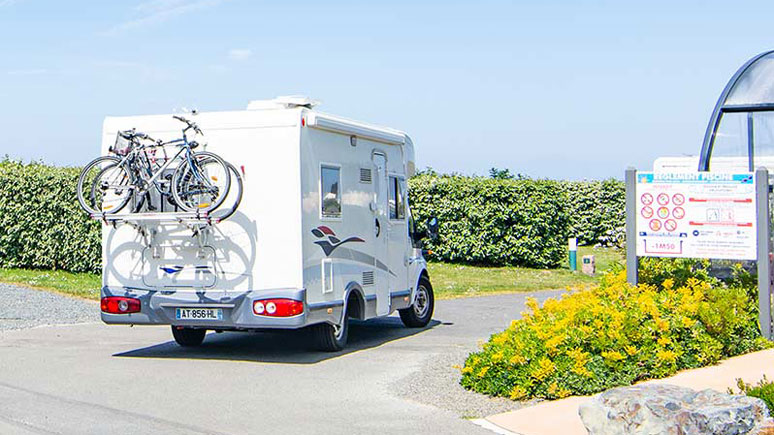 Please note that all external links are provided for convenience and therefore subject to change without notice. The Club is also not responsible for their content.
Contacts
Web:
The Camping and Caravanning Club
The Camping and Caravanning Club
Greenfields House,
Westwood Way
Coventry
CV4 8JH
Tel:024 7647 5442
Web:
Club Care Insurance
Tel:0800 124 4633
Web:
Government advice on driving in the EU
Tech team contact
If you're a member of the Club, you can contact our tech team to discuss your needs.