Need help with satellite navigation devices (satnav)?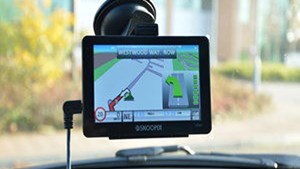 The Club's Technical Team is frequently asked about satellite navigation (satnav) systems that are suitable for use with larger motorhomes and cars towing caravans. Garmin, Snooper, Pronav and TomTom have all released relevant products so when you're looking for a caravan satnav or motorhome satnav these brands may be a good starting point.
1. Why large vehicle satnavs cost more
A frequently-asked question is why sat navs for larger vehicles (or those towing trailers) cost so much. The reason is they are loaded with considerably more data than standard products and the data-gathering companies charge for the use of their information, which is then passed on to the consumer. The TomTom and Snooper products also have large numbers of campsite locations preloaded as well as many other features such as a Bluetooth connection with your mobile phone to provide hands-free use on the move.
2. Using caravan sat-navs in your car
It's worth remembering these devices are generally able to be used in a car too. The device should prompt you every time it starts up do you want car or camper mode?
3. Adding the dimensions of your campervan
Caravan and motorhome sat navs are based on truck sat-nav devices and can be programmed with the length, weight, height and other pertinent information relating to your motorhome or car and caravan combination. Some are more refined than others, which is usually reflected in the price. The sat nav will plot a route on the main road network, only using minor roads where there's no other option. For an example a suitable motorhome sat nav could replot a route to avoid low bridges and certain weight and width restrictions.
4. Can you upgrade your existing satnav
Another common question is whether an existing satnav can be upgraded to a caravan satnav? So far only TomTom plans to make its caravan and motorhome-friendly software, called Camper and Caravan, available for other compatible hardware. However, this would only be available on the latest devices that have the spare capacity to process the data and could be similar in cost to the preloaded version, only worth considering if you already have a new Tom Tom high-end product.
5. Always have a back-up
Sat nav devices are a great addition to modern life, but they are only a useful real-time aid. In fact, they're one of many in your potential arsenal. Don't forget the humble road atlas – it needs to be up-to-date but it can be a useful back up, helping you pre-plan your route before departing and providing an easy reference document should you need to deviate from it. Don't forget online mapping systems can also be very useful and always have the latest mapping information. If you're going to a Club Site, you should always follow the directions given in the Club's publications (SiteSeeker).
6. What brand to choose
So which is the best satnav for caravans and motorhomes? For those who have used one particular satnav brand it's probably easier to buy another from the same company as you're familiar with its set of menus and commands. All those we have tried work well and get you from site to site without too many problems however a satnav can only operate at its best when it has up-to-date maps. This could be provided free with the latest high-end units from Garmin, Snooper, Pronav and TomTom, however not all provide free maps as standard on all their products so either select "free maps for life" devices or build the cost into your budget.
7. Keep your maps up to date
Don't forget to connect the device to a computer regularly to download the latest maps and software updates to get the most out of your navigation investment.
8. Make sure you plan a route in the correct settings
All satnavs have the means to adjust how they calculate the route. Tools such as shortest distance for example may override other settings including camper or caravan mode Satnav and in this instance there is a very high risk of an unsuitable route. Before you start planning, make sure the satnav is set to faster time and check the route before you head off. If a setting was wrong, delete the route and start again to be sure.
If you need locations for Club sites, Certificated Sites, Camping in the Forest, European Travel Services or Listed sites for your Sat Nav device – All the Points of interest (POI) are in here and exclusive to members