Towbars and Towing Electrics
If you are considering towing a caravan folding camper, trailer tent or any other trailer, you need to know about towbars and the associated towbar electrics. For simplicity the term "caravan" is used throughout but refers to all trailer units unless otherwise stated.
Benefit from free tow-matching when you join the Club.
Prior to 1998 there were no regulations for the safe design and fitting of towbars and anyone could put together a few pieces of angle iron for fitting a towbar. On the 1 August 1998 (20 April 1999 in Northern Ireland) safety regulations were introduced which stated all new cars registered from that date must only be fitted with type approved towbars produced in accordance with European directive EC 94/20.
The directive requires a sample of each type of towbar to undergo a process involves a two million cycle fatigue test, which typically lasts 60 hours. The towbar is then independently inspected by the vehicle certification agency in the country of manufacture. On successful inspection the towbar is issued with a unique type approval number and can then be sold as an approved unit.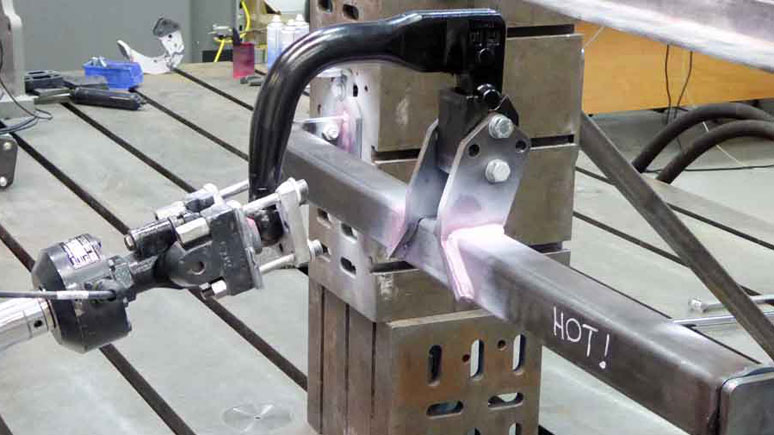 On 29 October 2012 the Directive was extended to include light commercial vehicles not exceeding 3,500kg Gross Vehicle Weight (GVW) and all motorhomes based on commercial vehicle chassis cabs, regardless of their GVW. The 94/20 Directive also stipulates the towbar must attach to the vehicle using dedicated mounting points provided by the manufacturer. A further requirement is that the towball must be in a specified position in relation to those mounting points and not the height from the ground. It is up to the vehicle maker to ensure the towball positioning meets the regulatory requirements. The regulation state towball and hitch height in a fully laden vehicle ie at GVW and these are covered in this Data Sheets glossary.
The 94/20 Directive has since been replaced by ECE (United Nations Economic Commission for Europe) Regulation 55. This has all the requirements of EC 94/20 but imposes some extra conditions, the most important being a test on the secondary coupling. This is the attachment point for a breakaway cable on braked trailers. However towbars conforming to EC 94/20 are still approved and suitable for sale, fitment and use.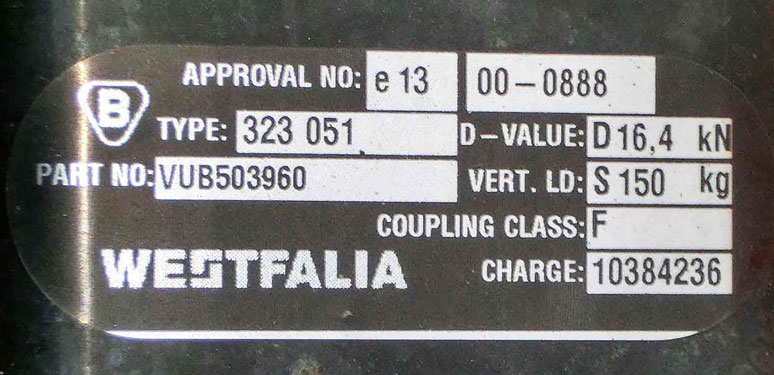 EC Approval does not just apply to towbars, it also applies to towing electrics. These are required to conform to EC Directive 2009/19 (electromagnetic compatibility). Please note - this relates to radio interference and not to the operational compatibility with any given caravan.
Identifying the towing capacity
All modern vehicles are fitted with a Vehicle Identification Number (VIN) or chassis plate. This may be found under the bonnet or perhaps low down on a door pillar. The top figure is the Maximum Authorised Mass (MAM) of the vehicle, in other words the maximum weight it legally be loaded to. The figure may also be referred to as the Gross Vehicle Weight (GVW).
The next figure is the Gross Train Weight (GTW). This is the maximum permitted combined weight of the loaded vehicle and loaded trailer. Another way to look at it is that the figure is the sum of the actual axle loadings on each axle. and must not be exceeded. The last two figures are the maximum permitted loadings of the front and rear axles.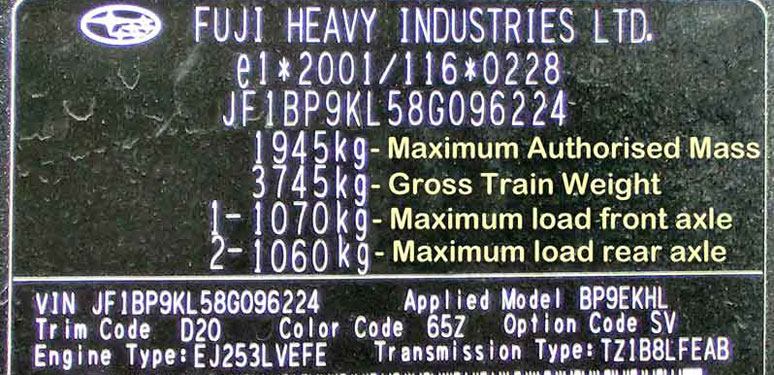 The difference between the GTW and the MAM is the towing limit of the vehicle at its gross vehicle weight. In the example the towing capacity of this Subaru is 3,754kg - 1,945kg = 1,800kg.

According to European regulations, a car's towing limit is the maximum weight at which:
"The motor vehicle towing a trailer must be able to start the vehicle combination – laden to its maximum mass – five times on an uphill gradient of at least 12 per cent within five minutes."
Therefore, as some A class roads in the UK and many roads in mainland Europe have gradients steeper than 12 per cent (approximately 1 in 8) it's best to avoid towing up to the manufacturer's towing limit.
When considering what you may be able to tow the Club always suggest for safety you stick to the 85 per cent recommendation whereby the Maximum Technically Permissible Laden Mass (MTPLM) of the caravan should not exceed 85 per cent of the kerbweight of the towing vehicle. This figure can be increased to 100 per cent for those experienced at towing but should not be taken beyond this limit. The kerbweight figure does not appear on the vehicle's VIN plate but should be given in the car's handbook. It may or may not be the same as the 'Mass in service' figure now being shown on the DVLA form V5. This depends on whether the weight of the driver (75kg) has been included - see glossary.
Legally, the MAM of your car plus the MTPLM of your caravan, must not exceed the GTW of the car.
Can the vehicle tow?
It's very important to know that some vehicles are not designed for towing and that towing with one would be illegal. In the Club's experience these often include sports editions which may be lowered or have a body kit, 'eco' models and more recently hybrid and electric vehicles. Some must have the towbar preparation installed and the Club does not believe this can be installed after leaving the factory either for stock new vehicles or preowned so these vehicles will never be able to tow legally. A vehicle without a towing limit may look identical to a vehicle model capable of towing, with the only difference being indicated on the VIN plate.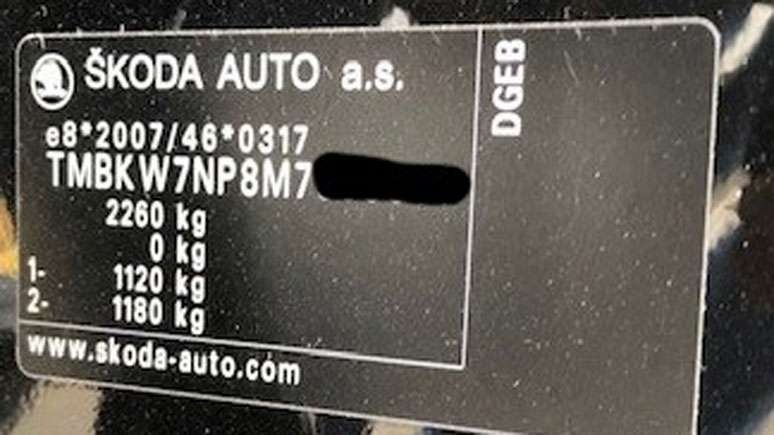 Examples of such vehicles include the Ford Ka, Jaguar F type, some Audi TT, Audi S3 and some Skoda. On these vehicles the Maximum Train Weight figure will be zeros or dashes. So before purchase do check the VIN plate of the actual vehicle you intend to purchase for towing capability along with other checks the Club recommend for safe and stable towing as given in our Matching car and caravan Data Sheet. this may mean writing to the head office of the particular company for confirmation.
Some vehicles may have an identical figure for the GTW and MAM, in this case if the vehicle loading is limitied below the maximum allowable figure (MAM) it may be possible to tow that difference between actual weight and MAM/GTW. In most cases this will only permit towing the lightest of trailers. For this to work the user needs to be fully aware what their vehicle and trailer combination actually weighs. You can do this by taking it to a public weighbridge.
Another important figure to bear in mind is the noseweight limit of the towing vehicle. This is the maximum static down force that can be applied to the towball on any fitted towbar.
Noseweight is important for stable towing and the generally accepted figure is that the minimum noseweight of a trailer (or caravan) should be in the range of 5 per cent to 7 per cent of its MTPLM. For a caravan with an MTPLM of 1,500kg this works out at 75kg to 105kg.
Dealer fit versus towbar specialist
While it's perfectly possible and legal to fit a towbar yourself, it's not something to be undertaken lightly. Apart from ensuring the right bolts go in the right holes to the correct torque there is the whole question of towbar electrics to consider, and you may have to remove the rear bumper, crash beam, boot floor, rear lights and so on.

For these reasons we would recommend getting the work done professionally. If the vehicle is new it may make sense to have the factory fitted unit installed or ask the supplying dealer to fit the towbar for you. That way there are unlikely to be any warranty issues if something later goes wrong. Another point to bear in mind here is that some vehicles may need some factory preparation and may require additional cooling equipment if they are to be used for towing. A main dealer is best placed to know this information.
Notwithstanding the above there are many excellent towbar fitting companies, some of whom will come to you to do the work. Indeed main dealers may contract out towbar fitting to such companies. To help you choose one the National Trailer & Towing Association (NTTA) maintains a database of Quality Secured Accredited (QSA) towbar fitting companies.
These companies are monitored and assessed annually by the NTTA to ensure compliance with industry standards, workshop best practice, customer service and professional workmanship. The NTTA's website has a useful towbar quote tool facility that will pull up those QSA installers nearest to a given postcode.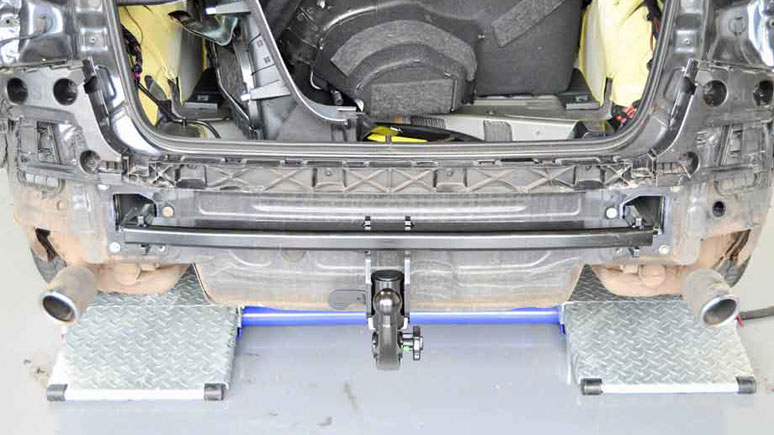 Types of towbar
Towbars come in two main types - those with a fixed towball and those with a detachable one. Both can come with swan neck or flange type towballs. If you're concerned about the look of the rear of your car you may wish to consider a towbar with a detachable towball. It may even be possible to specify a towbar where the towball can be retracted out of sight when not in use.
Fixed towballs are bolted to the towbar. In the UK the most popular is the flange type, which mounts using two (or sometimes four) bolts. These can be useful if you to want to add items such as a bike rack, bumper shield or blade stabiliser bracket.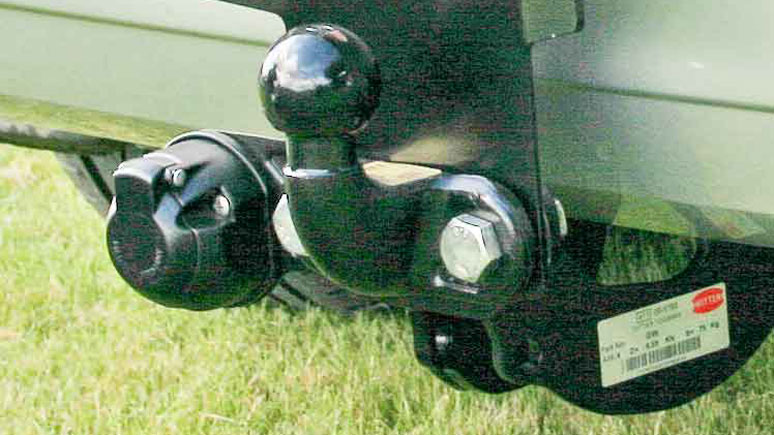 Most detachable towballs tend to be of the swan neck variety although you can get detachable mounting flanges for flange type towballs. Detachable towballs employ a lockable quick release mechanism that allows the towball to be easily detached and reattached without using any tools. The mounting is usually vertical, ie push up to lock but, if space is restricted, a horizontal system may be used. Vertical locking types leave little to be seen once the towball has been released.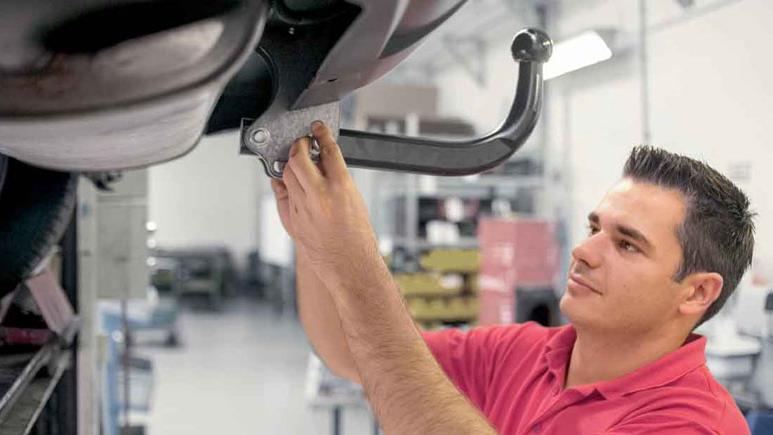 Swan neck towbars can look quite neat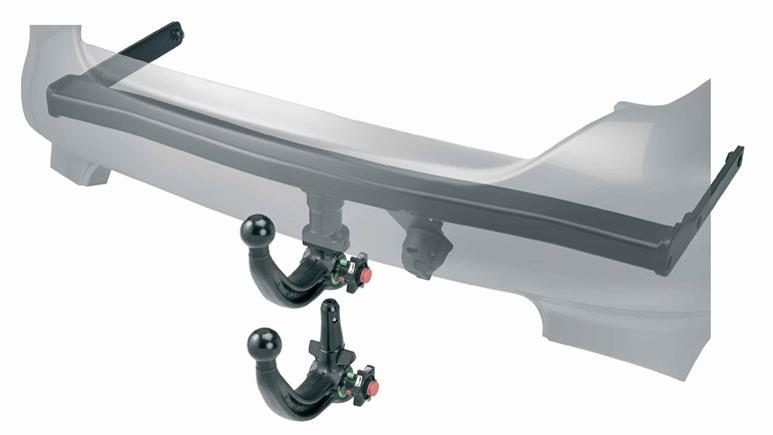 Westfalia's vertical detachable towball and towbar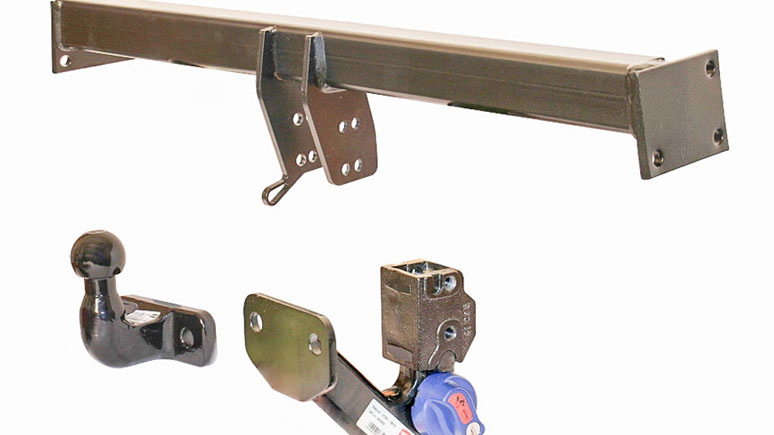 Witter's detachable flange towbar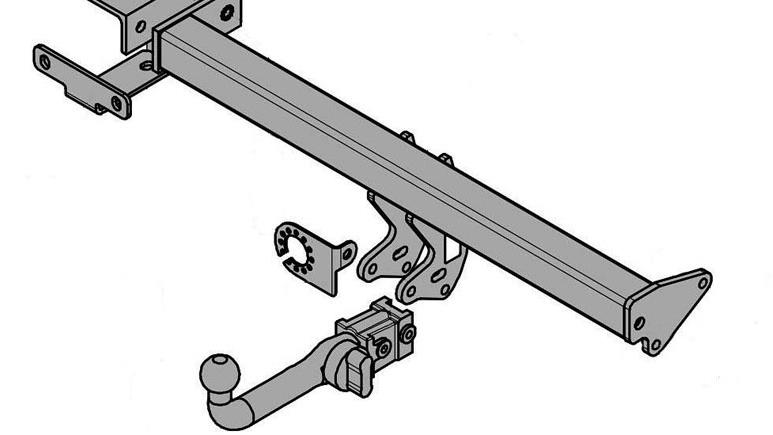 Witter's horizontal detachable system
Retracable towbars are a common factory fit option, they allow the towball to be hidden away when not in use like a detachable but with the added advantage of always remaining attached to the vehicle.
These are permanent fit towbar systems that can extend and retract the towball from behind the rear bumper. These may be manually locked and unlocked, or electrical/y actuated or a combination of the two and are now available from aftermarket tow bar providers such as Witter. Its also common for retractables to have an easily accessable 13 pin electrical plug as shown below.
The disadvanatges are more expensive and complicated compared to the traditional selection but if your looking for a no fuss towbar that doesn't spoil the car lines when not in use, retractable maybe be for you.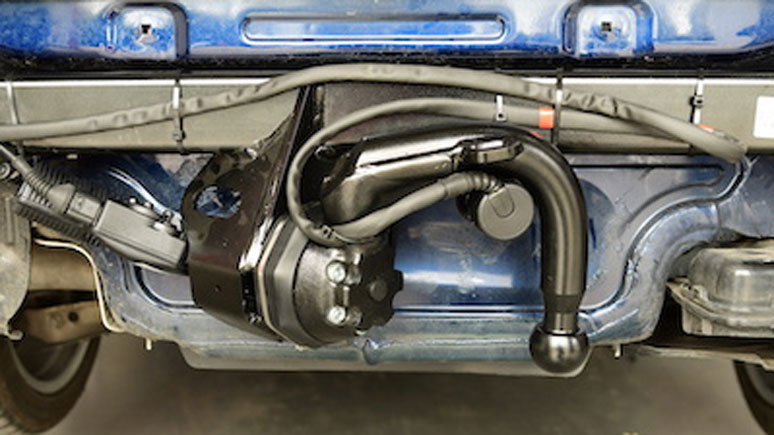 A retractable towbar in its stowed position (rear bumper removed)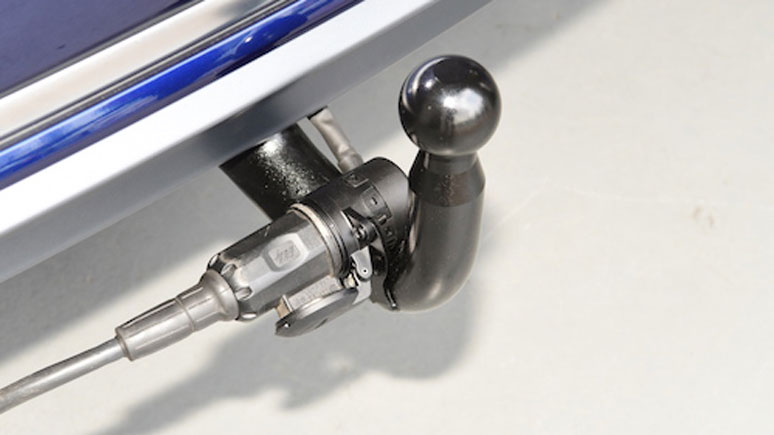 An extended retractable towbar with 13 pin tow electrics plug mounted across the neck to aid access
Towbar electrics
The computerised systems on modern cars make the towbar's electrics every bit as important as the towbar itself. It's not just the caravan's road lights that have to be powered but, also the fridge and leisure battery too. There are two principal ways of adding trailer electrics to modern cars. The first is the bypass kit, sometimes known as a 'universal' kit. These will fit most cars.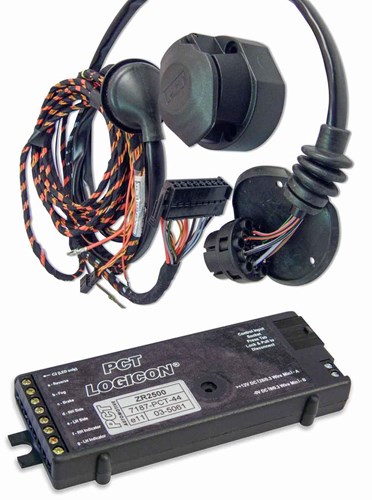 PCT's universal wiring kit
Bypass kits work by taking a low current from each of the car's rear light circuits and using it to switch relays connected to the car's 12 volt supply. The relays then switch the caravan's road lights so they operate at the same time as those on the car.
The current drawn by the relays is normally low enough not to affect the car's electronics. The downside of this arrangement is that the car's computers have no idea that a trailer is attached and cannot therefore adjust to compensate.
If there is no dedicated connector for towbar wiring we would recommend that all connections are soldered and then covered with heat shrink sleeving.
Another issue often associated with bypass kits is poor contacts caused by using insulation piercing connectors known as Insulation Displacement Terminals (IDTs) to hook up to the vehicle's wiring system. These are quick and easy to fit but can be unreliable in the longer term if poor quality ones are used. The installer should secure them to the loom to reduce any cable strain and they should only be used internally. High risk areas such as the engine bay should be made with crimp terminals and external connections should either be solder or crimp terminals with heat shrink protection. However at least one manufacturer does not allow soldering on its vehicles but does recommend good quality crimps and IDTs.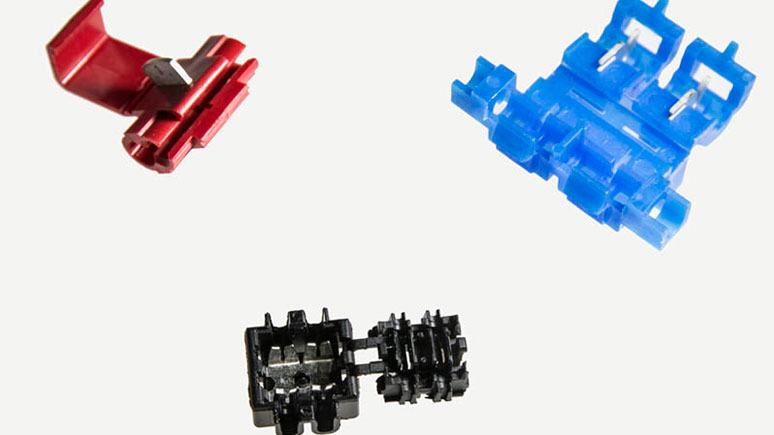 Insulation Displacement Terminals - if they have to be used select the type that are good quality, secure and pierce the cable in at least two places such as the black one above
In all circumstances if the car's Control Area Network (CAN) is connected in to it is strongly recommend they are not soldered. These are signal wires and they can be affected by the heat of soldering that alters the resistance of the cable and potentially give false readings back to the vehicle computer. Thus specialist connections should be provided in these situations.
The second way of providing towbar electrics is by means of a vehicle-specific kit. The benefits of these are that the tow car knows when a trailer is attached and the vehicle's responses are modified accordingly. Many modern vehicles have Dynamic Stability programmes that react to whatever situation the vehicle is operating in, whether a trailer is connected or not. The settings for ABS, vehicle and trailer stability programmes, ride height and transmission, may all need to change. Vehicle-specific kits plug into the vehicle's wiring harness to provide seven or 13 pin sockets as required. Once fitted, the car's ECU is programmed to work with the new equipment.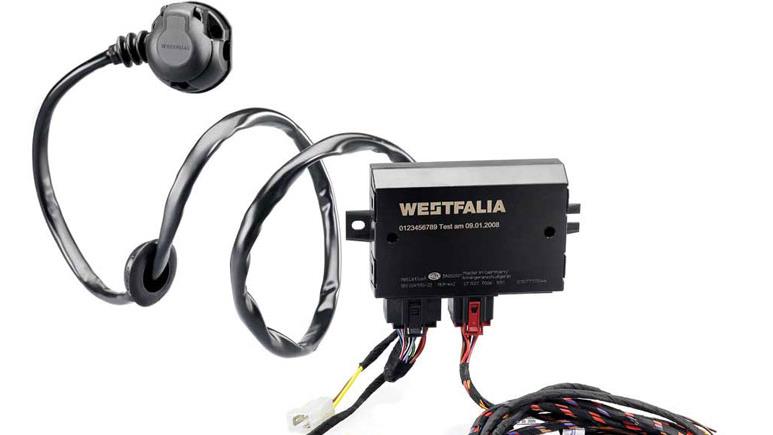 A vehicle specific kit from Westfalia
There are two sorts of vehicle specific kits - Original Equipment (OE) and aftermarket. The first is designed by, or in close collaboration with, the vehicle manufacturer and the installation will be covered by the car's warranty. The downside is cost and the fact that some kits do not conform to the full UK specifications. For example it's not uncommon for pins such as those supplying the fridge and charging circuits to be left unwired (see Known Issues).
Even some OE kits that are fitted after the vehicle production may not alter or adjust the management system for complete towing integration as certain parts were not included at the factory build so it's worth asking what systems the dedicated kit will effect on your vehicle.
Aftermarket kits are cheaper although availability may be a problem for new models of car. If towing is of prime importance it's wise to check the availability of a suitable wiring kit first.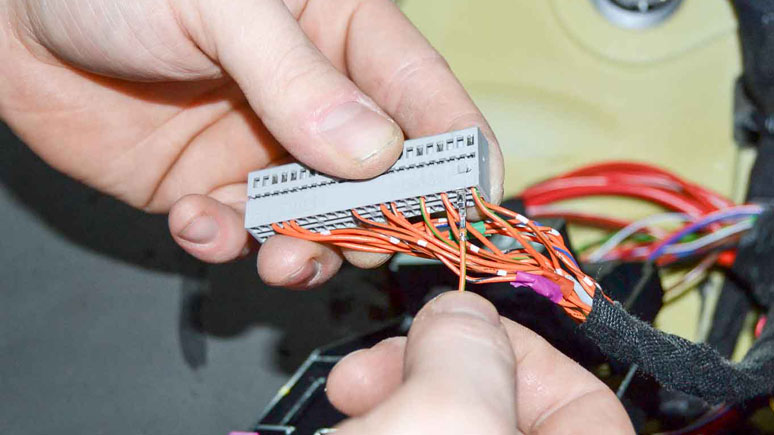 Connections being made into the car's computer wiring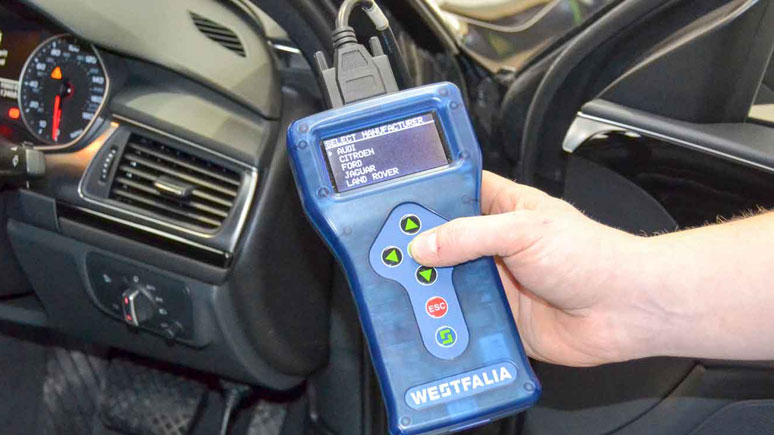 Westfalia's Autocode service tool is being used to update the Audi onboard system that a towbar and vehicle specific electrics have been fitted
Indicator light tell-tales
All vehicles equipped with towbars are required to have some form of monitoring system for the trailer direction indicators, to confirm they are working correctly.
The system may be visual or auditory or both. There has to be a marked change in the event of a bulb failure. With an auditory system this may be a different frequency or no sound at all. A visual system may remain alight without flashing or perhaps show a double speed flash.
Vehicle regulations do not specify whether the tell-tail should indicate function or failure and a manufacturer can opt to integrate the tell-tail of the trailer with the towing vehicle's light control system.
Twin electrics or 13 pin?
Early UK caravans had just one plug with a corresponding socket at the rear of the tow car. These were black and had seven pins to power the caravan's road and interior lights.
In the mid to late 1970s, as fridges, leisure batteries and 12 volt equipment became more popular, the need arose for a second plug and socket. Another factor was the lack of any spare pins in the existing plug and the legal requirement, from 1 October 1979, for trailers to be fitted with a rear fog light.
Caravans manufactured from this date were fitted with a grey plug and lead in addition to the black one. The new plug also had seven pins but to avoid cross-plugging the pins were arranged differently. At this time the black plug became known as the '12N' (12 volt, normal) and the grey as the '12S' (12 volt, supplementary).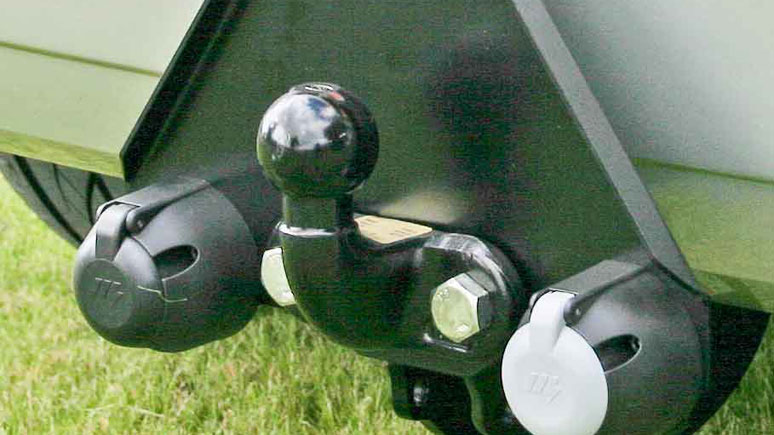 Twin electric sockets
The caravan's interior lights were now powered from the 12S plug to allow the fog light to be powered from the 12N plug. The advantage of this is that caravans can legally be towed by just using the 12N plug. One bonus of the new 12S plug is that it allowed caravans to be fitted with a reversing light for the first time.
In September 1999 changes were made to the 12S wiring to provide a better supply to fridges, which were becoming ever larger and requiring more power. This change can cause compatibility problems (easily resolvable) if your car and caravan are from different sides of this date.
A major change occured in September 2008 when UK built caravans adopted the single 13 pin plug that had been standard on the Continent for some years. The 13 pin plug and socket is generally engineered to a higher standard than the old twin plug system and is less likely to be affected by pin burn out or water ingress.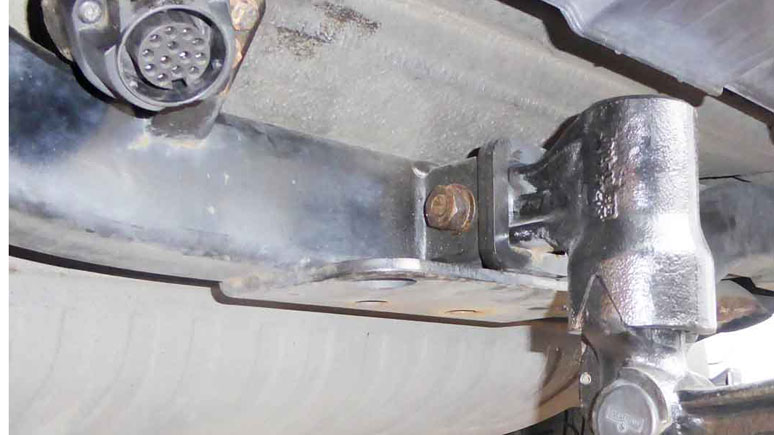 A 13 pin socket on a Westfalia towbar with detachable towball
Adaptors are readily available that will convert to and from the 12N, 12S arrangement. However, if you're getting a towbar fitted it will usually make sense to go have a 13 pin socket. fitted as even small trailers and towbar mounted bike racks now tend to be fitted with a 13 pin plug. If installing a towbar to be used for just a camping trailer or bike rack having a 13 pin socket does not mean you need to have it fully wired for the supplementary functions needed by caravans.
12N, 12S and 13 pin tow electrics wiring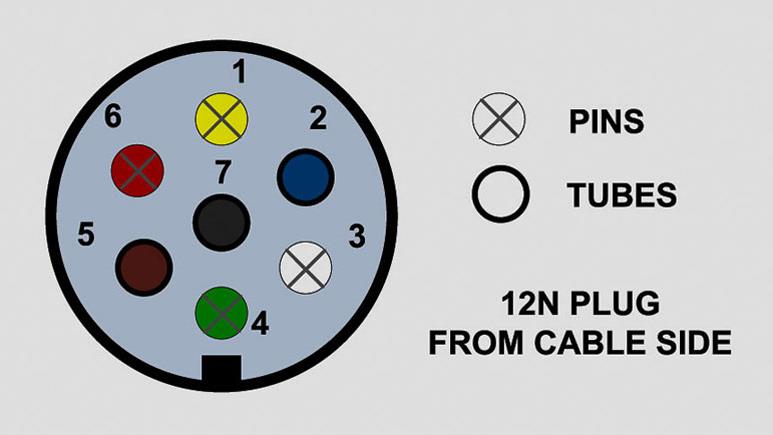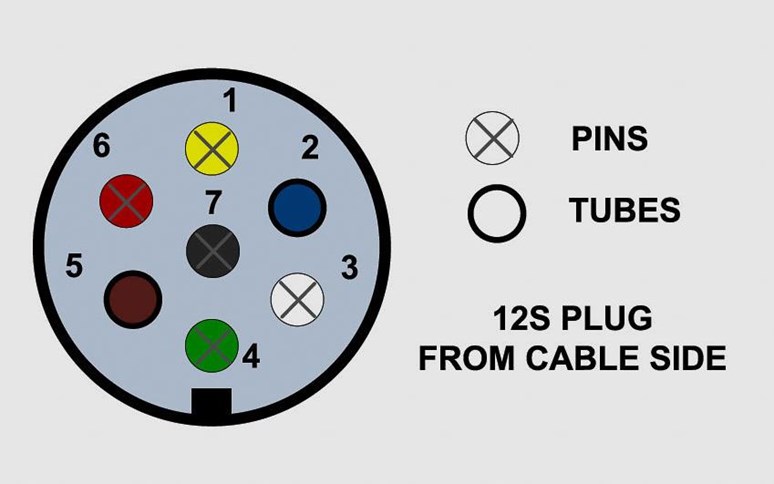 12 S plug viewed from cable side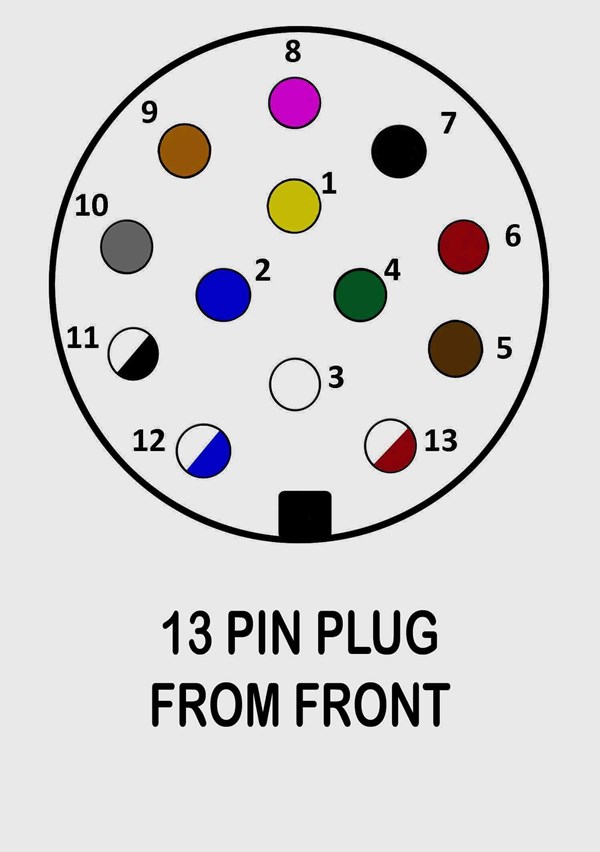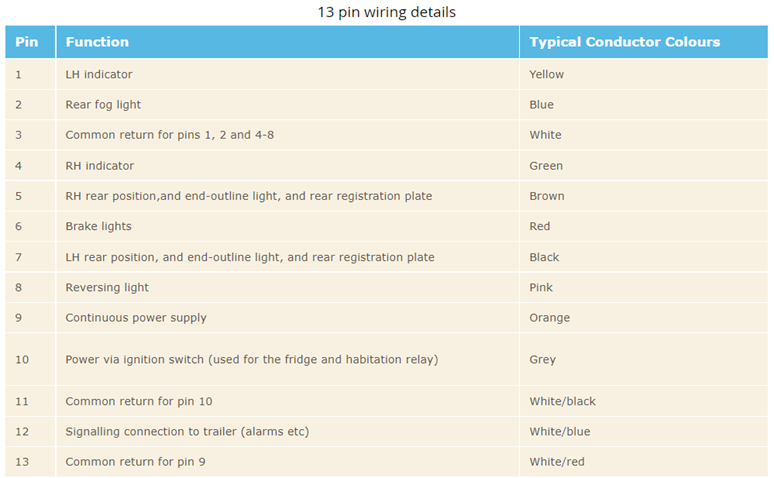 Known issues with vehicle towing systems
No towbar preparation
Some vehicles require tow preparation at the factory before they can legally tow so we strongly recommend you check the vehicle VIN plate to confirm it is showing this towing capacity. This is covered earlier in Can the vehicle tow?
Missing connections
Some 12S and 13 pin socket kits fitted at the car factory or by main dealers are not fully wired and may have connections, or even pins, missing for the fridge and charging circuits. Cars made in mainland Europe seem prone to this problem. When you initially order your new car with a fitted towbar make it clear that you'll be towing a UK specification caravan and you will need a fully wired connection. This includes connections to power the fridge and charging circuits whilst towing.
12S plug - fridge overheating centre pin
In 1999 the wiring of the 12S plug was changed and the previously unused centre pin (pin 7) became the earth return for the fridge. This means that if you have a car with wiring before this date and a caravan from, or after this date, the fridge will not work while towing. The answer is to earth pin 7 on the tow car.
The problem is that pin 7 is set forward a little to help locate the plug on insertion. In practice this means the leaves of the pin eventually get squashed together as the plug is wiggled from side to side during insertion and removal. When it carried no current this didn't matter but with 8 to 16 amps depending on the size of fridge the resulting poor connection can cause overheating and even wiring burn out.
One way around this is to connect the centre pin (pin 7) to an unused pin and to do the same in the socket. The current is then shared between the two pins and it doesn't matter if the centre pin is a poor contact since the other pin will take much of the load.
Pins 2 and 5 are normally unused although pin 5 is sometimes used by caravan alarm systems. If you decide to pair pin 2 with pin 7 it's important not to plug the caravan into a car with pre-1999 wiring as pin 2 was used to charge the battery and will be live, resulting in blown fuses.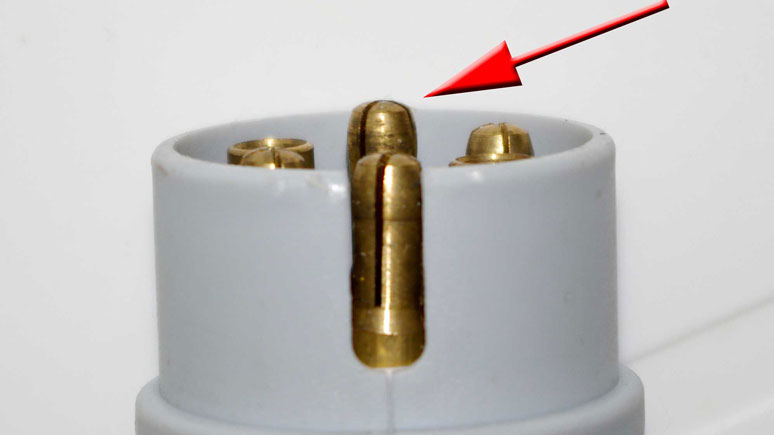 The centre pin of the 12S plug is set forward and is prone to being squashed over time
Difficulties inserting 13 pin plugs
A 13 pin plug has a positive locking ring that needs to be rotated to retain the plug. The problem is that, if it's not in the right position, you will be unable to insert the plug in the first place.
The answer is to rotate the locking ring fully anti-clockwise (as viewed with the cable pointing towards you) and then insert the plug without rotating the ring. Ensure the plug is well aligned before insertion, it shouldn't be forced. Holding the plug by the cable can help here.
Alternatively a couple of dabs of white paint can be used to show when the locking ring is correctly aligned for insertion - see photos.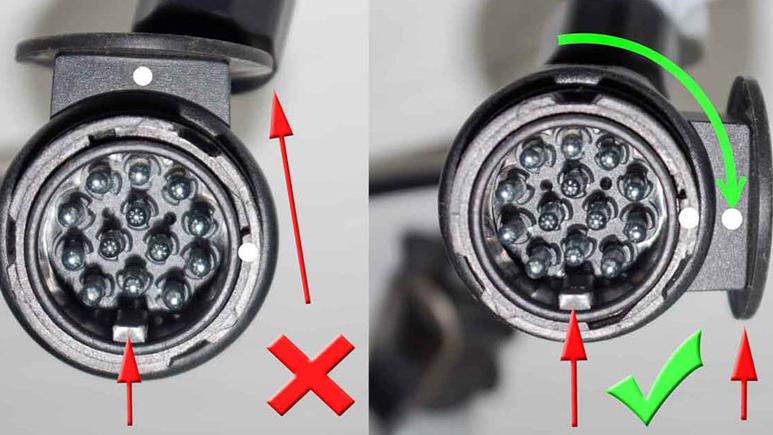 If the locking ring is not lined up as here on the left the plug will not go into the socket
Another method is to line the locking ring up using a parking cap. These are used to hold the plug when not in use and can be purchased separately from caravan accessory shops.
Never use force as the pins within the plug can be pushed back such that they make poor or no contact when the plug is inserted.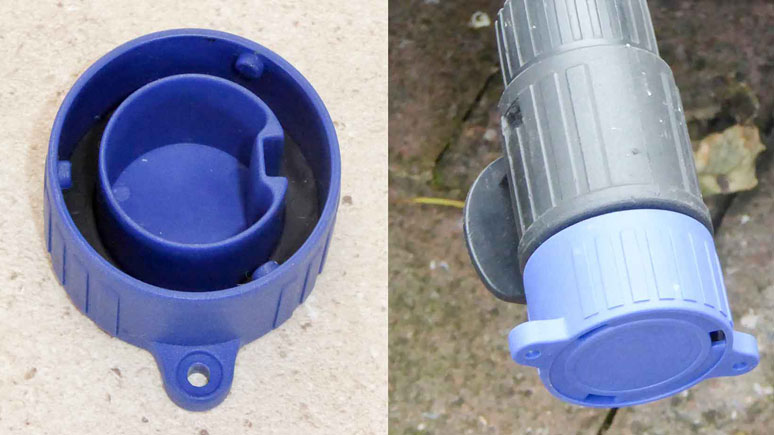 Parking caps like this one can be used to help line up the 13 pin plug before insertion
AL-KO hitch head stabilisers
The coupling head on AL-KO's hitch head stabilisers is quite large. To allow it to rotate freely it is important to fit a towball with sufficient clearance between the centre of the ball and the base of the neck, and from the centre of the tow ball to the nearest obstruction on the towing vehicle e.g. bumper, to ensure correct operation.
Most swan neck towballs tend not to be a problem as there is usually plenty of room around them but flange mounting types can be. The answer is to use an extended neck towball specifically designed for AL-KO stabilisers. With these the ball sits higher and further away from the mounting flange than with a standard type.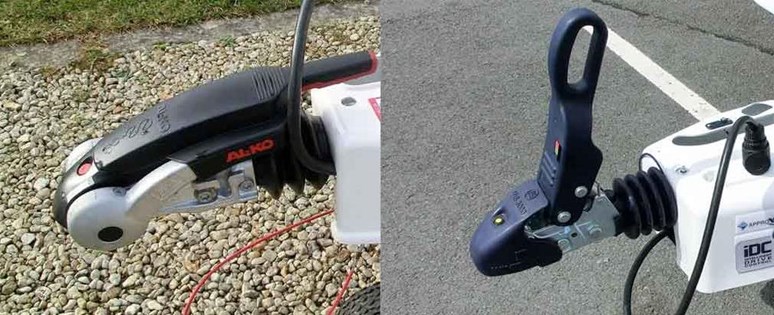 The AL-KO stabiliser (left) requires extra clearance around the towball; the Winterhoff (right) does not
The Winterhoff hitch head stabiliser has no such clearance issues and can be used with a standard flange mounting towball. Equally, non-stabilised hitch heads can safely be used with AL-KO type extended neck towballs.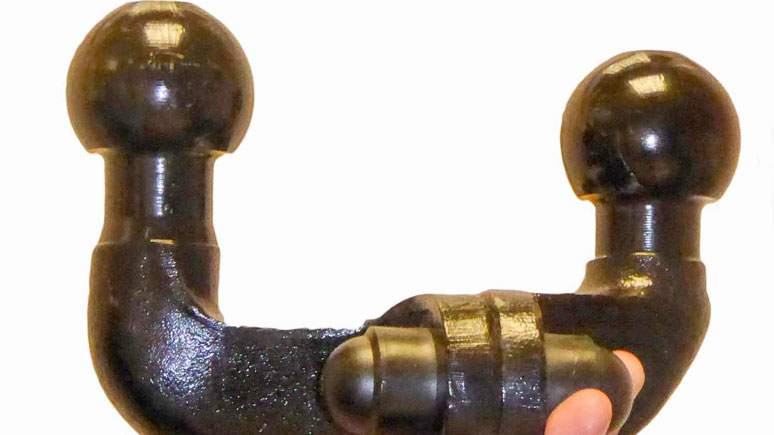 AL-KO's extended neck towball (left) alongside a standard one
Caravans with LED rear lights
LED powered lights use only about one tenth of the power of standard filament lamps. One effect of this can be that the circuit testing pulses sent out by some cars can cause a caravan's LED lights to constantly flicker. In other situations they may not work properly, or even at all.
The issue is that, until you plug the caravan into the car, you've no way of knowing what will happen. Generally speaking cars that have LED rear lights don't have problems but there's no guarantee. Your towbar fitter may have more information.
If you have this problem, consult your caravan dealership. They may be able to help you source a modification kit from the caravan manufacturer or the wiring loom supplier. These can be car specific so make sure you have exact details to hand.
Ironically cars with bypass electrical systems are unlikely to have problems as the caravan's lights are not monitored by the car's computers. The relays simply act as switches and it matters little what type of bulb is on the other end. However these will not intregrate into the car lamp warning system.

LED road lights can have compatibility problems with some tow cars
'Smart' alternator technology
To comply with increasingly stringent emission regulations vehicle manufacturers have employed increasingly clever technologies. One that is now becoming standard on new vehicles is the 'smart' alternator.
Instead of the output being determined by a simple voltage regulator, the smart alternator is controlled by the car's ECU (Electronic Control Unit) in a way that balances electrical load with engine efficiency. When the car battery does not need charging the alternator may be shut down to reduce engine load. Depending on the wiring and type of the relay in the tow car the output to the caravan's fridge and charging circuits may also be shut down. A temporary solution is to switch on dipped headlights to force the alternator to produce power.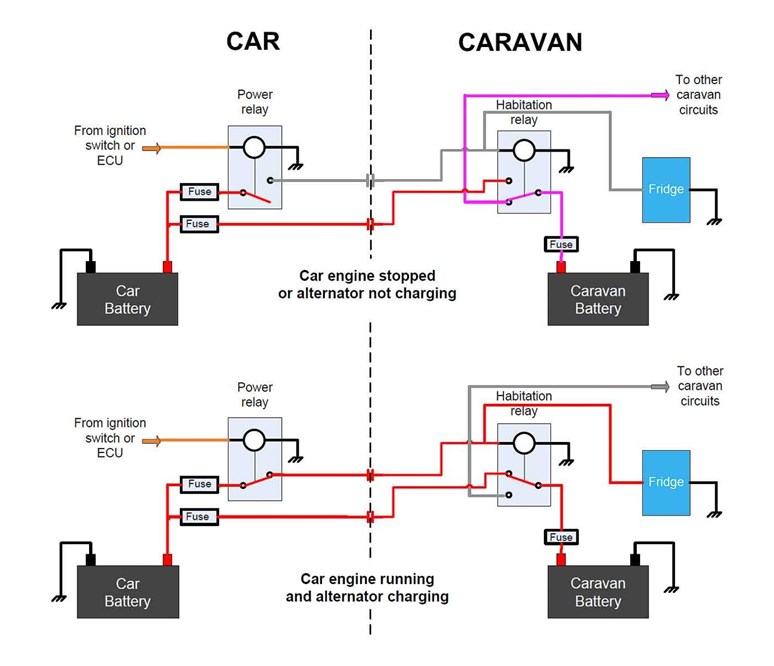 This shows how a power relay can be energised tp provide power to the caravan circuits
A longer term solution shown above is to ensure the relay operates via an auxiliary contact on the ignition switch although this does mean the caravan battery becomes connected to the car battery when starting the car. It also means the caravan's fridge can drain both batteries if the ignition is left on without the engine running. However, in practice and with a little care, these issues are not normally a problem.

Software updates
When a vehicle specific-wiring kit is fitted the car's engine management software is reprogrammed accordingly. Should the vehicle subsequently undergo a software update, which is very likely during a routine service, it is possible for this additional programming to be wiped out. Apart from performance issues this can mean annoying things like the rear parking sensors continuing to operate when the caravan is connected. The answer is to ensure your dealer is aware that a vehicle specific-wiring kit has been installed before carrying out any updates. Its worth noting towbar fitters are aware of this issue and should be able to reprogramme the vehicle to activate the functions.
Other towbar considerations
Fitting a towbar is classified as a modification by insurance companies, therefore it is important that you notify your insurance provider about this change. If you do not do so it may invalidate your policy in the event of an insurance claim.

Towbars for motorhomes
Most motorhomes can be fitted with a towbar but rear overhang and limited spare power may restrict what can be towed. Motorhomes may be built entirely on the unmodified chassis of the base vehicle, or on such a chassis with custom made extensions or on a vehicle where the original chassis has been completely replaced by a third party product, such as the AL-KO AMC chassis.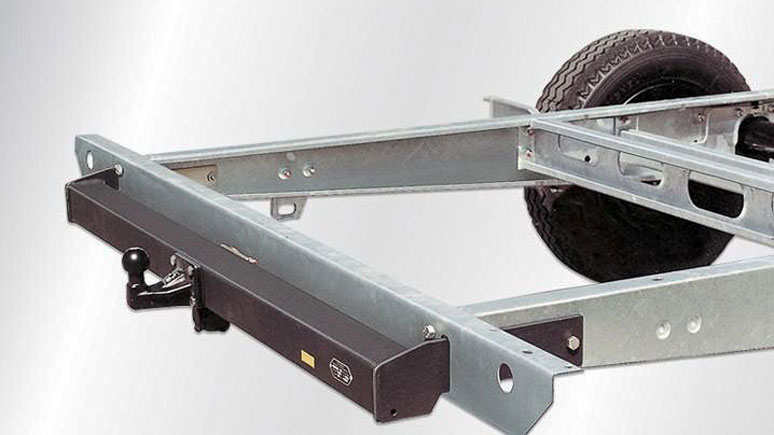 An AL-KO towbar and chassis
Motorhomes are likely to have two or more weight plates, usually one provided by the base vehicle manufacturer and one provided by the motorhome manufacturer. So, for example Fiat will provide the base vehicle and Swift will add a second on completion of the habitation bodywork. Where the rear chassis of the base vehicle manufacturer has been replaced by an AL-KO chassis, AL-KO will provide another plate. Always check the towing limits with the plate provided by the motorhome manufacturer, unless a previous owner has had the vehicle upgraded and replated.

As mentioned in the introduction, all motorhomes first registered from 29 October 2012 fall under the scope of EC Directive 94/20 and more recently under ECE Regulation 55. This means that such vehicles must have a type approved towbar installed; custom made towbars are no longer suitable and will cause an MOT failure.
Towbar manufacturers have risen to the challenge such that a wide range of towbars is now available for these newer vehicles. However, earlier motorhomes may still have the option of a pre-approval ready-made towbar from the likes of AL-KO and its subsidiary Sawiko which manufactures towbars for vehicles with and without frame extensions, and of course for those with the AMC chassis.
Where no proprietary towbar is available a custom made one can be still be fitted to motorhomes registered prior to 29 October 2012 but the Club strongly recommends the design and engineering elements are carried out by a company that specialises in such work.

For more information on this topic see the Club's Data Sheet #25 - Towing with a motorhome.
Drop plates
Drop plates must not be used on EC approved towbars unless the towbar has been submitted and tested for EC Type Approval using a drop plate as it adds much more load to the towbar mountings and may damage the towbar and the tow car. Some 4x4 towbars are tested in this way. The manufacturer will know if this is the case. Under no circumstances should a drop plate ever be used to raise the height of a towball.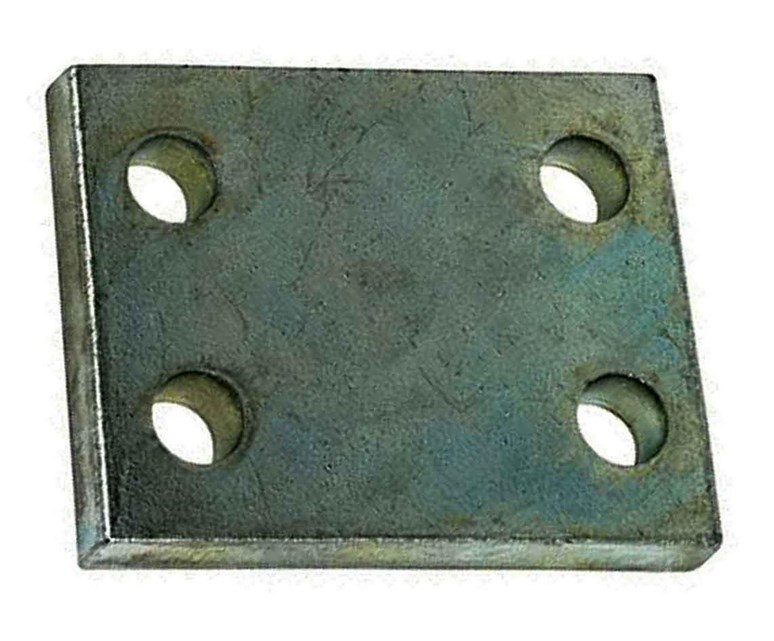 Legislation has seen off the use of drop plates in many circumstances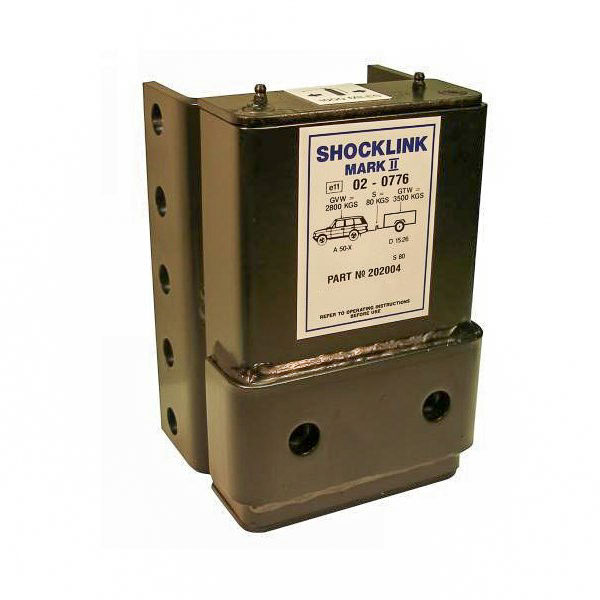 The Dixon Bate Shocklink Mark II
Shock absorbing couplings
Many years ago towbar manufacturer Dixon Bate produced the Shocklink coupling. It uses coil springs with rubber inserts to absorb any shocks transmitted through the towbar to the trailer. The coupling is primarily designed for use on 4x4s and other large vehicles fitted with leaf spring rear suspensions.
The Shocklink was only available for vehicles fitted with a Dixon-Bate adjustable height towbar. It can't be used with other type approved towbars unless the towbar has been granted type approval with the Shocklink in place. If you can still find one it can be fitted to carsregistered before 1 August 1998 and motorhomes registered before 29 October 2012.
Related Club guides and other useful publications
Tech team contact
If you're a member of the Club, you can contact our tech team to discuss your needs.