The Tow Car Awards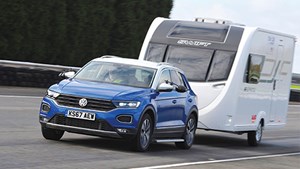 Every year since its launch in 2007 the Club has produced the Tow Car Awards to reveal the best new tow cars on the road.
In 2023, another 30 new cars, including more electric vehicles than ever before, were put through their paces in this the 17th Tow Car Awards, in partnership with What Car?
Club members can read the results in our July 2023 issue of the Club magazine, Camping & Caravanning, in print or online here.
The Tow Car Awards test programme is the most rigorous in Britain. To read full reviews of more than 500 tow cars tested as new in the Awards since 2007, click on the logo to visit the Tow Car Awards website.
Don't buy your next tow car without checking out our findings first: it's a priceless library of comprehensive reviews and information, with a Tow Car Chooser to filter your findings.
Search for car reviews by your caravan's maximum weight (MTPLM), the car's 85% match figure or maximum towing limit to create a shortlist of suitable vehicles.
And to match a car with a caravan, visit our Towing Match Service.
Watch our video of the Tow Car Awards 2023 category winners and overall winner below.
More towing advice
Visit our Advice section for more on towing and matching your car to a caravan.


To see all the Tow Car award information for 2023 and every year back to 2007 click on the Tow Car Logo.