Monthly Members Prize Draw
Monthly Member's Prize Draw
To celebrate getting back out in the Great Outdoors, ten members will be selected at random to receive one of ten fantastic prizes each month.
You have to be in it to win it! Simply click 'enter' below and enter your name and membership number or click the link in your monthly enewsletter each month you wish to be in with a chance of winning one of the below fantastic prizes.
Prizes and members will both be selected at random from the entrants each month. Entries will not roll over to the next month so be sure to enter each month you wish to be included in the prize draw. Scroll down for our full terms and conditions.
Good luck!
1. Cadac Citi Chef 40 Portable BBQ, RRP £200.
2. 12 bottles of wine from Naked Wines, an exquisite selection of wine from around the world, RRP £130+
3. Vango Radiate DLX Heated Chair x 2, RRP £120 each.
4. Luxury Food Hamper, RRP £109.50
5. Solar panel kit from Solar Tech, RRP £240
6. Outwell Dawson Picnic Table, RRP £169.99.
7. £200 M&S gift card
8. Instax Square SQ1 Instant Camera and film, worth over £130
9. Avtex catalog with L119DRS Pro TV and satellite from Satgear, RRP £410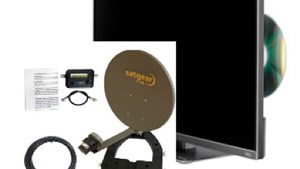 10. An electric bike from Charged Bikes Ltd, this will be one of these models: Wisper 806 375 Battery Red, Wisper 806 375 Battery Torque Red, Wisper 705 375 Battery Blue, Wisper 705 375 Battery Torque Black, Wisper 705 24" 375 Battery Blue, Wisper Wayfarer Hub Drive Crossbar 450 Battey Blue. Price per bike from RRP £1,349

Not a member yet? No problem, join here.
Terms and Conditions
• These are the terms and conditions for the Camping and Caravanning Club monthly member competition, which is a prize draw.
• The prize draw is repeated on a monthly basis and members must enter by 11.59 on the last day of each month if they wish to take part in that particular month's draw. Entries will not be rolled over to subsequent months.
• Employees of The Camping and Caravanning Club, immediate family of The Camping and Caravanning Club employees and parties professionally associated with the promotion should not enter this competition.
• Only Camping and Caravanning Club members 18 years of age and over and resident in the UK are eligible to enter our competition..
• Incomplete or incorrect entries will be disqualified.
• To be eligible to enter the competition and win a prize, you must submit your correct membership number and all mandatory online competition form fields must be completed on our prize draw competition page or by clicking enter on our email promotion.
• Entry to the draw is free and no purchase is necessary. It is a condition of entry that all rules are accepted as final and that the competitor agrees to abide by these rules.
• Ten winners will be picked at random to receive one of ten prizes each month. Details of each prize are listed on our competition page above.
• The winners of each month's draw will be informed by phone or email. In the event a winner cannot be contacted we will redraw for that prize.
• The winner will receive their prize by post. This will be posted to the address listed against the membership number submitted on the online entry form.
• Prizes are non-transferable and there are no cash alternatives in place of the stated prize unless we are unable to source the prize, in which case a comparative prize or one of a higher value will be given.
• The Camping and Caravanning Club's decision shall be final and binding in all respects on all entrants. No correspondence will be entered into. Entries that do not comply in full with these entry rules and conditions will be disqualified.
• The competition and any dispute or claim arising out of or in connection with it, shall be governed by and construed in accordance with English law. Entrants irrevocably agree that the courts of England and Wales shall have exclusive jurisdiction to settle any dispute or claim that arises out of, or in connection with, this competition.
• Any personal data collected will be treated in accordance with current data protection legislation. We will use your personal data for the administration of the competition.
• By entering the competition, winners consent to their name and county being made available for the purposes of announcing the winners of the Contest. A list of winners for each month will be made available upon request.
• The promoter of the competition is: The Camping and Caravanning Club, Greenfields House, Westwood Way, Coventry, CV4 8JH.
• Entrants will be deemed to have accepted these terms and conditions and agreed to be bound by them when entering the competition.
• Entrant's data will be processed in accordance with our Privacy Policy available here.
• The Camping and Caravanning Club reserve the right to amend these terms and conditions at any time.