Weight and payload guide
Overweight caravans and poor payload distribution are the main causes of incidents while towing and the more you understand the better prepared you will be on the road.
Ideally you should weigh your van, this can be done at a public weighbridge details of your local weighbridge can be found via the Trading Standards department at your county council or on the government website. The page is called "Find a weighbridge".
However this isn't always practical or possible so this guide in spreadsheet form is designed to help you keep safe on the road, understand how the various weights are put together to make up the caravans' payload and how much actual weight you are carrying in your outfit. You will need to either physically weigh your kit with bathroom scales or get this information off the box or from the handbook.
There is a comprehensive set of instructions with some definitions to help you through the spreadsheet. Please make sure you read the conditions before proceeding.
Weight distribution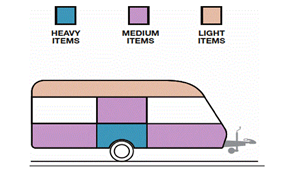 An increasing number of caravans have rear fixed bed layouts so you need to consider what the space under the bed can be used for to maintain a well-balanced unit.
For example put light bulky items like bedding in the space instead of awnings etc., try to keep the heavy items as close to the axle as possible as shown on the image on the right.
The nose locker should not be seen as an area for heavy items either as this can detrimentally affect your noseweight and balance too.
The addition of drawers at the front of the lounge area can significantly effect noseweight too so consider the layout and limitation imposed by your tow vehicle before committing to a specific layout.
Finally, don't forget you can use the space in the tow vehicle for some of the equipment while towing and when you are set up on site it is acceptable to fill the spaces mentioned above with these heavier items, but remember to redistribute them before towing your unit again.