Suspension Modifications
In the past, it was sometimes recommended that a car's rear suspension should be upgraded if it was to tow a caravan. Today, this is often not required. However rear suspension products are still available for those towing and for motorhomes that suffer with sagging rear axles when under load. This Data Sheet looks at a selection of the aftermarket solutions available to help.
Benefit from expert advice, retail discounts and money off pitch night stays when you join the Club.
Before you undertake a suspension upgrade on your car or motorhome you should contact your insurance provider. Spring and damper changes for this purpose should not create an increase in premiums but some insurers may not accept such a modification.
Also, upgraded springs and dampers will not increase the axle bearing limit nor will the static load tolerance on the hitch be increased. Or to put it another way - it will not increase the load you can carry in the vehicle and any noseweight will not change. The aim of installing these products is to keep the vehicle level, rather than running with its front higher than its rear. This is particularly important in front-wheel-drive vehicles when a reduced load on the front wheels can mean a loss of traction.
Automotive manufacturers have spent a great deal of time and money on the suspension systems of their chassis to give the vehicle the drive characteristics to suit the product's key market. Any changes to the springs, dampers or bushes may have an effect on the way the vehicle then behaves on the road. If you choose to install suspension stiffeners in a car there is likely to be a trade off between the stability improvement when the car is carrying a load and the stiffness of the ride when it is running without it.
Generally, vans are designed to carry a load occasionally. When a van is converted to a motorhome, however, the weight of the conversion can be considerable and it is in place all the time. As a result, you may like to consider an upgrade to the standard van suspension to give a more comfortable ride. Some motorhome converters can provide suspension upgrades as part of the conversion.
Before you upgrade
Suspension upgrades will not correct a fault.
Such changes should not be made to correct a fault somewhere else within the suspension. Ideally all worn parts should be changed as part of the same job to get the maximum benefit from the suspension aid. Sometimes component weaknesses within the suspension manifests with abnormal tyre wear and this should be investigated further to make sure it is corrected before you upgrade the suspension.
Rubber spring assisters
The most basic components to upgrade a suspension are rubber spring assisters. These can be inserted within the winds of a coil spring. They are affordable,
Rubber spring assisters can have a minor adverse effect on ride comfort when solo, with cars becoming a bit bouncy over speed humps, for example. The inserts come in a variety of thicknesses to suit different applications, but they are broadly a generic product whereas most other systems are vehicle specific. readily available and quite easy to fit. They offer additional support for the spring and reduce the extent of travel, effectively becoming an additional bump stop.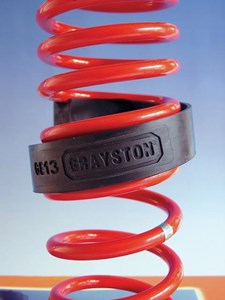 Coil spring assisters
Assister springs are installed in and around the vehicle's standard rear suspension components and work in unison with the factory spring. In a normal state they are barely under load and have little effect on the car's behaviour. However, once a heavy rear load is applied, they progressively offer additional support to the factory suspension reducing the amount it drops under this load. This can help prevent bottoming out.
Coil spring assisters are particularly useful with some estate cars that have long rear overhangs. A huge range of fitments are available for both cars and commercial chassis. The devices offer a cost-effective alternative to adjustable-ride-height equipment.Heavy duty springs are sometimes supplied by assister spring manufacturers as an alternative to assisters where there are space limitations near the rear axle assembly. There are also dedicated manufacturers of such springs and they are available for a variety of applications.
Fitting such additional springs is likely to involve a certain amount of suspension dismantling. As the springs of a vehicle can be under considerable tension, this job is generally best left to a skilled mechanic.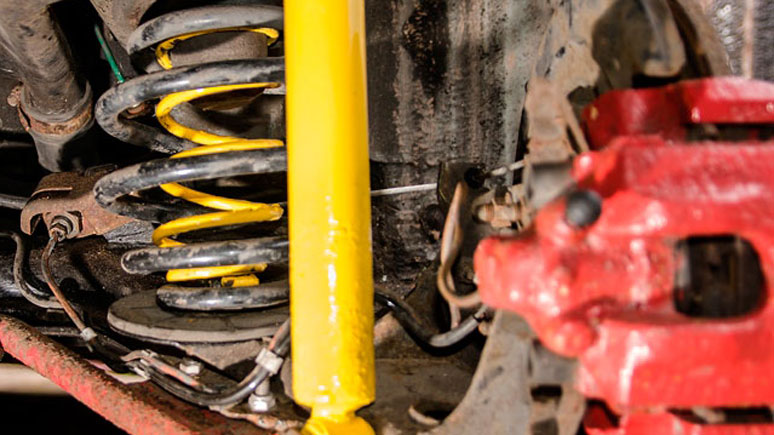 Inflatable air assisters
Inflatable air systems that fit in or near the spring area are an option to consider. Many motorhomes and panel van conversions, where the base vehicle's factory rear axle has been retained, could benefit from one of these systems. They are designed to correct the ride height using compressed air upon loading.
The trend for motorhomes to have large rear lockers or motorcycle racks beyond the rear axle can create a strain on the rear suspension. Although this may not overload the axle, having the weight so far back may generate poor road behaviour and could have an adverse effect on the steering. Correcting the rear ride height can mitigate some of these problems.
The air within the rubber chamber in these assisters aids the spring and carries some of the load. This enables the vehicle to ride level. Some systems can be fine tuned from left to right as well. These kits are popular with motorhome users and can be easily retrofitted to most common forms of commercial base chassis. The AL-KO leisure chassis is not readily convertible and if air suspension is required for this you will need to specify it at the point of order.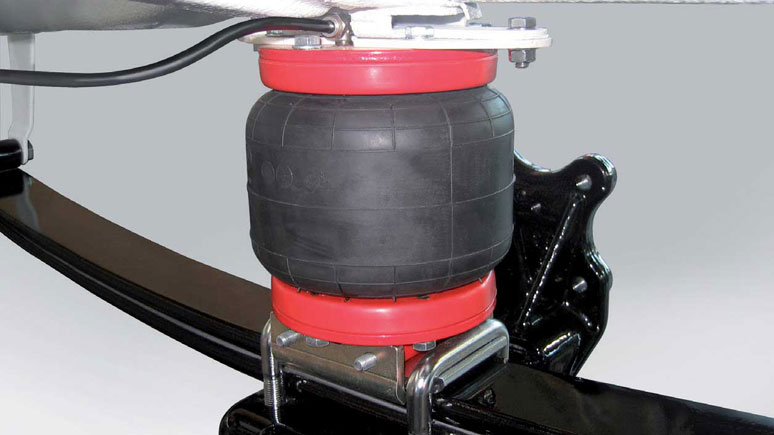 Height-adjustable dampers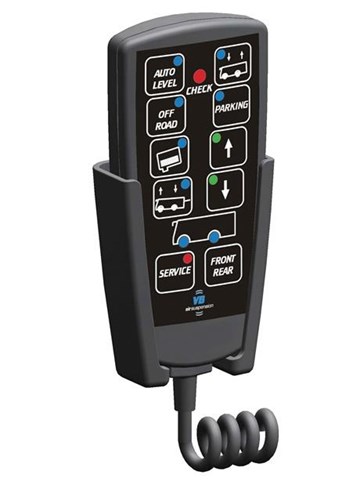 Monroe dominates this area of after-market suspension aids with its Ride Leveller kit. These dampers have an air chamber incorporated in the design. They are inflated with compressed air and offer spring support through the damper mounting points. They are available for a large range of applications and as with inflatable air assisters, these dampers require trimming to correct the ride height after the load has been applied. A typical application is for cars where there is a high load usage and a long overhang at the rear. Once the load is taken off these dampers must have the pressure reduced to return the car to its normal state.
Compressed-air kits are good at retaining the vehicle's original driving characteristic but they need to be installed with a valve at an accessible point (perhaps in the boot) and pipework through the vehicle's bodywork. They are also not maintenance free. Regular pressure checks are essential and some means of inflating will be required. Some can be controlled remotely using a control unit such as the one shown.
Some dampers adjust without input from the driver. Sachs AG makes the Nivomat damper, which is activated by the vehicle's motion. The ride height is corrected after a few hundred metres of driving, bringing the vehicle level. Once the load is removed the next drive corrects the level again as the fluid is transferred back while in motion. Not only does this system continuously correct and ensure a level ride, it is adjustment and maintenance free.
Unfortunately Nivomat dampers are only available for a limited range of vehicles. If a car is being changed to Nivomat, the springs must also be changed and other fittings and mounting points may need to be altered. If you are interested in this option, discuss it with a franchise dealer. You may also find it may only be fitted at the factory so must be specified when the vehicle is built.
Aftermarket manufacturer Koni produces a limited range of rear dampers with a choice of spring seat position and a choice for standard and raised positions. The raised position is suggested as an option for towing or if the vehicle has a permanent heavy load such as an LPG gas tank as part of a conversion. Such dampers are not technically adjustable but at the point of installation a choice can be made based on how the vehicle will sit.
And finally
Any changes to spring characteristics when they are first installed or over time will have an effect on the pitching of an outfit at the hitch. This is generally less pronounced with rubber insert assisters and air suspension products as these, due to the nature of the material, have a small inherent damping effect.
Spring assister and heavy duty springs on the other hand are totally reliant on the shock absorbers to control them. Shock absorbers that seem adequate at one MOT Test or at a vehicle's service may not pass muster when worked that bit harder with higher rate springs. You may therefore need to install heavy-duty or adjustable-rate shock absorbers at the same time.
Overall, if you are unsure about any suspension modification, seek out an experienced technician for advice.
Tech team contact
If you're a member of the Club, you can contact our tech team to discuss your needs.