Motorhome Owner Satisfaction Awards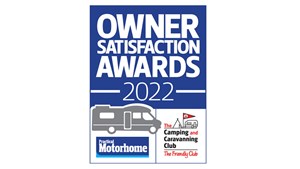 Welcome to our 2022 Owner Satisfaction Awards where we're revealing the best motorhomes and campervan manufacturers on the market and their best supplying dealers. Awards are based on feedback from the thousands of owners who completed our latest Owner Satisfaction Survey. The results are unbiased and represent the views of owners who have used their units in all conditions.
It has been almost two years since we last published the Owner Satisfaction Awards. Disruption as a result of the Covid-19 pandemic meant that we couldn't hold our annual awards ceremony in February 2021 as originally planned but this has led to a longer period than usual for the survey to be completed. Whereas the 2020 survey had a total of 2307 responses, for 2022 we're up to 2668 completed surveys. As you will know if you've contributed, the questions go into considerable depth so answering them all is not the work of a moment. Thanks to all Camping and Caravanning Club members and readers of Practical Motorhome who took the time and trouble.
Background
Welcome to our annual Owner Satisfaction Awards. Whether you plan to buy a new or pre-owned motorhome in 2020, the results make essential reading. Over the next few pages you'll discover the most satisfying motorhomes to own, and the dealers offering the highest levels of customer service. You'll also learn which base vehicles are most highly rated by owners, and which are the most common faults to watch out for.
One person's opinion is worth hearing, but the opinions of thousands of owners are impossible to ignore. Throughout last year, readers of Practical Caravan and members of The Camping and Caravanning Club contributed their experiences to the survey. In total, we received some 2307 completed responses.
Such a significant sample size lends real weight and credibility to the results. These aren't the opinions of a handful of people, but a representative portion of Britain's motorhome owners. When that many customers speak, you can be sure the manufacturers and dealers listen.
Thanks to everyone who added their voice – completing the survey is certainly not the work of a moment. Questions cover every aspect of the purchase and ownership experiences.
The motorhome itself is rated across many categories, including value for money, fit and finish, the lounge/dining area, the kitchen, the washroom, and so on. The electrical system, water heater, payload and even the availability of replacement parts are all scored.
Further questions focus on the reliability of the vehicle, asking about the frequency and nature of faults. The survey also covers the driving experience, considering comfort behind the wheel, performance, fuel economy, and the reliability of the base vehicle.
We don't forget that the supplying dealer is an important part of the ownership experience. So our survey asks about the dealer's product knowledge, professionalism, and the efficiency with which they deal with any warranty claims.
The most crucial questions are saved for last. "Would you buy this make of motorhome again?" is really telling. We also ask "Would you buy a motorcaravan with this make of base vehicle?" and "Would you return to the dealer to buy another motorcaravan?". For manufacturers and dealers to be at the sharp end of the results tables, the majority of customers have to answer "yes" to these questions.
Whether you are buying a new or pre-owned caravan, you should be able to expect satisfying performance from your home from home on tour, and friendly professionalism from the supplying dealer. So the results for manufacturers and dealers are divided into new and pre-owned categories.
This year, there's an overall 'Best van converter (direct sales)'. This combines the all four scores for direct sales outfits (for new and pre-owned manufacturers and new and pre-owned dealers) into a single catch-all class. Few direct sales outfits meet the minimum sample size in all four areas of assessment, so we're also recognising outstanding performers in each category.
To win a Gold Award requires a score of 80% or more. A Silver Award means a score of at least 60%. Those that make the grade but don't reach a sufficiently robust sample size are 'mentioned in dispatches'.
Read on to discover the most satisfying motorhomes and top-scoring dealers.
Best Van Converter
A round of applause for Bilbo's in Surrey, the Best van converter (direct sales) in 2022. To win this award means scoring consistently high for the quality of its conversions and its sales and servicing operations, for new and pre-owned vehicles.
Effectively four categories rolled into one, Bilbo's was the only converter to reach the Gold Award standard across all four, with an excellent overall score of 96.6%.
Although no other converter can claim the same, there were impressively high scores. Judged solely on its new conversions, Wellhouse was rated highest with a score of 98%, followed by Vantage (97.3%) and Murvi (96.1%).
2020 Update
Congratulations to Murvi, winner of this year's award for the 'Best Van converter (Direct Sales)'. Murvi's score of 86.2% smashes the standard required for a Gold Award.
This is no flash in the pan. Murvi was our joint winner in the used category last year, and a Gold Award winner in the new category, so top spot is well deserved for such a consistently strong performer. Some 93% of owners told us they would definitely buy a Murvi again.
What makes this category all the more difficult to win is that it combines both new and pre-owned scores for the vehicles themselves, and for the quality of sales and aftersales support. So to feature strongly in the results requires strong scores across four categories, as well as achieving the required sample size above the board.
Only one other converter reached the minimum sample size across all four areas of judging. Bilbo's earned a Gold Award, with a score of 82%.
The likes of Shire Conversions, Vantage, Wellhouse Leisure and WildAx all scored well, but didn't reach the required sample size across the four categories. However, in the individual areas assessed these companies have every reason to be pleased; all receive at least one Gold Award.
Murvi reaches the Gold Award standard in all four areas assessed, and tops the scoring in all but one of them. It's beaten as a direct sales dealer by Vantage Leisure (93.4%) and Vantage Motorhomes (90.4%).
League tables: New motorhomes
Congratulations to Adria for winning this year's award for 'Best manufacturer: new motorhomes'. It's a return to form for Adria after 2020's blip when it dropped down the table, having won in 2019. Whatever caused a lower score in our last survey seems to have been well and truly sorted, with an excellent score of 90.9%.
There's clear daylight between Adria and the best of the rest, Bürstner. The German brand repeats 2020's second place and earns a Gold Award with a score of 87.4%.
With the target score for a Gold Award having increased this year, Roller Team just misses out despite scoring 84.9%. However, it still takes the final podium place and leads the list of Silver Award winners, just ahead of Hymer (84.4%) in fourth.
Auto-Trail wins the scrap to finish first among UK-based motorhome manufacturers, with an impressive score of 82.7%. Auto-Sleepers is just behind, scoring 82.4% and earning a Silver Medal.
The number of Gold Award winners has dropped from five to two, but that's because we've set a tougher benchmark rather than due to a drop in standards. Seven brands would have earned a Gold Award under 2020's scoring.
There are 10 manufacturers with a medal of one colour or another, down from 15 in our previous survey. But there are a number of brands falling just short of the minimum sample size with scores that would otherwise have earned an award. These include Dethleffs, winner in 2020, and Carthago, third place in our last survey.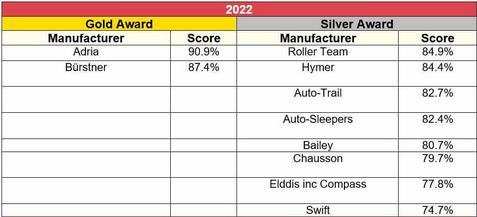 2020 Update
And so on to the big names in the 'new motorhomes' category. This year's winner is... Dethleffs.

Continental motorhome makers dominate at the top of the table. Not far short of Dethleffs' Gold Award score of 83.9% is Bürstner with 81.9% and another Gold Award. There's only a chink of light between Bürstner and Carthago in third place with a score of 81.8%.
There's real strength in depth this year, with five manufacturers earning Gold Awards. Hymer (80.6%) and Roller Team (80%) also make the grade. What's really pleasing is that's an increase on 2019 when just one manufacturer earned a Gold Award.
Last year's winner, Adria, will be disappointed to have missed out. But the Slovenian brand tops the list of Silver Award winners, with a score of 79.8%.
In total, 15 manufacturers earn either a Gold or Silver Award. That's down from 17 last year. However, the proportion of Gold Award winners is much higher in 2020 than it was in 2019, and the list of manufacturers achieving high scores but not reaching the minimum sample size is a long one. So there's some evidence that overall standards are improving.
New base vehicles
So, those are the most satisfying manufacturers, but which base vehicles are best? Who builds the most comfortable, economical and reliable vehicles as starting points for really great motorhomes?
Fiat accounts for the majority of base vehicles, with some 667 of 1279 vehicles in the new survey. That's 52% of the total.
It's not the most satisfying base vehicle to drive or live with, however. That honour goes to Volkswagen, with a satisfaction rating of 91%. Renault is not far behind with a score of 89.3%, closely followed by Mercedes-Benz with 88.1%.
In general, satisfaction with the base vehicle is high, with strong scores for most manufacturers. Ford scores 86.5%, Citroën 84.3%, Peugeot 82.6%, and Fiat 82.1%. There's a bit of gap to Iveco, with a score of 76.7%.
League tables: Pre-owned motorhomes
While there are just two Gold Awards for new motorhome manufacturers, there are five for pre-owned motorhomes. It just goes to show how enjoyable the best pre-owned vehicles can be.
Hymer is top of the pile, with a hugely impressive score of 90.1%. That's a step up from second on the podium last time around.
We've become used to Continental brands picking up the highest scores in this survey, but Bailey breaks the mould with a second place finish this year. An 88% satisfaction rating turns 2020's Silver into a Gold Award.
Roller Team finishes third with 87%, just ahead of Auto-Sleepers (86.9%) and Auto-Trail (86.3%), all with Gold Awards.
Swift (including Autocruise) repeats 2020's Silver Award with an improved score of 84.6%. Elddis (including Compass) is a little further back on 78.6%, but still picks up a Silver.
Many brands fall just below the minimum sample size, but there are enough enthusiastic reports to suggest that buying a used motorhome from one of these manufacturers isn't much of a risk.

2020 Update
Buying a pre-owned motorhome shouldn't mean settling for second best. And judging by the results of our survey it certainly doesn't – as a rule, the owners of used motorhomes are every bit as content with their purchase as owners of brand new motorcaravans, and they report fewer faults.

If you want a pre-owned motorhome to enjoy for year after year, our survey respondents would recommend a Bürstner. The score of 84.3% gives Bürstner a well-deserved top spot, going one better than second place in the new category.
The other podium finishers also collect a Gold Award, with Hymer scoring 82.9% and Roller Team scoring 80.3%. All three score the double, with Gold Awards for both new and pre-owned motorhomes.
A strong supporting cast pick up Silver Awards, with Auto-Sleepers leading the best-of-the-rest with a score of 76.3%. Other big names, like Auto-Trail, Bailey, Elddis and Swift also earn Silver Awards.
In total, there are three Gold Awards and seven Silver Awards. That shows a slight improvement compared with 2019's single Gold and nine Silvers.
If you have a good memory, you may recall that Adria won this category last year. The absence of Adria from this year's results doesn't reflect a drop in standards, but a failure to meet the minimum sample size.
Pre-owned base vehicles
The same base vehicle makers perform well in the pre-owned category as in used, but there's a shake-up in the order.
Owners of used motorhomes rate Mercedes-Benz base vehicles as the best, with a very impressive score of 90.6%. Volkswagen is just behind with 90.5%, and Renault takes third with 87.6%. Satisfaction with base vehicles is generally high, with other manufacturers also picking up high scores.
Best Motorhome Manufacturer
Now we come to what's arguably the toughest award to win: 'Best motorhome manufacturer'.
Why so tough? Well, not only does this category have the highest minimum sample size, it combines scores for both new and pre-owned vehicles. To win means building satisfying and reliable motorhomes, year after year.
Congratulations to Hymer, the 2022 champion and the only brand to earn a Gold Award with a score of 86.6%.
Winners in 2019 and 2020, Auto-Sleepers finishes second this year but can still be very proud with a score of 84.7% and a Silver Award. Auto-Trail (84.5%), Bailey (83.2%), Swift (79.8%) and Elddis including Compass (78.2%) also meet the Silver Award standard.
2020 Update
For the second year, we're presenting a Best Motorhome Manufacturer Award. This is for the brand with the highest levels of satisfaction among owners of both new and used motorhome owners. The minimum sample size for this award is high, so this is effectively a battle between the biggest names in motorhoming.
Hearty congratulations to Auto-Sleepers for winning this award for the second year in succession, thanks to satisfied customers across the new and pre-owned markets.
League tables: New motorhome dealers
The supplying dealer is an important part of buying any motorhome. Not only do they help you find the perfect model for your needs and budget, they should explain how to get the best from it. When things go wrong, the dealer ought to be quick to offer support and put things right.
Judging by the results of our survey, there's a very big difference between the best and the worst dealers. The finest go the extra mile, the weakest hardly budge.
This year's 'Best dealer: new motorhomes' is Richard Baldwin Motorhomes in Halifax. A satisfaction score of 97.1% is really something, especially as the company did not feature in the main results of our previous survey.
Three other dealers do well enough to win a Gold Award. Choose Leisure in Kent takes second spot (95.9%), with third going to Peter Roberts in Huddersfield (95%). The 2020 winner, Todds Motorhomes of Preston, drops to fourth but can be proud of scoring 92.6%.
There's a big gap to the next best dealers, with Motorhomes and Caravans scoring 74.5% for a Silver Award. Brownhills (64.7%) and the Marquis Group (60.8%) also make the grade, although they would both need significantly higher scores to challenge the high-flyers at the top of the table.

2020 Update
Those are the most satisfying new and pre-owned motorhomes. Let's move on to look at the best dealers to buy them from.
If you're looking to buy new, our survey respondents would point you in the direction of Todds Motorhomes in Preston. The satisfaction rating of 90.7% is exceptionally high. What's more, Todds was our winner in 2019 so this makes it two in a row.

Dolphin Motorhomes, based in Dorset and Hampshire, take second spot with 86.3%. Third goes to Motorhomes and Caravans in Hull, with a score of 80%. All three podium-placed dealers do well enough to earn a Gold Award.
Silver Awards go to Becks Motorhomes of Great Yarmouth (77.1%), SMC Motorhomes of Newark (75.3%) and Brownhills Motorhomes of Newark (61.1%).
League tables: Pre-owned motorhome dealers
You can't score higher than 100%, so Meridian Motorhomes has left itself nowhere to go with a perfect score. This is no fluke based on a handful of responses, as the West Sussex dealer more than doubled the minimum sample size.
Peter Roberts takes second place with 93.6%, earning a Gold Award from its pre-owned customers as well as its new ones. Choose Leisure takes third with a score of 92.2%, also taking home double Gold Awards.
Fourth and fifth place also reach the gold standard. Todds Motorhomes (91.2%) and Salop Leisure (89.3%) both have much to be proud of.
Just two dealers receive Silver Awards, the Marquis Group (76.2%) and Brownhills (70.6%).

2020 Update
Well done to Peter Roberts Caravans and Motorhomes of Huddersfield for leapfrogging all of last year's Gold and Silver Award winners to take the top spot. Peter Roberts is officially the most satisfying dealer to buy a pre-owned motorhome from, with a tremendous score of 95.8%.

Last year, Meridian Motorhomes in Chichester was in first place. It follows up that success with second in 2020, and Gold Medal winning score of 92.8%.
You're spoilt for choice if you want a dealer you can trust on the south coast; Meridian's neighbour, Dolphin Motorhomes, takes third, scoring 84.2%.
These Gold Medal winning performances are backed by a Silver Award for Todds Motorhomes of Preston, with a score of 77.2%.
The survey in detail
Congratulations to all our winners. Now let's take a look beyond the headline results to find out more about the survey respondents and their choice of motorhome.
Some 54% of motorhome owners surveyed bought their vehicle brand new. That's a slight drop from the 55.4% who bought new in our 2020 survey. Perhaps supply issues with new motorhomes have played a part in this, but it's not a major drop compared with the fall from 60.7% to 55.4% from 2019 to 2020.
On average, new motorhome buyers spent £58,599. The most popular price band was £50,000 - £59,999, accounting for 36.7% of sales. That's slightly down on 39.1% in 2020.
Coachbuilt motorhomes continue to be the most popular kind, accounting for 55.7% of newly purchased vehicles. That's broadly consistent with the 53.6% coachbuilts accounted for in our last survey. Van conversions make up 23.2% of the new market based on purchases by our respondents, followed by campervans (13.5%) and A-class motorhomes (7.6%).
In the used market, the average spend was £35,207. That's almost identical to the £35,559 average outlay in the 2020 survey. There was a tie for the most popular price band, with both £30,000-£39,999 and £40,000-£49,999 making up 25.9% of the market. Some 12.4% of used motorhome owners had spent between £10,000 and £19,999, proving that you don't need to have deep pockets to enjoy a motorhome.
There's been much anecdotal evidence that motorhoming has attracted younger people since the Covid pandemic has made foreign travel more difficult (or at times impossible). However, if there is a new and youthful generation holidaying in motorhomes, they don't seem to complete our survey! The average age of respondents with new motorhomes is 63, up from 62 in 2020. Used respondents are on average just under 62, approximately a year older than in our previous survey.
Just 1.6% of new motorhome respondents are under 45, rising to 3.8% for used motorhome owners. Perhaps surprisingly, both of those percentages are down compared with 2020.
What goes wrong
If you are contemplating a change of motorhome, what are the most common problems you may have to deal with?
For new motorhome owners, the most frequent complaint is poor interior fit and finish. This cropped up for 35.4% of new buyers, compared with 34.6% in 2020. This is consistently the most common moan in the survey, with 37.8% being the equivalent figure in 2019 and 38.2% in 2018.
It seems first owners do a good job of ironing out problems for pre-owned motorhome buyers, as just 11.5% have issues with fit and finish. That compares with 11.7% in 2020 and 11.4% in 2019.
Water ingress is something motorhome owners dread, but it's a much less common problem than niggles with the fit and finish. Some 11.4% of new motorhome owners reported this issue, compared with 12.1% of pre-owned buyers. The percentage for new motorhomes is down from 13.4% in our last survey, and for pre-owned motorhomes it is up slightly from 10.5%.
It might seem counterintuitive, but if you want a hassle-free ownership experience, it seems that a pre-owned motorhome is best. More than four-in-10 (41.6%) pre-owned motorhome owners experienced no faults whatsoever with their vehicle. That drops to just 24.1% of new motorhome owners. These figures are largely in line with 2020's, and reinforce the impression that first owners have faults fixed, to the benefit of those shopping on the pre-owned market.
That's further backed up by the number of owners who don't need to use their warranty. Some 63% of pre-owned owners have never made a claim, while just 34.1% for new motorhome owners can say the same.
Conclusions
With so many manufacturers and dealers scoring highly, we've increased the minimum score for a Gold Award. This goes to show just how satisfying the best motorhomes are to own, and how well they are served by their dealers.
However, it would be wrong to paint too rosy a picture. Problems with the fit and finish of brand-new motorhomes are all too frequent and increasing again after last year's drop.
There also remains a big difference in satisfaction levels between new and pre-owned buyers. Perhaps some of this can be put down to different expectations but comparing the frequency of faults suggests a different explanation. Why should the original owner have faults fixed on their watch so later owners can enjoy few problems?
Almost all manufacturers, both of conversions and base vehicles, scored strongly this year. But the difference between the best and the weakest dealers is much greater. There's a lot of work for those at the wrong end of the results to approach the customer service provided by the best in the industry.
Congratulations to all our Gold and Silver Award winners.