Choosing a motorhome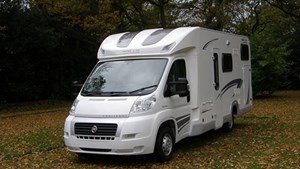 There's greater choice than ever in the motorhome market, with a wide variety of manufacturers having representation in the UK. With such a choice of what will be both your means of transport and accommodation, it pays to take time, do your research and have a good look around before you make that final decision to buy.
This guide is aimed primarily at those who are new to motorhomes. Whether you're buying new or secondhand, and whatever your budget, this guide is a starting point, giving basic guidelines on the key aspects involved in making sure you buy the right unit for you. A great way to find out more, speak to like-minded individuals and to get out exploring is to join the Club.
Types of motorhome
You'll have already noticed motorhomes come in many different shapes and sizes. Here are a few of the main types:
Panel van conversions
These are vans with little in the way of exterior modifications (save the addition of extra windows, usually) whose interiors have been kitted out for camping, which is why they are also called campervans. Most panel van conversions have limited headroom unless the original fixed roof is replaced with a high-top roof or an elevating roof where hinged roof sections, with canvas or solid sides, lift up for extra headroom and/or beds when on site. The advantage of elevating roofs is they can keep the vehicle at a height to enable it to access car parks with height barriers.
Coachbuilts
These start life as a cab and chassis to which a converter adds a caravan body. These are either low-profiles or overcab models - the former offering a lower, more streamlined roofline over the cab area, the latter having sufficient interior space for a double bed on top of the cab.
A-class
Here, a chassis cowl (just the engine and chassis) is the starting point, with a full caravan shell added to make optimum use of the interior space. For example, a full-size, drop-down double bed above the cab area is a common A-class feature.
RV (Recreational Vehicles)
Bigger and pricier than most UK motorhomes, RVs usually offer domestic quality facilities in more spacious surroundings. Many are imported from America, though there are some European models available.
Others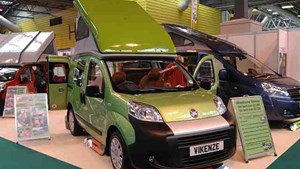 Most motorhomes fit into these three categories, although there are niche vehicles such as car-derived motorhomes and demountables - the latter where the caravan unit is fixed to the back of a pick-up for travel. Also, self-built motorhomes are not uncommon. If the vehicle is not from a well-known converter, it should come with an engineer's report proving all gas and electrical installations are to the required safety standards.
Who makes motorhomes?
Just as there's a massive choice of motorhomes, there is an equally bewildering array of motorhome converters. These range from large manufacturing concerns based throughout Europe and beyond with networks of appointed retailers, to small converters, some of whom will build to individual requirements and sell direct to the public.
Among the bigger brands, key names to look out for include Auto-Sleepers, Auto-Trail, Bailey, Elddis, Romahome and the Swift Group (Swift, Bessacarr and Autocruise brands), as well as a whole host of manufacturers from mainland Europe including Adria, Burstner, Chausson, Dethleffs, Hobby, Pilote, Hymer. But note that some imported motorhomes may have the habitation door (the entrance to the living quarters) on the UK offside.
Smaller, UK-based more bespoke outfits include the likes of Bilbo's, Murvi, IH, Nu Venture, Reimo and more.
One key thing to remember is depreciation rates. Motorhomes generally have high residual values, but standard models from mainstream makers are especially likely to hold their value.
Cabs
Typically, most motorhomes betray their commercial vehicle origins in the cabs. Although most built since the late 1990s have come with power-assisted steering, it's only recently that items such as twin airbags and air-conditioning have become more readily available. Plus, if you want a better-than-average stereo system (although again bear in mind most motorhomes are a lot noisier than modern-day cars), you'll probably have to specify it as an option.
The most popular motorhome base vehicles are the Fiat Ducato (also marketed as the Peugeot Boxer), the Volkswagen Transporter, the Mercedes Sprinter, the Ford Transit and Renault's Trafic and Master. Each come with an array of engine, overall specification and even payload options - be sure to check these out carefully to ensure you know exactly what you are getting.
You can request a test drive if you are close to making the decision to buy. If you're driving a motorhome for the first time, remember motorhomes are based on commercial vehicles and have different driving characteristics to cars. Larger motorhomes can have considerable tail overhangs (the distance between the rear wheels and the end of the vehicle) that need to be taken into consideration in general road use as well as for tight manoeuvres.
Layouts and facilities
In their role as - homes on wheels, all motorhome interiors are a compromise between space and specification. Take into account the number of occupants, who will sleep where and whether they can travel in seats designated for travel, as well as your priorities for kitchen and washroom equipment and space.
Smaller motorhomes can be easier to park and store, while obviously larger units offer more interior space that can be so vital, especially if you're considering using your vehicle over longer periods of time.
Most motorhomes can accept an awning, which adds extra living space. Similarly, some owners like to make their vehicles even more versatile with the addition of bike racks, extra storage boxes and so forth.
Consider also when you'll be using your vehicle. For example, if you're planning extensive winter use you'll need to ensure the location of water tanks and plumbing are capable of coping with extremes of cold. In hotter climates you might consider an air-conditioning unit for the living quarters.
The majority of motorhomes have their own mains hook-up, allowing you to plug into a 230V electricity supply on a UK site. This is often allied to a charging system and a 12V leisure battery supply. Here are some other aspects to consider:
Sleeping berths and ease of bed making. Recent trends point towards the increasing popularity of fixed beds, with bunk beds being especially popular with children. Make sure you're happy not just with the size, but the location of the beds, especially the overcab bed where head space can be limited and access not always easy. Ventilation and heating can also be issues here.
Kitchen facilities. You can expect to find fridge/freezers, full cookers, microwaves and hot and cold running water in a modern motorhome, or just a couple of gas rings. As well as the location of such items, check also for workspace and overall storage.
Washroom facilities. Expect anything up to plumbed-in, water-flushing toilets and large shower cubicles. Space is often at a premium here, especially if the washroom is to double up as extra storage space or drying rooms for wet clothing and the like.
Lounging. Seating is another matter of personal taste. If TV-watching is a priority, consider where the TV will go as well as whether the seating arrangements are suitable.
Storage. Layout often dictates how much space is left for storage, and the other items you want to take with you may determine your storage preferences (bikes, fishing gear, outside chairs and tables, barbecues and more). Floor plans that include fixed beds often mean large storage areas under the beds themselves, which may be accessible from outside. Another fairly recent trend is for "garage" models, normally a coachbuilt motorhome with a large exterior-access storage area at the rear.
Winter travel. If you're likely to camp in colder weather consider choosing a unit with an insulated water system so it will still work on a freezing morning.
Top tips
Timing is important. Prices are likely to be at their highest immediately before Easter, when the touring season starts. They'll generally be lower at the end of the season but if you buy in the quieter season be sure to factor in any possible additional costs incurred over the winter period, such as storage.
After determining your budget and preferred layout, make a list of features and fittings you want in your ideal motorhome - then decide whether you consider them essential.
Consider hiring. This gives you a taster of the touring experience and will help you make an informed choice on the type of layout you may wish to have. The Club's website has a list of motorhome hire companies throughout the UK, you can find these in our help and advice section.
Make notes of the exact make and model you view and especially like. You'll be amazed how easy it is to forget.
Check if a secondhand motorhome has any outstanding payments due on it by contacting HPI (0845 300 8905, hpicheck.com).
Look into the logistics and possible costs for repairs. Spares availability may not always be good - items of equipment such as heaters and fridges can be easy to source, but often replacement body panels and items of trim are tricky to track down - especially on vehicles no longer in production.
Where can I buy a motorhome?
There are a considerable number of ways to purchase a motorhome:
Specialist retailers. Use a business directory, the internet or listings in motorhome magazines to find dealers near you. As well as benefiting from product knowledge and the ability to carry out any servicing and repair work, purchasing from a specialist retailer gives you more legal rights - all the way up to rejecting a vehicle if it's subsequently found to be "not fit for purpose". Also, you'll probably get a warranty of anything from three to 12 months on secondhand vehicles that usually covers both the mechanical and the conversion work of the vehicle. Needless to say, the nearer a dealer is to your home base, the better in terms of travel time and costs saved when any servicing is required.
Private purchase. Keep an eye out for the small ads in your local press as well as specialist motorhome and Club magazines. There's usually a genuine reason for selling and prices should be less than from a specialist, although you forego some legal rights as well as any kind of official warranty when you buy privately. The same applies for motorhomes put up for sale privately over the internet.
Auctions. These tend to be the preserve of those who are "in the know", yet nevertheless offer the potential to pick up a bargain.
Shows and other special events. There are plenty of outdoor and indoor motorhome exhibitions. They're often ideal for general "shopping around" and advice gathering - and you can sometimes pick up end-of-season bargains here. Before you buy at an event, check where the seller is based and whether you will need to travel far if you need to get something checked under the warranty or for servicing.
Making your purchase
There is usually some leeway on price, but you'll probably strike a better deal if you ask for extras and increased warranties rather than just hammering down the advertised price.
If you're happy with everything - from price to delivery times - you're in a position to pay a deposit, the amount of which is negotiable. Remember that deposits are rarely returnable.
When you come to collect your vehicle, you should get a full handover when all the equipment is explained. Some dealers even offer the facility to stay on a campsite locally - an ideal opportunity to make sure everything works and that you know how to use it.
And remember, always get a receipt from the seller when you buy or pay a deposit.
Viewing secondhand motorhomes
Here are some handy viewing tips to consider when looking at previously-owned vehicles.
Always make initial viewings during daylight hours. It's too easy to miss things in the dark.
It's not hard to find previously-owned motorhomes that have obviously been well looked after. Exteriors should be free of any damage or signs of major repair work. Check leading edges especially and scrape marks on wing mirrors. Slight changes of colour can indicate panels have been replaced.
Water ingress can be a problem with coachbuilt motorhomes. Check the exterior sealant condition and ask for the results of any damp tests.
Exterior locker doors should open and shut easily and locks should work.
Check items such as corner steadies and retractable steps, if fitted, are fully operational.
Tyre condition. Many motorhomes have long periods of inactivity and though the tyres may look serviceable they'll have aged. It may seem counter-intuitive but an idle tyre ages much faster than one frequently use. View our guide on tyres and tyre care for more detailed information.
Inside, although you're unlikely to be able to use the living equipment, do go through the motions of bedmaking (this will also ensure no cushions are missing), using the kitchen (cooking, washing-up), washroom (shower, toilet, handbasin) and using other facilities. Is there enough space? Do major items fall easily to hand?
Try all the seats for comfort. Foam can lose its springiness over time. This, and indeed upholstery, can be replaced, but at a price.
In the cab, try the driving position for comfort as well as ergonomics, particularly the external views via the mirrors.
It might sound obvious, but make sure you are happy with interior colour schemes and furnishings (or feel happy you can adapt them to your tastes - extra cushions, carpet runners and similar can make a big difference).
Ask to see all documentation - full service history (covering both the base vehicle and the conversion), uninterrupted record of MOT tests, receipts for any service, warranty or repair work as well as the vehicle's own history (number of owners, etc).
Motorhome dealers should be able to offer up to one year's MOT test certificate and tax, as well as evidence that the vehicle has been fully inspected and any major repair work undertaken. Warranties ranging from three months to a year or more are also likely to be offered and can be a good bargaining point.
Motorhome mileage is rarely an issue. Consider anything between 4,000 and 6,000 a typical average annual mileage. MOT test certificates will verify any mileage claims.
If you buy privately, the address at which you view should correspond with that on the vehicle's V5C certificate (log book). Give yourself plenty of time to inspect a vehicle in your own time as well as getting the seller to take you through it. Never arrange to view a vehicle at a location such as a motorway service station.
Consider using the services of an independent specialist motorhome inspector. If you can't find one in your local telephone directory, your nearest motorhome retailer should be able to offer a contact.
Ask about options - determine whether they are factory-fitted or retrofit items. If the latter, ensure they've been fitted by a specialist.
Owners- manuals are usually vague, but can be a useful starting point. Any motorhome should also come with operating manuals for all major items of equipment in the conversion.
Always leave room for negotiation on price, for example on additional items supplied and extra warranty. If you're completely new to motorhome ownership you'll probably need items such as gas cylinders, levelling ramps, etc.
Driving in Cities
If you are planning to take your motorhome into some cities you'll need to check whether there is some form of low emmission zone (LEZ) or clean air zone (CAZ) in force.
Back in 2008 London established its then new LEZ. Since 2021 there has been a growing number of CAZ throughout the UK and they differ in the levels of restrictions. It may be just for goods vehicles and public transport and others are all vehicles. The Euro emission standard of the vehicle dictates whether it's subject to a surcharge for driving within the designated zone and it uses automatic number plate recognition (ANPR) to identify the vehicle's keeper. The .gov.uk website has a numberplate vehicle checking tool. We have more information within our travel planning section of our website.
Travelling
If you've not driven one before, you may be pleasantly surprised how easy it is to drive a motorhome - whatever its size. Key benefits include being higher up (for superior views out) and large wing mirrors. Other factors include:
Diesel or petrol. For economy reasons, diesel has been the preferred fuel option in recent years, usually with the added performance that turbocharging brings. Fuel consumption varies from vehicle to vehicle as well as with individual driving styles. Engine size isn't always the best indicator of its suitability - compare power and torque outputs.
Most motorhomes have a manual transmission though automatic is more widely available now.
Further reading
Key magazines are: Motorcaravan Motorhome Monthly (MMM), Practical Motorhome and Which Motorhome. Also, Motorhome & Caravan Trader and Caravan, Motorhome and Camping Mart.
Books include The Motorcaravanning Handbook and The Motorcaravan Manual, both by John Wickersham.
Motorhome safety and the law
There are several key aspects which could have significant impact on your choice of motorhome:
You'll need to check the limits of your driving licence before you take to the road with a motorhome.
View detailed information about the limitations of a licence.
Seat belts. You will still see some new motorhomes with more sleeping berths than belted travelling seats. Since 20 October 2007 seat belts have not been permitted on side facing seats because their use in the event of a crash can cause injury. It is not recommended for passengers to travel without seat belts on the grounds of safety and in some circumstances it could be considered illegal.
Payload. As owner, it is your legal duty to ensure you do not overload the vehicle beyond its rated gross weight or axle limit. Remember your available payload reduces when items are added as fitted extras so check that sufficient payload is available for the number of people and kit you intend to carry. For details see below.
Speed limits. If your motorhome has an unladen weight of less than 3,050kg normal car speed limits apply, unless you are towing. Above this (or if you have more than 9 seats) in most cases you'll be restricted to 50mph on single carriageways and 60mph on dual carriageways, though the limit is still 70mph on motorways.
Loading your motorhome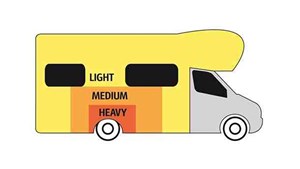 It's tempting to think you can put as much as you like into your motorhome because it's based on a large van that can carry heavy loads, but this isn't always the case.
Your unit will have a set user payload - the amount of extra kit you can transport - that depends on its construction. In some cases this may be restricted because of the chassis it's built on. In others it may be ar tificially limited so those with specific driving licences can drive it or for other reasons. In these cases you can ask your motorhome supplier to uprate its classification so you can carr y a larger payload.
It's also important to consider how you position the payload in your unit. Each axle has its own loading limit, which you must not exceed when you're on the road. In most cases, the majority of the weight of the engine, fuel and passengers will be over the front axle so your luggage and other loads should be positioned over the rear axle (see the diagram above).
The best way to make sure you're motorhome is correctly loaded is to pack it and take it to a weighbridge to check the loads on each axle. Contact your local Trading Standards office or go to www.gov.uk/find-weighbridge to find your nearest public weighbridge.
Tech team contact
If you're a member of the Club, you can contact our tech team to discuss your needs.