Choosing a tent layout
Look around your local camping retailer or online and you will find hundreds of different tents on the market and the choice can seem overwhelming. In practice, experienced campers often end up with more than one tent for different types of camping trips, but how do you choose?
This guide offers some suggestions. You will find more details on the choice of materials for your tent fabric, poles, groundsheet and pegs in another guide – choosing your tent materials.
What do you need?
Before you start looking, it is worth taking time to decide how you will use your tent. Many factors might come into play, such as:
How many people will be sleeping inside?
It is commonly held that you should buy a tent with more 'berths' than people who will use it. It is certainly worth looking at the sleeping space available for each person.
In some tents, for example, you cannot fit a double airbed into a sleeping cabin for two. However, if you are planning to carry your tent up a mountain or squeeze it into a canoe, you will probably happily sacrifice some space in favour of a smaller unit.
How long will you stay at one site?
There are exceptions, but generally the smaller the tent, the easier it is to pitch. If you are planning a fortnight's family holiday you may be prepared to spend time hanging wardrobes or adding canopies and enjoy the benefits of extra space, but you may prefer a more basic tent for weekend stops.
What is the weather likely to be?
If you have the option of only camping in fine weather, you can probably get away with a small, cheap tent just to sleep in, with a few guy ropes to hold it down.
Unfortunately, in the UK even summer campers can need rain protection, somewhere to shelter inside during the day and enough guying points to keep it down in the wind. If you are looking to camp in winter or in more extreme conditions you will need to take this into account when choosing your tent.
This is where your choice of tent fabric and pole material is also important.
How much do you want to spend?
Remember the tent is only the start of your camping expenditure. You will need to budget for something to sleep on and in; cooking and eating facilities; and lighting as a minimum. The list of items to tempt you to part with your cash is almost endless, so it is worth clarifying what you want to spend before you start.
On the other hand, a cheap tent may not have the quality and facilities you need for an enjoyable holiday – and this could be enough to spoil the whole camping experience.
Questions to consider
Is there enough space for everyone to sleep comfortably, with space for airbeds if required?
Can I stand up inside?
Is there space to get changed?
Is there enough living space for a rainy day?
Is there room to store my kit?
Is there enough ventilation, especially when I am asleep?
How easy is it to pitch?
Am I tall and strong enough to fit the poles?
Can I keep children inside, if necessary?
Do they need their own space at night or during the day?
Are there enough guying points and ropes for stability?
What pegs do I need? Does it have a sewn-in groundsheet?
How easy is it to move when packed away?
Do I want to spend this amount of money?
Tent styles
Most tents on the market today have a fabric outer – known as the flysheet – and inner sleeping compartments. When you are in the tent this double-wall gives insulation and prevents condensation from the flysheet falling on you or making your bedding damp.
Natural-fabric tents, usually made of heavy cotton canvas, do not necessarily need an inner tent because the canvas 'breathes' so condensation is less of a problem. At the base of the tent is a groundsheet. This is generally of a thick, waterproof fabric such as PVC and protects you from the dampness of the ground beneath. Traditionally, groundsheets were separate from the flysheet of the tent, except in sleeping areas. They could be lifted during the day to let the grass below 'breathe', so it remained in good condition.
Today, however, many tents come with built-in groundsheets. These are known as sewn-in groundsheets (or SIGs), though the seam between the flysheet and groundsheet is often welded (to improve water resistance) or zipped. Although sewn-in groundsheets are great for keeping draughts and bugs out of your tent (and often make a tent easier to pitch), they are not favoured by campsite owners because the grass underneath suffers, especially during a fortnight's holiday. It is also particularly important to check the ventilation in a tent with a sewn-in groundsheet, so it does not get uncomfortably stuffy, especially at night.
How big do you want to go?
In many ways, it is great to have a large tent, because there's plenty of space for everyone to relax inside, especially if the weather is bad. However, it is worth remembering that larger tents can be more challenging to pitch and take down, with more poles and plenty of fabric to manage.
Also, many campsites have restrictions on the size of tent that can fit on a standard pitch. On Camping and Caravanning Club Sites, for example, if your tent measures more than 5m x 9m (without guyropes), you will need to book a Jumbo Pitch, which incurs an extra charge.
Types of tent
There are several types of tent on the market today, with some larger units combining elements of several others. Here are some of the more common styles:
Dome tents
A dome tent has two or more flexible poles arranged in sleeves to form semi-circles and meeting at the central top point of the tent, hence making a 'dome' shape. The larger the dome, the less stable it is in the wind, so most dome tents are of a smaller size.
Geodesic tents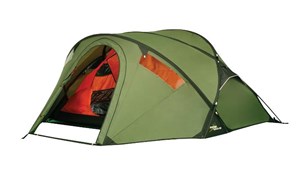 A geodesic tent has poles that criss-cross its surface, often intersecting to form triangles, the term 'geodesic' meaning the shortest line between two points on a curve. This pattern distributes any stresses across the tent's structure, making it the most stable type of tent for extreme weather conditions. Semi-geodesic tents are similar, but use fewer poles. Both geodesic and semi-geodesic tents are normally small and ideal for those who want a lightweight tent for pitching on mountains or in other windy, exposed places.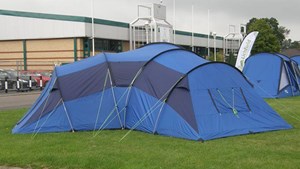 Pod tents
Some of the largest tents around are in a pod formation, with a central living area and sleeping compartments radiating out like the points on a star. At first glance, these look great for families where each member wants his or her own space, with a central area where you can get together during the day. However, there is always plenty of fabric in a pod-style tent, which can make it challenging to pitch. The circular shape also means it is often too large for a standard pitch on a campsite, so you may be turned away or need to pay more for your pitch (see How big do you want to go? on page 2).
Tunnel tents
Tunnels have two or more hoops arranged one behind the other, with the flysheet between forming the tunnel. These are some of the most straightforward units to pitch and are generally stable once pegged out, though they can act as good kites if the wind catches them before they are secured to the ground.
Vis-à-vis tents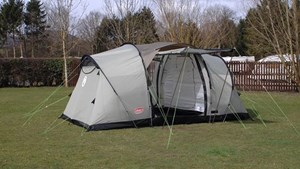 A tent with a vis-à-vis (literally 'face-to-face' in French) construction has its sleeping compartments arranged at opposite ends of the tent with a living area in between. These tents are often good for families with children who prefer to keep some space between different parts of the family, but the living area can be darker than in other tent designs because of the position of the windows and doors.
Frame tents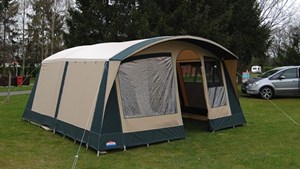 Frame tents were popular in the 1960s and 1970s, but fewer are now sold. They are often made of cotton or polycotton canvas with a rigid pole framework inside. Current frame tents tend to be large and heavy, but they have plenty of space and head height inside.
Trailer tents
At the top end of the tent market – in terms of price and often space – are trailer tents and folding campers. These have a guide of their own: choosing a trailer tent or folding camper.
Easy-to-pitch tents
There are several types of easy-to-pitch tents on the market, some with established pole systems, others of newer design. They include pop-ups, knuckle-jointed units and inflatable pole tents.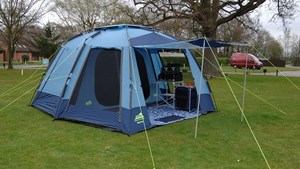 Knuckle-jointed pole tents
Probably the best known knuckle-jointed pole tents come from Khyam, with its Quick Erect system. In these units the rigid poles are already threaded into their sleeves, but fold away with the fabric of the tent. The tents come in dome and vis-à-vis styles and are quick to pitch, though you need to take care not to pinch either the fabric or your fingers in the pole joints.
Inflatable-tube tents
Many tent manufacturers now have a range of tents with inflatable tubes in the place of traditional poles. Typically these tents have a structure of low pressure tubes that are inflated after basic pegging out. They can be swift to pitch but are often heavier, bulkier and more expensive than their pole-and-sleeve counterparts.
Pop-up tents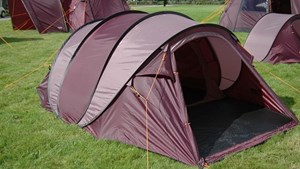 Many manufacturers now produce pop-up tents that already have the poles threaded into the fabric. They are stored with the poles curled up. The poles act as springs when taken out of the bag, so the tent 'pops up' into shape, almost by itself, ready for pegging out.
In the past, pop-up tents were single skinned and only suitable for fair-weather camping, but recent developments mean some of these easy-to-pitch tents can be found with inner tents and accommodating as many as five people. Before buying a pop-up tent, check the levels of ventilation and make sure you can get it back into its bag at the end of your stay.
Single-pole tents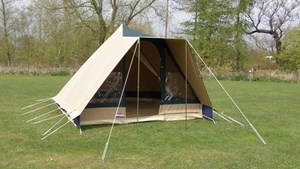 Single-pole tents have seen a surge in popularity in recent seasons. Often called tepees, they have a pole in the centre of the tent and are pegged out to form a circle at the base. The traditional canvas patrol tent used by Scouts and Guides is of this design, but many single-pole tents on the market today are often of much lower-quality. They may look good, but most are single-skinned and of man-made fabric, so they are only suitable for fair-weather camping.
Where's the best place to buy a tent?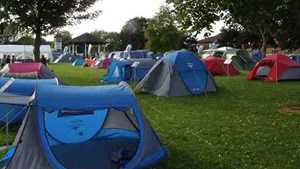 It is remarkably difficult to tell the difference between tents if you only look in a catalogue or online. If you enjoy surfing the net, you will find plenty of opinions on different types and models of tents on the camping forums like www.ukcampsites.co.uk and www.outandaboutlive.co.uk/forums. However, it is worth treating some of the opinions with caution because everyone has different priorities when buying and using a tent.
The best way to judge between tents is to see them pitched. You can do this at a specialist camping retailer or an exhibition, though many retailers will have a limited display, restricted by the size of their store.
Camping retailers will often hold outdoor shows during the spring and early summer where you can see a selection of tents pitched. They are generally advertised in local newspapers, in Camping & Caravanning (the magazine for members of the Camping and Caravanning Club) or Camping magazine (which you will find in newsagents).
You can buy tents at high street shops and supermarkets, many of which offer low-priced deals at the beginning of the camping season. If you are on a tight budget and feel one of these tents will suit you, they can be a good buy. However, do not expect an inexpensive tent to stand up to rain and gusty winds as well as a better-built unit. Unfortunately, some campers have given up camping after buying a cheap tent that was not suitable for the weather conditions and made for a miserable first holiday.
Looking at it another way – if you spend a little more on a tent and still find you don't like the camping experience, you have more chance of re-selling a higher quality tent second-hand than a bottom-of-the-range one.
If you are looking for a second-hand tent for yourself, the classified adverts in the camping magazines are a good place to start, or online auction sites such as eBay. However, you should check a tent carefully before relying on it for a holiday. Apart from the obvious inspections for broken poles and torn fabric, it is helpful to check the colour of the fabric inside a seam to see whether the flysheet has faded, which could indicate it has been pitched outside for a long time and may have deteriorated in the sunlight.
Brands we have known...
If you camped as a youngster, it's worth remembering that brand names have sometimes transferred between companies over the years. This is not necessarily a bad thing, but as a consumer you cannot automatically assume that a brand you recognised from 30 years ago will be the same as you remember.
Check the quality of the specific model you want to buy, in the light of the price you are paying.
And finally...
Once you have your new tent, do a 'test pitch' in the garden or at a campsite close to home to make sure you have everything you need and nothing has been left out of the package by mistake. Happy camping!
Tech team contact
If you're a member of the Club, you can contact our tech team to discuss your needs.