Camping beds
A good night's sleep - part one. Caravans, motorhomes and trailer tents generally come with comfortable mattresses for a great night's sleep. But it only takes a couple of minutes on the cold, hard, lumpy ground for most tent campers to realise they are better off with a camping bed.
Camp beds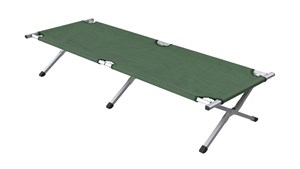 The traditional camp bed is still available today – with a frame and flat fabric cover. If your memory is of unstable beds that flip up when you sit on the end, then you may be surprised by today's offerings.
Sleeping mats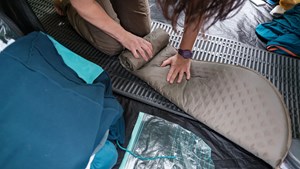 Sleeping mats are popular with tent campers because they pack down small, making them easy to transport. They come in a variety of shapes and lengths – and in all the colours of the rainbow.
Standard sleeping mats (often called bedrolls) simply unroll to give you an insulating barrier between the ground and your sleeping bag.
So-called 'self-inflating' mats have a valve at one end. When they are unrolled the foam inside expands, drawing air into the mat from outside. After a few minutes, you simply blow into the valve, topping up the air to make the mattress firm, before closing the valve – and it's ready to use.
Camping airbeds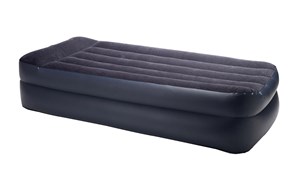 Inflatable mattresses (also known as airbeds) can give you a wonderfully comfortable night's sleep, but they can be large, unwieldy things to transport and inflate. And badly designed ones can have you rolling off in the middle of the night…
If you already have a tent, the first thing to do is to check your chosen airbed will fit in the sleeping cabin.
Some designs are better than others for comfort, stability and ease of inflation (and deflation). If possible, ask the supplier to show you how long it takes to inflate the mattress before you buy. This will also give you the chance to try it for size when it's in its final form.
Look out for extra benefits like strengthened side walls (to prevent rolling off in the night), separate chambers for each partner in a double mattress and one-way valves that don't let the air out when you pause for breath.
You may also want to consider investing in an electric pump to inflate your mattress on site. You'll find re-chargeable ones on the market, but the most popular are those that use the 12V socket in your car.
Electric pumps also have the advantage that they can work in reverse to deflate your mattress – making it much easier to pack away.