Bedding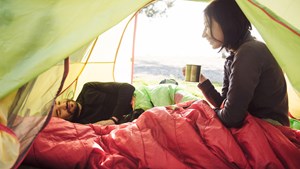 A good night's sleep – part two. The key to a good night's sleep is being warm and comfortable.
Once you've invested in a decent bed (caravan, motorhome and trailer tent owners generally find there's one built into the unit – tent campers may want to check out our beds page), this means decent bedding.
Many campers choose sleeping bags for convenience, but there's something to be said for using your normal 'home' bedding of sheets, blankets and duvets – if you've plenty of room to store it all when you're on the move.
If you've decided on a sleeping bag, there are many manufacturers and suppliers ready to sell you the perfect one for your particular circumstances…
Sleeping Bags
There are two real issues here: one of shape and one of what it's made of. Simplest are rectangular bags, which come in various sizes including some smaller ones for kids and even some clever adjustable ones that grow with your child. Two rectangular bags will often zip together to make a big double. You'll find that some rectangular bags are fitted with a hood or cowl – a semi-circular addition to keep your head snug and away from drafts. Some have a pocket in the cowl which can be stuffed with soft clothing to make a comfortable pillow and some even have 'secret pockets' to store valuables at night.
What are sleeping bags made from?
Sleeping bags are made from various fabrics. The lining needs to be warm and comfortable, the bags work, after all, by retaining your own heat so they need a warm body inside to function efficiently. Outside you will want a tough, fairly weatherproof coating but one that breathes so it doesn't get clammy inside the bag.
Tapered bags and mummies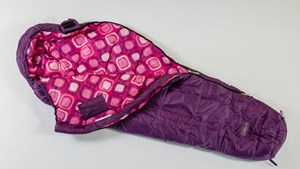 Some sleeping bags are tapered at the foot end and there are also even more tailored shapes, which take their form and their name from Egyptian mummies.
Part of the way you keep warm in a sleeping bag is for your body to heat the air around it in the bag. Larger air gaps need more heating, so the mummy-shaped bag is designed to fit more closely to the body, leaving smaller gaps and hence keeping you warmer.
Mummy bags are now sold in many shapes and sizes. Some companies include 'male' and 'female' versions in their ranges, to cope with different body shapes.
Down filled sleeping bags
Your sleeping bag will have some sort of insulated filling which will normally be synthetic fibres or natural down. Geese, ducks and the famous Eider produce the best down, but cheaper down may come from some less thermally-efficient birds. As well as various qualities of down you will also find down-and-feather mix and, just like pure down, these come in differing qualities. One important consideration with a down sleeping bag is allergies. The other big drawback with down is that it can become compressed into a solid mass, particularly if it has been allowed to get damp. Once down loses its inherent springiness, it's almost impossible to get it back.
Synthetic fillings for sleeping bags
If only for price reasons most people will choose the convenience of synthetic insulation. These are generally polyester filaments that work in exactly the same way as natural down - they trap the air, which is what really keeps you warm. The biggest advantage of a synthetic bag is its resistance to damp. A synthetic bag keeps some of its insulation when wet and if it does get damp it's far easier to dry out. The main disadvantage of synthetic stuffing it that it usually takes up more room than a down bag.
Making sense of the sleeping bag label
In the shop you will find lots of information on the labels of sleeping bags and often the key one will be the season rating the bag carries.
'One Season' indicates that the bag is suitable for summer camping in a climate no harsher than we usually experience in Britain.
'Two Seasons' will also keep you comfortable in a normal spring or autumn season.
'Three Seasons' will keep you comfortable on most occasions excluding a hard winter.
'Four Seasons' is suitable for all-year-round use.
'Five Seasons' for expedition use or in snow at higher altitudes.
There is also a newer classification, a European standard which gives actual temperatures in three ranges:
'Comfort'
The lowest temperature at which a normal person in a normal position will be comfortable and not cold using that sleeping bag.
'Limit'
The lowest temperature at which a normal person in a rolled-up body position will be comfortable and not cold using that sleeping bag.
'Extreme'
The lower extreme temperature below which there is a risk of hypothermia.
Be a little wary of these European standard ratings. A few manufacturers of lower-cost sleeping bags may use similar terms that don't quite conform to the standards. If you're looking for a bag for extreme weather conditions – especially if hypothermia is a real possibility – get specialist advice before buying.
A word or two about zips
Finding a cold metal zip in a nice warm sleeping bag is an uncomfortable surprise. In most of today's designs the zips will be covered but it's still worth checking, and while you're looking make sure there is no tendency for the zip to catch the fabric - a surprisingly common fault.
You may also like to check whether the bag can be unzipped from both the top and bottom - to allow more ventilation in warmer weather.
Use a liner
Whatever kind of sleeping bag you choose you should give serious thought to using an easily washable sheet liner.
They are available in various fabrics but most popular is poly-cotton for comfort and easy washing and drying. It is perfectly possible to wash and dry most sleeping bags with domestic washing machines and dryers but it's quite a big job, particularly the drying. Much better to use a liner that can go in with the normal weekly wash.