Matching Your Car and Caravan
Before you head off to buy a caravan, you will need to have an idea of what your car can tow. Start by looking in the handbook to find the kerb weight of your car and multiply it by 85/100. This can be difficult to find, so it's best to use the free Towing-match service for members.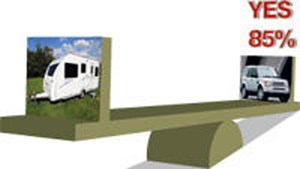 This will give you the important '85 per cent' figure. Now check the towing limit for your particular model of car in the handbook. Is it higher than the 85% figure? If so, you can begin to look for a caravan up to the 85% limit. If not, you'll be restricted to the lower towing limit. Whichever figure you use, the final thing to consider is that the whole outfit must be within the plated train weight of your car. Read our guide to
weight and payload
.
You should now have a figure to work with. Keep this in mind and compare it with the Maximum Technically Permissable Laden Mass (MTPLM) figure you'll see quoted with most caravans. Theoretically you can tow up to 100% of your car's kerbweight (as long as you don't exceed that all-important towing limit or the limit of your driving licence) but the Club certainly wouldn't recommend it for a beginner.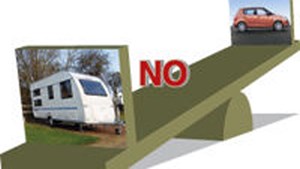 If you'd like to find out more about matching your car and caravan, check out the Matching Car and Caravan guide.
Now you know about matching your car and caravan the next page talks about
Club Care Insurance
Created by members for members, Club Care's touring caravan insurance policy will protect you and your beloved caravan.