Win a Swift Basecamp 6 & Vango RVA - 2 Awning Worth £27,000 

Enter for a chance to win a Swift Basecamp 6 & Vango RVA - 2 awning worth £27,000

The Club has teamed up with Swift Group and Vango to give away a Basecamp 6 and Vango RVA - 2 awning, together worth £27,000!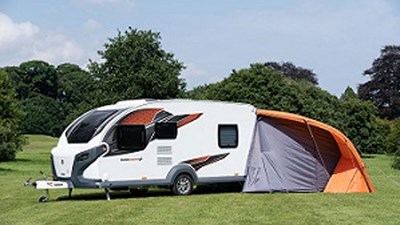 Exciting, sporty, fun and stylish… Basecamp is the compact crossover camping vehicle created for life's adventurers. Whether you're seeking adrenaline-fuelled activities or just enjoy getting off the beaten track, Basecamp is the perfect place to rest and refuel. More compact and lighter in weight than traditional caravans, the range can be towed by most family cars and is easier to manoeuvre.
Designed for large adventurous families, Basecamp 6 has an extended space and a double rear dinette, both of which convert into bunks. To find out more about the Basecamp 6 go to https://www.swiftbasecamp.co.uk/discover-basecamp/
Also included with the prize is the Vango Airbeam RVA-2 awning, which allows you to expand your living or sleeping space. Plus a years membership to The Camping and Caravanning Club, giving you access to a network of 1000's of campsites for you to enjoy your new caravan.
Complete our entry form for your chance to win. Good luck!
Closing date: 30th November 2022.
Terms and Conditions
1.The prize draw is free and no purchase is necessary. The promoter reserves the right to request proof of identity to verify eligibility conditions.
2. Only one entry per person. Persons attempting to obtain multiple entries via other means will be disqualified.
3.The prize draw is open to UK residents aged 18 and over who provide their details via the online or paper entry form. Employees or immediate family of The Camping and Caravanning Club, Swift and Vango may not enter this promotion.
4.You will be deemed to accept these terms if you enter the prize draw. The Camping and Caravanning Club may make changes to these terms from time to time. The most up to date version will be available from us on our website www.campingandcaravanningclub.co.uk. You should check the terms regularly and if you enter the prize draw after the date of any change it will be on the new terms.
5. The protection of personal privacy is an important concern to the promoters. Any personal data collected will be treated in accordance with current data protection legislation. We will use your personal data for the administration of the competition, and with your consent, to provide you with details of the promoter's services and products. In order to meet our obligations to you we may share your personal data with the promoters of the competition. For more information about the promoter's data protection policies please go to:
a. Swift Group Privacy Policy www.swiftgroup.co.uk
b. AMG Group Ltd, Vango https://www.vango.co.uk/gb/
c. The Camping and Caravanning Club's Privacy Policy www.campingandcaravanningclub.co.uk
You may withdraw your consent from individual promotors at any time by following the unsubscribe details contained within their communications.
6. The prize is:
a. A Basecamp 6
b. A Vango AirBeam RVA-2
c. A year's membership to The Camping and Caravanning Club
7. No monetary alternative to the stated prize is available and the prize
is non-transferrable.
8. The promoters reserve the right to provide an alternative prize of equal or greater value.
9. The closing date for the competition is 11.59pm on Wednesday 30th November 2022. Entries not submitted in accordance with these terms and conditions, or that are incomplete or altered, will be disqualified.
10. Lost, delayed, damaged, incomplete or illegible entries will not be accepted and proof of postage is not proof of receipt.
11. The promoters reserve the right to alter the rules and the terms and conditions, amend or foreclose the promotion without prior notice.
12. The promotors' decision is final and no correspondence will be entered into.
13. The winner will be notified by telephone within 10 days of the draw taking place. The prize must be collected, the location of collection will be agreed by the winner and The Camping and Caravanning Club.
14. If we are unable to contact the chosen winner within the 10 days following the draw or if the winner is unable to accept the prize, a new winner will be selected at random.
15. Events may occur that render the event itself or awarding the Prize impossible due to reasons beyond the control of the Promoters' and the entrant agrees that no liability shall be attached to the Promoters as a result thereof.
16. Winners Publicity: The promotors have a Legitimate Interest in publishing the winners Personal Data, including name, country of residence, interviews and submitted material, without further payment or permission, for the purpose of announcing the winners and related promotional purposes.
17. The winner's name may be obtained within 6 months of the closing date by sending a stamped addressed envelope to "Swift Basecamp 6", Marketing Department, The Camping and Caravanning Club, Greenfields House, Westwood Way, Coventry, CV4 8JH.
18. The following multiple promotors, are Joint Data Controllers for the purpose of the competition:
a. The Camping and Caravanning Club, Greenfields House, Westwood Way, Coventry, CV4 8JH
b. Swift Group Limited, Dunswell Road, Cottingham, East Yorkshire, HU16 4JX. United Kingdom
c. AMG Group Ltd (Vango), 2 Kelburn Business Park, Port Glasgow, PA14 6TD
19. Any clause in these terms and conditions that shall be deemed illegal, invalid or otherwise unenforceable shall be severed from this agreement and the remaining clauses shall remain in force.
20. These terms and conditions are subject to English Law and the exclusive jurisdiction of the English courts.